Howard B. Wigglebottom is a very smart bunny! In each of his books, Howard takes us on a journey as he learns an important life lesson. He has taught us how to be better listeners, how to deal with bullies, to see the joys in giving, the importance in telling the truth, and how to be true to our hearts.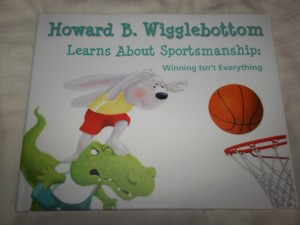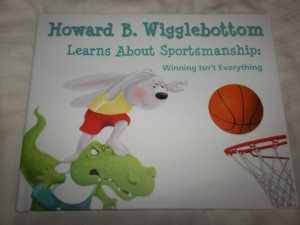 For this review, we received the Howard B. Wigglebottom Learns About Sportsmanship book. Talk about perfect timing! We received this book right as we were signing Savannah up for her first team sport- soccer. I was excited to review this book because I had a feeling we would need to learn the lesson of "winning isn't everything." Well, we never got to that point, Savannah threw a temper tantrum during the entire 1 hour practice/game and had to be escorted off the field by her coach (her Dad). We were shocked and confused by this unusual behavior. After a lot of talking, we finally got it out of her that she was upset because we had never taught her how to play the game. Savannah is a complex little 5 year old, she wants to know the "who, what, when, why, and how's" before she takes on a new activity. Since this was her first team sport, she didn't understand that her teammates were working with her to get the soccer ball to the goal. She thought that her teammates and the other team were all "stealing" the ball from her; she was confused, frustrated, embarrassed, and feeling picked on.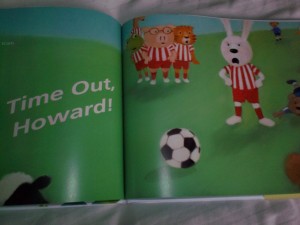 In Howard's book about Sportsmanship, he learns that winning isn't everything; that it's important to work as a team and simply have fun while playing. In the back of the book, there are several questions you can use as discuss tools with your children; they help support the lesson of sportsmanship. We have read this book every night this week and each night try to talk with Savannah about this coming weekend's soccer game and what we can do to help make it more fun for her. We have practiced as much as Oregon weather will allow and explained the rules of the game to her. I think we are all a little nervous but Howard's book has helped open up the line of communication. *If anyone has any ideas of what we could do or say to help Savannah, I would appreciate them. You can leave them on the blog comment area (not in the Giveaway Tool.) Thank  you!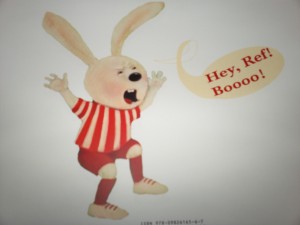 The Howard B. Wigglebottom series was created by the We Do Listen Foundation. We Do Listen is a non-profit corporation that works to empower children, help them find their internal strengths, and communicate more effectively and efficiently. We Do Listen offers educational books, videos, games, and songs. You can find them on their website, Facebook, and twitter pages.
One lucky winner will receive a Howard B. Wigglebottom book of their choice. This giveaway is open to the US or Canada and will end on 5/03.



Hello, my name is Laurie. I have been married to my husband for 14 years. We have two young daughters, ages 11 and 13 years old. My family and I live in Oregon so that means we are just minutes from the beach, mountains, and desert.  We love it here and try to spend as much time outdoors playing as we can. When we aren't outside playing, I enjoy reading, gardening, refinishing furniture, and other crafts.
This post currently has 3 responses.