My dog, Kaylee, is a messy eater. I have put towels and a mat down around her food area which helped with the food mess but neither was helping with the water dribbles. I needed a product that would shield the walls and floor from her water bubble blowing. I heard about a product called the Neater Feeder. I decided to learn more and give it a try.
For our review, Kaylee received the Large Dog Neater Feeder with Leg Extensions in the bronze color. This size feeder, works well for dogs that are between 35-100 pounds and have a 20" or larger shoulder height. It comes with one 7-cup stainless steel food bowl, a 9-cup stainless steel water bowl, leg extensions and non-skid rubber pads. It is available in bronze or cranberry colors.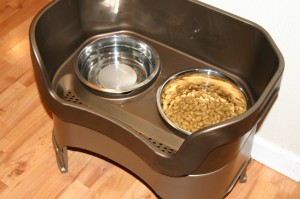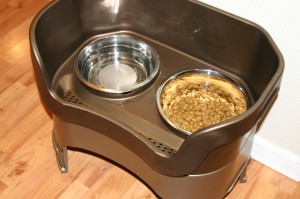 Neater Feeder helps protect my floors and walls. It is an elevated food and water service station. The base of the Neater Feeder catches dropped kibble and has holes in it allowing spilled water to filter down into the tray below. The Neater feeder also has a shield that protects my walls from water splashes when Kaylee decides to blow bubbles in her dish….yep, she sticks her face under water and blows bubbles.
Having your pet's food elevated also has health benefits. Being up off the floor allows your pet to eat and drink more comfortably. The Neater Feeder can help improve your pet's posture, reduce neck stain and helps with their digestion.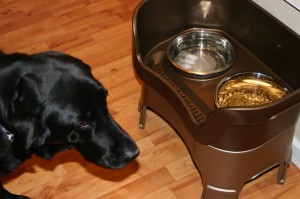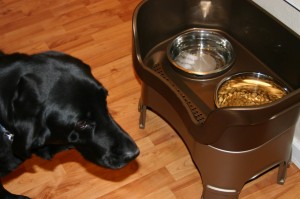 When the Neater Feeder arrived, Kaylee wasn't real sure about it. She took some time to sniff it and then decided to give it a try. It seemed to pass the test because the  first meal in it went over well and she hasn't had any problems adjusting to it.
I love that I haven't had to clean up any water or kibble mess since we have been using the Neater Feeder. My walls and floor are clean.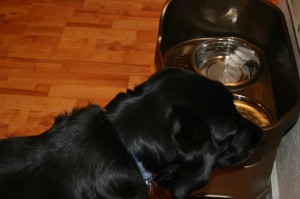 Neater feeder is a cleaner and healthier way to feed your pets.
Neater Feeder is on facebook and twitter.
Who are you buying Neater Feeder for this holiday season?
One lucky winner will receive their choice of Neater Feeder. This is a US giveaway that will end on 12/03/12.
Loading Entry-Form…
…




Hello, my name is Laurie. I have been married to my husband for 16 years. We have two young daughters, ages 15 and 13 years old. My family and I live in Oregon so that means we are just minutes from the beach, mountains, and desert.  We love it here and try to spend as much time outdoors playing as we can. When we aren't outside playing, I enjoy reading, gardening, refinishing furniture, and other crafts.
This post currently has 8 responses.
Pingback: Enter to win Winner's choice of Neater Feeder - ends 12/03/12 | Blog Giveaway Directory