Thank you Panasonic for sending me a sample, free of charge, for review.
All opinions are my own.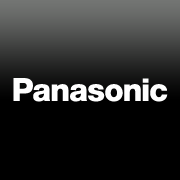 Almost everyone has a phone of some sort in their home.  If they don't have a home phone, they have a cell phone.  I can't think of a single person that I know personally who does not have this technology at hand.  While my husband and I both joke that we should get rid of all the modern day conveniences to have less distraction in our lives, I imagine they are here to stay.
Panasonic has a new phone line up for 2013.  They have the Panasonic KX-TG787 Series that retail from $109.95 to $169.95, KX-TG684 Series that retail for $69.95 to $149.95, and the KX-TG422 Series that retails for $39.95 to $$119.95.  Each phone in the new line up has some great features.  I was sent a sample from the KX-TG787 Series, the Link2Cell Bluetooth Cellular Convergence Solution with 2 Handsets. Our previous phone was purchased by my husband before I knew him.  Since we are coming up on ten years of marriage this year, I'd have to guess that our phone is a minimum of thirteen years old.  Our old phone has no bells or whistles.  It rings, dials, and takes messages.  That's it.  Our new Panasonic phone has lots of features including some I had never head of.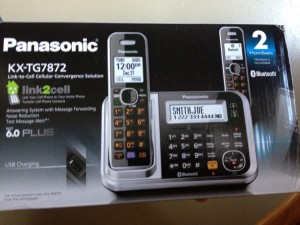 ~ Link2Cell Technology:  This was a new term to me.  What it entails is that your cordless phone has the ability to operate together with your cell phone.  You need to place your cell near the base unit and synch them together with Bluetooth.  You are then able to make and receive your cell phone calls through the cordless handsets.  They are automatically routed through.  You no longer have to carry your cell all over the house with you.  This feature allows you to link up to two cells phones.
~ SMS Alert:  The phone will audibly let you know when a SMS text message is received on your cell.
~ Noise Reduction Button (located on the handset):  You push the button and the phone detects and reduces background noise from the other party's end.
~ Power Back-Up Operation:  You are able to make and receive calls during a power outage.  That was something we were worried about when going cordless.  When you have a corded phone, it would still work with no power but our old cordless did not work while the power was out.  I think I am most excited about this feature.
~ Call Block Option:  You can block up to 250 unwanted numbers.
~ Eco Mode:  This phone will automatically reduce power consumption when you have the handset close to the base unit.
~ Hands-Free Speakerphone Option On The Handset:  Another feature that I love.  You just push the SP-PHONE button and you are able to use your handset on speaker option.  So nice when you need to set the phone down for a minute or when you are on eternal hold waiting to speak to a company.  I know I could have used this many times in the past since I try to get phone calls down while I am making lunch.
~ Talking Caller ID: When the phone rings, it proceeds to announce who is calling.  This has come in handy when I'm busy and don't know if I should stop to see if I know who is calling or if it's "one of those calls."  Now I don't have to drop everything to check.  The phone tells me automatically.
~ Expandable:  You are able to accommodate up to 6 handsets with this model.
~ Answering Machine System
~USB Charging Port
~ Key Detector Compatible:  Key Detector is sold separately.
Panasonic Corporation is a company built on quality, value, and innovation. Panasonic of North America was established in 1959 in New York City, however, worldwide, they began in 1918 with the invention of a two socket light fixture.  Panasonic North America is also committed to the environment.  They are strong proponents to the act of responsible recycling of electronics.
As you can see, this new phone is not only amazing, but from a well known trusted company as well.
Buy It: Head over to Panasonic to see for yourself the great selection of products they offer.


This post currently has 5 responses.