With the holidays coming up, I end up with the same problem every year.  There is no place for our youngest to sit to eat at relatives houses.  For Christmas at my Grandma's, she does have one high chair but there are usually a few little ones who could use it.  So whoever is quick enough gets to use it while the rest are left holding their child while trying to juggle feeding them and eating themselves.  Not an easy task amidst all the people and hustle and bustle.  The other issue I have is restaurants.  I really dislike having to use the booster chairs and high chairs at restaurants because they always seem so yucky.  Even when they look clean, they usually feel sticky and grimy.  So I went on the search for a product to help me with these issues.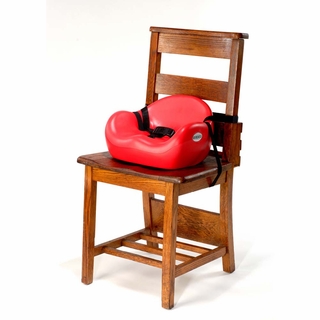 After reading about the Keekaroo Café Booster and how it is easy to clean and the durable material it was made from, I was hopeful that this could be the answer I was looking for.   I contacted Keekaroo and they agreed to partner with me for this review.  I was sent the Keekaroo Café Booster Seat in cherry.  The color is a nice bright solid red which is perfect since it shouldn't stain.  The seat is made from latex-free seamless material that is soft to the touch.  I like that this chair is that it has two sets of straps to secure it to any chair.  One for the back and one for underneath.  There is a 3-point safety harness to keep the child secure as well.   My favorite feature about the Keekaroo Café Booster Seat is that it is water resistant and is easy to wipe clean.  All this and it even passes the "fork test."
Our youngest is currently 15 months and finally starting to eat table food.  So now it is more important than ever to me that I have a safe place for him to eat, especially when we are not at home.  The Keekaroo Café Booster Seat is giving me the comfort in knowing that I can provide that.  He is now able to sit with us and enjoy mealtime when we are away from  home.  I no longer struggle to hold him or worry about what germs he's getting off of restaurant baby chairs that probably haven't been cleaned properly in years.  Plus, when we had to Grandma's I know he'll have a seat this year.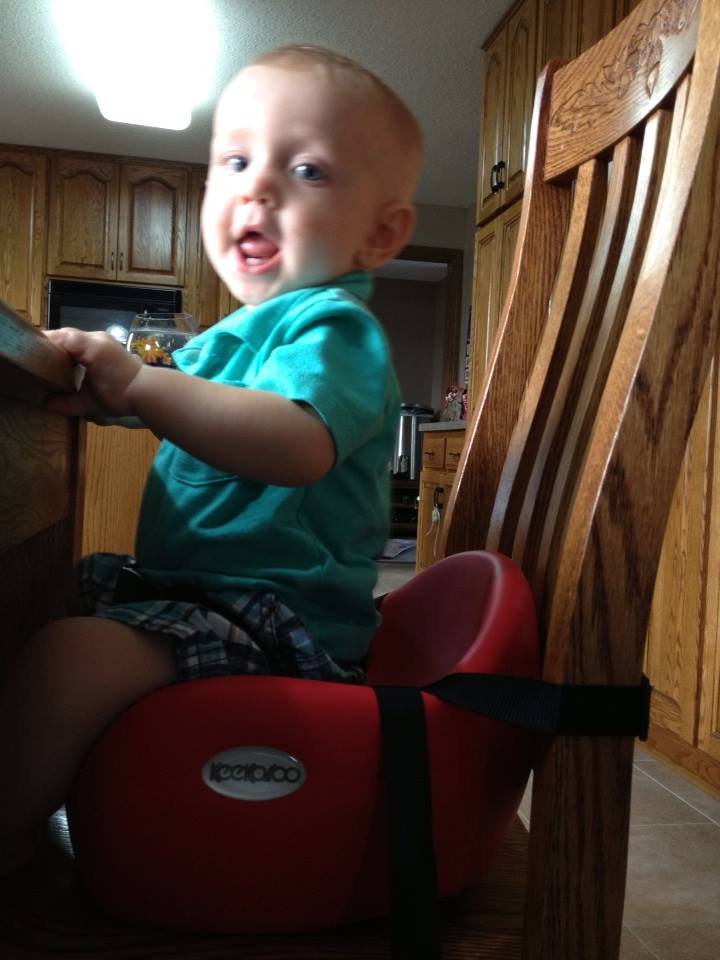 The Keekaroo Café Booster Seat is lightweight and perfect for travel.  I would love to see Keekaroo come out with a carrying/storage bag for the Café Booster Seat to make it even more travel friendly.
Buy It: Head over to Keekaroo to learn more. The Café Booster Seat currently sells for $59.95.
Connect: Don't forget to like Keekaroo on Facebook for all the latest news and promotions.
Win It: Keekaroo is generously offering one of our lucky readers their very own Keekaroo Café Booster Seat.  The winner will be able to chose color, based on availability.  The giveaway is open to US only. The giveaway will end October 26th, 2013. For your chance to win, enter the Giveaway Tools below. Good luck!
This post currently has 10 responses.