I was provided with product from Fat Hair for review. All opinions are my own.
I feel lucky to have hair that doesn't give me too much trouble. I am usually pretty happy with how my hair naturally is if I just wash and go. I grew up around a couple of adults who were constantly trying to control and tame their hair into 'behaving' the way they wanted, so I know how lucky I am. Yet, I have to admit that sometimes I do wish that my hair had just a bit more volume.
When I get my hair washed prior to a haircut, it's pretty common for the stylist to comment about how I have so.much.hair. My individual hairs aren't particularly thick, I just have a lot of it. I have my hair thinned each time I get my haircut, and I think my hair at home but it still gets pretty thick sometimes. Yet, the hair on the top of my head looks pretty flat sometimes. My hair starts looking really flat less than 24 hours after washing it sometimes. I am definitely not the type of person who can get away with washing their hair every other day or less. So, I do sometimes like to try out products that claim to add volume which is how I came upon Fat Hair products.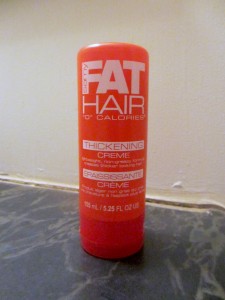 The Fat Hair Thickening Creme seems to be pretty popular, I've heard beauty guru's on youtube talk about it and love it. So, I was excited to give it a try. The bottle says to use "on towel-dried hair, and then blow dry. Also great for dry hair!". I took this to mean that it can be used on wet or dry hair, but that wet hair was more ideal.
When the product came in the mail my hair was dry so I decided to try it out. I added it primarily to the top of my hair because that's where I want volume at. I used too much and my hair clumped together in thick strands and felt kind of hard. I thought maybe it was from using it on dry hair. So when I took a shower, I used it on my towel dried hair, but I still had hard pieces in my hair. So, clearly only a small amount should be used. I have been using about a 1 inch strip of the creme (its thick and comes out of the bottle like a 'worm', keeping its shape) and sometimes I don't spread it across the top of my hair well enough and still get hard bits. So only use a tiny bit!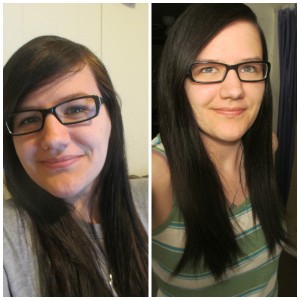 Left is before, right is after.
I've found that it adds thickness to my hair overall – my hair feels thicker when I try to work my fingers through it. It doesn't feel heavy or greasy, though. I sometimes think that the bottom part of my hair (ears on down) looks a bit fuller, but I took before and after pictures and it's not able to be seen in the pictures like I was hoping for. I think I can visibly see the texture difference because my hair 'sticks together' better now. I think the added texture that this product gives would make it a nice 'prep' product for updo's because hair with a bit of texture will stay in place better. I've also noticed that it tames my "fly-aways" pretty well which is a nice bonus.
As I mentioned, only a tiny bit of product needs used each time so the bottle will last a long time. I have pretty bad "fly aways", so I have been using it daily to keep them down. Otherwise, it wouldn't be on my daily-use list but I would definitely use it prior to getting an updo or curling my hair because my hair is thin and never 'stays put' when I curl it or pin it because of the lack of texture. I can see it being a staple for people looking for texture.


Hi there! I am Emily Evert, the owner of Emily Reviews. I am 25 and live in a small town in Michigan with my boyfriend Ryan and our two pugs. I have a large family and I adore my nieces and nephews. I am a calorie counter who loves soda. I budget to save money so I can spend it on my dogs. I love reading memoirs, and learning about child development and psychology. I love watching The Game of Thrones, Teen Mom, Sister Wives and Veep. I like listening to Jason Isbell, John Prine, Kris Kristofferson and Blue October. I created Emily Reviews as a creative outlet to share my life and the products that I love with others.
This post currently has 7 responses.