Thank you to Nursery Books for providing me with samples, free of charge, for review.  All opinions are my own.

Many people find the newborn and infant stages of childhood to be difficult and somewhat boring.  When a new baby arrives, they don't tend to do a whole lot besides eat, sleep, and fill their diapers.  While I actually enjoy the newborn and infant stage, I understand why many find it hard to interact with babies.  Here are some ideas on how to spend quality time with your little one:
1:)  Baby Wear-  Since newborns and infants are immobile and need to be supported, baby wearing is a great way to incorporate quality time, bonding, and still be able to accomplish daily tasks such as cooking, cleaning, computer work, reading, or even taking a walk.  Most newborns and infants find comfort in being worn since they just spent nine months inside a warm moving environment.  I discovered baby wearing with our second child and it has been a lifesaver.  Now that we are expecting baby #5, I'm excited to dust off our carries and snuggle a newborn again.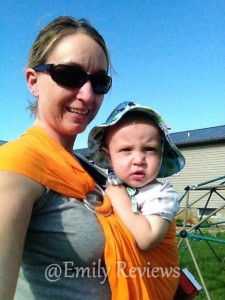 2:)  Bath Time-  This may not seem like an obvious bonding moment but it can be.  Whether the baby gets bathed in an infant tub or with an adult in a regular tub, bath time can be a great bonding experience.  Most babies tend to relax once they are in the nice warm water and really enjoy bath time.  They will coo, smile, and do all kinds of cute things.  Many times, they would even start to fall asleep by the end because they are so peaceful.  I have found that the water needs to be quite warm for baby to be most comfortable.  When I would test it with my wrist, I thought it was too hot but the baby bath thermometer would tell me it was perfect.  The culprit for us when our babies would fuss during bath time was too cold of water.  If all else fails, bring baby into the tub with you and take a bath together.
3:)  Reading/Book Time-  It has been proven that reading and looking at books with children is beneficial.  This starts at birth. Board books are a great way to introduce infants to the wonderful world of reading. "My First Book Series" by Sophie Helenek is a set of four board books that incorporate eye stimulation through their colorful pictures, speech and memory senses by hearing the rhythm and tone of your voice, and social skills by engaging the babies attention.  Plus, the great thing about books is kids never outgrow them!  All four of our kids enjoy books and stories of all kinds and I credit this love to starting early.
I have found this sturdy board book set to have great color contrasting in the pictures.  They are not too busy or distracting yet hold the kid's attention fairly well.  The patterns and shapes are also great for teaching and engaging with the child as they grow.
Buy It: Head over to Nursery Books to see for yourself all that they offer.
Connect: Don't forget to like them on Facebook, follow them on Twitter, and subscribe to their YouTube Channel for all the latest news and promotions.


I'm a city girl turned country by my awesome husband and we have three busy boys and two darling daughters. I love spending time with my family, reading Karen Kingsbury novels, and catching up with friends while our kiddos have play dates. I'm blessed beyond measure and can't wait to see what God has in store.
Follow Miranda on Pinterest | Twitter| Blog | Instagram
This post currently has 5 responses.