*Emily Reviews was provided with JOBY samples. All opinions are my own.
I was just beginning high school during the beginning of the "myspace angle" selfie phase. I remember spending way too long trying to hold my camera up above my head at an angle without having my arm show in the picture. It was so much harder than others made it look! I remember wishing that I could hang my digital camera from a shelf, towel rod or other similar locations in my home so that I could take my own photo.
JOBY GorillaPods let you do just that. They are small tripods that have three super bendable legs so you can set them on a flat surface like a table or shelf or you can wrap them around a pole, handle, tree branch, your wrist, etc. GorillaPods are available for compact digital cameras, DSLRs, smartphones & more. I have a Canon Powershot Elph 310HS camera that I use for taking blog photos and the Original JOBY tripod has worked great with it. The reason my photos don't show my camera on the tripod is because I don't have a smart phone or other camera to use to take pictures of my camera with. The legs of the tripod are about 5 inches long each and then there is about an inch of space between the top of the legs and the surface where the camera sets. Meaning in total your camera will be about 6 inches off the surface if the legs are left straight.
The legs can completely surround skinnier objects like you can see with the WII remote. However, it can also be used on items that are bigger around such as the 2-liter, though it wouldn't be sturdy enough to hang the camera upside down or sideways, it definitely has a tight enough grip to hold my camera for an upright shot. The JOBY GorillaPod tripods would be ideal for selfie-addicts and photographers.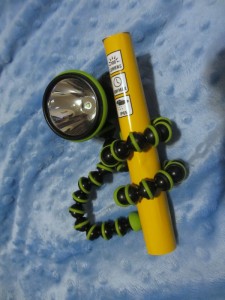 The JOBY GorillaTorch uses the same basic idea behind the GorillaPods except instead of being tripods they have a flashlight on the end. I couldn't even count how many times in the past we've lost power or blew a circuit breaker and I had to stand and hold a flashlight in place so that Ryan could try to find the right fuse or change out a lightbulb, etc. With it just being the two of us this isn't a big deal, but if we had children to also look after during the black out it would be much more convenient for him to hang his own flashlight instead of needing me. I could also see them being really useful for mechanics, computer-repairmen or others who need to light up areas that are kind of dark and tangled.
The JOBY Original GorillaPod is available for $19.95. The JOBY Torch 100 is $29.95. Both would make great Christmas gifts!
Win it: JOBY is offering an Original JOBY GorillaPod (which will work with most compact digital cameras) to one winner and a JOBY Torch 100 to a second winner! Giveaway is open to the US and will end at 11:59pm EST on 11/22/2014.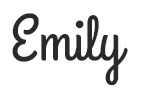 Hi there! I am Emily Evert, the owner of Emily Reviews. I am 28 and live in a small town in Michigan with my boyfriend Ryan and our two pugs. I have a large family and I adore my nieces and nephews. I love reading memoirs, and learning about child development and psychology. I love watching The Game of Thrones, Teen Mom, Sister Wives and Veep. I like listening to Jason Isbell, John Prine, and other alt-country or Americana music. I created Emily Reviews as a creative outlet to share my life and the products that I love with others.
This post currently has 3 responses.