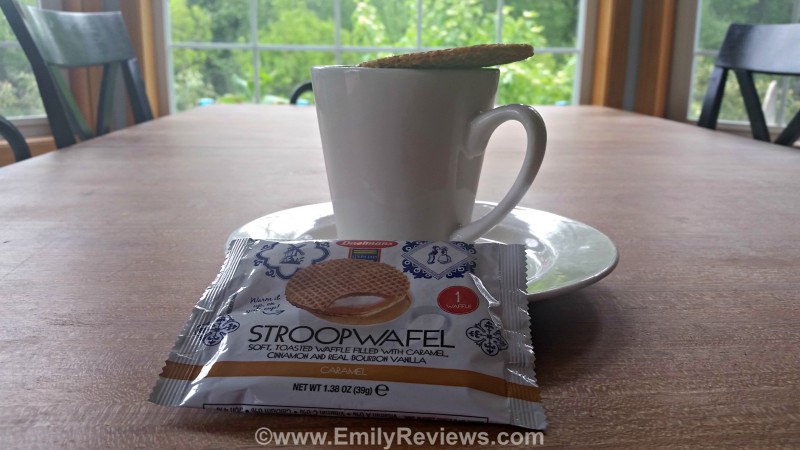 Thank you to Daelmans for providing me with product, free of charge, in exchange for this honest review. All opinions are 100% my own.
Have you ever heard of Stroopwafels? I hadn't either until I was asked to review them.
Stroopwafels were invented in Gouda in the late 18th century.  They are similar to a traditional waffle except they are much thinner (like a waffer) and have a syrup filling.
Daelmans Stroopwafels are made with all natural ingredients. They are free of  artificial flavors, colors, preservatives and trans-fat.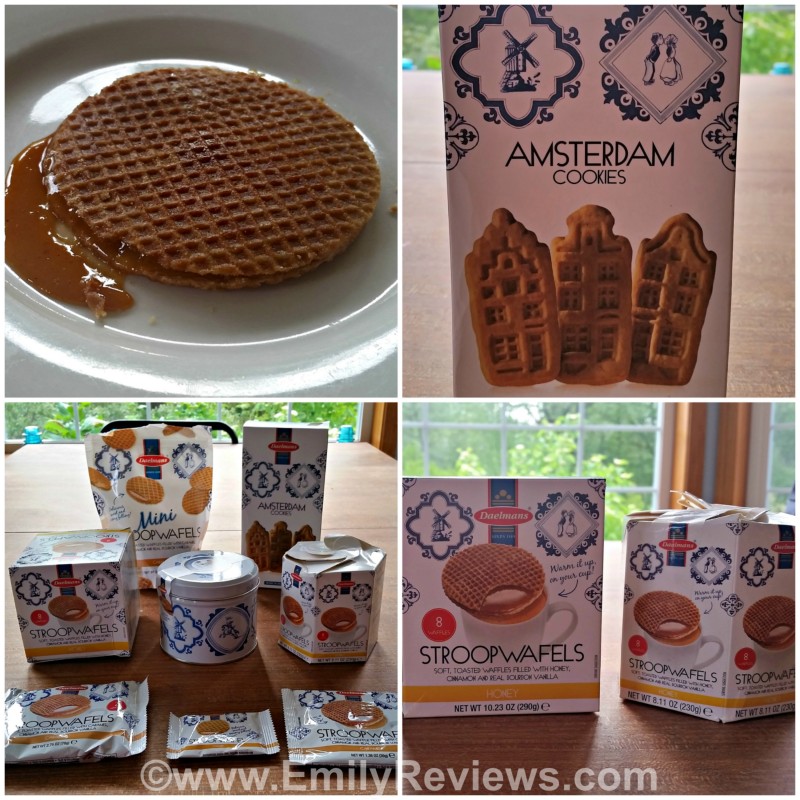 For our review, we received a generous collection of Stroopwafels. We also received a package of Daelmans Amsterdam Cookies.
Stroopwafels can be eaten straight from the package or can be enjoyed after they have rest on top of a steamy beverage for one-two minutes. The steam will warm the Stroopwafels and liquify the syrup filling. Stroopwafels can be thought of as a breakfast treat or a delicious dessert.
On the day our package arrived, my two young daughters and I were home. We decided to try the Stroopwafels straight from the package. My daughters instantly loved them! I thought they had nice flavor, but the texture took me a bit to get use to.
The next day, we warmed our Stroopwafels in the microwave. We all agreed that they were even better warmed. The syrup filling has a nice caramel flavor that compliments the buttery flavor of the Stroopwafel.
Daelmans Amsterdam Cookies are absolutely delicious! They are a light buttery cookie that is similar to a shortbread cookie. Each package of Daelmans Amsterdam Cookies has three different shaped cookies that look like canal houses.
Buy it: Please visit the Daelmans website to see the great selection of products they offer. Stroopwafels may be purchased in Barnes & Noble Cafes, Cost Plus World Market and other fine food stores.
Connect: Don't forget to follow Daelmans on facebook, twitter and pinterest for the latest product announcements and special offers.



Hello, my name is Laurie. I have been married to my husband for 14 years. We have two young daughters, ages 11 and 13 years old. My family and I live in Oregon so that means we are just minutes from the beach, mountains, and desert.  We love it here and try to spend as much time outdoors playing as we can. When we aren't outside playing, I enjoy reading, gardening, refinishing furniture, and other crafts.
This post currently has 6 responses.