Thank you to Primal Kitchen for providing me with products to facilitate my blog review. All opinions are 100% my own.
Primal Kitchen believes that food can either "lead you down a path of disease, pain, and despair, or it can lift you up to new heights of wellness and vitality." With this belief, Primal Kitchen set out to offer customers gourmet nutritious foods. Primal Kitchen foods are made with real ingredients! They are free of artificial ingredients, added sugars, partially hydrogenated or trans fats, soybean and/or canola oils. They are also completely free of waxes and chemical preservatives.
For our review, we received an assortment of Primal Kitchen goodies including salad dressing, mayo, and avocado oil.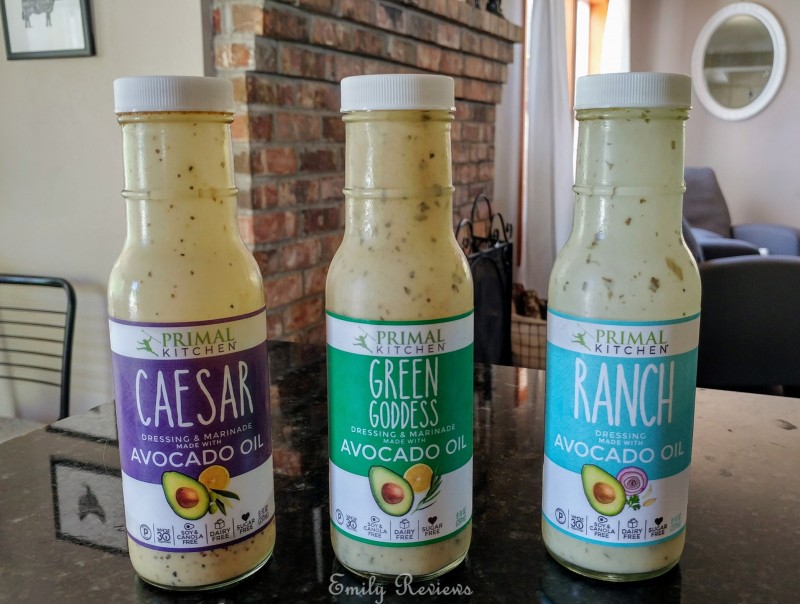 We tried three salad dressings- Ranch, Caesar, and Green Goddess. We eat a lot of salad. Naturally, with four people in the family, we all like different salad dressings. It isn't unusual for us to have a few bottles of dressing out at one time. When we opened the Primal Kitchen dressings, we had a family taste testing. My husband and youngest daughter both preferred the Ranch dressing. My oldest daughter is obsessed with the Caesar dressing and I like the Green Goddess dressing. No matter what kind of salad you eat, topping it with Primal Kitchen dressing is the way to go! They are full of bright fresh flavors.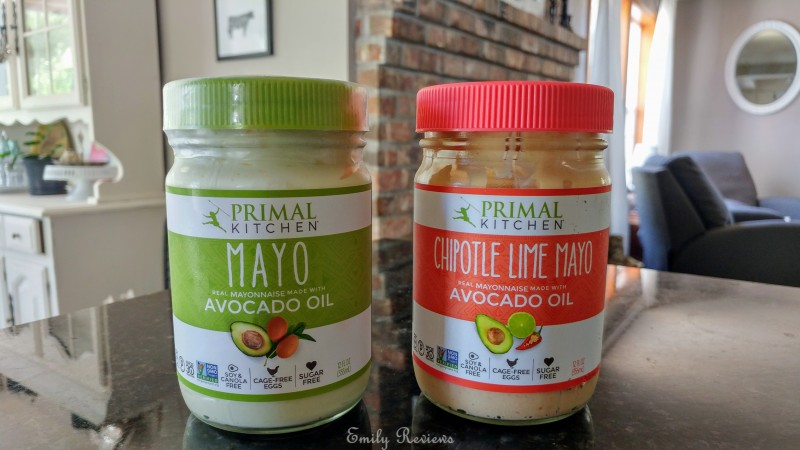 We also received Chipotle Lime Mayo with Avocado Oil and Mayo with Avocado Oil. The Chipotle Lime Mayo with Avocado Oil is out of this world! I have used it on homemade deli sandwiches and pasta salad. The amount of chipotle in this mayo is perfect; not too subtle and not too overpowering. It brings a nice heat to a product that usually doesn't get much attention. Chipotle Lime Mayo with Avocado Oil is my new favorite mayo!
Last but, certainly not least, we were able to try the California Extra Virgin Avocado Oil. Avocado Oil is my oil of choice. I am allergic to coconut so, we always have avocado oil in our kitchen. When I received the California Extra Virgin Avocado Oil, I was craving kale chips. I decided to use the avocado oil to make some. I washed and dried my kale. Then I cut it up and tossed it with California Extra Virgin Avocado Oil, nutritional yeast, and freshly grated parmesan cheese. I baked my kale on 300° for 10 minutes. Then I pulled the baking sheet out of the oven, tossed the kale around, and baked for another 7 minutes or until brown. They are so good!
We are in love with our Primal Kitchen goodies. We will for sure be buying more of these!
Buy It: Please visit the Primal Kitchen website to see the great selection of products they offer and convenient shopping locations.
Connect: Don't forget to follow Primal Kitchen on Facebook, Twitter, and Instagram for the latest product announcements and special offers.


Hello, my name is Laurie. I have been married to my husband for 16 years. We have two young daughters, ages 15 and 13 years old. My family and I live in Oregon so that means we are just minutes from the beach, mountains, and desert.  We love it here and try to spend as much time outdoors playing as we can. When we aren't outside playing, I enjoy reading, gardening, refinishing furniture, and other crafts.
This post currently has 5 responses.