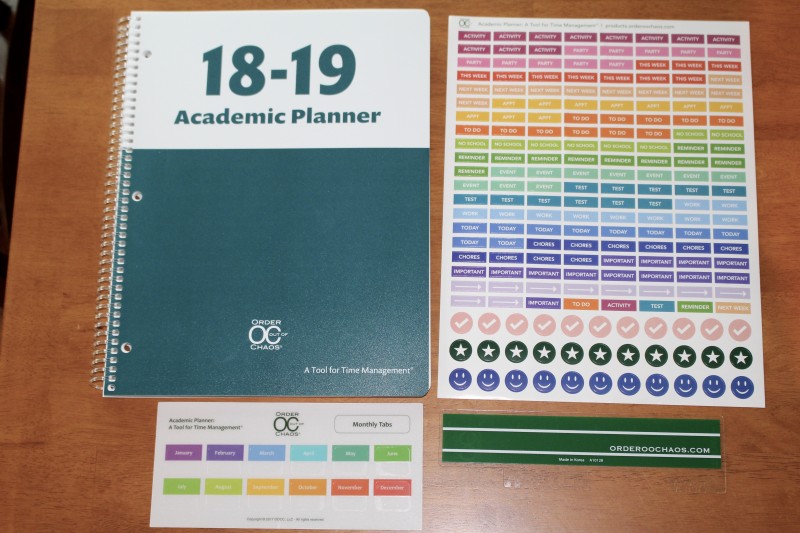 Thank you to Order Out of Chaos for sending product for review in exchange for my honest opinion.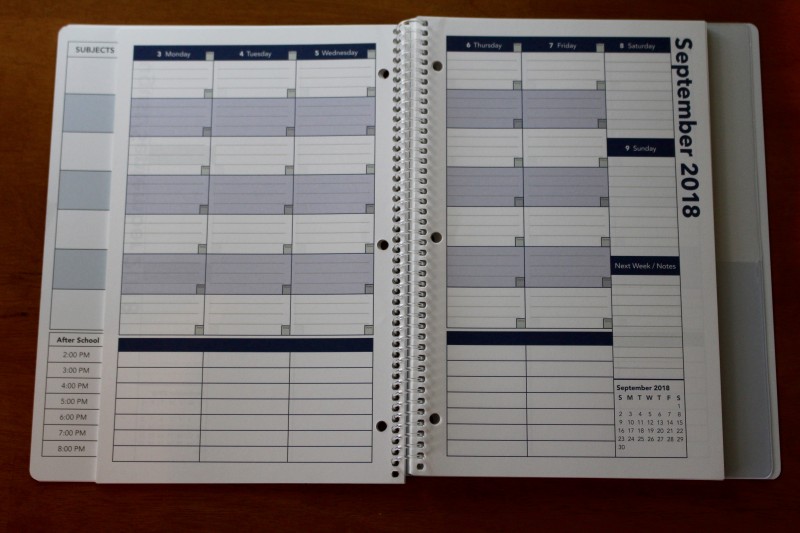 In many areas of my life I am very "old school" even though I'm only in my 20's! I only got a smart phone last year, and only after my flip phone took a dunk in the tub while I was washing my daughter. I know many people use the calendar option on their phone to keep track of the things they need to do, but I am not one of those people. I prefer a paper planner to organize my life.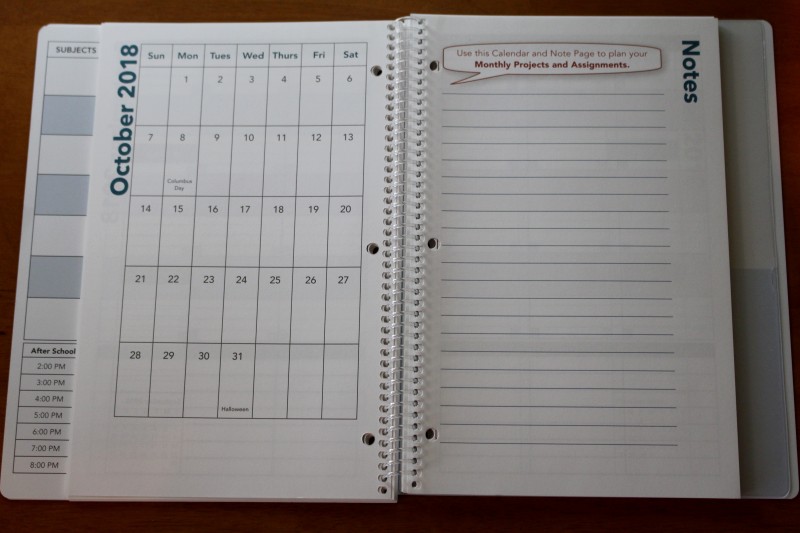 I partnered with Order Out of Chaos for a planner review last summer and have used it for the past year. I chose the Letter Size (8.5 x 11 inches). There is also a smaller Personal size available (8.25 x 8.5 inches) As an adult, I have been pleased with all of the aspects of the planner. It is geared specifically for students and has some great features:
Vertical index page at the front of the planner enables students to record their class subjects just once (7 subject boxes).

Planner pages line up with index on a subject-by-subject basis, which creates an easy method for students to record and review their weekly schedule.
Ample space to enter all school activities from 2-9pm and weekend commitments to help with time management and planning.
Days of the week listed horizontally across the top of the weekly two-page calendar layout, creates a grid for simple entry and allows students to see assignments and due dates.

A Project Planning Guide to help plan long term assignments.
Full page monthly calendars with room for notes (allowing students to plan monthly projects).

Large pages allow room to write down assignments and activities.  
Easy placement in binders thanks to three-hole punching.
Runs July through June (based on a school-year calendar).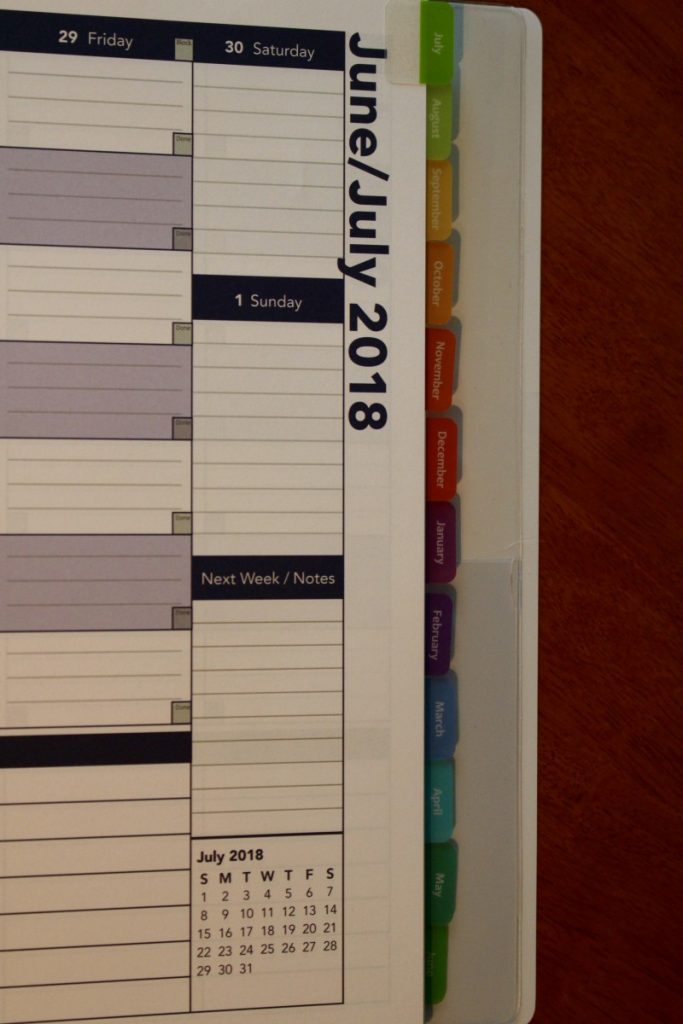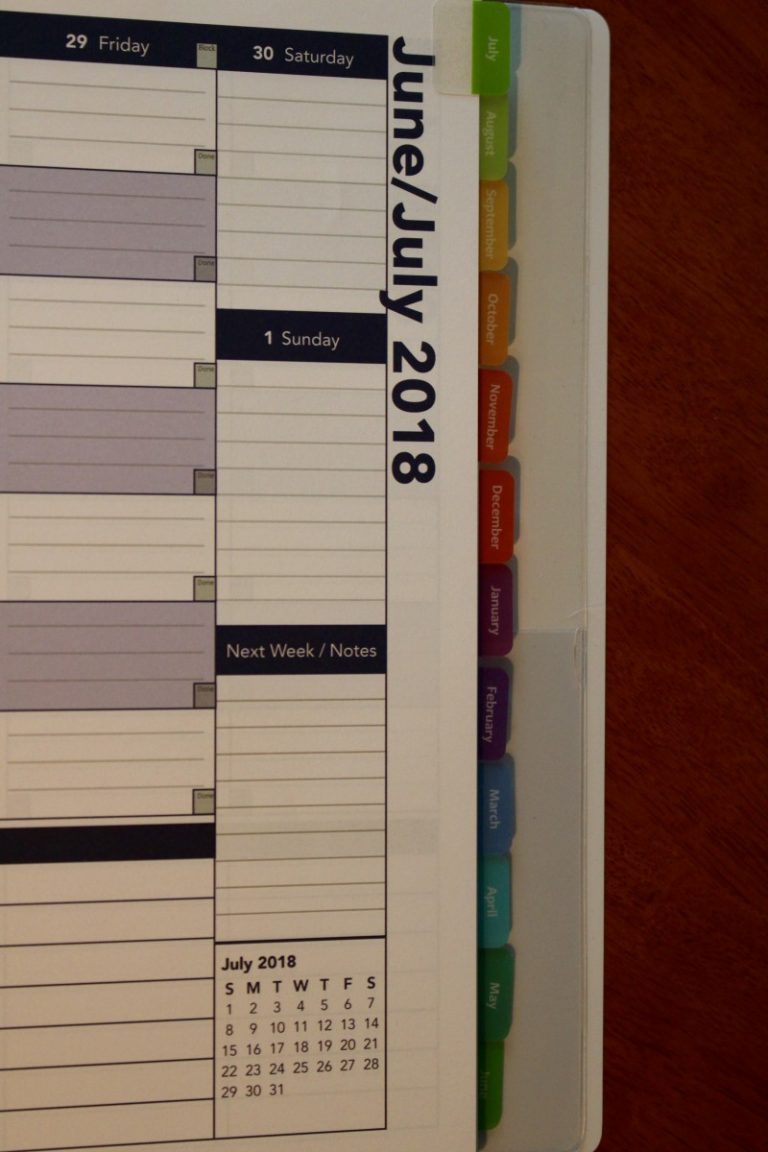 I also got the Academic Planner Accessories Pack that is sold separately. This pack can be seen in the top picture on this page. It includes a PageMarker, Monthly Tabs (seen above) and a set of Student Stickers.
Aside from academic planners, Order Out of Chaos also offers a range of products for students and parents including organization/time management tools, parent education videos, student study skills videos, online classes and webinars.
Buy It: Head over to Order Out of Chaos to see for yourself the great selection of products they offer. Use Code 15%OFF for 15% off your order!
Connect: Don't forget to like them on Facebook, follow them on Twitter and Pinterest, and subscribe to their YouTube channel for all the latest news and promotions.
Win It: Order Out of Chaos is generously offering one of our lucky readers their COMPLETE SET OF ALL 5 VIDEOS: Smart Steps To Effective Study Skills. The giveaway is open to US only. The giveaway will end August 12th, 2018. For your chance to win, enter the Giveaway Tools below. Good luck!



Hi, my name is Asha. I am 34-years-old and am a nurse by profession. Right now I am battling Breast Cancer. My husband and I have been married for 8 years and together we have a sweet seven-year-old daughter, a fun four-year-old son, and a lovable bunny named Caramel. I enjoy spending time with family, taking photographs, scrapbooking, hunting, fishing, cooking and gardening.
This post currently has one response.