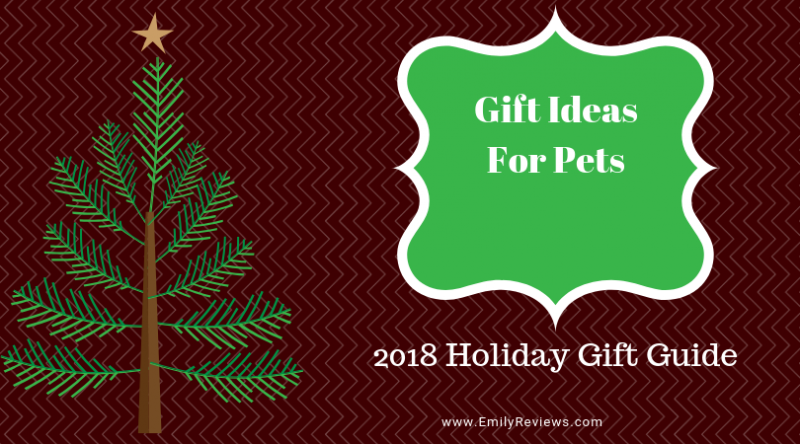 Emily Reviews writers were sent samples from brands in exchange for our holiday gift guide. There are affiliate links in this post. All opinions are our own.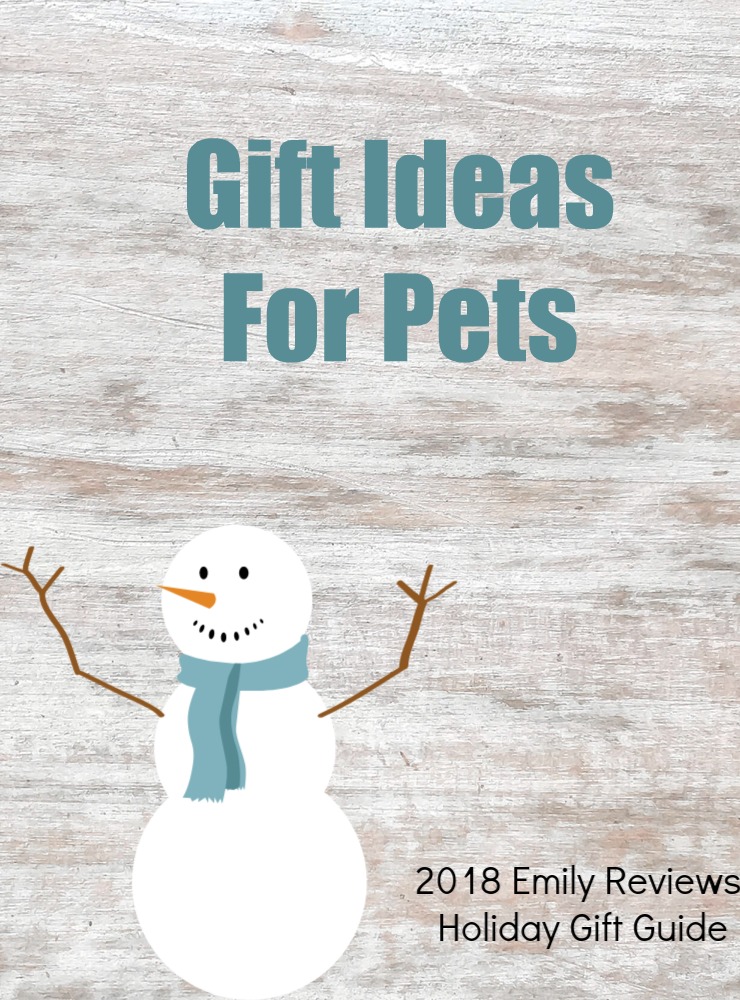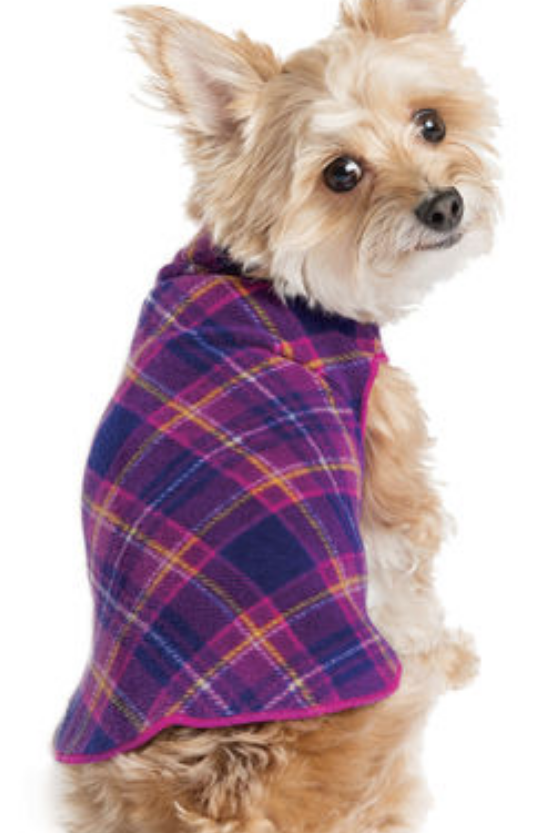 The superb year-round popover Gold Paw Series Stretch Fleece is the best you'll find anywhere!  It is truly a fantastic and useful piece that your pet will love and you'll reach for over and over again. This amazing Fleece contains recycled polyester and spandex which offers a 4-way comfort stretch. The finish is unbelievably soft, like velvet, so that pets and owners alike fall in love.  Available in a variety of colors and patters as well as sizes to fit all the pups in your life.  Our sweet little Yorkie LOVES hers and I think your dog will too!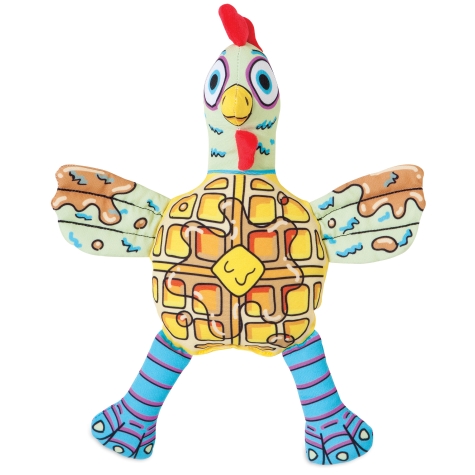 Petmate knows that keeping puppies entertained is a full-time job. That is why they offer an extensive line of toys for chewing, fetching, tugging, and cuddling. The FAT CAT Foodies line has four fun characters- Chicken 'n Waffles, Donut Cat, Puppy-Roni, and Taco Gato. Fat Cat Foodies toys are made with durable polyester material and have a fun squeaky insert. Fat Cat Foodies entertain puppies for hours!
Buy it: Petmate.com
Win it: Giveaway coming on 11/25/2018.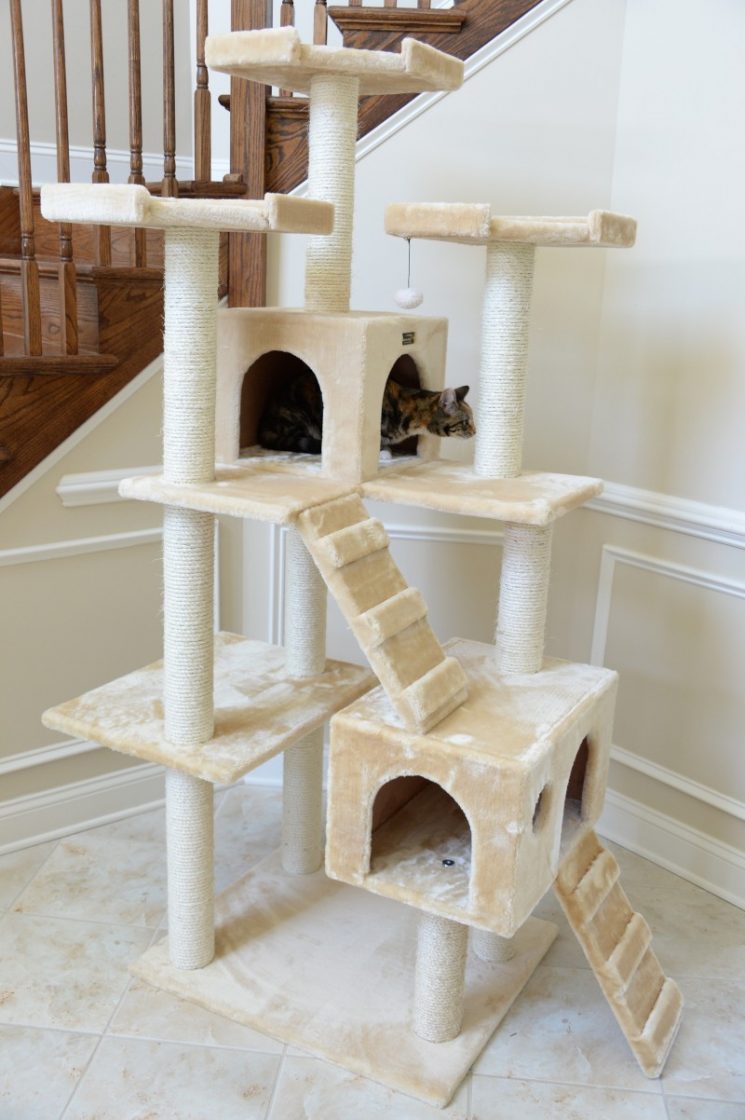 Your furry friends will go crazy over this amazing Armarkat Cat Tree! This cat tree boasts TEN scratch posts along with two enclosures for your cats to sleep and play in. There are also three lounging platforms near the top and three hanging pom-poms for playtime. Your older cats will have no problem getting up and down this cat tree with the two built-in staircases. Great for multiple cats, this Armarkat Tree holds up to 60 pounds.
This ökocat's all-natural, eco-friendly cat litter is the perfect way to help reduce litter box odor in the house when guests are visiting for the holidays or if you're headed out of town for a short family vacation.  All of ökocat's litter is made from 100% natural wood or paper fiber. Why you may ask? Because Mother Nature is brilliant!  And ökocat is an eco friendly cat litter made with plant fibers that naturally absorb liquids and trap odors.  Both your cat and you will love it.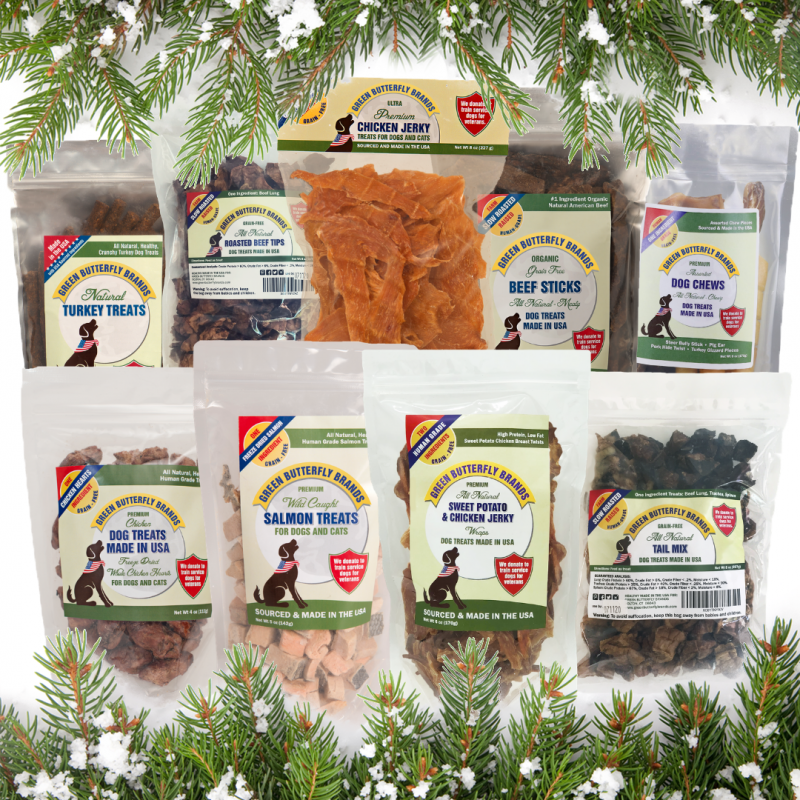 Green Butterfly Brands specializes in all-natural dog treats. They are healthy, human-grade pet treats. Green Butterfly Brand treats have been made in the USA with American sourced ingredients. The Green Butterfly Brands product line includes- Premium Chicken Jerky, All Natural Turkey Treats, Wild Caught Salmon Treats, Freeze Dried Chicken Hearts, Organic Beef Sticks, Assorted Dog Chews, Slow Roasted Beef Tips, and Tail Mix Dog Treat Variety Pack. To learn more about Green Butterfly Brands, read my full review and enter to win the giveaway.
Buy it: Greenbutterflybrands.com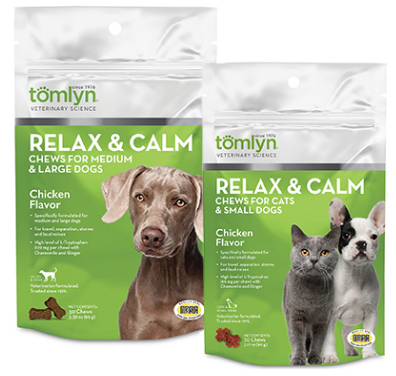 Looking for a simple way to help pets cope with stressful situations that may be caused by holiday travel, grooming visits, new guests, boarding situations?  Look no further than Tomlyn Relax & Calm Pet Chews.  These Relax & Calm chews are an easy-to-give chicken flavored chew that helps dogs and cats cope with stressful situations. The product contains L-tryptophan and chamomile which help promote a sense of calm and relaxation. Ginger helps settle uneasy stomachs that often accompany stress and anxiety in pets.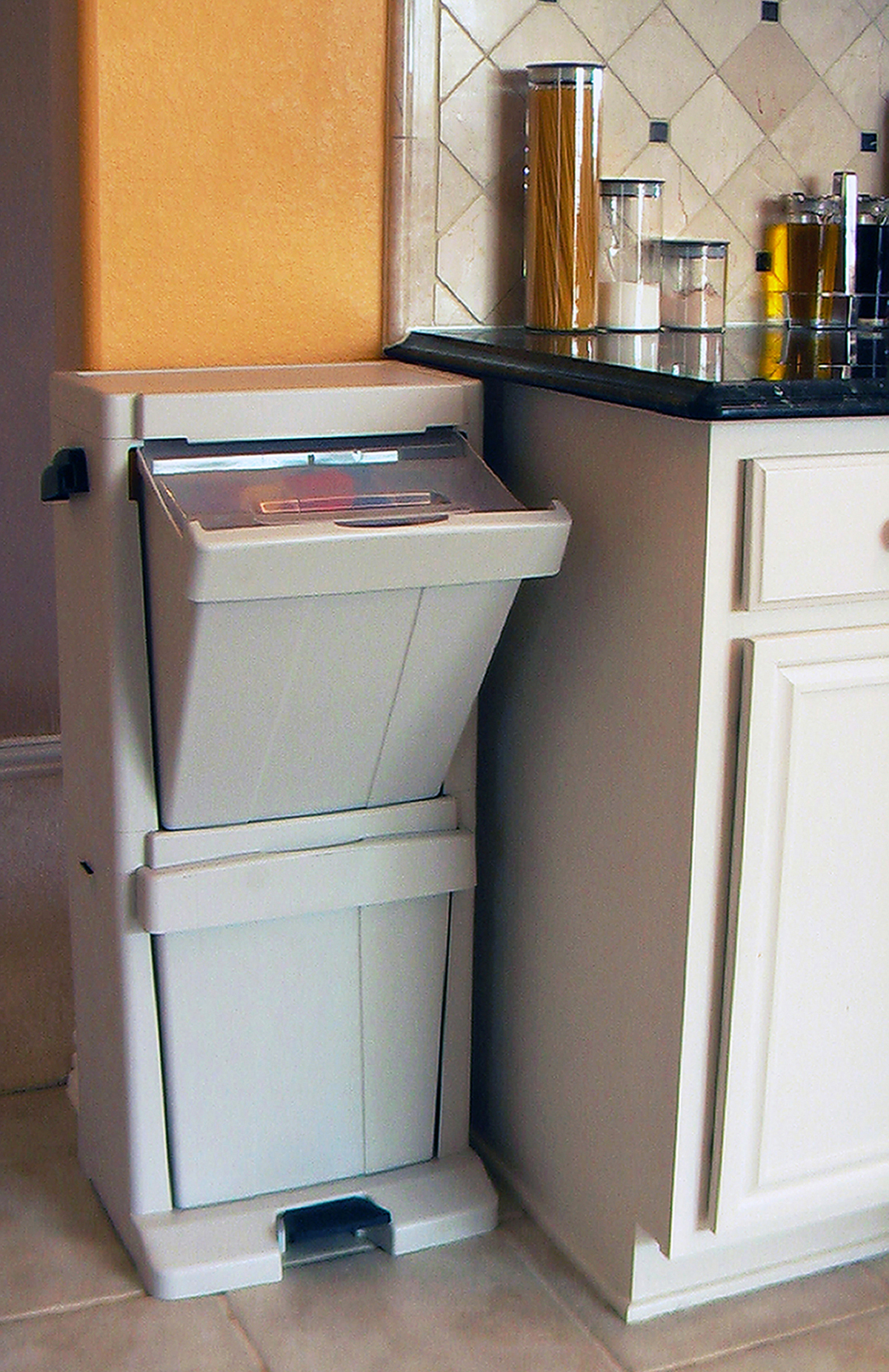 Four years ago or so, we got a Richelle Pet Stuff tower. We still use ours everyday and I just love it. I like how it's tall and skinny so it doesn't take up much space. It has two storage drawers. We use this to store everything for our dogs except for their dry food. Leashes, harnesses, extra dog treats, toys, waste bags, etc are all in this tower. The top is a flat surface which we set an open bag of treats on. We leave this just inside our door so we can treat our dogs for going potty as soon as they come inside.
Buy it: Amazon.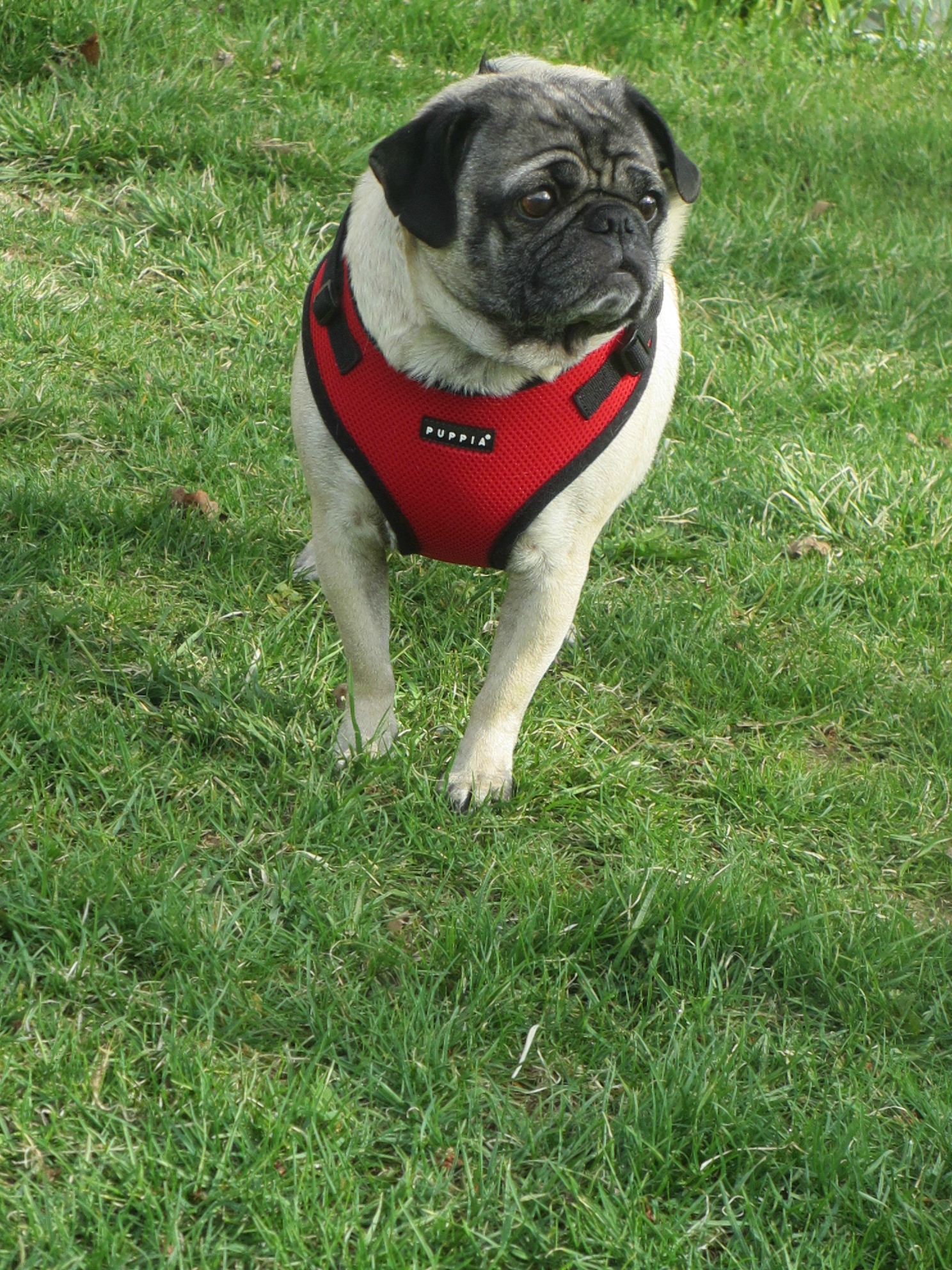 For pugs and many other small dog breeds, using a harness is recommended over using a collar. Collars can increase the odds of tracheal collapse which is common on many small dog breads. I also just like using a harness because if it pulls, whether it is on the human end or the dog end, it doesn't put that pressure around their neck but instead spreads it over their chest and shoulders. We love puppia brand harnesses because they are soft and breathable. In other stiffer harnesses, our dogs looked uncomfortable when trying to lay down in the harness. We've had our Puppia harnesses for years and they are still going strong. Our favorite is the Puppia Ritefit.
Buy it: Amazon.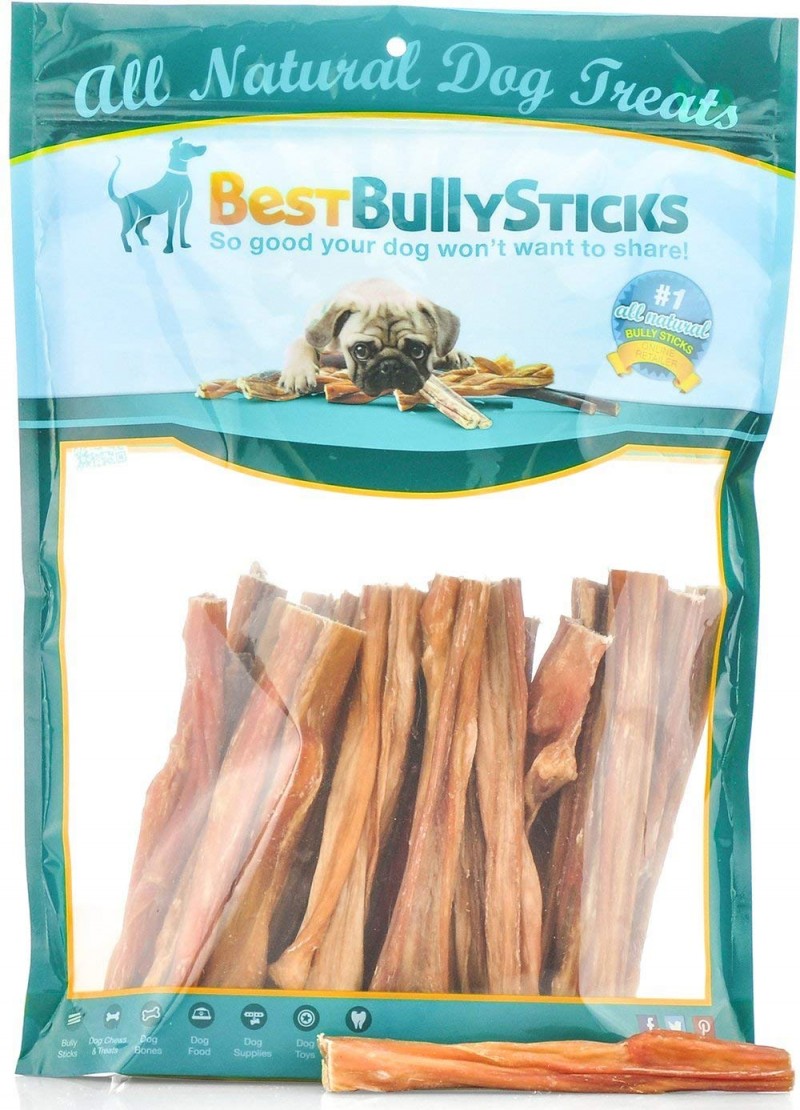 Bladder sticks are a staple in our household. These are less-than-appealing for humans because they are made from bladder and they have an odor, but our dogs love these. We used to buy regular bully sticks but as our pugs have gotten older, we've begun to prefer bladder sticks. They are a bit softer than bully sticks so older and smaller dogs can handle them and my dogs get so excited to have one. Plus, they are quite a bit cheaper than bully sticks.
Buy it: Amazon.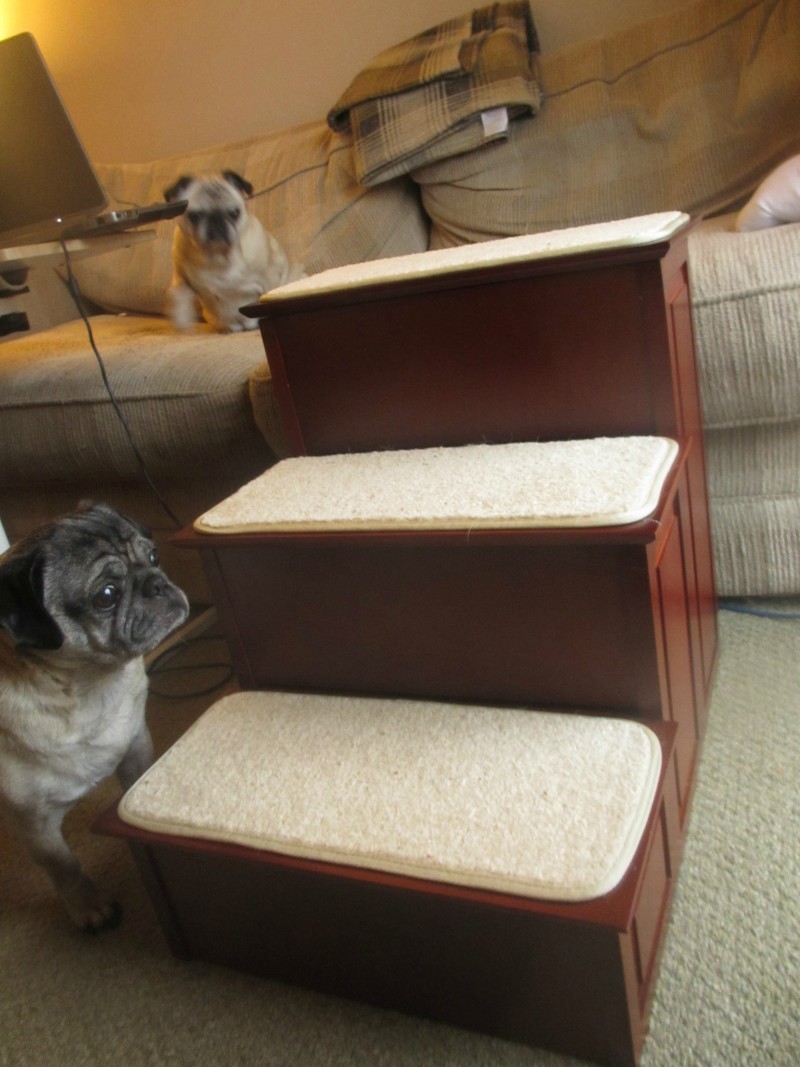 We got these steps when they were sold under the Solvit brand, but they are now available on Amazon as Mr. Herzher's decorative pet steps. They are more expensive than other sets, but we tried other dog steps that were plastic, and others that were wooden, and they were quite unstable and wobbly. These are very high quality, solid, sturdy dog steps that do not wiggle around even if your dog runs up the steps. They are truly as high qualit as human furniture. These steps being more sturdy and secure than other dog steps means my dogs aren't afraid to use them! We have a set that is 3-steps high for our bed, and a set that is 2 steps high that we now use on our couch. They are not cheap, but we have absolutely gotten our money's worth because our dogs use them several times a day, everyday which greatly improves their quality of life now that they are older and struggle with jumping.
Buy it: Amazon.
Need more pet gift ideas? Check our our gift guides from past years: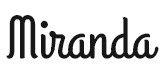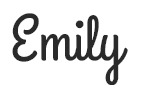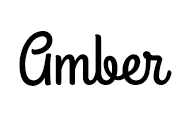 Hi there! I am Emily Evert, the owner of Emily Reviews. I am 25 and live in a small town in Michigan with my boyfriend Ryan and our two pugs. I have a large family and I adore my nieces and nephews. I am a calorie counter who loves soda. I budget to save money so I can spend it on my dogs. I love reading memoirs, and learning about child development and psychology. I love watching The Game of Thrones, Teen Mom, Sister Wives and Veep. I like listening to Jason Isbell, John Prine, Kris Kristofferson and Blue October. I created Emily Reviews as a creative outlet to share my life and the products that I love with others.
This post currently has 13 responses.