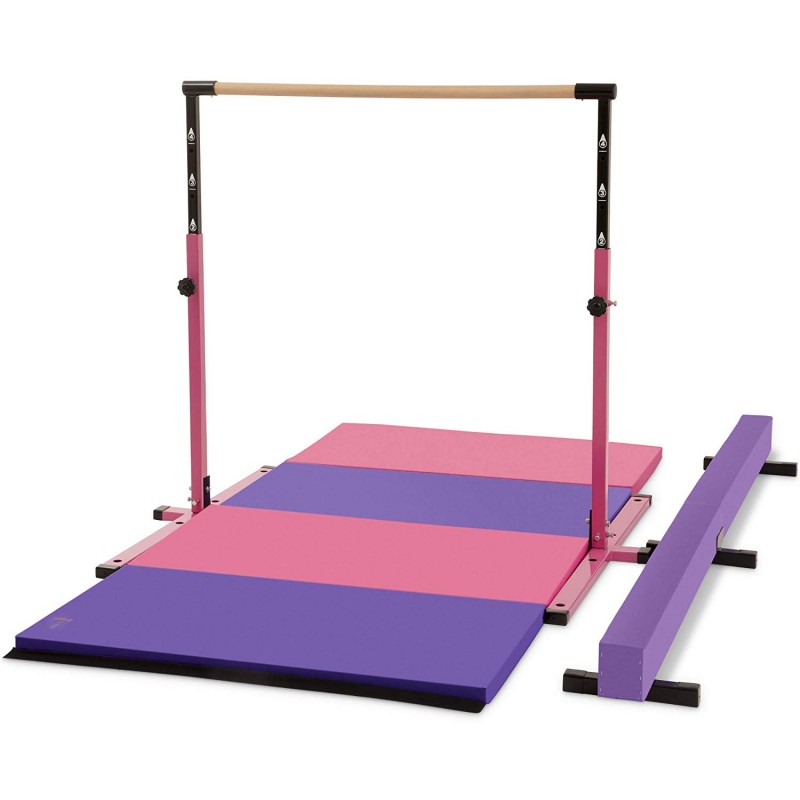 Thank you to Joom Beem for sending me this amazing gymnastics set. As always, all opinions are my own.
Our daughter is five years old and has been in gymnastics since she was three. She absolutely LOVES her weekly gymnastics lessons, but she has told me multiple times that she wishes she could practice more at home. Just last week she tried to do a handstand and ended up tumbling over and hitting her back on the hardwood floor. As you can imagine, that didn't feel great for her! I've been on the hunt for some in-home gymnastics equipment for awhile now, but that experience sealed the deal. I quickly found Joom Beem and I knew their amazing Gymnastics Combo Set would be the perfect fit for our family.
Joom Beem Gymnastics Combo Set
Our daughter is always changing her mind about her favorite part of gymnastics. Some weeks it's the bar, some weeks it's the beam, and some weeks she just wants to practice cartwheels and handstands on the floor. That's why I figured the combo set would be the perfect fit; depending on what she's into at the time, she can use! And her little brother will also love using all of the equipment, I'm sure.
Joom Beem Tumbling Mat
This foldable tumbling mat from Joom Beem is the perfect size for young learners. At 4′ by 8′, it also conveniently folds into four panels which is great for storage or travel. While it's great for gymnastics, it can also be used for dance or martial arts. I'm sure my kids will do all of the above on it! This mat has a vinyl over nylon non-slip cover and is filled with a polyurethane foam filler. It's fire retardant, puncture, and mildew resistant. It also has a Nyoplast bottom to prevent slipping and has Velcro panels on each end for connecting to additional mats.
Specs:
Size: 4 feet x 8 feet
Thickness: 1 3/8-inch foam thickness, 2 inches finished
Vinyl over nylon non-slip cover
Fire retardant, puncture and mildew resistant
Nyoplast coating on bottom
Velcro end panels
Foldable sections for portability
1-year warranty
Joom Beem Low Profile, Foldable Balance Beam
This low-profile balance beam from Joom Beem is the perfect size for young gymnasts. Our daughter still gets nervous on higher beams, and this one will be perfect for her to get comfortable and confident on. Newly redesigned, this balance beam features a quick-release removable middle leg that allows the beam to fold quickly for storage and travel. It's made from high-impact composite material and rated up to 280lbs.
The beam is designed with curved sides that are equivalent to competition rated beams. They look and feel just like competition rated beams so kids can practice at home for a significantly lower price. The beam is covered with a thick, soft suede which is durable and easy to clean. If anything goes wrong with your beam, Joom Beem will replace it for up to 5 years! This low balance beam is 8ft long, 4in wide and 7in tall.
Joom Beem Adjustable Horizontal Kip Bar
I think this bar is probably going to our daughter's favorite item to begin with. She absolutely loves doing flips right now! While we have an outdoor playset where she can practice in the warmer months, it gets a lot harder in winter. We don't make it outside as often and when we do, it's certainly not easy for a five year old to do flips on a metal bar with big gloves and winter gear on! This kip bar is going to be the perfect alternative this winter and I'm sure both kids will use it for years to come.
The Joom Beem Adjustable Horizontal Bar is great for beginning gymnasts. The horizontal bar height can easily be adjusted from as low as 3 feet (36 inches) to as high as 5 feet (60 inches) with 6-inch increment heights in between. This means your budding gymnasts can use this equipment continuously as they grow older and taller. It can be used for gymnasts through level 4! It works best when used together with the Joom Beem's Tumbling Mat; this is another reason I chose the combo set. It's more affordable than buying each piece separately and I feel like the mat is a must with a beam.
Made from solid stainless steel, quality wood, and tough rubber, the Joom Beem Adjustable Horizontal Bar is designed to last a lifetime. The horizontal bar is made from strong wood finely, sanded to 1 ½ inch diameter, able to handle weights of up to 100 lbs. The supporting bars are made from powder-coated, non-corrosive, precision stainless steel held together by ultra secure stainless steel screw bolts locking everything securely and safely into place.
I can't wait to gift our daughter with this amazing Gymnastics Combo Set this Christmas! I know she is going to be SO excited to try everything out. I'm looking forward to having a home gym area where the kids can let off some steam during our long winters. This combo set is the perfect addition to any home gym or in-home set up for young gymnasts!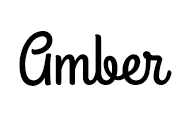 Hi there! I'm Amber, a 30 year old wife and mom of two from central Minnesota. I love to travel and to be outside with my kids anywhere the weather is warm! When I have a spare free moment, I love to read and scrapbook as well as binge-watch Netflix long after the kids are asleep. I drink too much Caribou Coffee and have a real sweet tooth but also try very hard to consume organic foods and use eco-friendly, fair trade products as much as possible. I also love socializing and sharing about my favorite products!
This post currently has 12 responses.