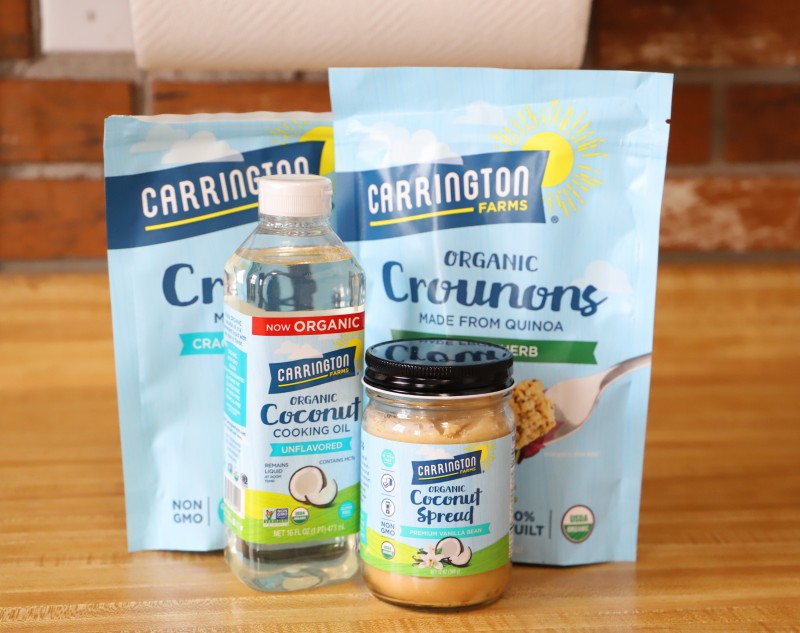 Thank you to Carrington Farms for sending me product. As always, all opinions are my own.
It's getting to be a very long winter in Minnesota, and lately our very cold days have been filled with a lot of baking to make the time pass. While it's been fun to find and create new meals and desserts, it's also made me very conscious of the products we're consuming. We've made leaps and bounds over the past few years improving the nutritional value and safety of the foods we buy, but there's always room for improvement! Lately I heard about a few products from Carrington Farms that have recently replaced less healthy options in our diet, and I'm excited to share them with you!
Carrington Farms
Since the beginning of the new year, I've been trying to incorporate healthier lunches into my diet. Basically, this means I'm eating a lot of salads, ha! There's actually so many different ways to prepare salad that I've enjoyed this change, and I'm happy that I'm getting so many more vegetables into my day. Typically I start with a mixed greens salad and add whatever veggies I have on hand. Typically that consists of some variety of the following: shaved carrots, purple cabbage, mushrooms, avocado, peppers, cherry tomatoes and cucumber. Then I'll add some organic pumpkin seeds or nuts as well as a big protein source like hard boiled eggs, tuna, smoked salmon, or chicken. While I used to also include croutons in my salads, lately I've been using Carrington Farms' Organic Crounons instead!
Now you may think I made a typo above, but I didn't! These Crounons are a great alternative to traditional croutons because they have all that delicious crunchiness and added flavor without any of the guilt. They're made from crispy puffed quinoa and they're gluten-free, non-gmo, and vegan! As you can see, I couldn't even wait to take photos before I ripped into one of the bags.
Crounons are available in four different flavors, and I tried the Garden Herb and Cracked Pepper & Sea Salt. They're also available in Garlic & Parmesan and Butter & Roasted Garlic. With seven ingredients or less in each flavor, I don't feel guilty about adding these to my salads at all! If I'm just craving something salty, I pop a few of these in my mouth instead of chips, too. They're a great alternative to traditional croutons and other salty cravings.
Another item I'm so excited about is Carrington Farms' Organic Coconut Spread. We've all heard about good fats, and that's exactly what this is! It's made of dried, pureed organic coconut meat and flavored with premium vanilla bean. There are also Creamy Milk Chocolate and Cinnamon Spice options available! Since I have a serious sugar craving, this is a great alternative to other less healthy spreads. We recently made gluten-free chocolate buckwheat pancakes and this Organic Coconut Spread was the perfect addition to add a little sweetness. It's vegan, non-hydrogenated (so no trans fats!), and contains fiber, protein, and nourishing fats. I love it and can't wait to try the other flavors!
One thing I recently learned as I was researching healthier foods for the year is that cooking oils are NOT all created equal. While we've already made the switch away from corn, canola, and vegetable oils, I recently learned something concerning about olive oil too. When brought to a high heat, olive oils can start producing VOCs that are harmful and toxic to ingest. When I learned that coconut oil has a higher heat point than olive oil, I decided to make the switch to Carrington Farms' Organic Coconut Cooking Oil for my high-heat needs.
I've cooked with coconut oil before but always found the coconut flavor to seep into my food, so when I saw that Carrington Farms' Coconut Oil is unflavored, I was excited. This liquid coconut oil retains the benefits of coconut oil but doesn't have the coconut-flavor. It has a simple flip top which makes measuring simple, and remains liquid at room temperature. Plus, it's organic, non-gmo, gluten free, hexane free, and comes in a BPA-free bottle. It's also naturally rich in Medium Chain Triglycerides which helps the body in calorie burning! I use this oil for all of my sauteing, cooking, and baking now.
I'm very excited to see the health results from making these healthy switches in 2019. The more research I do, the more excited I am about filling my body with nutritious, organic options for optimal nutrition. Plus, I feel great that my kids are getting all of the benefits, too!
Buy it: You can purchase Carrington Farms products from their website or find a store near you!
Win it: One lucky reader will receive a prize pack containing the four products I featured above! This is a US giveaway ending 2/28. Enter using the Giveaway Tools form below, and good luck!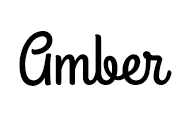 Hi there! I'm Amber, a 30 year old wife and mom of two from central Minnesota. I love to travel and to be outside with my kids anywhere the weather is warm! When I have a spare free moment, I love to read and scrapbook as well as binge-watch Netflix long after the kids are asleep. I drink too much Caribou Coffee and have a real sweet tooth but also try very hard to consume organic foods and use eco-friendly, fair trade products as much as possible. I also love socializing and sharing about my favorite products!
This post currently has 6 responses.