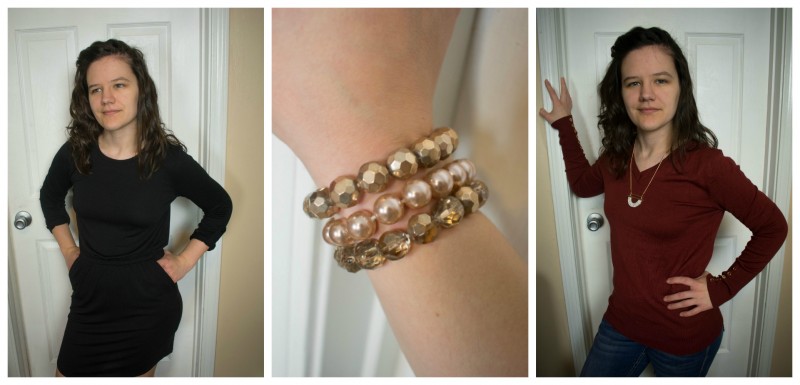 I was sent a Nadine West shipment for review. All opinions are my own. There are affiliate links in this post.
We've started having true spring-like weather here in Michigan. I'm so excited to start transitioning away from my winter coat and into lighter, brighter clothing. My March Nadine West shipment included 9 items.
If you're new to my blog, Nadine West is an outfit subscription service. You fill out a style profile with your sizes, style preferences such as which prints and colors you like wearing, what your style of jewelry is, and whether you'd like to receive certain accessories like scarves or not. Then monthly or bimonthly (depending on your settings!) you'll get sent a pretty pink envelope from Nadine West that has delicately-packaged items inside. It amazes me how much they fit into those envelopes, and how carefully. The package will also include a prepaid return mailing label. You get to try on everything you were sent, and then you mail back the items you don't want to keep or pay for. You're only charged for the items you keep. I've found Nadine West to be a fun way to try out some clothing I wouldn't normally try, and a convenient way to keep my wardrobe updated.
On to the items I was sent!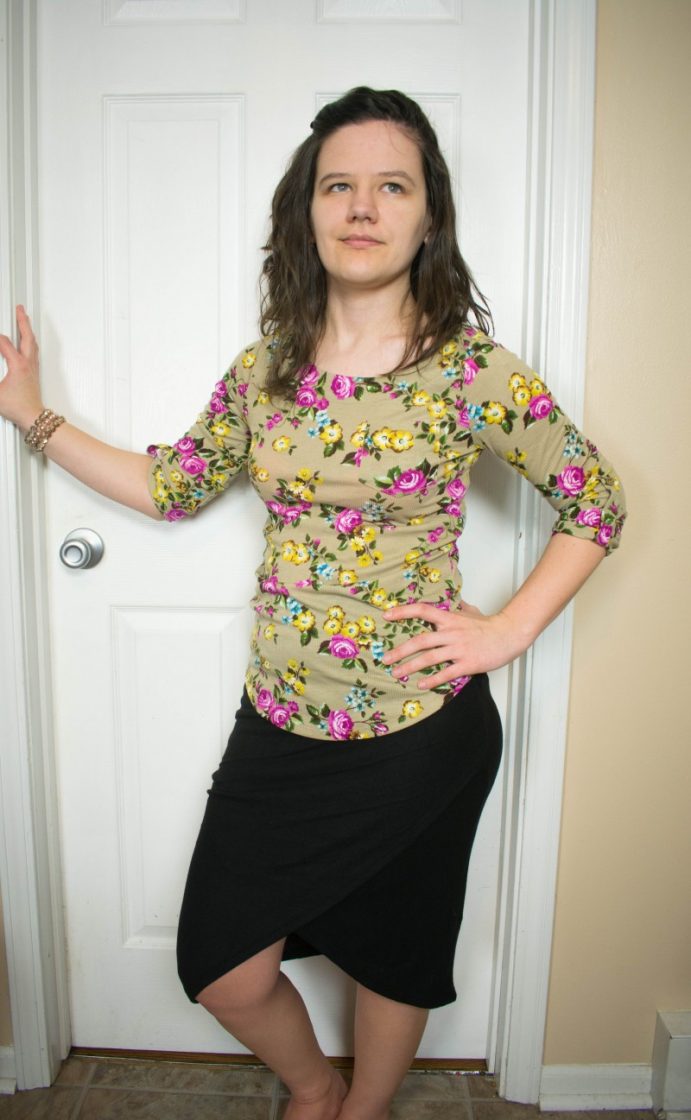 Both the skirt and the top were sent from Nadine West. I never really wear skirts and I've commented before about how I wish I could opt into dresses but out of skirts from Nadine West, but the profile lumps them together. This skirt is a stretchy material that makes it really comfortable and slightly more casual than other skirts I have received. It's just not a match for me because I don't wear skirts. It would be $19.99 to keep.
The top is a keeper for me. I like floral prints, but I wouldn't usually try on any top that had this sort of greenish-brownish color to it. I tend to either wear bright, pretty colors like pinks and purples, or deeper colors like gray or maroon. Yet, I like how this shirt looks once on. I think the greenish-brownish color offsets the brightness from the flowers nicely. It is $17.49 to keep.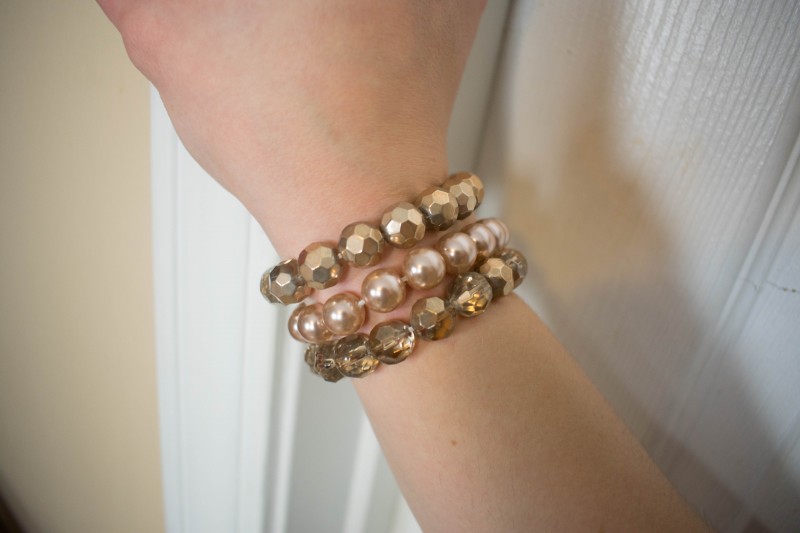 The bracelet this shipment was actually a set of three. These are little beads on a stretchy string. I have smaller wrists and most bracelets are big on me, but these are snug. I think they would leave imprints in my skin if I wore these longterm, so they would be far too tight on someone with a more average sized wrist. I think these are cute, but they just aren't quite my style. They are $11.99 for the set of three, to keep.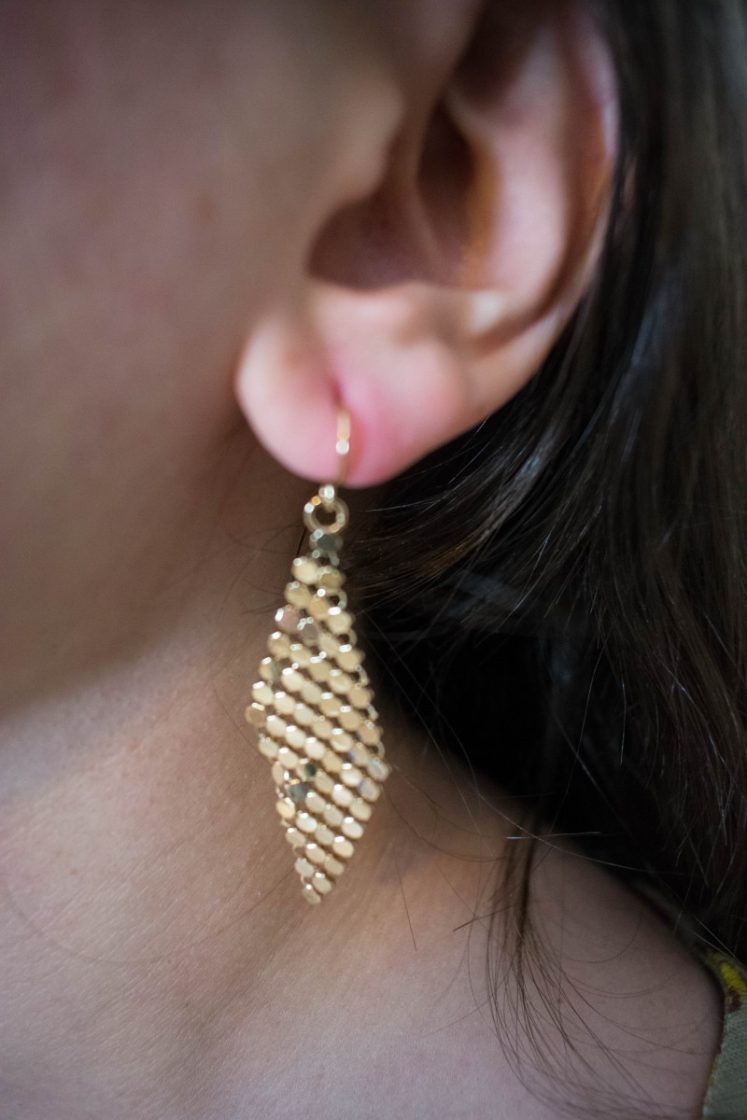 The earrings were a 'win' for me. I like dangle earrings but don't like heavy earrings. These hang but are really lightweight. I like how they reflect light as you move around. They are simple enough to match with a lot of outfits, too. These are $14.99 to keep.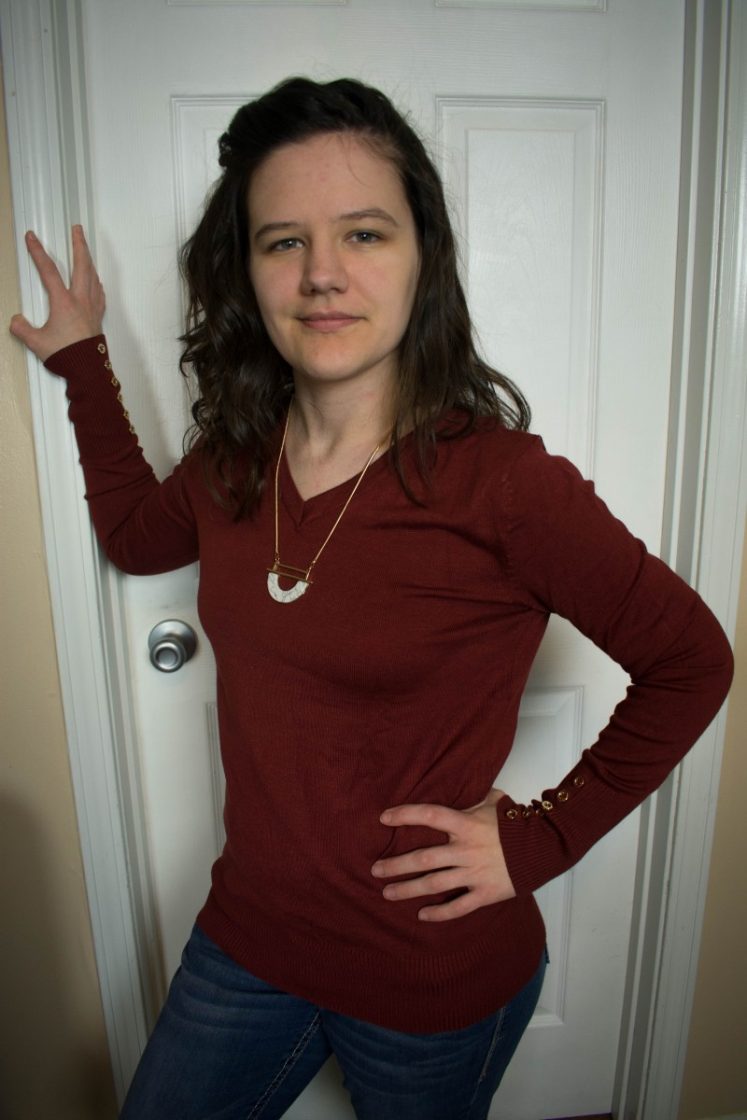 I like this top quite a bit. It looks almost sweater-like, but it's more lightweight. This might be a bit too heavy to wear in March in other areas, but here in Michigan it's ideal for most early spring days. I really like the neckline because it is sort of a v-neck but it's very structured. I also liked the ribbed area at the bottom. I'm not super keen on the gold-toned buttons on the sleeves but they are okay. This top is $30.49 to keep, making it the most expensive item in my bag this month.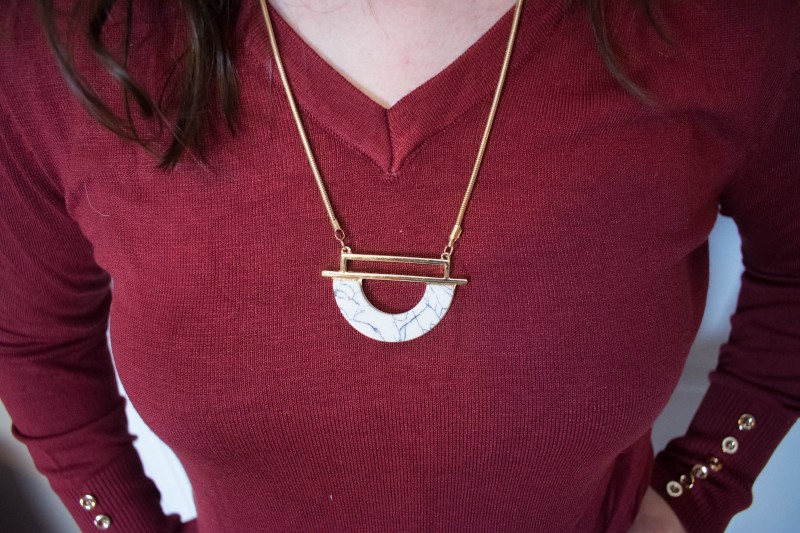 The necklace that I was sent reminds me of an artist for some reason. It has a rather unique design. I'm not sure it's my style, but I liked getting something unique to try out. This necklace costs $24.99 to keep.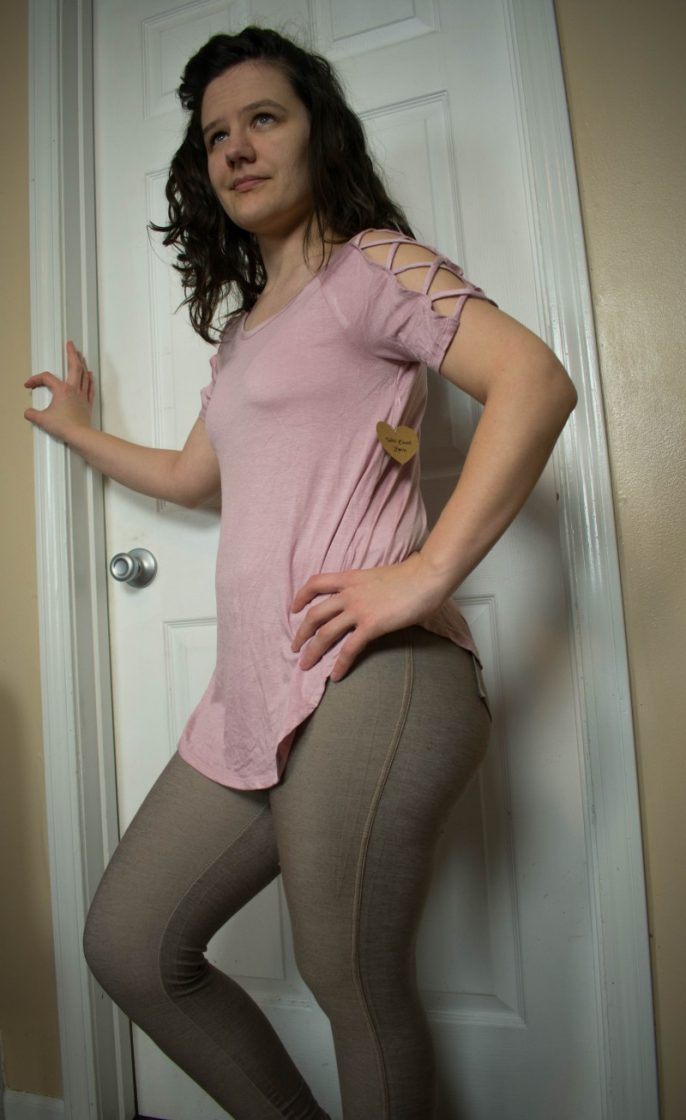 When I first pulled this pink shirt out of the bag, I thought it would be a new favorite. I like pink, and the zig-zag shoulder area on this is so cute and girly. The material is soft, but it's thin and very drapey, so it really highlights my stomach. This photo was taken at an angle (in part) to help disguise my belly but it still is highlighted. I have put on about 10 pounds since last summer and a lot of it seems to be in my stomach, so I'm not a fan of highlighting that area of my body right now. I think if this top was made of a different material and fell a bit differently, it would have been a favorite for me. It is $22.49 to keep.
The leggings pictured also came from Nadine West. This color is sort of tan with a hint of green to them. They are designed to look somewhat like jeans, and feature back pockets that are real. All women are happy for pockets in our clothing, I think! So I love that these have functional back pockets. They are quite low rise for being leggings. They are thin, making them comfortable to wear in spring or perhaps even summer. These are definitely a keeper for me. They are $17.99.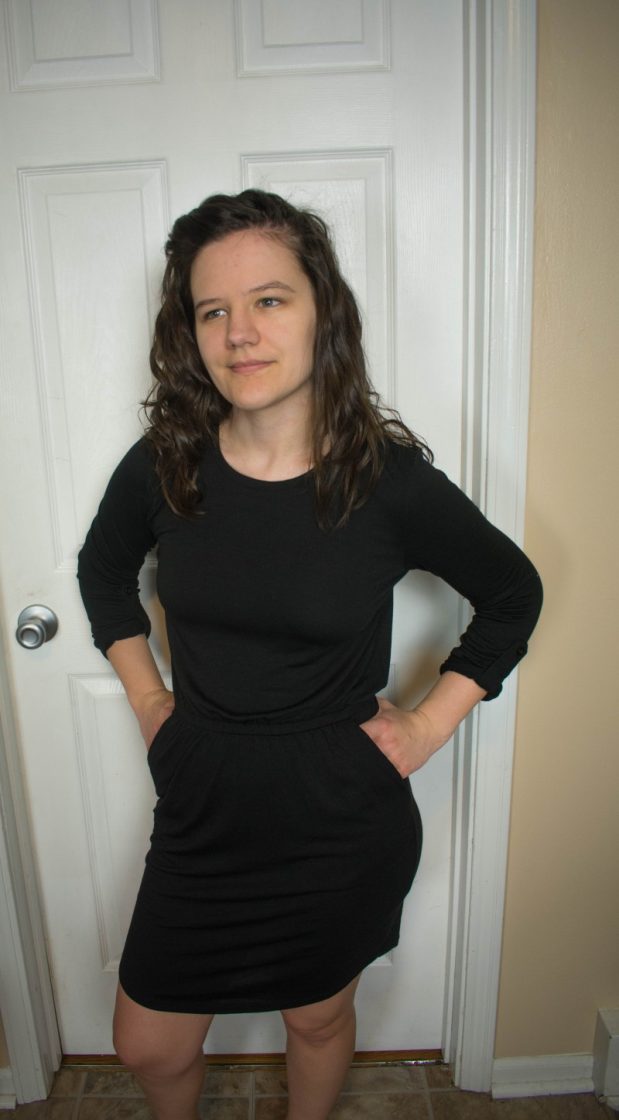 At a glance, this dress looked like a romper to me. It has an elastic area at the waist to help give it some shape. It's a simple cotton material which is breathable and comfortable to wear. I like how it has a higher neckline making it more modest than a lot of dresses and making it more practical for wearing to situations where you might be a little active. It has functional pockets which I adore. No need to keep a purse on me all the time just to keep track of my phone! The dress is $29.99 to keep.
If you want to see what Nadine West would send you based on your style preferences, head to Nadine West to learn more.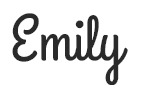 Hi there! I am Emily Evert, the owner of Emily Reviews. I am 25 and live in a small town in Michigan with my boyfriend Ryan and our two pugs. I have a large family and I adore my nieces and nephews. I am a calorie counter who loves soda. I budget to save money so I can spend it on my dogs. I love reading memoirs, and learning about child development and psychology. I love watching The Game of Thrones, Teen Mom, Sister Wives and Veep. I like listening to Jason Isbell, John Prine, Kris Kristofferson and Blue October. I created Emily Reviews as a creative outlet to share my life and the products that I love with others.
This post currently has 5 responses.