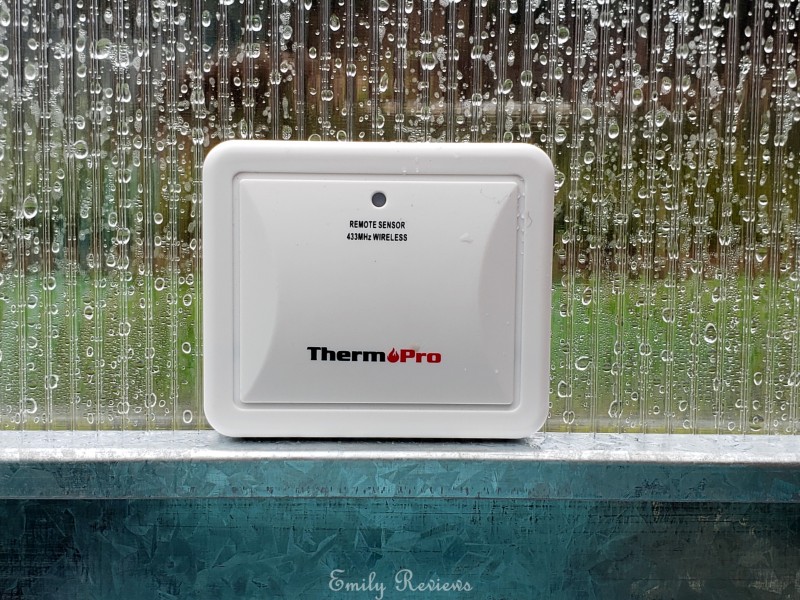 Thank you to ThermoPro for providing me with products to facilitate my blog review. All opinions are 100% my own.
Mother's Day and Father's Day are quickly approaching. Have you thought about what gift you want to give to your mom and/or dad? How about a thermometer from ThermoPro? ThermoPro specializes in thermometers. They have wireless meat thermometers, Instant-read thermometers, grill thermometers, ear thermometer, as well as outdoor hygrometer & thermometers. Any of these would make a great gift idea.
I contacted ThermoPro looking for a wireless thermometer that I could put in my new greenhouse. I needed to be able to monitor the temperature of the greenhouse from inside our main house.  After looking at the options available, I decided on the ThermoPro TP63A Digital Thermometer Wireless Hygrometer.
The ThermoPro TP63A Digital Thermometer Wireless Hygrometer gives me an accurate temperature and humidity reading for the greenhouse as well as the main house. The TP63A is a two piece unit. The remote sensor that goes out in the greenhouse is completely sealed making it weatherproof in rain, snow, or sun. The remote that stays in the main house has a 200ft range. It has a touchable backlight screen. It displays trend arrows as well as min & max records.
I am so glad I got the ThermoPro TP63A! I had no idea the temperature inside the greenhouse would be so high or would have such a large change from day to night. Monday night, the temperature inside the greenhouse was 29°. During the day it was 70° outside, but 107° inside the greenhouse. Knowing it was so hot in the greenhouse, I was able to go outside, open it up, and get some fresh cool air to my young delicate plant starts. Had I not have seen the temp on my TP63A, my little plants would have baked to death.
While I was shopping at ThermoPro, I grabbed a ThermoPro TP-17 Digital Meat Cooking BBQ Food Electronic Thermometer, thinking it will be a great Father's Day gift for my father-in-law. The TP-17 makes it convenient for monitoring the temperature of two pieces of meat or two grill temperatures. The TP-17 has a 2.5″ backlight LCD digital thermometer display. It comes with two 8.5″ long food grade probes. The display screen as an alarm option that can be set to remind you to check your food. You can also set the device to alert you when you have reached one of the preset temperatures. I look forward to seeing my father-in-law open his gift. I am confident he will like it!
Swing by ThermoPro and grab a gift for both Mother's Day and Father's Day! You won't regret it.
Buy It: Please visit the ThermoPro website to see the great selection of products they offer and convenient shopping locations.
Connect: Don't forget to follow ThermoPro on Facebook, Instagram, and YouTube for the latest product announcements and special offers.
WIN IT: One winner will receive a TP63A Digital Thermometer Wireless Hygrometer and a TP-17 Digital Meat Cooking BBQ Food Electronic Thermometer. This is a US giveaway and it is scheduled to end on 05/18/2019. Good luck!


This post currently has 4 responses.