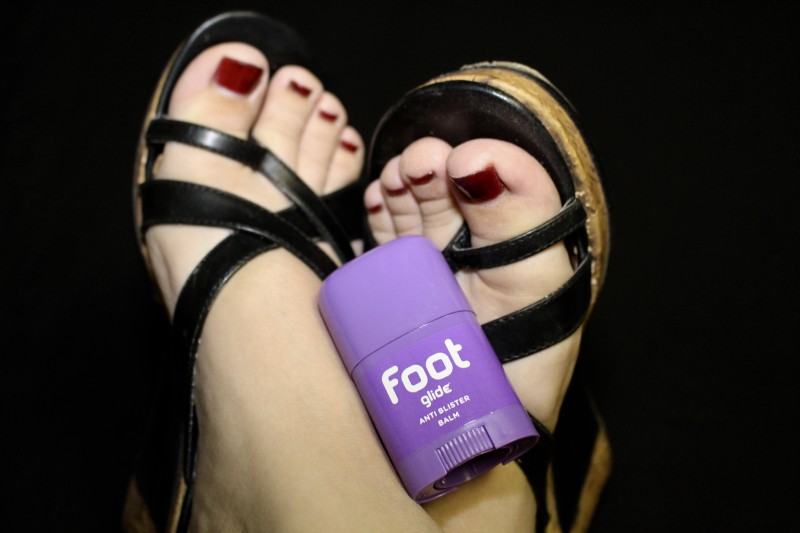 Thank you to Body Glide for sending samples in exchange for my honest opinion in this review.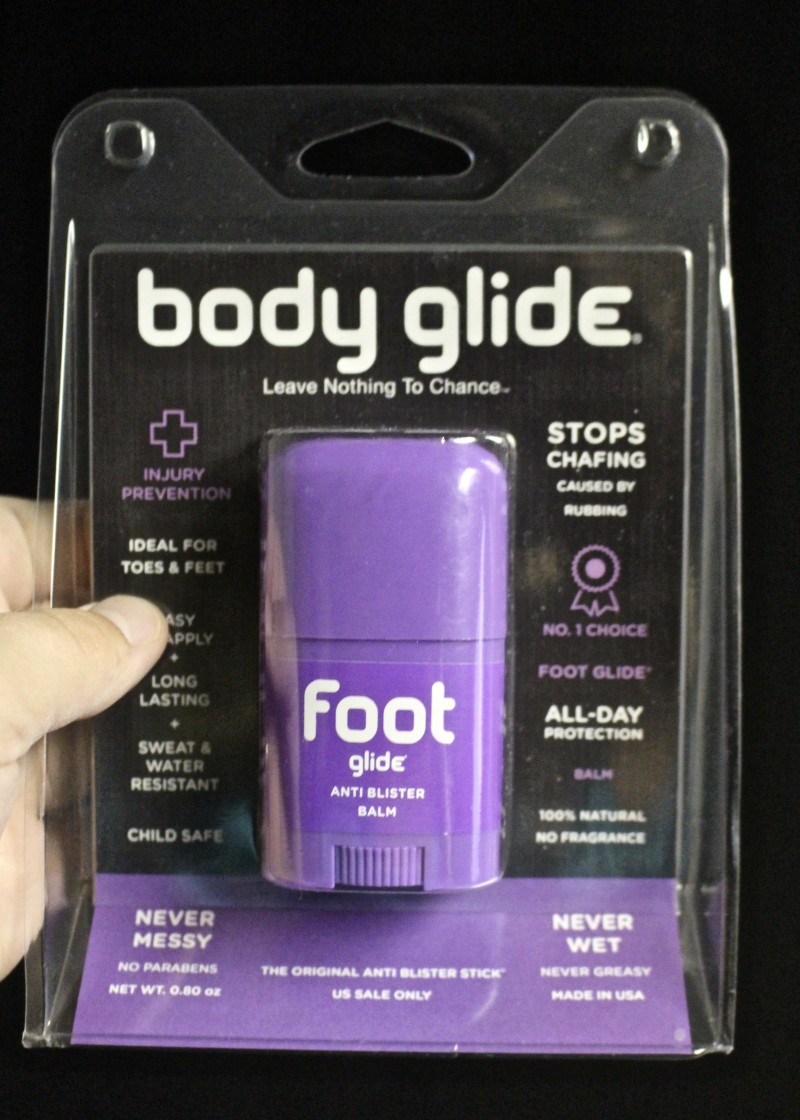 I pride myself with having almost everything a person might need in my purse and or diaper bag. Recently I added something new to the purse arsenal: Body Glide's Foot Glide! This stuff is awesome! I used it for the first time last Saturday for my friend's wedding. I pulled out a pair of strappy wedge sandals I hadn't worn since before my babies were born to go with my new dress, and I thought to myself " these are going to hurt my feet!" I used Foot Glide before applying the sandals and again once after supper at the wedding, before the dance. I came away with no blisters, no bleeding spots on my feet. I have worn these shoes many times in the past and never have I been able to wear them all day/night at a wedding and not have any sore spots on my feet when the night was done! This stuff is amazing!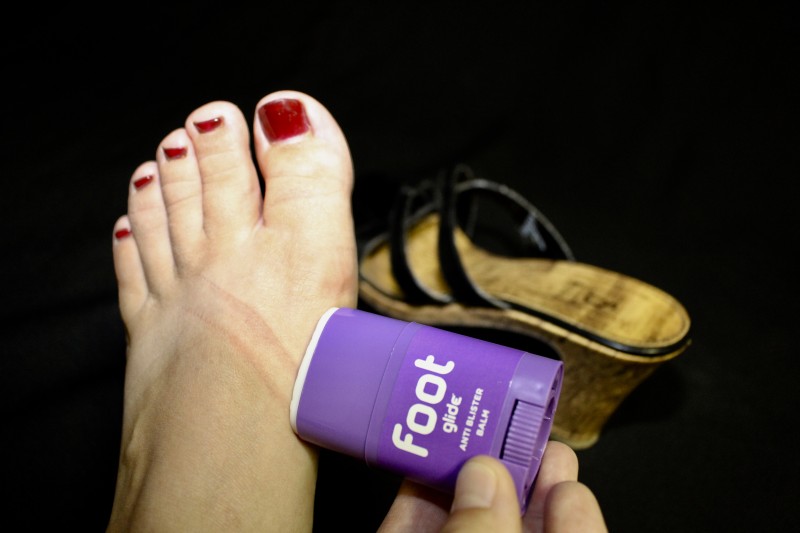 Body Glide's Foot Glide is an anti-chafing balm for your feet to stop blisters from forming.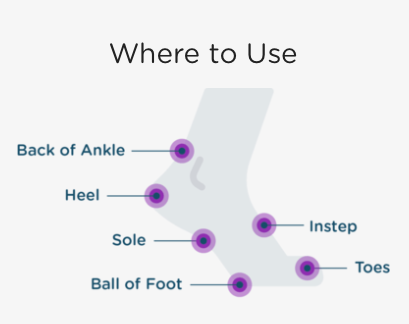 Foot Glide is a specially formulated for your feet; it rolls on the skin and provides a barrier to stop chafing before it begins. It is a solution that delivers all day comfort. It doesn't harm your clothes and is water and perspiration resistant, so it is perfect for summer.
Use Body Glide Foot balm for rubbing that causes painful irritation, chafing, hot spots under feet, blisters, or raw skin. The balm does not contain petroleum, lanolin or mineral oils and is not wet or greasy. It is invisible and so comfortable, it is like it is not even there!
12 reasons you should try Body Glide Foot Glide:
Glides on Easy
Sweat & Water Resistant
Skin Safe
All-day Protection
Not oily, never wet
No petroleum, no parabens, no phthalates
Made with allergen free and plant-derived ingredients
Vegan approved
Never tested on animals
Infused with natural anti-inflammatory & skin rejuvenator ingredients
Child safe
Wetsuit, clothing, and footwear safe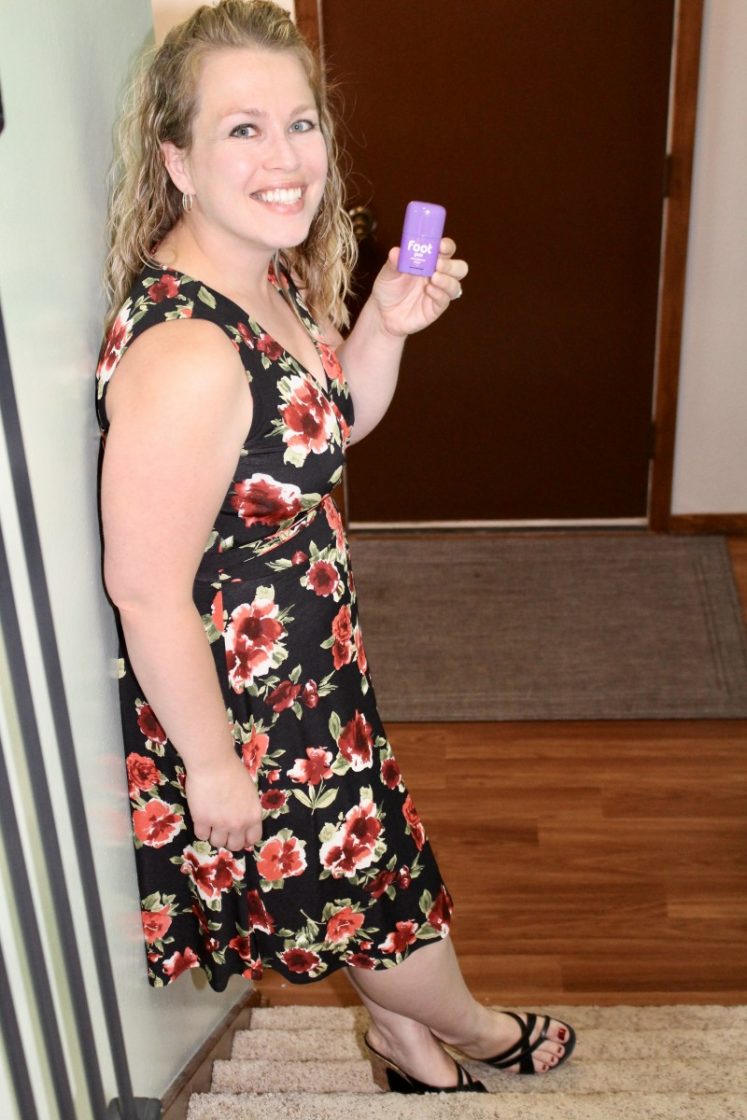 The advanced formula is a dry, invisible, non-greasy barrier that protects your skin from friction and rubbing caused by socks, straps, seams, and more. It is made with all-natural allergen free, plant-derived ingredients. Foot Glide is infused with Apricot Kernel Oil, Comfrey Leaf Extract, and Vitamins A & C to help soften skin, minimize inflammation and restore dry, chapped, and chafed feet. I appreciate that it is fragrance-free as well.
To use, just apply directly from the stick, before you put on your shoes. It goes on sort of like putting on a stick of deodorant. Apply it to your intact skin before you begin activity or anytime it is needed. Body Glide Foot Glide an be used daily for effective and long lasting protection of your toes and feet, even in demanding conditions. It can be washed off with mild soap. Foot Glide is available in a .8oz travel size ($7.99) and a .35oz pocket size (4.99) and is a great value in my opinion! That is a small price to pay to have blister-free feet!
Buy It: Head over to Body Glide to see for yourself the great selection of products they offer.
Connect: Don't forget to like them on Facebook, follow them on Twitter and Instagram, and subscribe to their YouTube channel for all the latest news and promotions.


Hi, my name is Asha. I am 30 years old and am a nurse by profession. My husband and I have been married for over five years and together we have a sweet three-year-old daughter, an infant son, and a lovable bunny named Caramel. I enjoy spending time with family, taking photographs, scrapbooking, hunting, fishing, cooking and gardening.
This post currently has 6 responses.