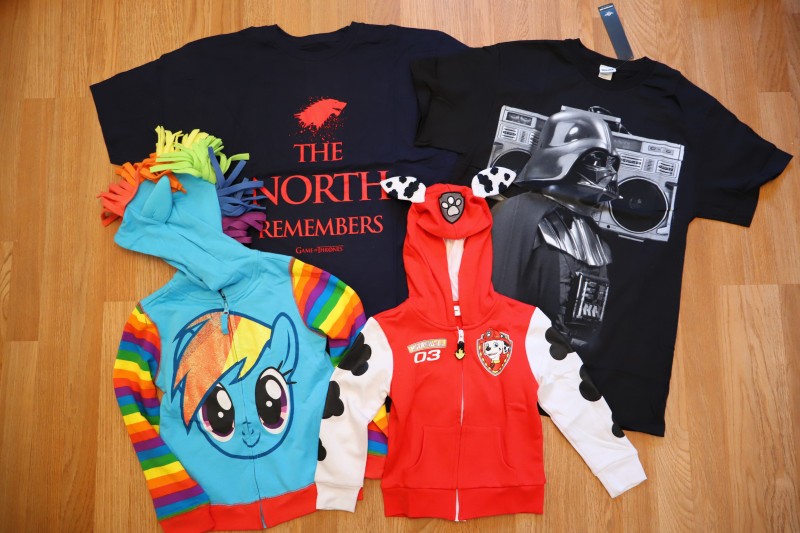 Thanks to TVStoreOnline.com for sending me these fantastic shirts. As always, all opinions are my own.
Back to school is fully underway, with some students even starting classes in August! Schools in Minnesota don't begin until after Labor Day so we're soaking up the last few weeks of summer while also frantically finishing up our back to school shopping. Our kids grow so fast but I really enjoy buying clothes for them. As we head into the cooler Minnesota months, I always like to have a few comfortable tees and sweatshirts on hand. Recently I discovered TVStoreOnline.com and their large collection of pop culture tees and hoodies, and I just HAD to get a few items for our kids and a couple gifts also.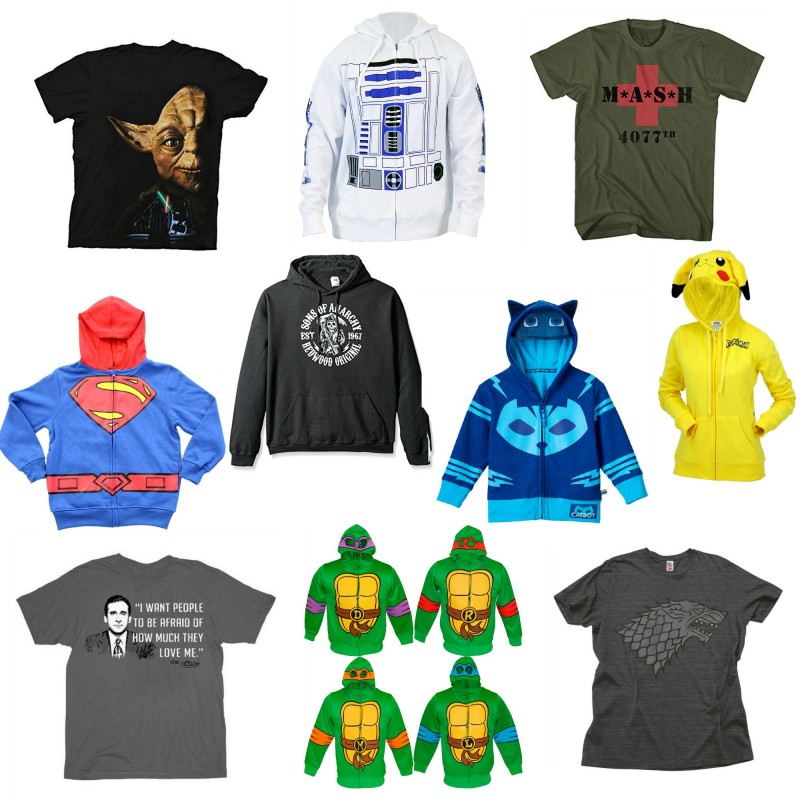 TVStoreOnline.com Graphic Tees + Hoodies
If you love comic books, movies, and TV, you probably have some favorite characters and episodes or videos. What better way to share your love for them than wearing them on your body?! Here are just a few of the shows, movies, and characters you can see represented on TVStoreOnline.com:
Star Wars
The Office
Friends
Game of Thrones
Rick & Morty
The Big Bang Theory
My Little Pony
Teenage Mutant Ninja Turtles
Paw Patrol
PJ Masks
Captain America
Superman
Pokemon
I'll admit, our family loves TV and movies. It's not uncommon for us to see brand new movies at the theater a couple times a month, and there are quite a few shows that we stream and love also. Our kids have their favorites, and my husband and I enjoy watching adult shows together after the kids go to bed. I grew up in a family that watched a lot of TV, and some of my favorite memories are watching the same movies as a family over and over. Since my dad and brother's birthdays are both coming up I thought it would be fun to add to their t-shirt collections with some fun graphic tees from TVStoreOnline.com.
We're all big Game of Thrones fans, so when I saw this "The North Remembers" tee, I knew it would be perfect for my dad's upcoming birthday. If you're a fan of the Stark family, this is the perfect tee for you! It's 100% cotton and comes in adult sizes. I chose the second shirt pictured for my brother. I have seen a LOT of Darth Vader shirts but I think this one takes the cake. I love the retro boombox throwback graphic and who doesn't love Star Wars? We grew up watching the originals and I know my brother is going to really appreciate this shirt.
Now of course I had to pick out a few shirts for our kids and back to school also, so I decided to check out TVStoreOnline.com's large selection of hoodies as we head into cooler weather. As I mentioned before, our kids have their favorite shows and they love when I buy them character clothing to show off their personalities! I went with the adorable My Little Pony Rainbow Dash Hoodie for our six year old daughter and you should have seen her face when I brought it out-priceless.
This vibrant hoodie comes with all the things little girls need: rainbows, ears, a rainbow mane, and even wings!
As you can guess, this has been the preferred hoodie of choice every day since we received it. It's the most adorable shirt and it's perfect for the upcoming fall and winter seasons. Our son has recently gotten VERY into Paw Patrol, so when he saw this I Am Marshall Hoodie he just had to have it!
The details on this sweatshirt are just so fun. From the dalmation-print arms and ears to the tiny flame zipper pull, it's an adorable representation of our son's favorite Paw Patrol character. There is also a Paw Patrol I Am Chase hoodie available in blue if your little one prefers a different brave pup shirt!
I am highly impressed with the quality of all of the shirts I received. I'm looking forward to using TVStoreOnline.com for more back to school shopping and as gifts for upcoming birthdays and holidays, too!
Buy it: TVStoreOnline.com
Win it: One lucky reader will take home any in-stock hoodie or tee of their choice from TVStoreOnline.com, up to $60 in value. This is a US giveaway ending 9/5. Enter using the Giveaway Tools form below, and good luck!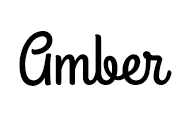 This post currently has 4 responses.