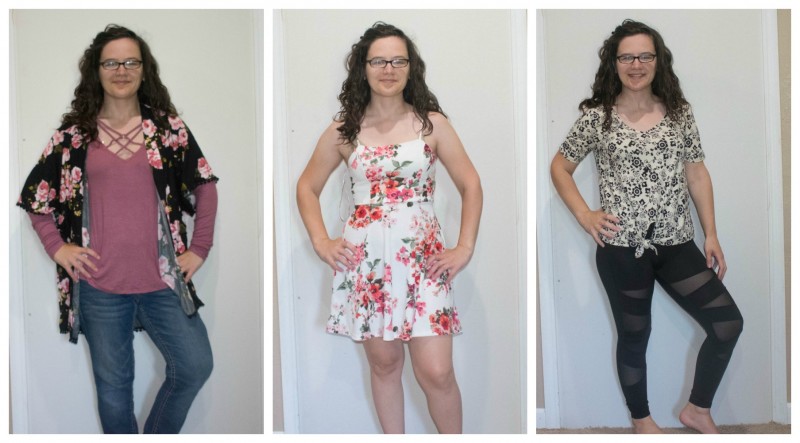 Nadine West sent me a package to review. There are affiliate links in this post. All opinions are my own.
Fall weather is definitely here in Michigan. We've been wearing pants and sweaters or light jackets for a few weeks now. It's so funny to watch YouTube families in Florida and see them still having pool parties! Nadine West seems to cater their shipments to the seasons somewhat, so I've been eager to start getting some fall clothing in my packages and just as expected, that has started to happen! Though much of it was still geared more towards summer. Here is what came in my (early) October shipment.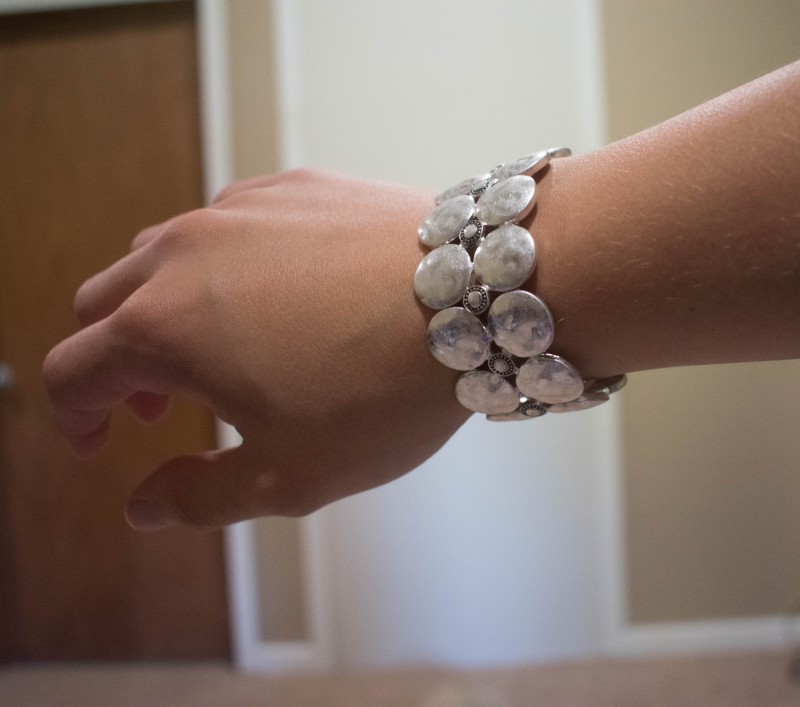 This bracelet is pretty simple yet pretty and can go with most any outfit. I like it! It is $16.99 to keep.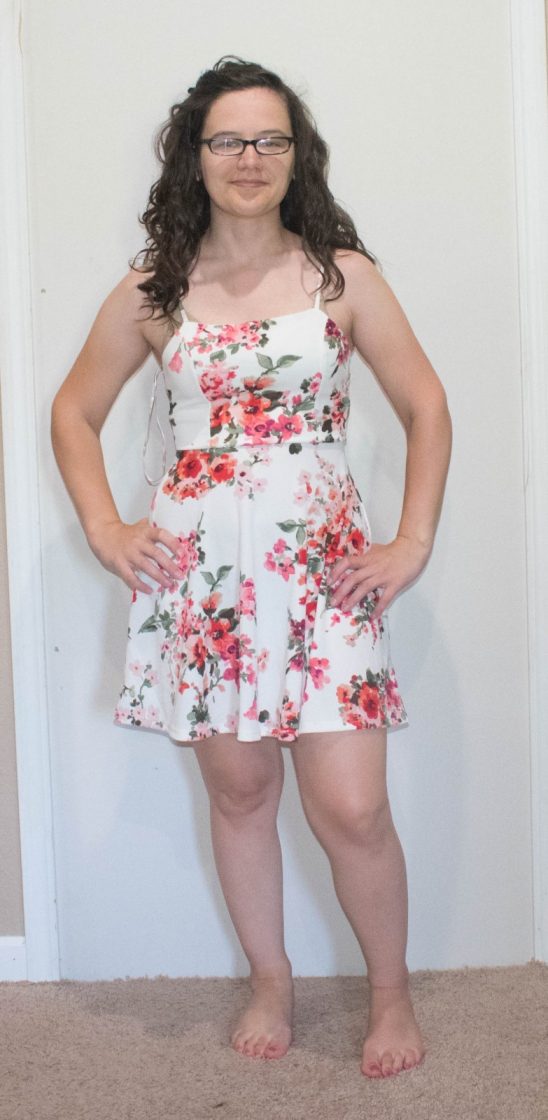 This is the most 'summery' item included. I like the print and the fit, so it's a keeper for me. I'll just have to hold onto it until next summer as it's too cold for this here. It is $29.99 to keep.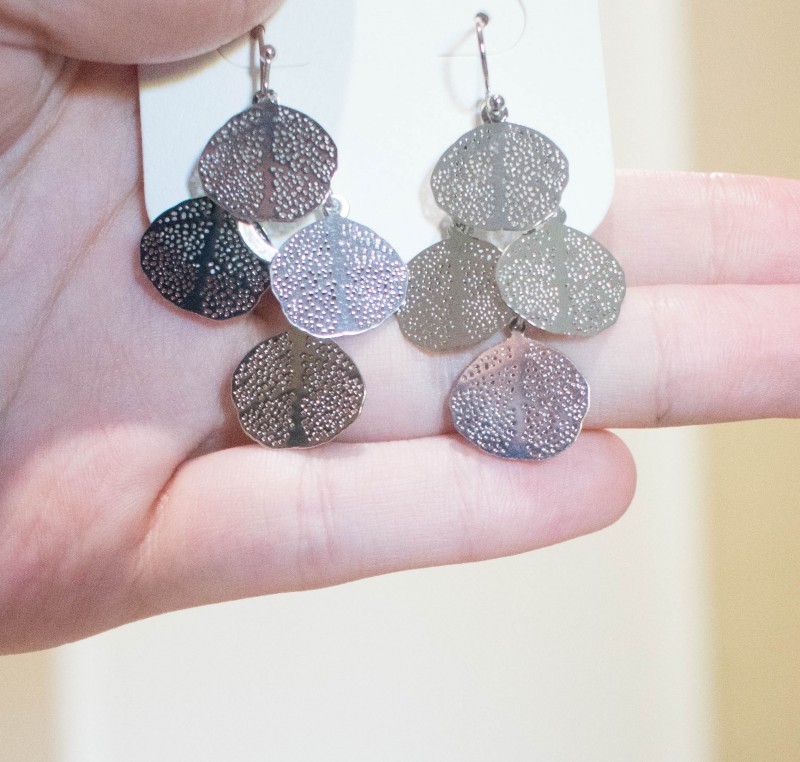 These silver earrings have a leaf-type texture to them. I think they are pretty, but I am not one to wear nature-inspired jewelry like this so they aren't quite my style. They are $15.99 to keep.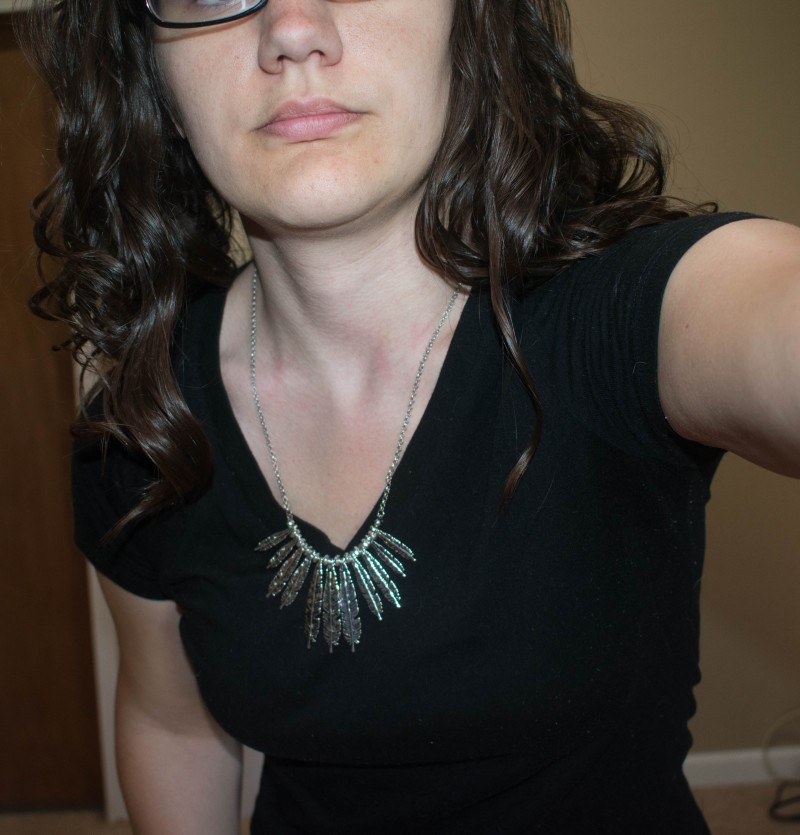 This necklace is similar to the earrings for me, nature-based designs just aren't my thing, so feathers just aren't my style. It is $27.99 to keep.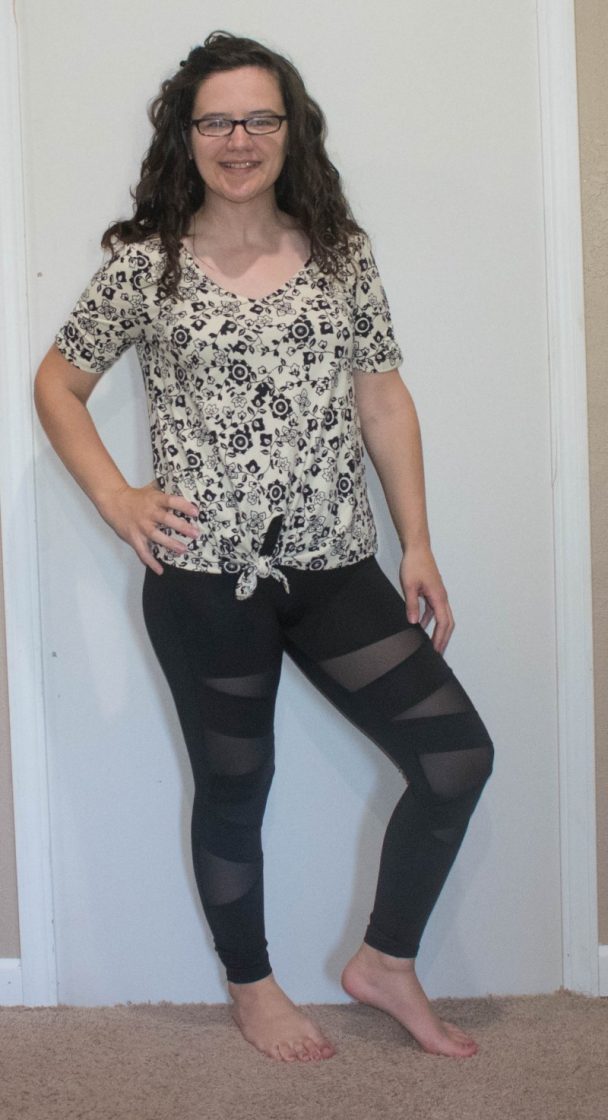 The top and bottoms pictured above are both from Nadine West.
I like the color and print of this top. I would typically shy away from shirts that have the tied part that can potentially reveal part of your belly, but it fits me long enough that it doesn't. So, this top was a keeper for me. The material is really soft! It is $29.49 to keep.
The leggings are keepers, too. It's too cold to wear these outside here due to the mesh panels, but I think they look really cute on. I'll wear them next summer. They are $33.99 to keep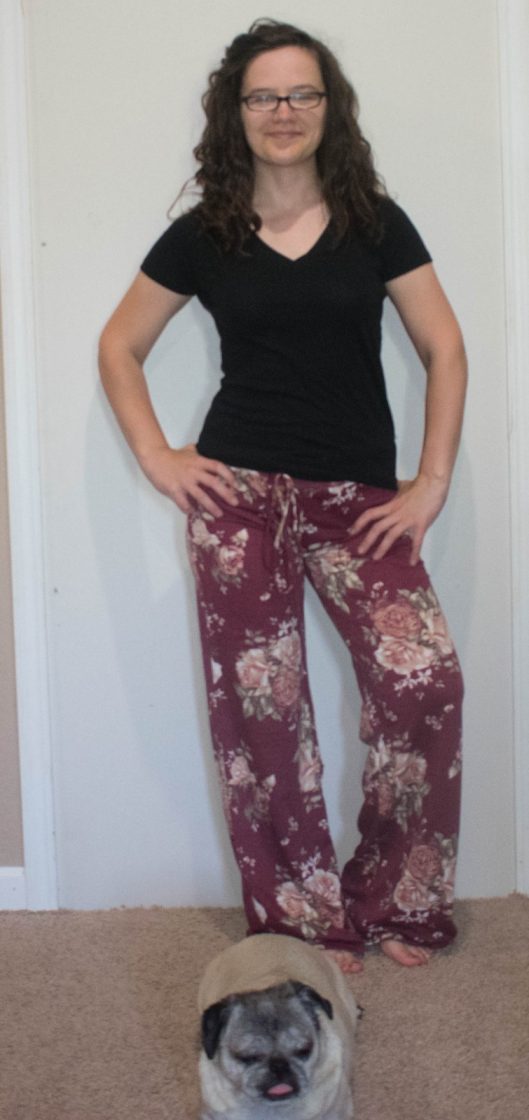 Excuse the pug photobomb! These pants are a print that I like, but I'm just not one to wear flared pants, or pants in this sort of material. I wear jeans or leggings, but that's it. These are $18.99 to keep.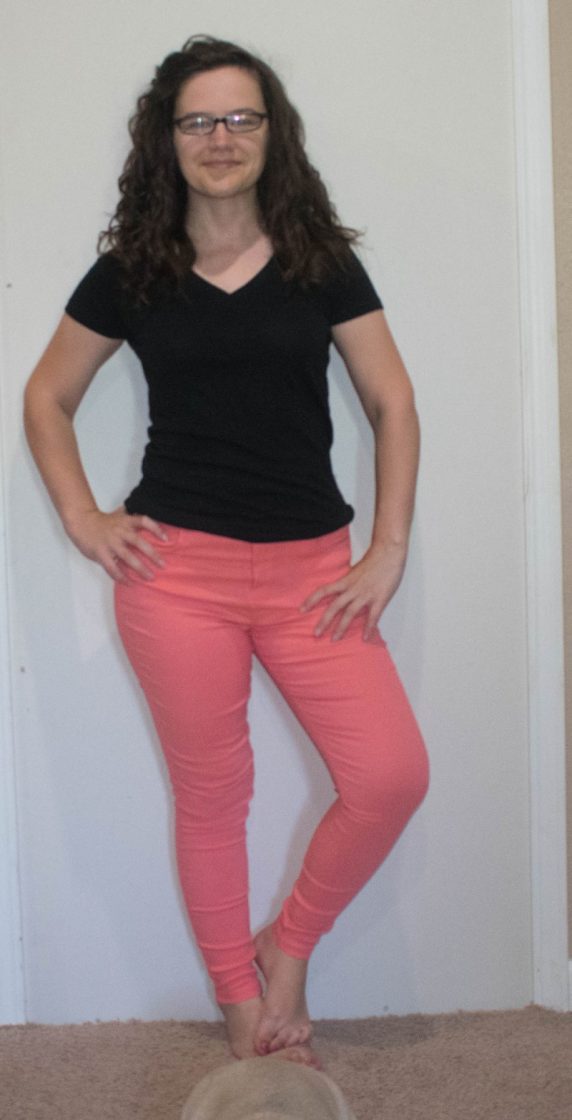 I was excited to see some jeggings or skinny jeans in this shipment. I love that Nadine West has been sending more jeans or jean-like bottoms the last few months. These were a bit too tight for me in the legs and the color is a bit bold for me as well. I enjoyed trying them out though. They are $20.99 to keep.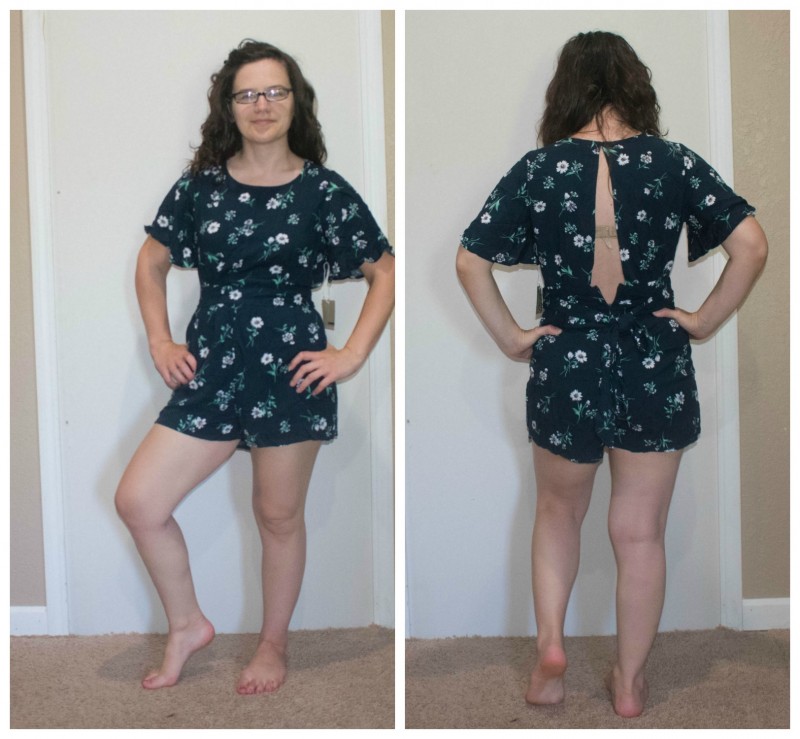 Guys…this is the first romper I've ever tried on that actually fit! It didn't feel like it was pulling my shoulders down, or riding up from below, either. It just, fit! I don't particularly like the fit, I don't think it flatters my body very much. Still, it was exciting to see that apparently some rompers do fit me! This is $29.99 to keep.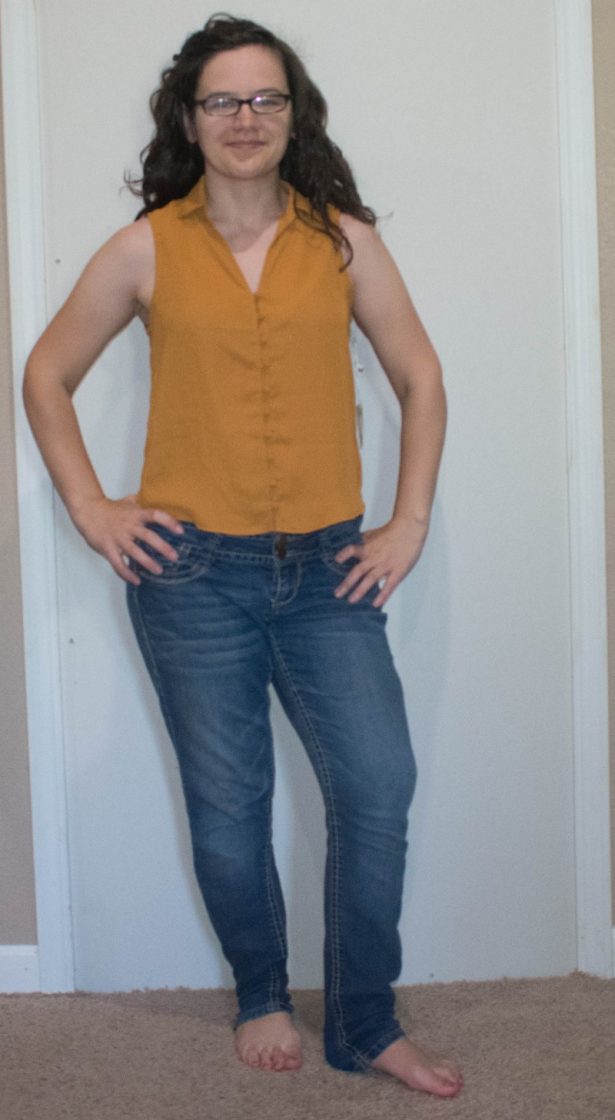 I like the color of this top, I debated about keeping it in my wardrobe. I am not a big fan of the style of buttons though. It is $11.99 to keep.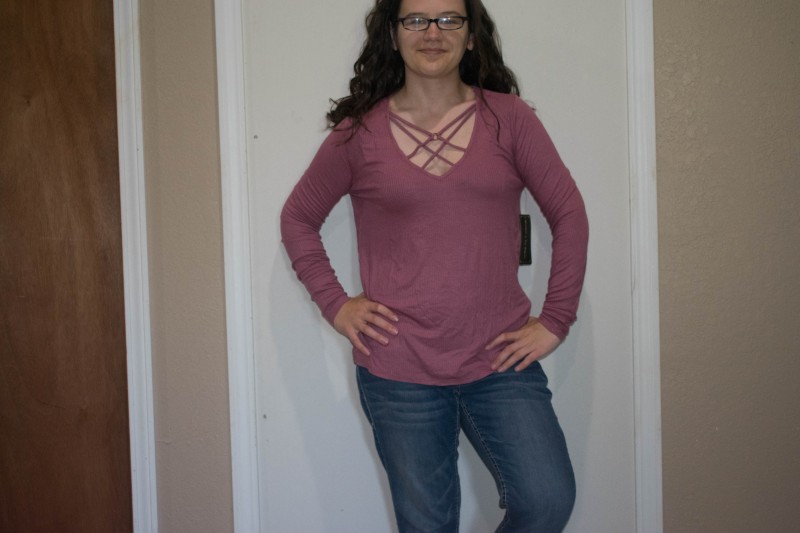 I was excited to see a sweater-type top. It's thin but is a fuzzy material sort of like a sweater. I love purple, and the strappy neck area is cute too. This is my favorite item this month. It is $25.99 to keep.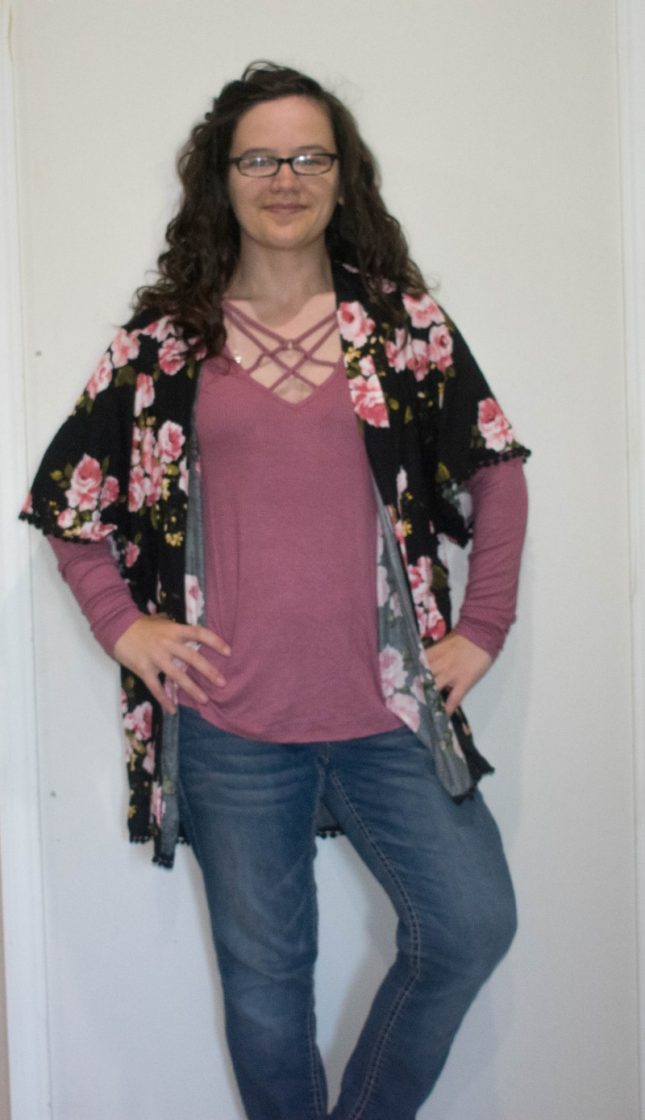 The last item was this kimono. I like the print of it, I just am not one to wear kimonos. It is $30.99 to keep.
Overall I thought this was a pretty good shipment for me! I really like the sweater and the dress. I am hopeful that my next shipment will be even more geared toward colder weather. Remember, if you want to sign up for Nadine West you can take a style profile quiz and they'll send you clothing based on your preferences. You'll only be charged for the items that you do not send back using the prepaid mailing label that they send with each shipment.
Which item is your favorite from this shipment?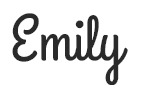 Hi there! I am Emily Evert, the owner of Emily Reviews. I am 28 and live in a small town in Michigan with my boyfriend Ryan and our two pugs. I have a large family and I adore my nieces and nephews. I love reading memoirs, and learning about child development and psychology. I love watching The Game of Thrones, Teen Mom, Sister Wives and Veep. I like listening to Jason Isbell, John Prine, and other alt-country or Americana music. I created Emily Reviews as a creative outlet to share my life and the products that I love with others.
This post currently has 7 responses.