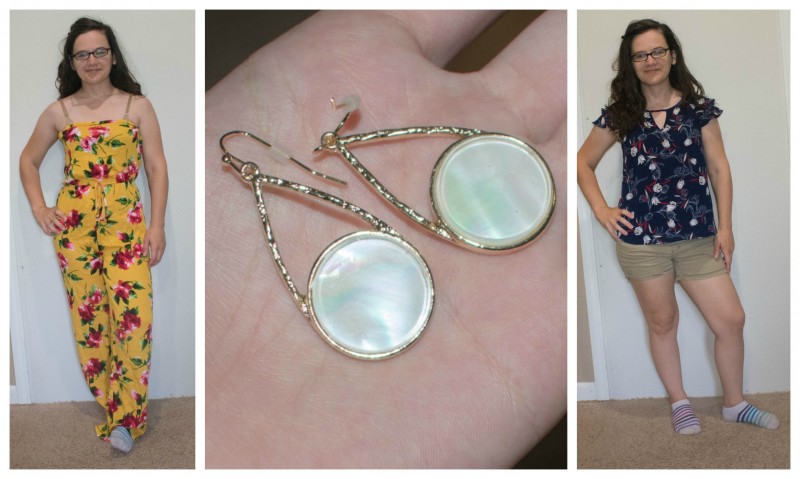 I was sent a fashion package from Nadine West. There are affiliate links in this post. All opinions are my own.
Each month I get a pink envelope full of items from Nadine West. They carefully wrap up clothing into compact little bundles so it always surprises me how much they can fit in a bubble mailer! The clothing items that are sent are a surprise, but they are based on a style profile that I filled out. For example, they know which color(s) patterns and prints I prefer to wear in clothing. They also know that I don't wear scarves, and that I enjoy silver and gold toned jewelry, and so on. Their pieces are all affordably priced (maxing out at about $35 per item, but with many items being under $25), and you're only charged for the items that you keep. They send you a prepaid shipping label so you can return anything you don't wish to keep after trying it on. I love this service because it stretches my comfort zone a little bit, and sometimes I try on items that I normally wouldn't try in a store, and I fall in love! It's a neat way to expand your wardrobe. If you need or want new clothing and are looking for a fun way to try out some new stuff, I highly recommend Nadine West
.
Okay, so let's go through what I was sent for September!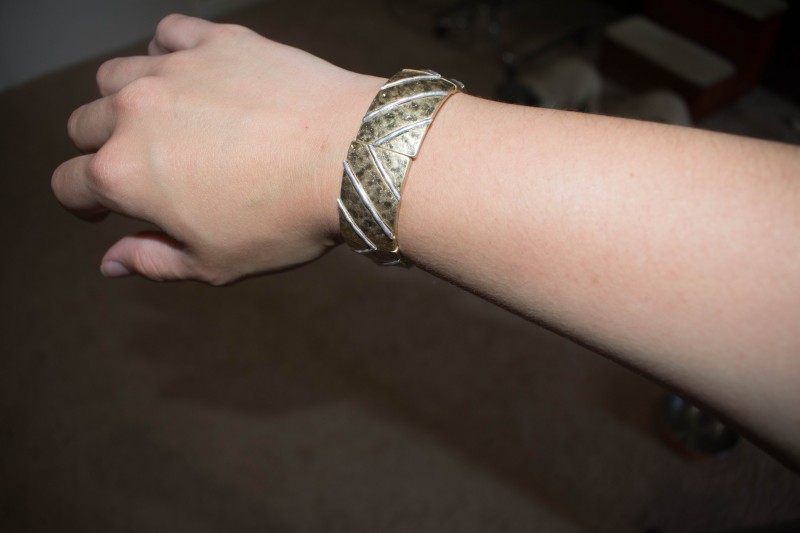 This bracelet is elastic and easy to put on. I don't wear casual jewelry very often, mostly only when I get dressed up. So I probably wouldn't get much wear out of this as it's just too casual. I do like it though. It is $16.99 to keep.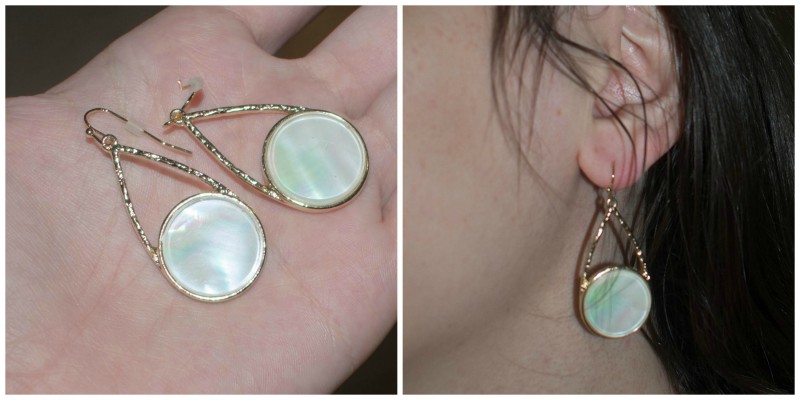 These earrings are a keeper for me. I like dangle earrings but only when they aren't too heavy or too colorful. I prefer to keep jewelry that I can wear with most any outfit and these fit the bill. They are $14.99 to keep.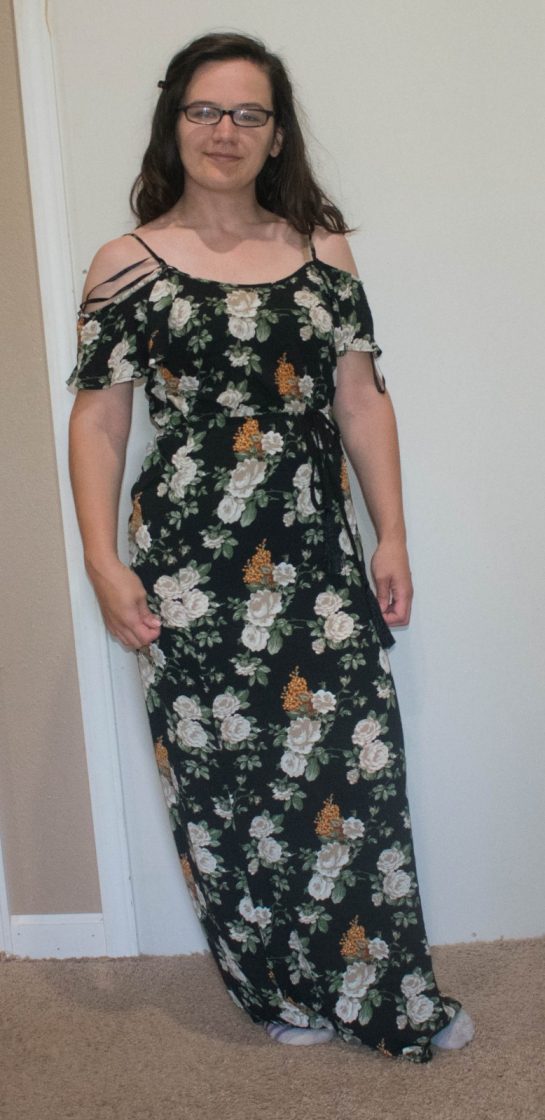 I am not typically a fan of floor length dresses on my self. In fact, I don't think I've ever found a single full length dress that I liked on myself…until this one! I would never have tried this on if I saw it hanging in a store, but for some reason once I got it on, I really liked it. It is $35.99 to keep.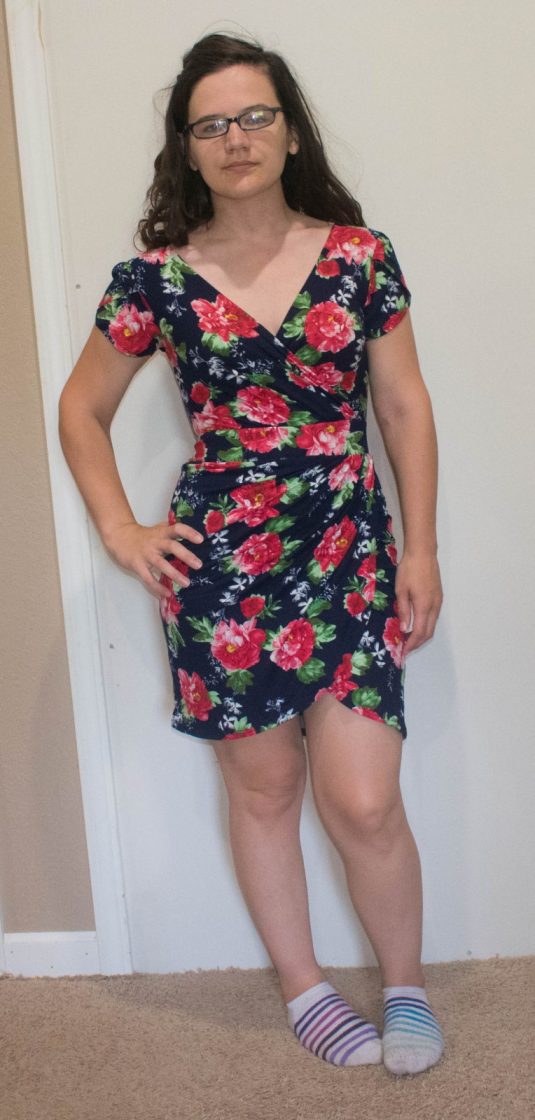 I really like this dress! It has an extra layer of lining in the skirt portion that took some work to get into place correctly. It is a soft material that hugs the body without feeling uncomfortably tight. It is a little bit on the short side, and I am 5'1″ so it may have been too short for taller women but I like the length on me. It is definitely a keeper for me! It is $29.99 to keep.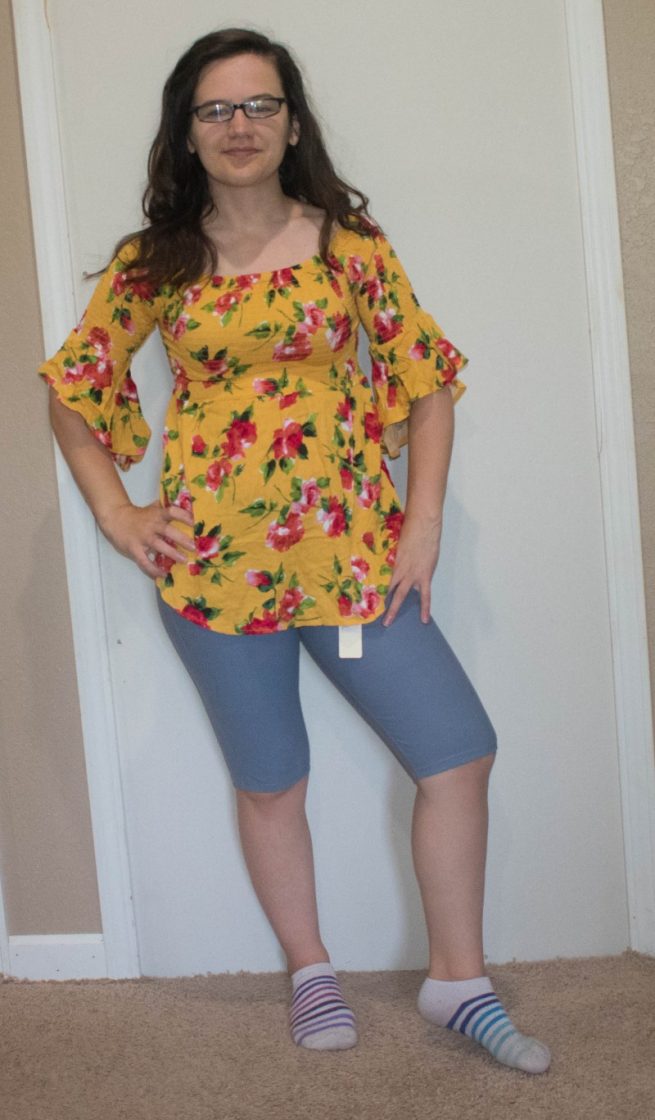 The top and bottom here were both sent from Nadine West.
Looking at the model on the Nadine West outfit, I now realize I didn't wear this top properly. It is supposed to reveal your shoulders so I should have pulled the sleeves down off my shoulders instead. I like the print of the top, but I've never liked the feeling of these types of shirts with a lot of elastic across the chest, and I don't care for bell sleeves either. It just isn't my style even though I think it looks cute. It is $25.99 to keep.
At first I thought these bottoms were identical to ones I got in my August shipment. They are the same color and type of material, but the others were capris and these are longer shorts. They are comfortable, I just am not sure this shade of blue is for me. They are $18.49 to keep.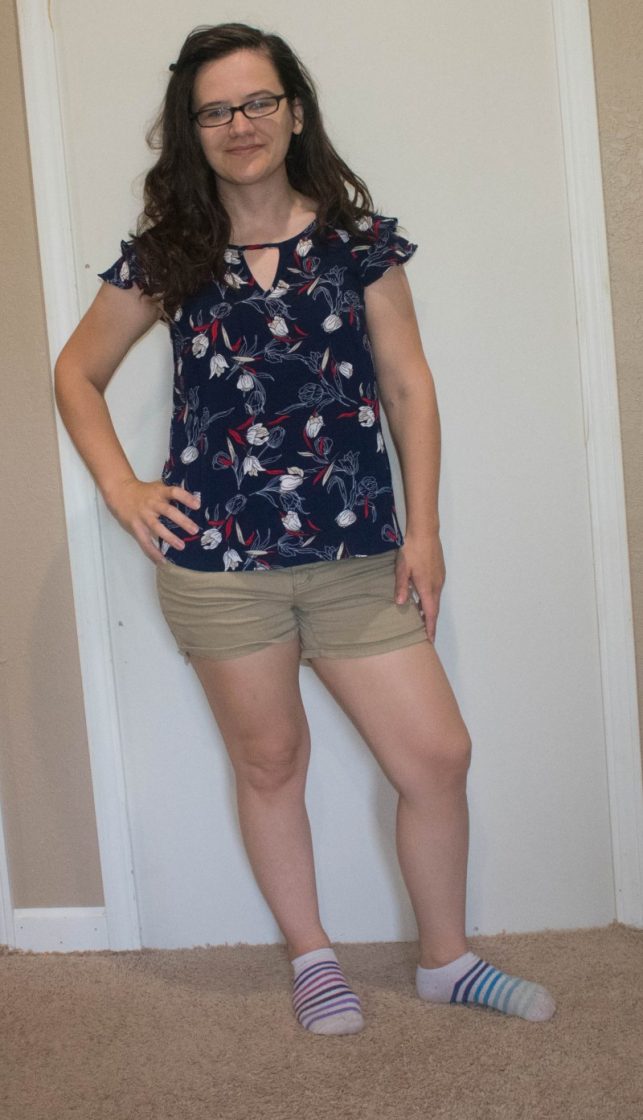 This top is my favorite item from this shipment. I don't often wear blue shirts, but I love this shirt! It is generously sized through the waist so it hides my belly a bit which I love. I love the feminine ruffled sleeves, and the cute neckline detail. I also really like the material this shirt is made out of. I've worn this top several times already. It is $25.99 to keep.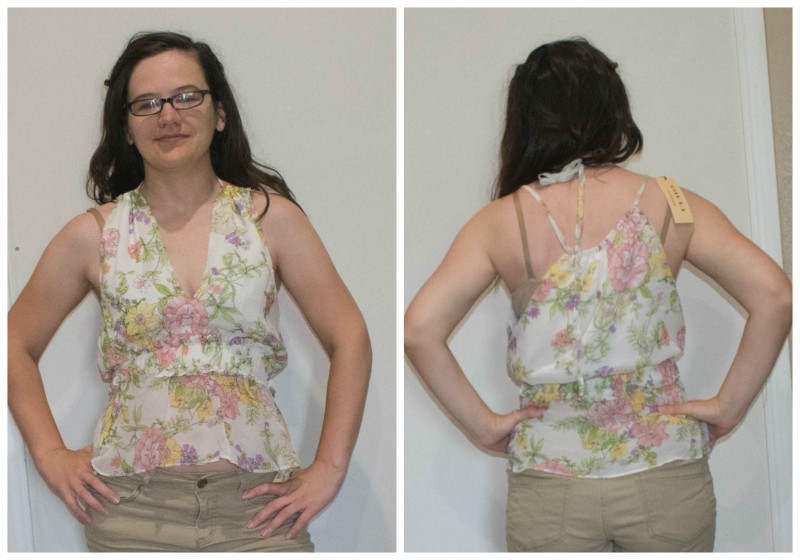 When I first glanced at this top I thought I would really like it. I LOVE the print of this shirt, I love the colors and how delicate the material is. Unfortunately, I don't like the fit. The under-bust area has multiple layers of material with ruffles and thick elastic to hold it in place. This feels too tight for me. The portion of the shirt under the underbust is just a single layer thick and it's pretty transparent which is too revealing for me. The neckline of the shirt can be tied, and I think I had tied it on too loose for these photos. The chest and upper back portions could fit better if I had tied it tighter, but the idea of the top portion of my shirt being held up by a tied string scares me a bit. I was bummed that this shirt wasn't for me because I really love the pattern. It is $25.99 to keep.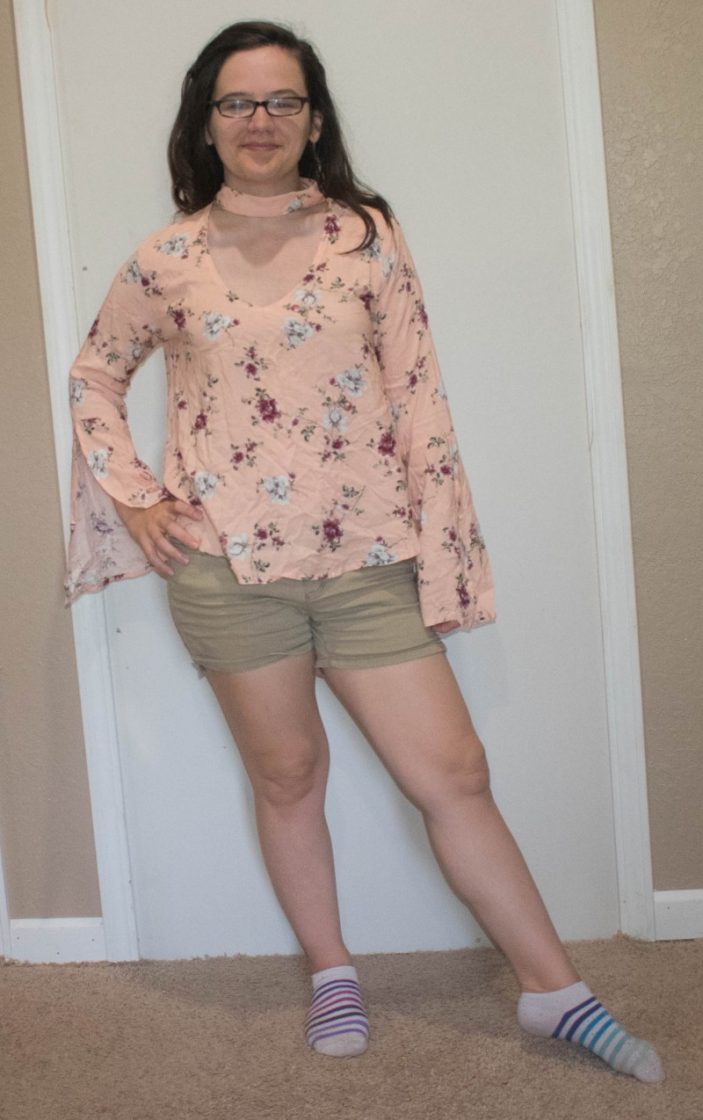 This shirt has a firm material and a collared neckline. Seems how the neckline doesn't stretch, it has two buttons so that you can get the collared area around your neck. I'm a little uncomfortable with tight/stiff necklines like that, it just feels a little restrictive. I also don't care for big bell sleeves, so this was a pass for me. This shirt is $25.99 to keep.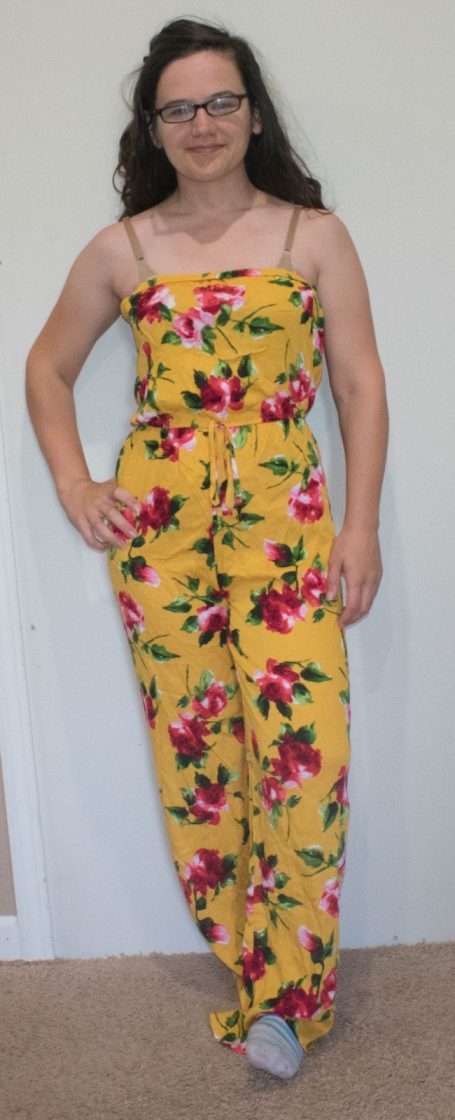 I have yet to meet a romper that I feel like I look good in, so this was a pass for me. It is $29.99 to keep.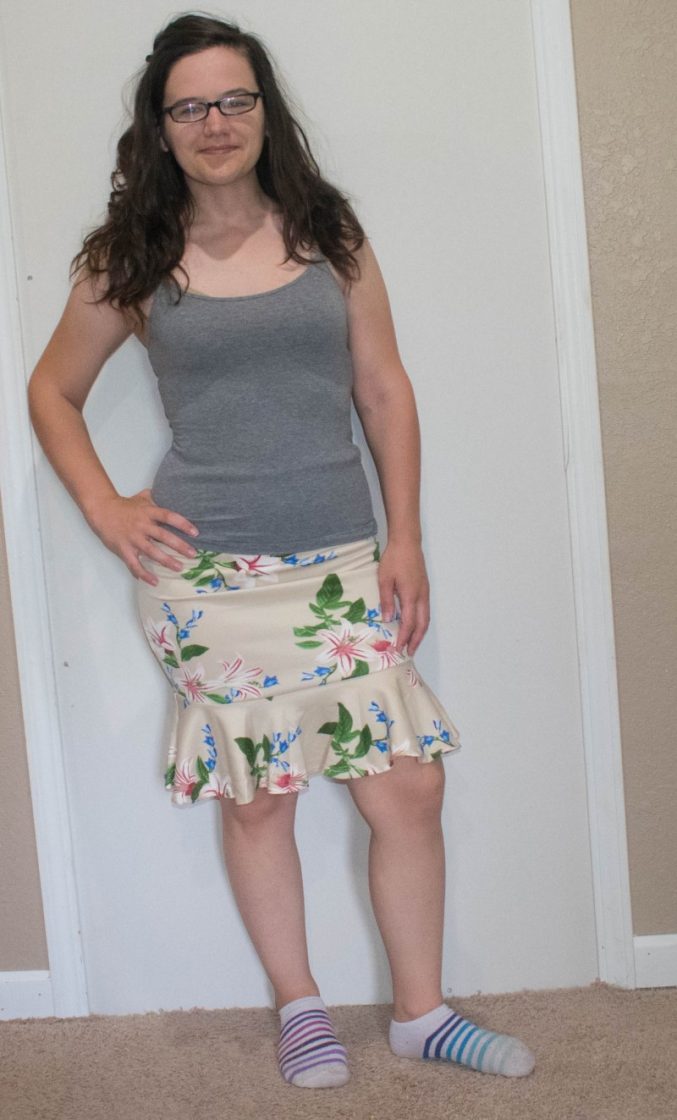 Similar to rompers, I rarely can find skirts that I feel like myself in. This wasn't for me. It is $21.99 to keep.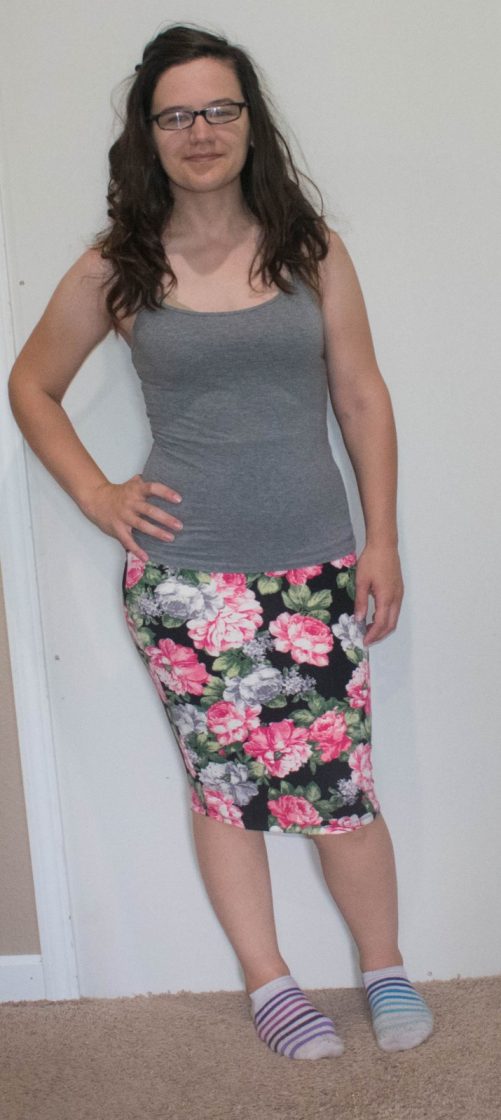 This second skirt that I got from Nadine West doesn't quite seem like me either. I just think I'm not a skirt person in general. It is $17.99 to keep.
Overall I was quite happy with this shipment. I love the blue shirt, and two of the dresses and the earrings were keepers for me as well.
Remember you can sign up for Nadine West
and fill out a style profile to have items sent to you, too!
I'd love to hear what your favorite and least-favorite items out of my bag this time were!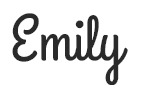 Hi there! I am Emily Evert, the owner of Emily Reviews. I am 28 and live in a small town in Michigan with my boyfriend Ryan and our two pugs. I have a large family and I adore my nieces and nephews. I love reading memoirs, and learning about child development and psychology. I love watching The Game of Thrones, Teen Mom, Sister Wives and Veep. I like listening to Jason Isbell, John Prine, and other alt-country or Americana music. I created Emily Reviews as a creative outlet to share my life and the products that I love with others.
This post currently has 5 responses.