Thanks to MAM for sending me product.
MAM Teething Friends are bright and bubbly characters designed to address baby's sensory development at every stage, stimulating hand-eye coordination and fine motor skills. All MAM friends are made from 100% natural rubber harvested from our hevea trees, which are grown just for us in Thailand. At our local facility, we expertly and lovingly handcraft this natural rubber into baby's special MAM friend.

These adorable Personalized Pacifiers from MAM are BPA free and come with a reusable storage case. The curved shield allows the pacifier to rest comfortably on baby's face, and the MAM Ultra Soft Silicone Nipple stays comfortably in baby's mouth due to the anti-slip texture. The symmetrical nipple is ideal for baby's jaw development. Best of all, you can personalize them to say baby's name or a cute phrase, including customizing the color and font!
Buy them: MAM
Win: One lucky reader will receive a prize pack including one MAM Teething Friend and a two pack of pacifiers. This is a US giveaway ending 12/11. Enter using the form below, and good luck!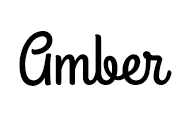 Hi there! I'm Amber, a 30 year old wife and mom of two from central Minnesota. I love to travel and to be outside with my kids anywhere the weather is warm! When I have a spare free moment, I love to read and scrapbook as well as binge-watch Netflix long after the kids are asleep. I drink too much Caribou Coffee and have a real sweet tooth but also try very hard to consume organic foods and use eco-friendly, fair trade products as much as possible. I also love socializing and sharing about my favorite products!
This post currently has 2 responses.