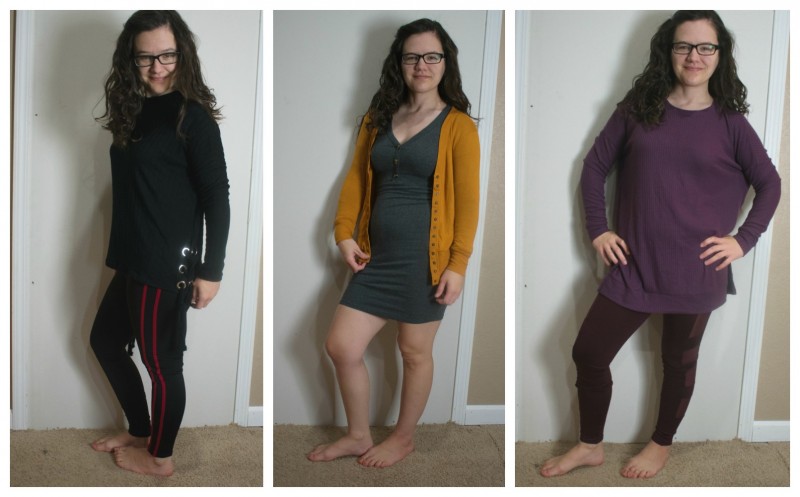 I was sent a package from Nadine West for this review. There are affiliate links in this post. All opinions are my own.
I have so many articles of clothing that are favorites of mine that I got from Nadine West. I'm excited to share my first Nadine West review of 2020! I am starting to get back to normal life now that our holiday gift guide is over and the holidays themselves have passed too! I'll be publishing two Nadine West reviews in short order because I got slightly behind on them. This shipment was sent to me in November and my December review will come shortly.
If you're new to hearing about Nadine West
, they are a clothing subscription service. When you sign up you share your size and various aspects of your style preference. For example, you can tell them your favorite colors to wear and which colors you absolutely will not wear.  You can also tell them what areas of your body you want to conceal (if any) and what sorts of items you'd like to receive (I have mine set to not send me scarves, for example).
Then they send you an assortment of items in the mail and you have a few days to try them on and decide what to keep. They send a prepaid mailing label that you use to return any items that you do not want to keep. You'll only be charged for what you do keep. Then you can rate the items you received on your profile and they'll continue to learn your style over time for your future shipments.
This shipment had 11 items.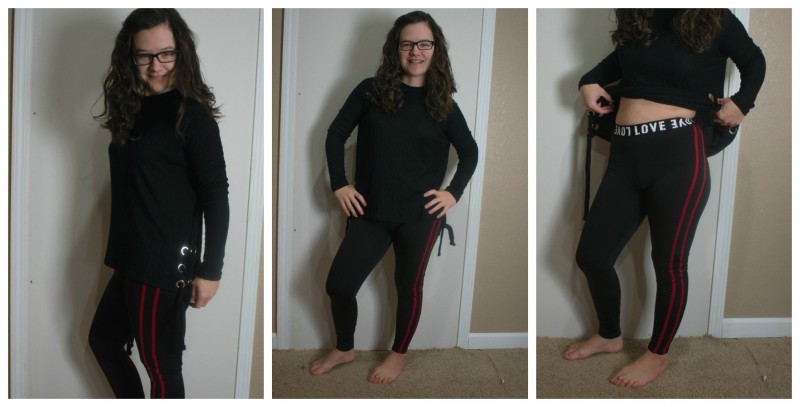 The top and bottoms in this collage were both in my shipment.
The black sweater is slightly oversized and doesn't taper in the mid-section so this might be a good match for someone looking to cover their belly a bit. The sides have large eyelets and ties. I think this sweater is okay but it's just not particularly 'me' for some reason. It is $21.99 to keep.
The leggings are pretty basic athletic feeling type leggings with double red stripes on te sides and a repeated "love" waistband. They are high waisted as you can see in the third photo. I like these just fine. They are $20.19 to keep.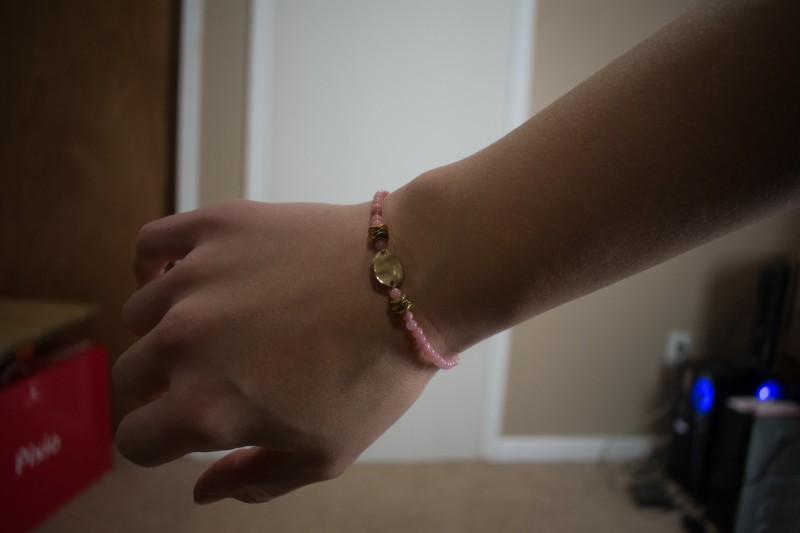 This bracelet is simple but cute. Pink beads with gold-toned accents. I gave it to my niece. I thought it was cute but i'm not very good at remembering to wear costume jewelry or pieces that are color-based and need to be matched to outfits so I tend to only keep jewelry that can go with most any outfit.  It is $10.99 to keep.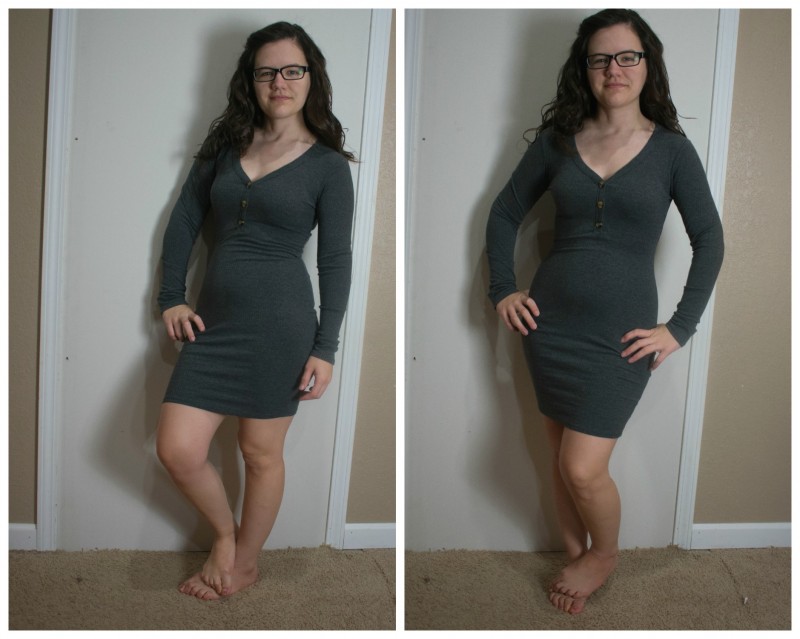 I like henley style shirts so I was excited to see this henley style dress! I love gray, too so the color was a great match. If I were shopping in store I would have selected a size above my normal size for this because it is so tight through the belly and I'm not happy about drawing attention to that part of my body right now. I chose to keep this though because I'm at a higher weight than my norm right now so hopefully it'll fit a bit better in the future. Right now I thik it looks okay at some angles but not so great at others. It is $35.99 to keep, making it one of the more expensive items I've ever received from Nadine West.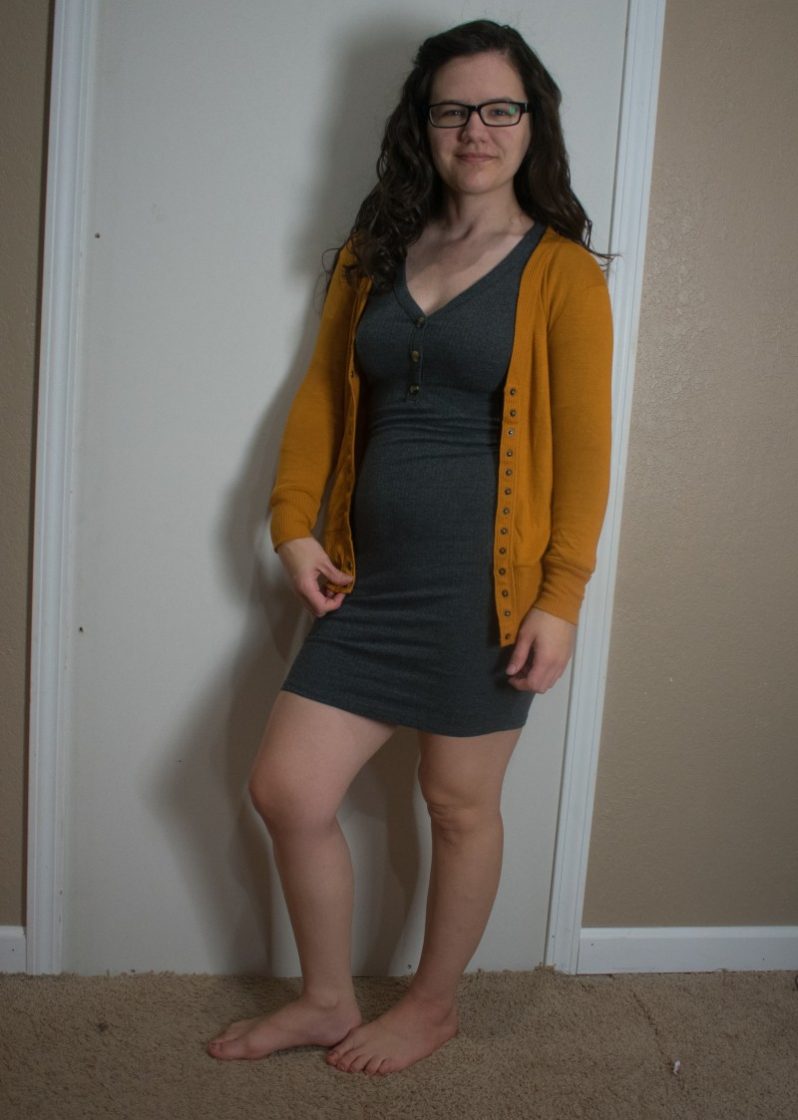 I used to avoid yellows and oranges but this shade of orange appealed to me right away. I love cardigans, particuary shorter ones and I thought it paired pretty well with the gray henley dress they sent. I particularly like how instead of buttons there are snaps!
At first I thought this was a regular full-length cardigan in the sleeves but after wearing for a while I felt like the sleeves kept creeping up my forearms. Then I went to the Nadine West site and see that the model for this item shows it being 3/4 length. With other clothing in the past I've never felt like my arms are short so I think this is particularly long? But I can get this to stay on my mid-forearm by just hiking it up because the cuffs are a bit elastic/stretchy. It's a keeper for me. It is $27.99.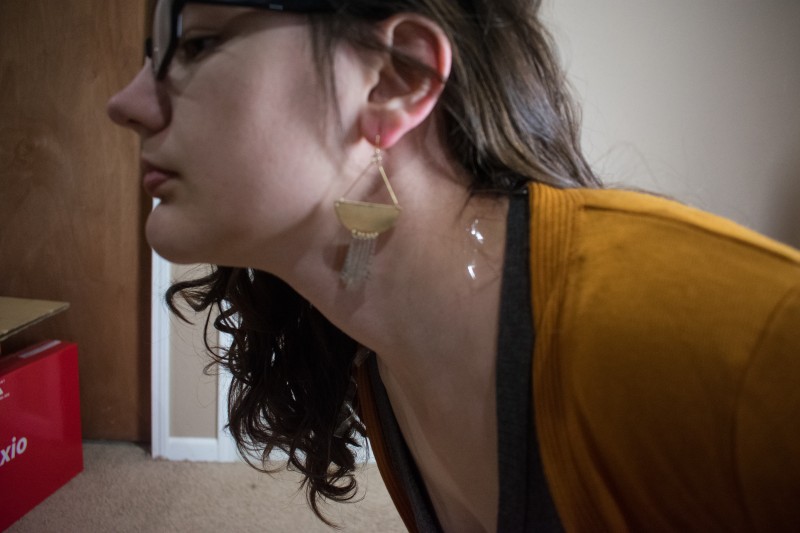 These earrings are a combination of gold and silver tones. They're a bit too big and heavy for what I like to wear but I think they look cute. They are $14.99 to keep.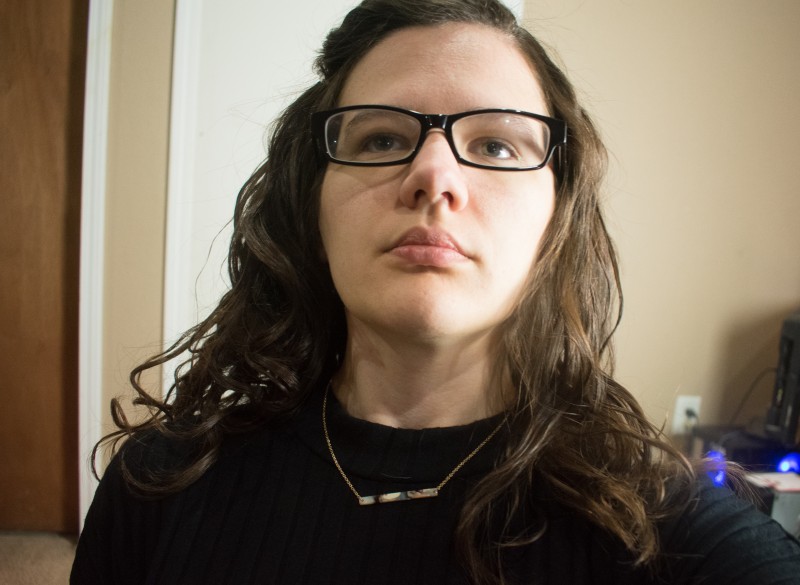 This necklace is a pretty simple bar shape but it has lots of gorgeous colors in it. I have yet to gain confidence in wearing a lot of jewelry so this wasn't one that I will keep around just because I know I am not likely to wear it regularly. I do think it is pretty though. It is $19.99 to keep.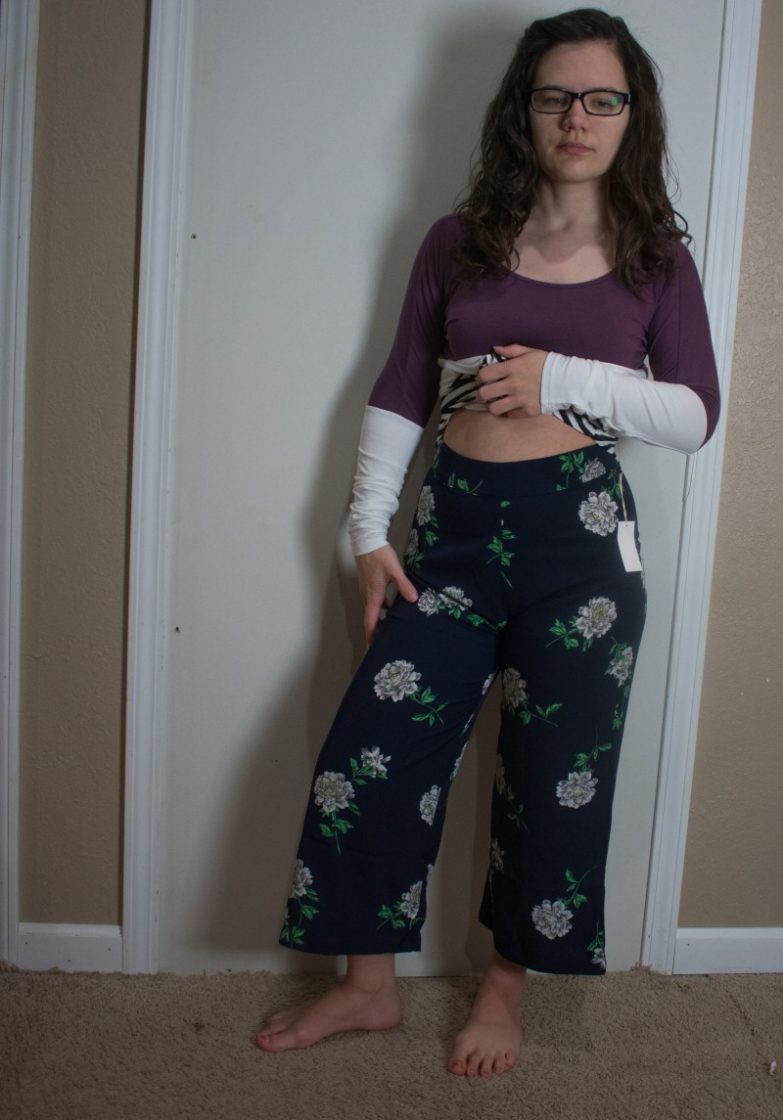 Nearly every shipment I get a pair of pants from Nadine West that are not jeans or leggings. I don't wear pants that aren't jeans or leggings so they re always a no-go for me. These are this month's. They are $24.99 to keep.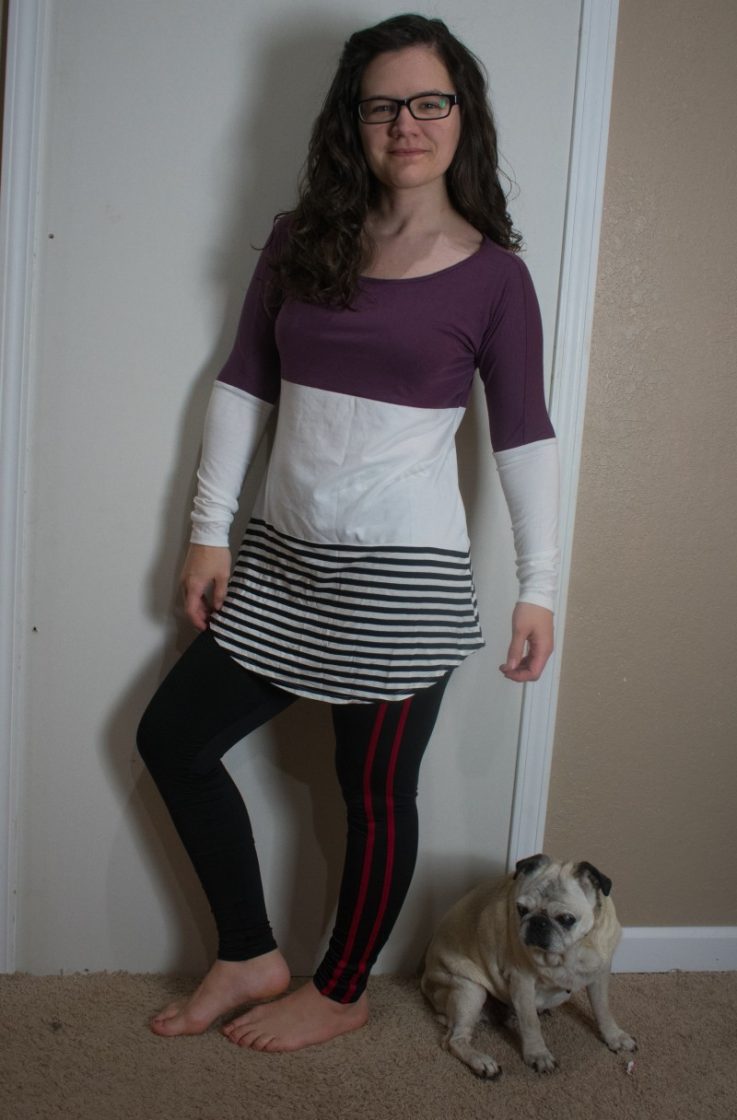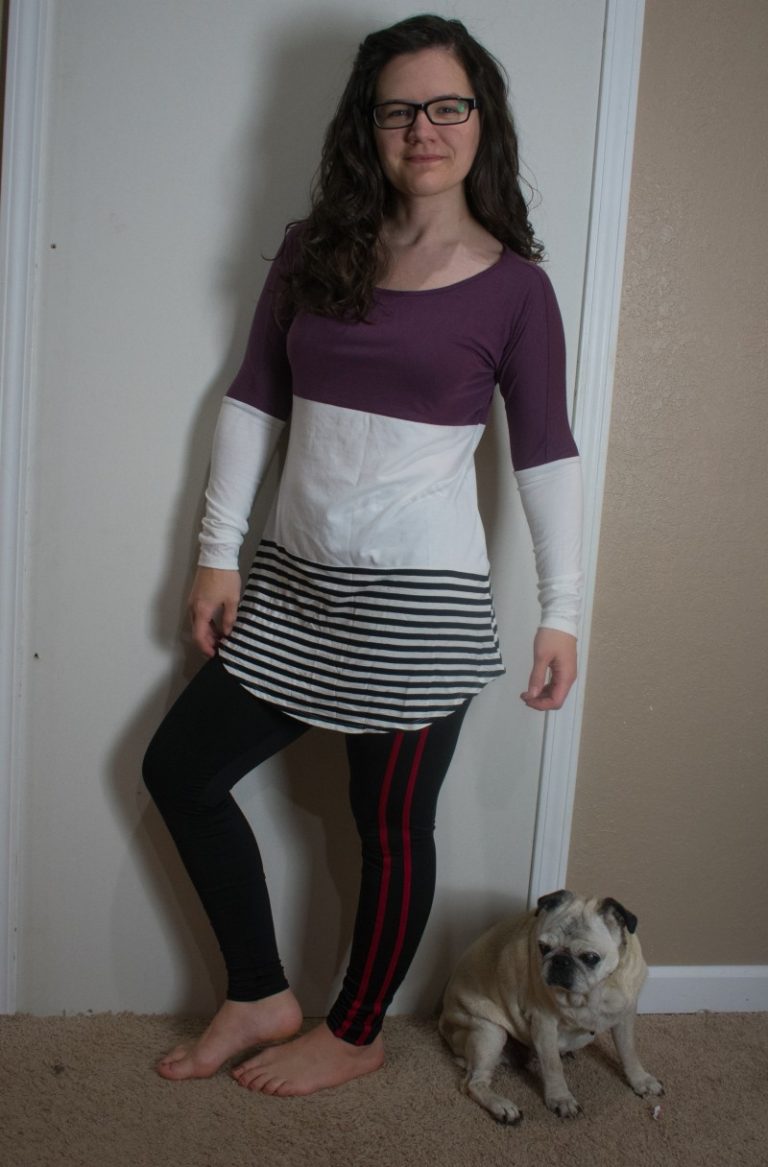 Purple is my favorite color and black and white are pretty high up there too. So I really like the overall look of this shirt, I just wish it was a typical shirt length instead of being this long. I passed on this one just due to the length. So close! It is $30.99 to keep.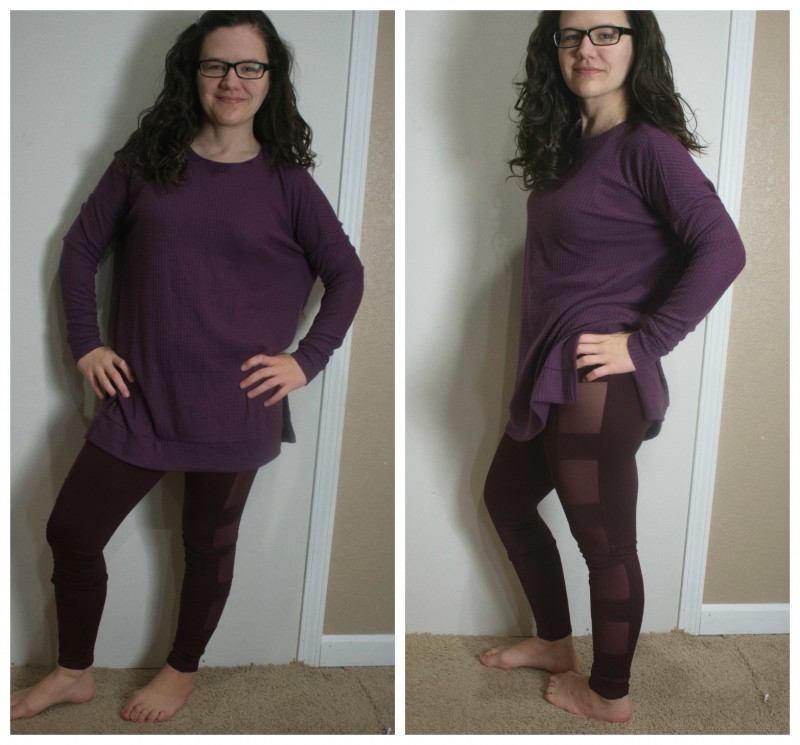 Both top and bottom were sent form Nadine West.
I love purple and I love sweaters so this was really close to my style but it's too oversized and long for me.
The leggings are cute, but I've found that I'm not a big fan of the mesh cut out areas in leggings. They leave part of my leg cold and in this case, the mesh that is high on my hip feels a bit too exposed (or not modest enough?) for what I feel comfortable wearing.
Remember you can sign up for Nadine West
to have items chosen or you based on your style. You'll only be charged for what you decide to keep!
Which item from this shipment did you like best? I'd love to hear!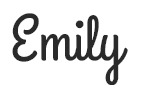 Hi there! I am Emily Evert, the owner of Emily Reviews. I am 28 and live in a small town in Michigan with my boyfriend Ryan and our two pugs. I have a large family and I adore my nieces and nephews. I love reading memoirs, and learning about child development and psychology. I love watching The Game of Thrones, Teen Mom, Sister Wives and Veep. I like listening to Jason Isbell, John Prine, and other alt-country or Americana music. I created Emily Reviews as a creative outlet to share my life and the products that I love with others.
This post currently has 10 responses.