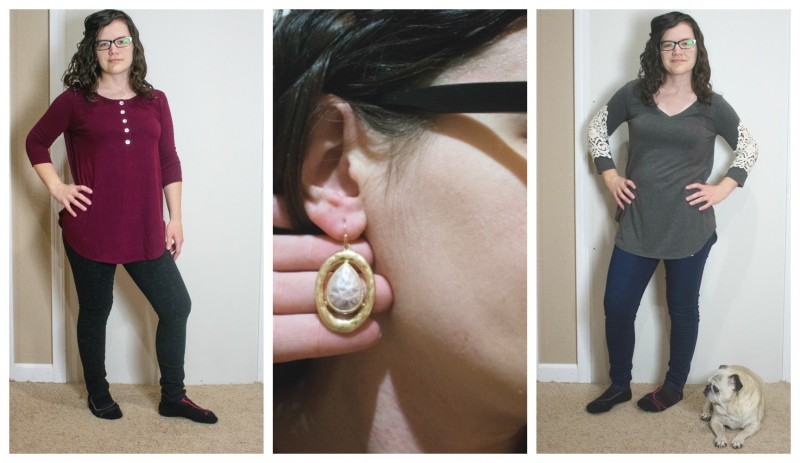 I was sent a Nadine West shipment in exchange for this review. There are affiliate links in this post. All opinions are my own.

If you're new around here, Nadine West is a company that asks you to fill out a style profile and then they will ship you clothing and accessories that they think you might like. They include a prepaid return shipping label so you can return any items that you don't wish to pay for. You'll only be charged for what you do keep. Nadine West sends items that are more affordale than other fashion subscription services. Most of the items sent to me are in the $18-$25 range or so, though on occasion I've received items priced between $35-$40, that's the highest I've seen.
My January shipment included six items. I've received bags that have anywhere from 5 to 16 items so it does vary. Ready to see what I was sent? Here goes!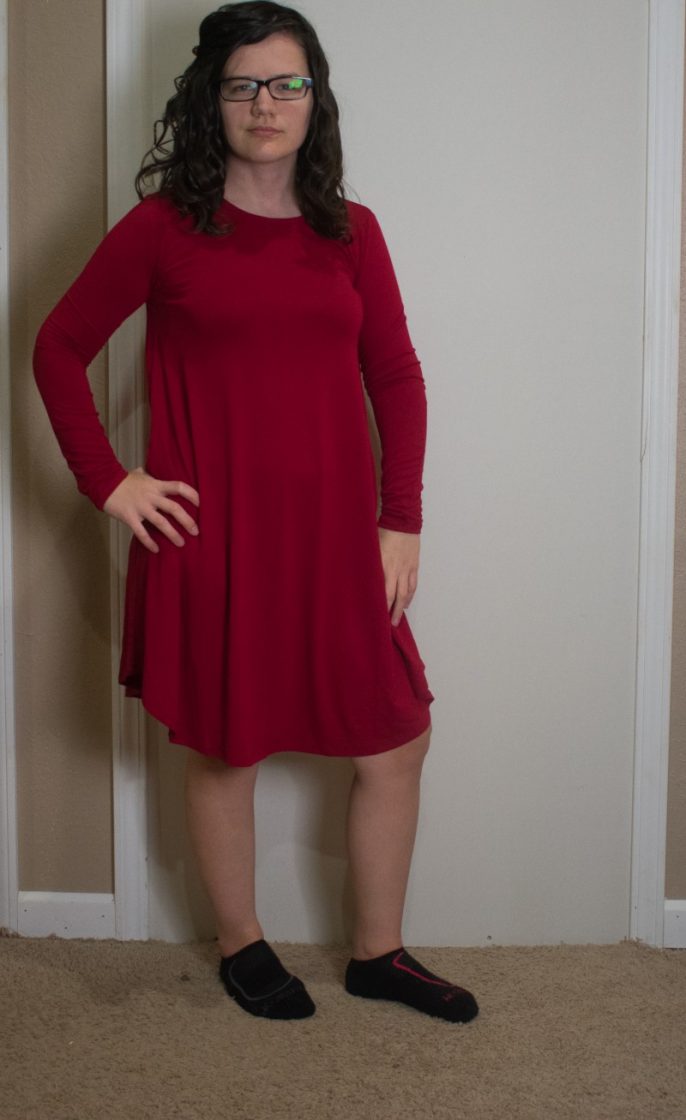 This simple red dress is a cozy material and has pockets! It's a bit too simplistic for me overall. I think it would look cute when accessorized well with jewelry or leggings or a scarf but i'm not very good at piecing together accessories. It is $17.99 to keep.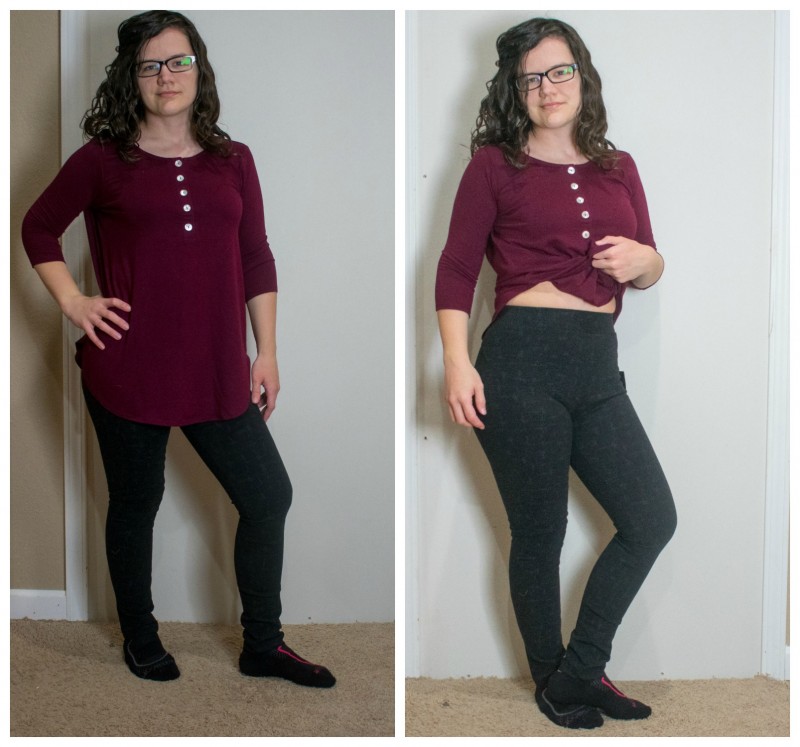 The top and bottom here were both sent in this shipment.
This top I thought I would really like when I unfolded it. I like the color red,and the buttons at the chest. However, once on, the shape of the top felt a little funny. IT's a bit small in the shoulders/armpits or something. Notice how the material bunched up at my armpits and how the material is sort of hanging from my back area in my one armpit? That's why this was a pass for me. It is $27.99 to keep.
The bottoms here are leggings which are primarily black but with a gray pattern on them. They are high waisted. These are thicker leggings which are cozy for the winter. They are a bit too tight for me but I think I just need to change my size on Nadine West which is of course my own fault. These are $28.49 to keep.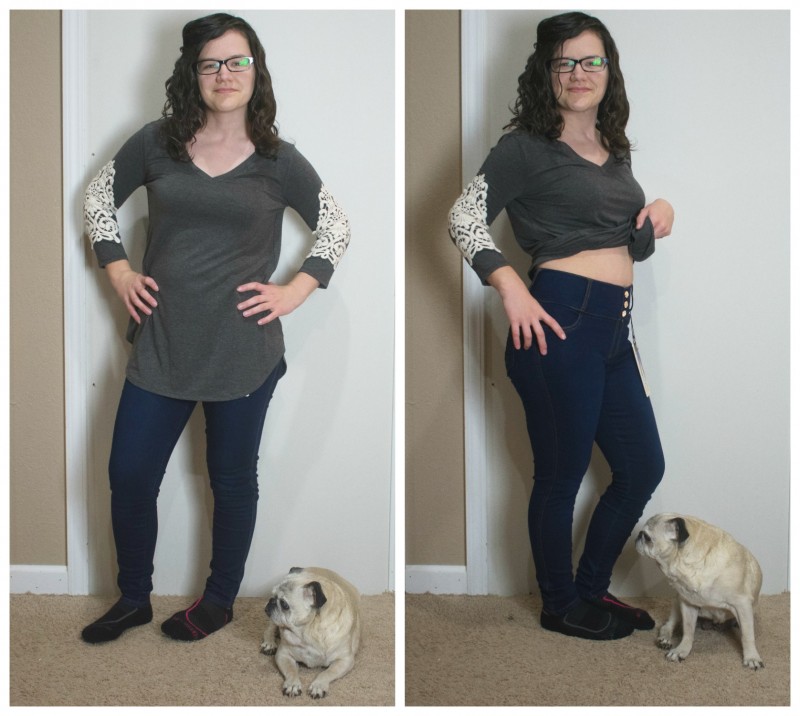 Both the top and bottoms here were sent in this shipment.
I've been getting a lot of longer tops (tunics?) lately and i'm not too much of a fan of the length. I do like gray and I like crocheted detail on some clothing, but the patches on this seemed a bit larger than what I typically like. I was really on the fence about this one so I asked Ryan what he thought and he wasn't a fan of it so I decided to pass it on to someone else. Close, just not quite me. It is $30.99 to keep.
I was excited to see these skinny jeans or jeggings included. They have real pockets but a stretchy waist band so i'm not sure how to classify them! I love getting jean-like items. The buttons are a bit too 'loud' for my style but with these being high-wasted the buttons wouldn't be visible with a shirt that is of typical length anyway so that isn't a deal-breaker for me. Unfortunately, it was all I could do to get these on for photos because they are so tight, so I'll have to lose weight before I can wear them. In the mean time I've updated my clothing size on my profile so I'll get larger bottoms in the future. I really like the look and style o them though. These are $22.49 to keep.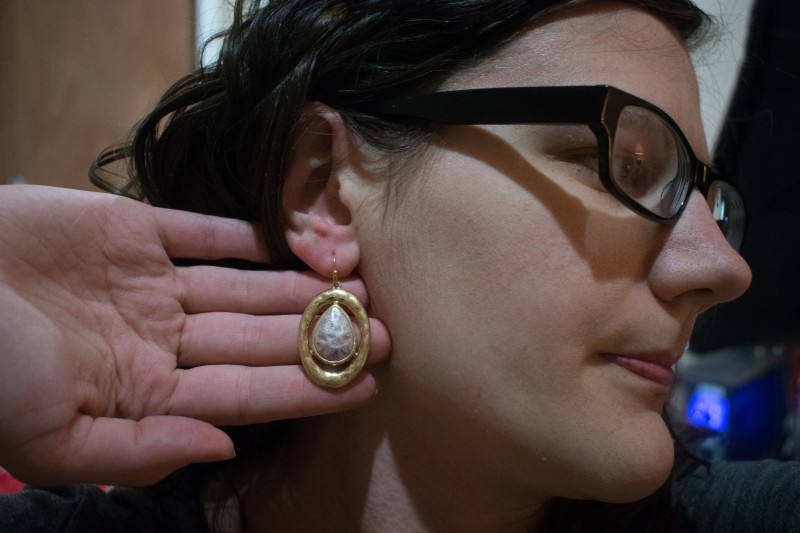 Last but not least, these earrings! I really like jewelry that combines gold-toned and silver-toned into the same piece. I like the look of these, but they were heavy. I don't like wearing heavy earrings so they are a pass for me. These are $11.99 to keep.
Remember you can sign up for Nadine West by filling out a style profile. Let them know what size you wear, what colors you do and don't like, what sorts of jewelry and accesories you enjoy and more – and they'll send you surprise items in the mail based on your interests.
Buy it: Using Code: NADINE and Wave Your Shipping Cost on Your First Order from Nadine West
!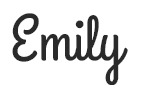 Hi there! I am Emily Evert, the owner of Emily Reviews. I am 28 and live in a small town in Michigan with my boyfriend Ryan and our two pugs. I have a large family and I adore my nieces and nephews. I love reading memoirs, and learning about child development and psychology. I love watching The Game of Thrones, Teen Mom, Sister Wives and Veep. I like listening to Jason Isbell, John Prine, and other alt-country or Americana music. I created Emily Reviews as a creative outlet to share my life and the products that I love with others.
This post currently has 8 responses.