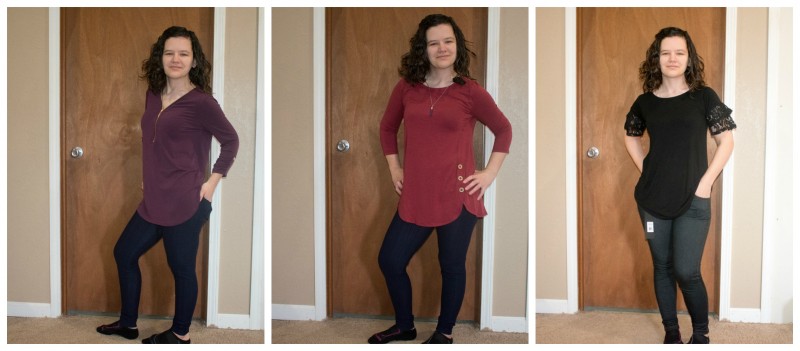 I was sent a shipment from Nadine West for review. There are affiliate links in this post. All opinions are my own.
I'm trying not to mention the pandemic in every blog post I share. I know that I am often looking to escape the news these days. However, if you are curious how Nadine West is keeping their shipments safe during this time, or would like to hear how they are making masks to help local hospitals, click to see the Nadine West COVID page to learn more.
I love seeing my pink Shop NadineWest.com
package show up. It's always a fun day of the month when surprises clothing arrive in my mail box or get dropped off near my front door. If you're brand new around here, Nadine West is a company that has you take a style profile and provide your size info. FRom there, they will mail you clothing and accessories that they think match your style. You get to keep what you want and your card will be charged. For anything you decide against, you mail it back using a prepaid shipping label that comes with your original package. Then you go on the Nadine West website to rate/review each item you were sent so that stylists can learn more about your taste over time. Nadine West sends affordable clothing, typically under $35 though you can customize the price range that fits your budget in your style profile.
Here is what came in my shipment from early March!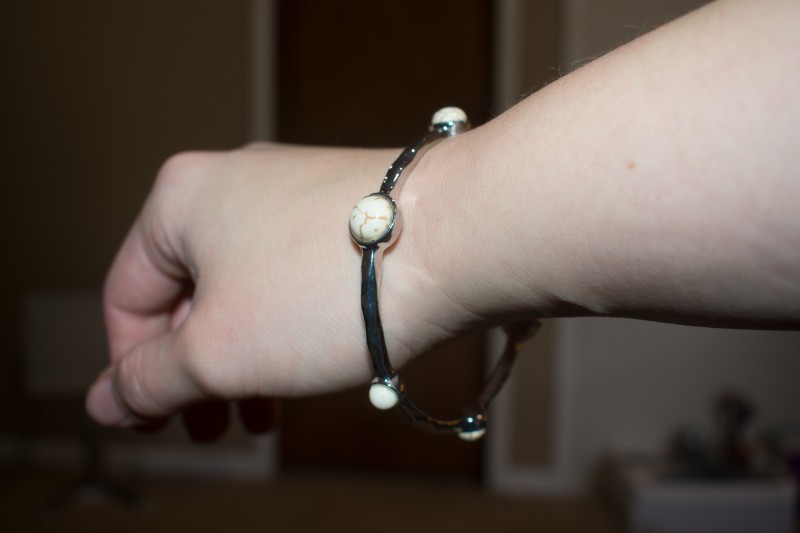 I think this bracelet is pretty without being too 'loud'. I like how it features subtle colors so it can coordinate with a wide range of outfits. It is $14.99 to keep.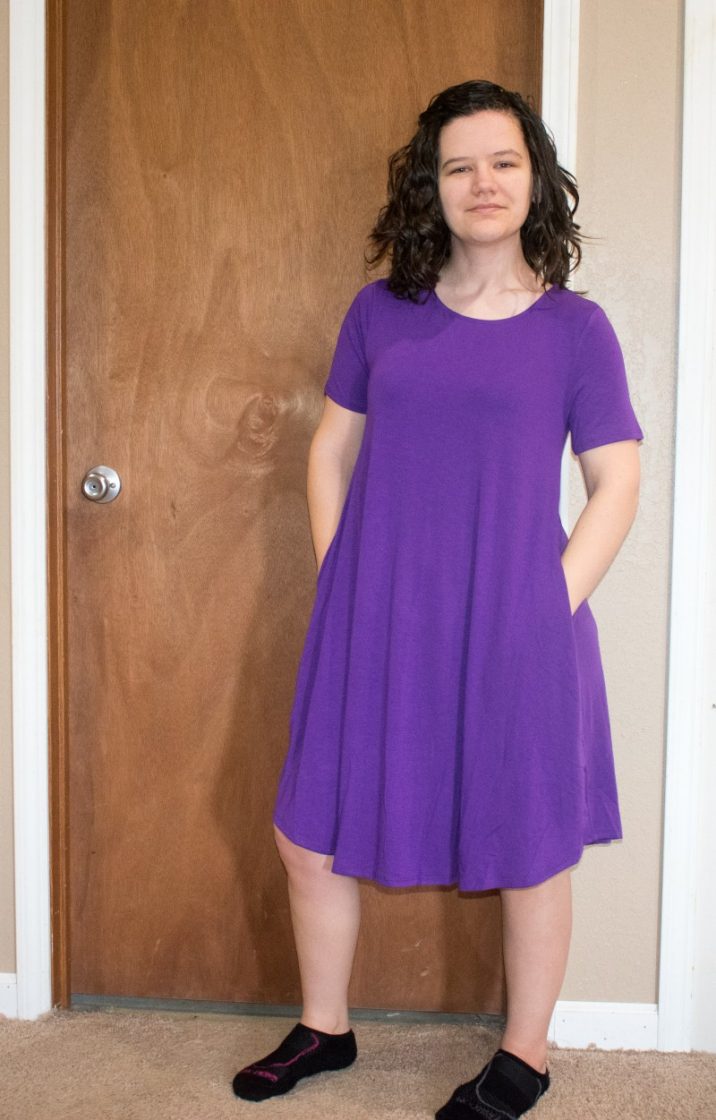 I love this color of purple, but this dress is too shapeless for me. I really need dresses to come in at the underbust or waist because of my body type. This looks more like a sleep shirt than a dress on me, I think. This is $29.99 to keep.
These moon-shaped earrings are cute but they aren't a shape I would wear, and I'm not a fan of the pearl-look either. Cute, but just not my taste. They are $16.99 to keep.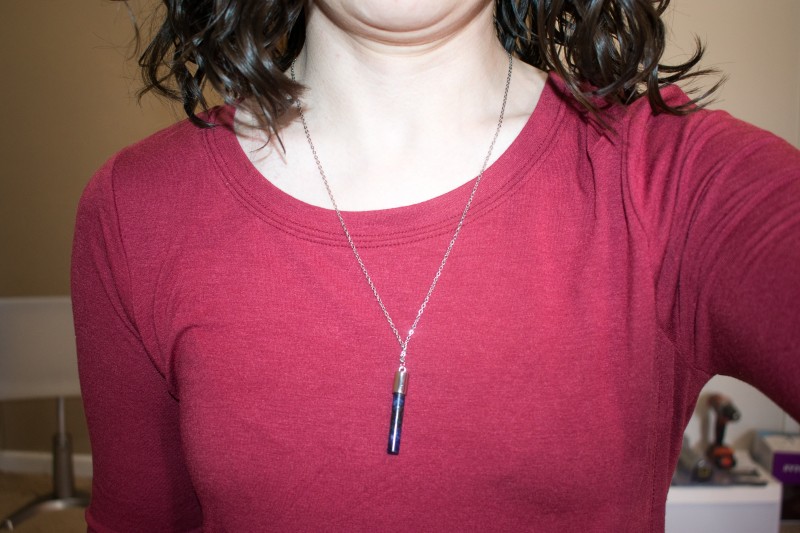 This photo doesn't really do justice to the blue and purple shades of the pendent. IT's pretty! I am not very good about swapping out necklaces with different oufits, so I tend to steer clear o those that are color-specific and have to be specifically coordinated t the right outfit. I tend to stick with more simple jewelry that can go with most any outfit. So this is a pass for me. It is $24.99 to keep.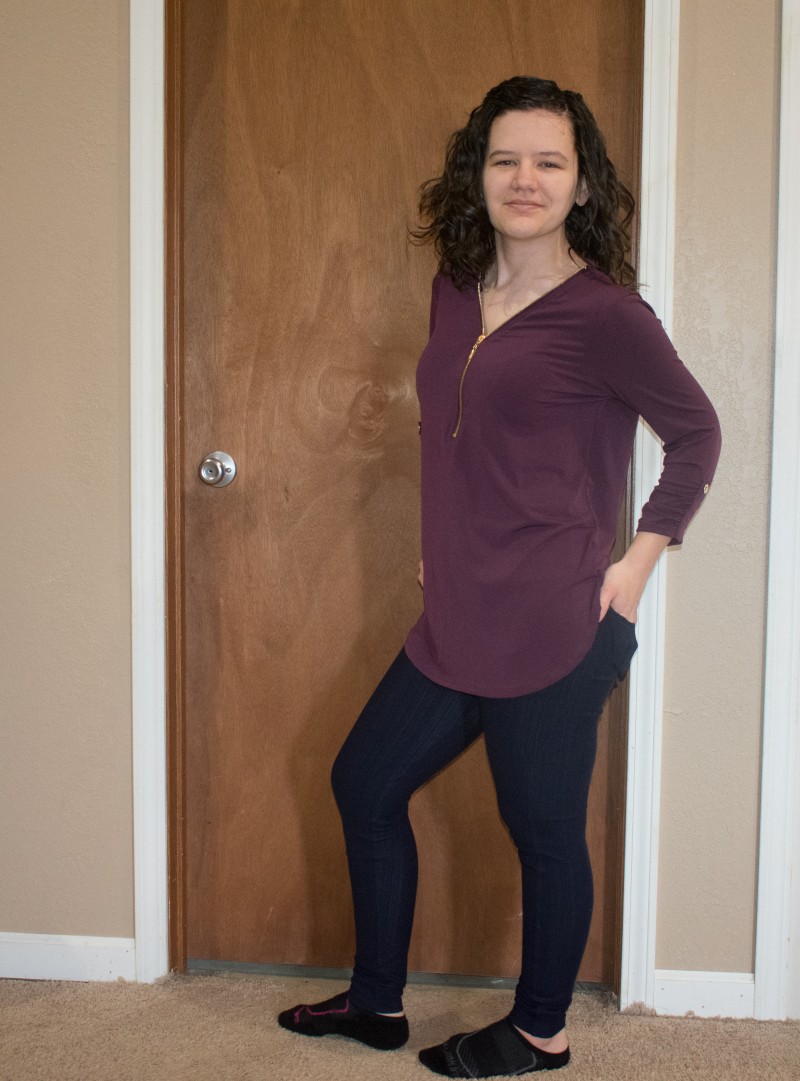 The top and bottom here were both sent from Nadine West.
I LOVE that Nadine West is sending jeggings or skinny jeans now. These ones look like jeans at a glance but they're every bit as comfortable as leggings. They have real back pockets and an elastic waist. IF you look closely, there is  slight vertical stripe to the legging pattern. Mostly, I love how these look like jeans while being as comfortable as can be. Truly the best of both worlds! They are $21.49 to keep.
This shirt, I love the purple of it. I wasn't sure about the zipper neckline at first, particularly with it being gold-toned. It seemed to stand out a lot to me at first. However, I tried wearing it for a little while and decided that I do like how it looks overall. I've been wearing it tucked in. It's a light, airy material that will be comfortable to wear through early summer here in Michigan. The top is $31.99 to keep.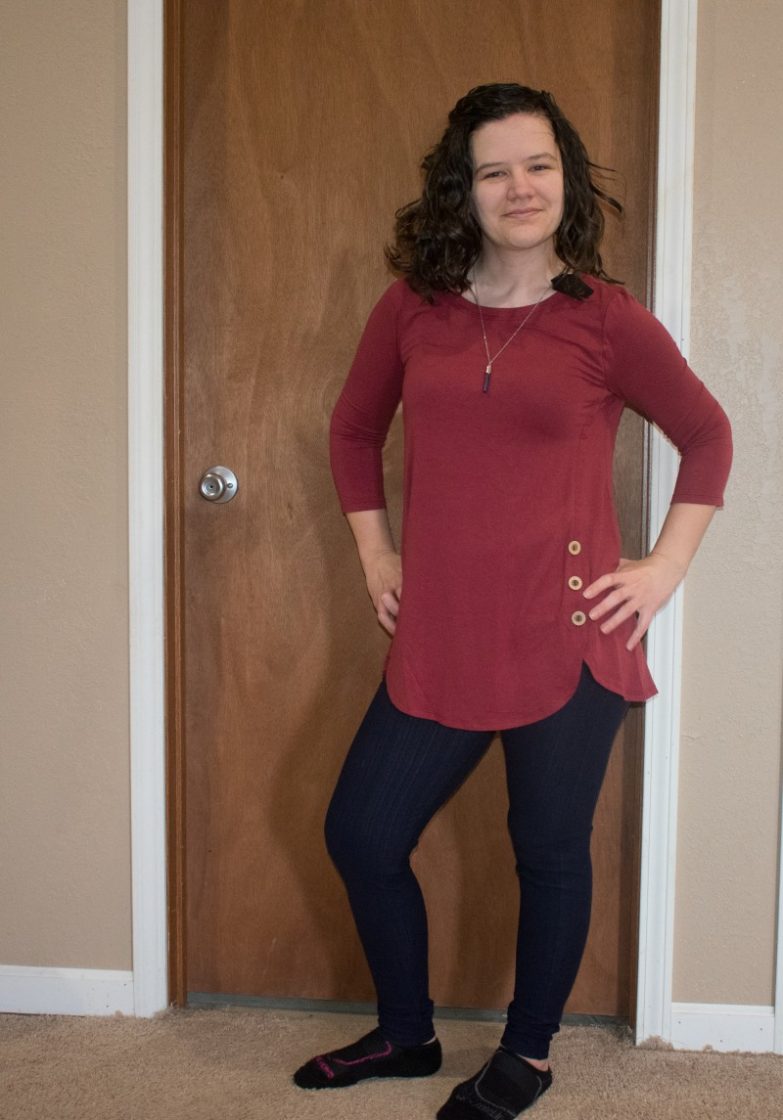 These pants are from Nadine West but they're the same ones I reviewed under the above photo.
I love the subdued red of this top, and I like the wood-look buttons on the side. I don't like the length of the shirt, and I feel like it's fitted a bit strange around my shoulders. Close to my style, but not quite a good match for my body type. This shirt is $35.99 to keep.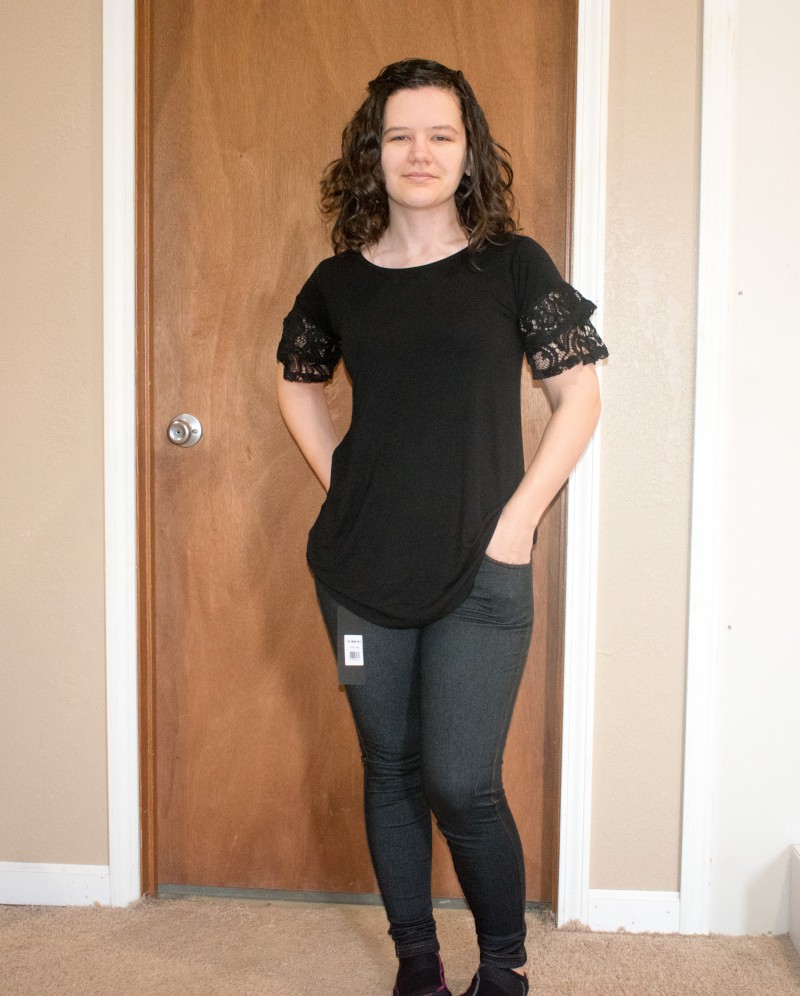 Both top and bottom were sent from Nadine West. These pants are different from the ones shown in the two photos above.
I like this black top quite a lot! I love the color black, but it can appear depressing or sad in some pieces. I think the fluffy, lace-like sleeves on this top keep this top from having an emotionally dark tone to it. I like how it's black and yet unquestionably feminine. This top is $34.49 to keep.
The bottoms here look like skinny jeans but feel like leggings. They're too long on me as you can see the bunching at my ankles, but I am 5'1″ and have a very short inseam so that is typical for me. I'm so used to it that the appearance of having excess materials at my ankles doesn't bother me anymore. They have real pockets but an elastic waist. These are $27.19 to keep and are definitely a new staple in my wardrobe!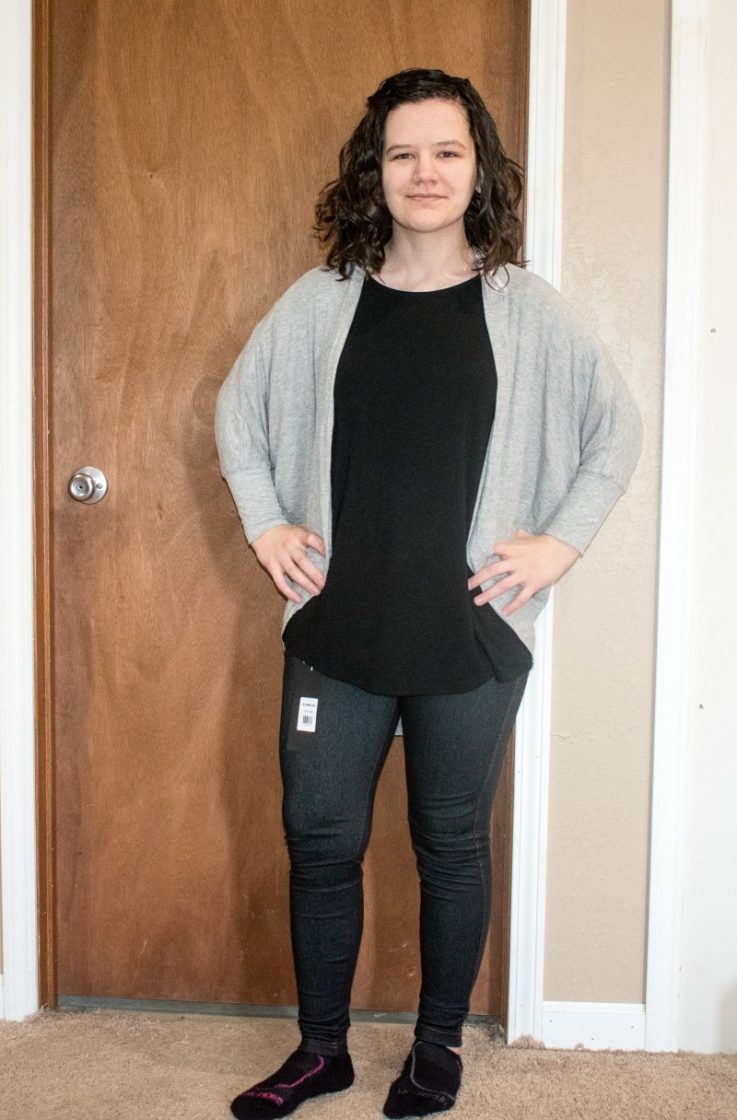 This is the same outfit from directly above, just with a cardigan from Nadine West added over the top.
When I first looked at this cardigan I thought it was short-sleeved. The upper arms of the cardigan sort of blend into the midsection of the cardigan, and the wrist or lower arm section of the cardigan are really what holds it into place. I believe this is called dolman style? Anyway, once I got it on, I liked it! It's lightweight, great for spring. I like the simple light gray color that will go with most any color. Definitely a keeper or me. It is $31.19 to keep.
Overall this was a really great shipment for me. The two jeggings/skinny jeans have become go-to clothing items for me. I also really like the black top and purple top.
Remember you can Shop NadineWest.com and Take Your Style Quiz to Start Your Personalized Shopping Experience Today!
You'll only be charged for the items you decide to keep!
What was your favorite item(s) that I was sent this time?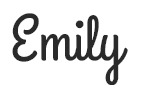 Hi there! I am Emily Evert, the owner of Emily Reviews. I am 28 and live in a small town in Michigan with my boyfriend Ryan and our two pugs. I have a large family and I adore my nieces and nephews. I love reading memoirs, and learning about child development and psychology. I love watching The Game of Thrones, Teen Mom, Sister Wives and Veep. I like listening to Jason Isbell, John Prine, and other alt-country or Americana music. I created Emily Reviews as a creative outlet to share my life and the products that I love with others.
This post currently has 9 responses.