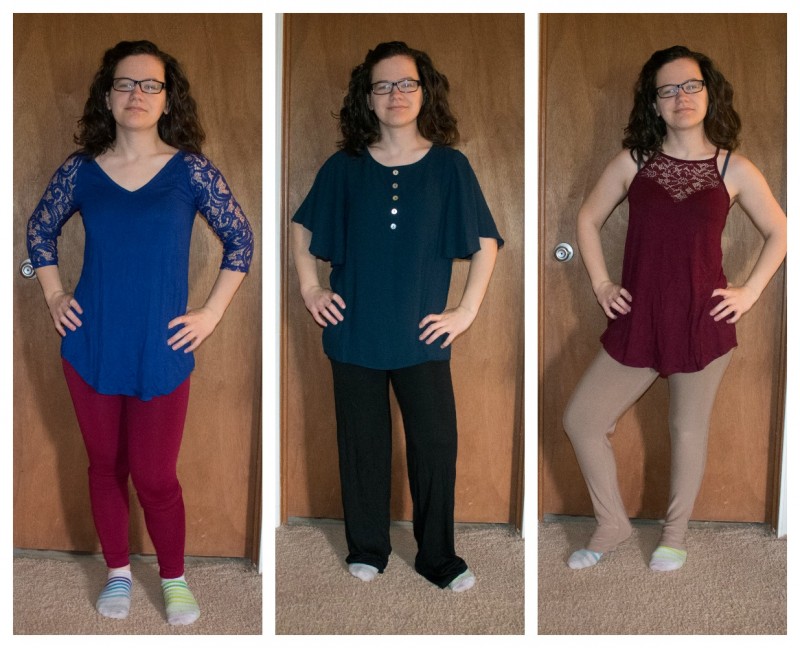 I was sent a nadine west shipment for review. All opinions are my own. There are affiliate links in this post.
Nadine West is a clothing subscription company. You fill out a style profile sharing your clothing sizes and information about your style preferences. Don't like gold-toned jewelry? Do you aim for clothing that conceals your belly area? Do you wear scarves or not? What about stripes, florals and polka dots? What colors do you NEVER wear? All sorts of information like this is taken about you when you fill out your style profile. Then a stylist will take that information to prepare a Nadine West shipment for you! It will include clothing and accessories that they think you might like. So far, my shipments have ranged from including 5 items to 15. A list of prices comes with your package so you can see what the asking price is. You get to try the clothing on in the comfort of your own home. Anythin you decide not to keep, you simply mail back using the prepaid mailin label that is included in the shipment. You're only charged for the items that you don't send back.
However, there is typically a shipping fee to have the items sent to you, for $9.78 and as long as you purchase one item, that shipping fee will be credited towards your purchase. Meaning you get a $9.78 shipping debit and if decide to keep a $15 item, the $9.78 fee will transfer over so you'll just pay an additional $5.22 for the shirt. However, if you were to decide to keep nothing at all from the shipment then you would be charged the $9.78 for shipping.
However, right now there is a special promotion going on that will let you try Nadine West 100% free! The $9.78 shipping debit is being waived so you can get clothing sent to your house completely free, even if you decide to return everything. To get this deal click my link to visit Nadine West
and then use the code NADINE at checkout!
On to what was sent to me this time…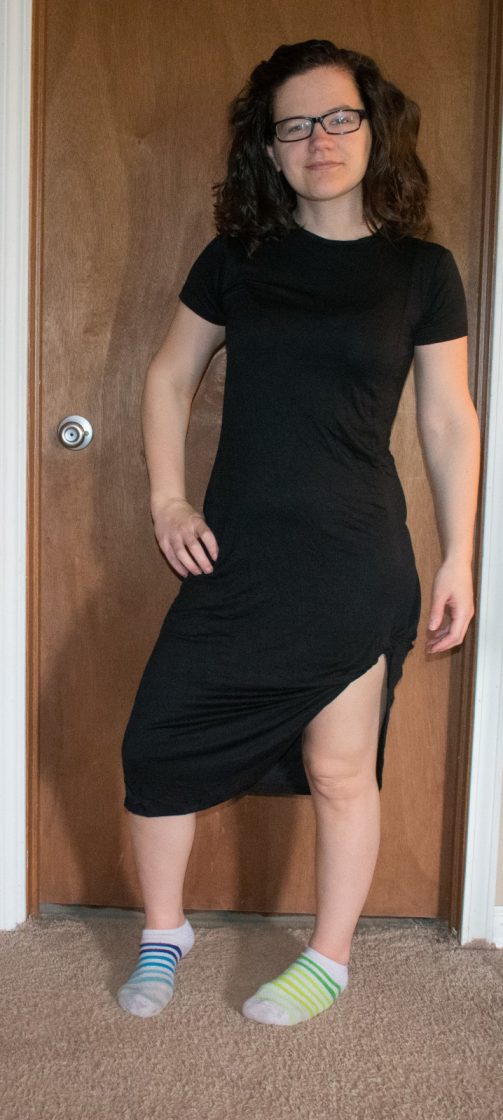 We're getting closer to summer-like weather here! I wore shorts one day last week. So, i'm excited to start getting ore dresses from Nadine West. This dress is fairly simple on the top but has a cute tie-look on the upper leg. I think this dress is cute but it's just not really me. This dress is $29.99 to keep.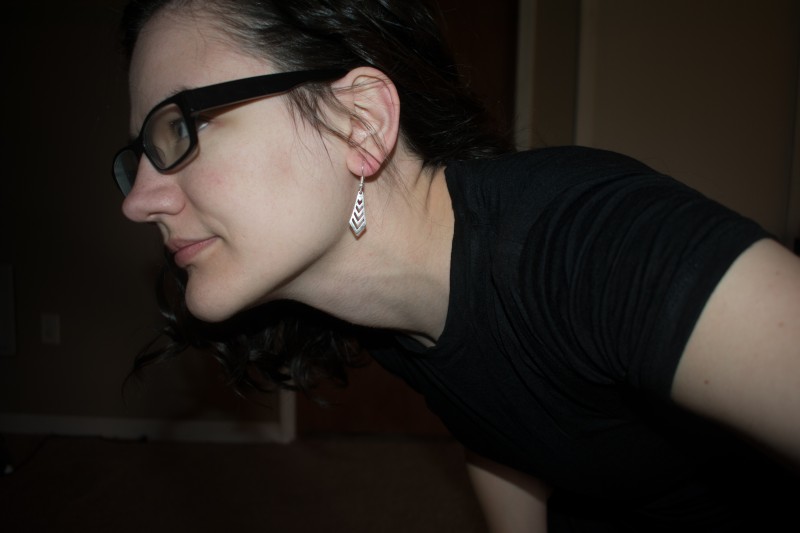 These earrins are cute! I love jewelry that is somewhat subtle and can be worn with most anything and these earrings fit the bill. I love how at firs glance they just look like arrow cut-outs, but the smallest cut out is actually a tiny heart! These are just $13.99 to keep.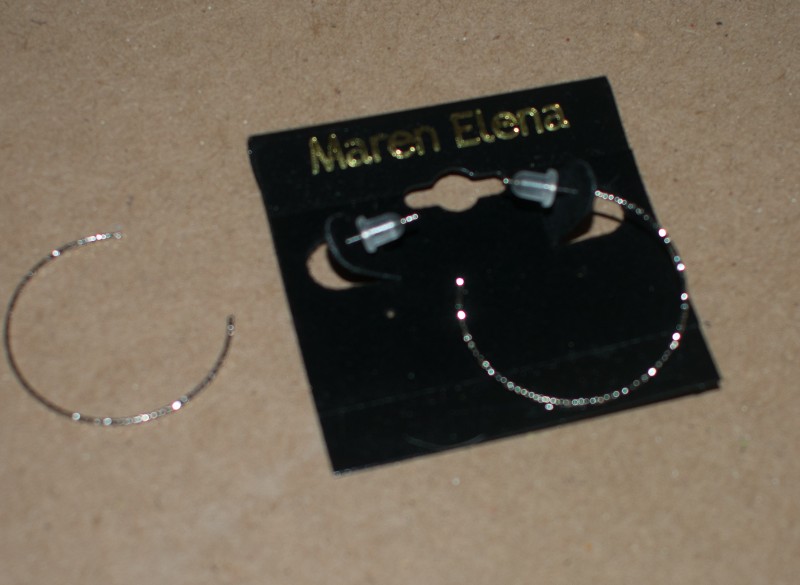 A second pair of earrings was included in my shipment but unfortunately, one of them had broken before it arrived. These are extremely thin wire hoops and the hoop detached from the post. I think I would have liked these if they had arrived undamaged and were a bit more sturdy. These are normally $13.99. If you et anything damaged, just contact Nadine West customer service.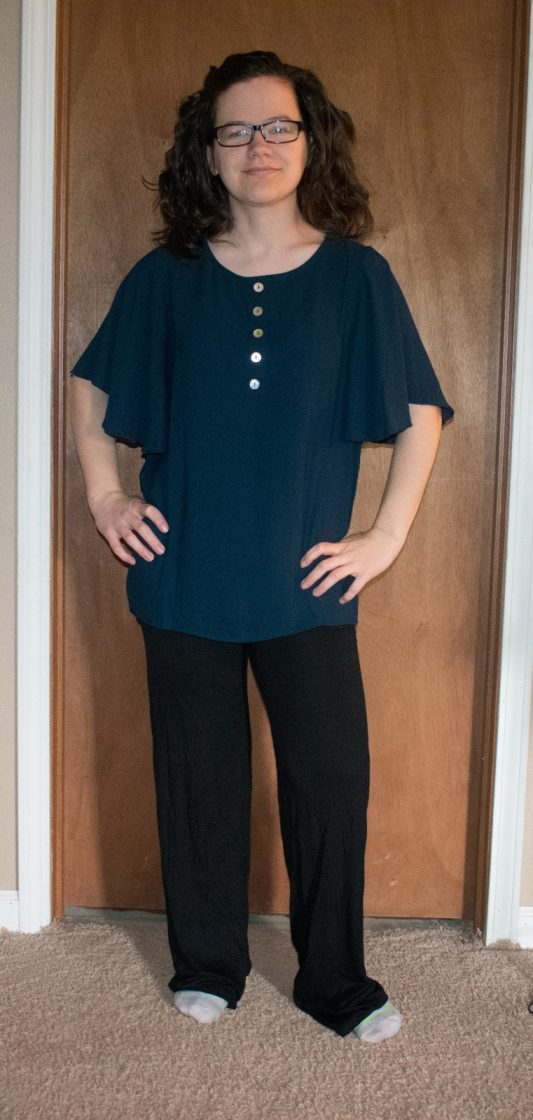 Sometimes I wish my style profile would let me select different colors for tops vs bottoms. I definitely want to et blue bottoms (like jeans) but I don't really like wearing blue shirts. I'm also not sure about the sleeves on this being my style. It is $31.99 to keep.
These bottoms are light and comfortable to wear. I pretty much exclusively wear skinny leg bottoms so these having rather wide legs was the main downfall for me. These are $27.19 to keep.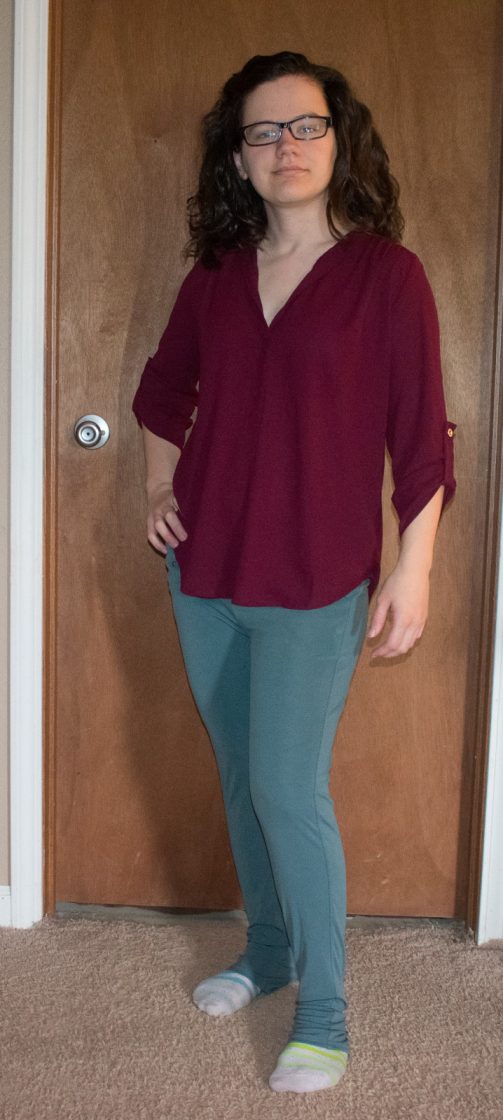 I wasn't sure about this top at first. I thought it fit a bit biger/looser than I'd typically like. However, I decided that while it was a little outside of my typical style that I did like how it fit. I'm actually wearing it again today as I type this review! It's nice for spring here in Michigan because it is light and breezy but you can wear an undershirt with it for added warmth if needed. It is $21.99 to keep.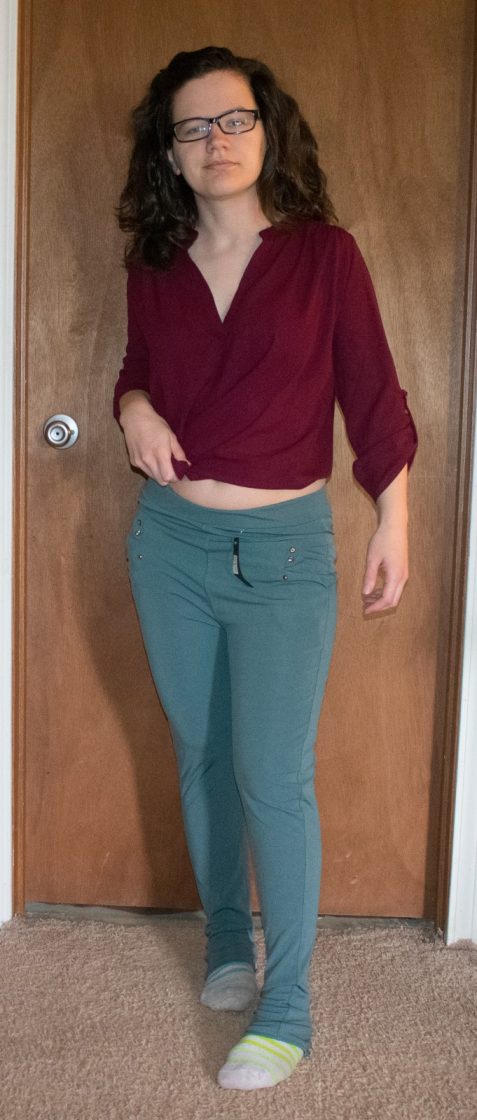 I don't really wear pants outside of jeans or leggings so these were a 'pass' for me. They are $24.99 to keep.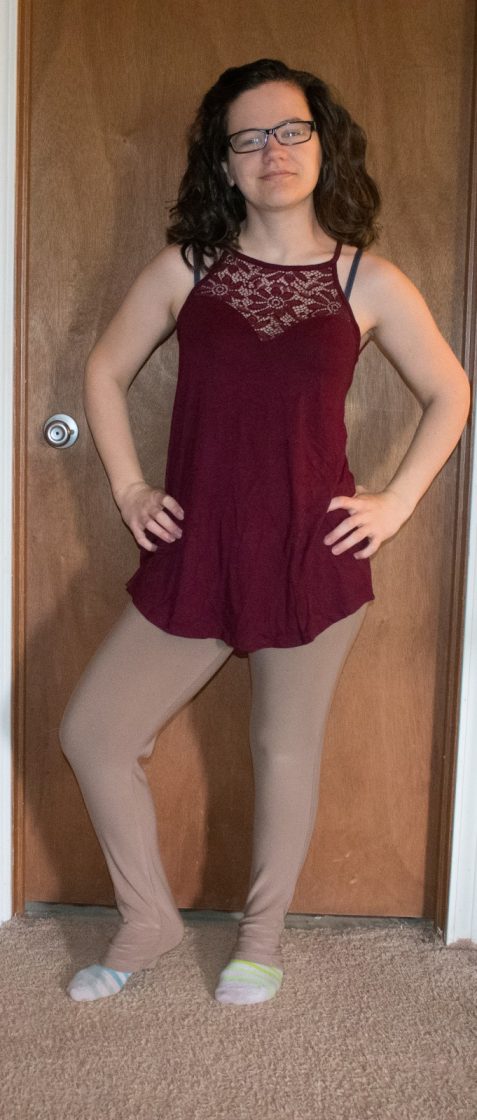 The color of these bottoms made me look twice when uploading the photo. Yes, I have pants on! Haha. For now we'll talk about the top though! I love this top. I love deep reds, I love lace. It'll be great for summer. This top is $34.49 to keep.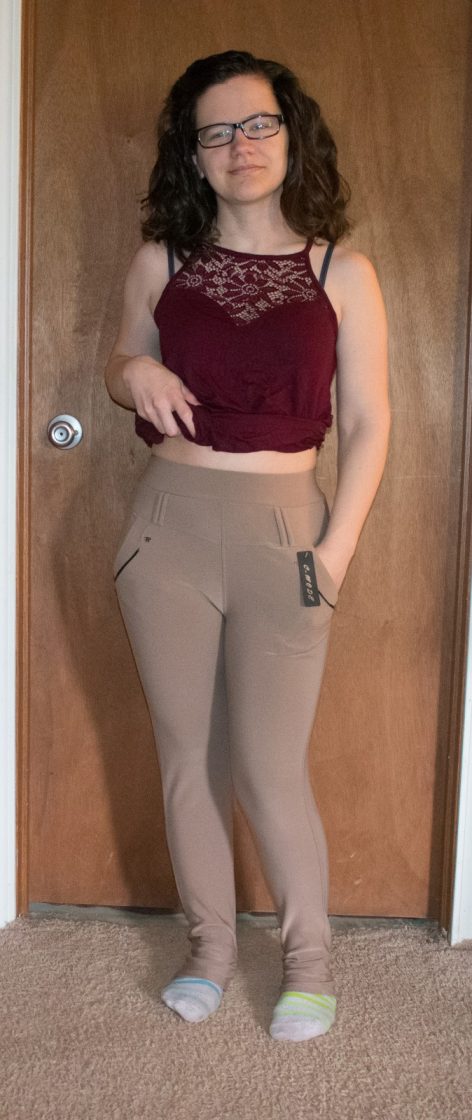 I don't dislike these pants, they just aren't something I would wear. I'd be curious to see how others style them as I wasn't sure if they are supposed to be sort of a business casual option, lost like fake dress pants? Or if they are just casual wear? They have an elastic waist, no zipper so they feel casual but look a bit dressy to me. Feel free to share how you'd wear them in the comments. These are $21.49.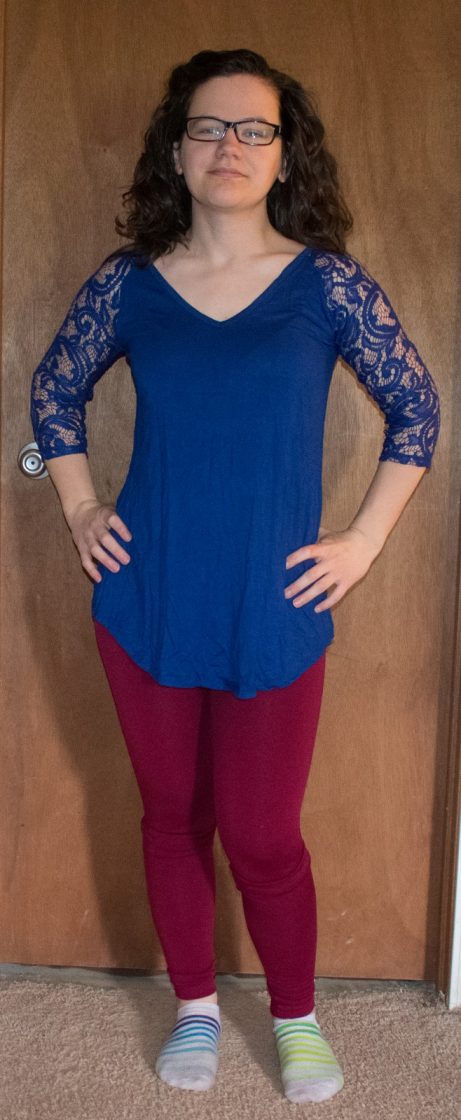 I've received a few lacey tops from Nadine West in 2020, many of them have become my go-to tops. I really like the style of this top too, I just wish it were another color. Blue isn't my color, and this one is particularly bright and I don't really wear brights in any color. It is $35.99 to keep.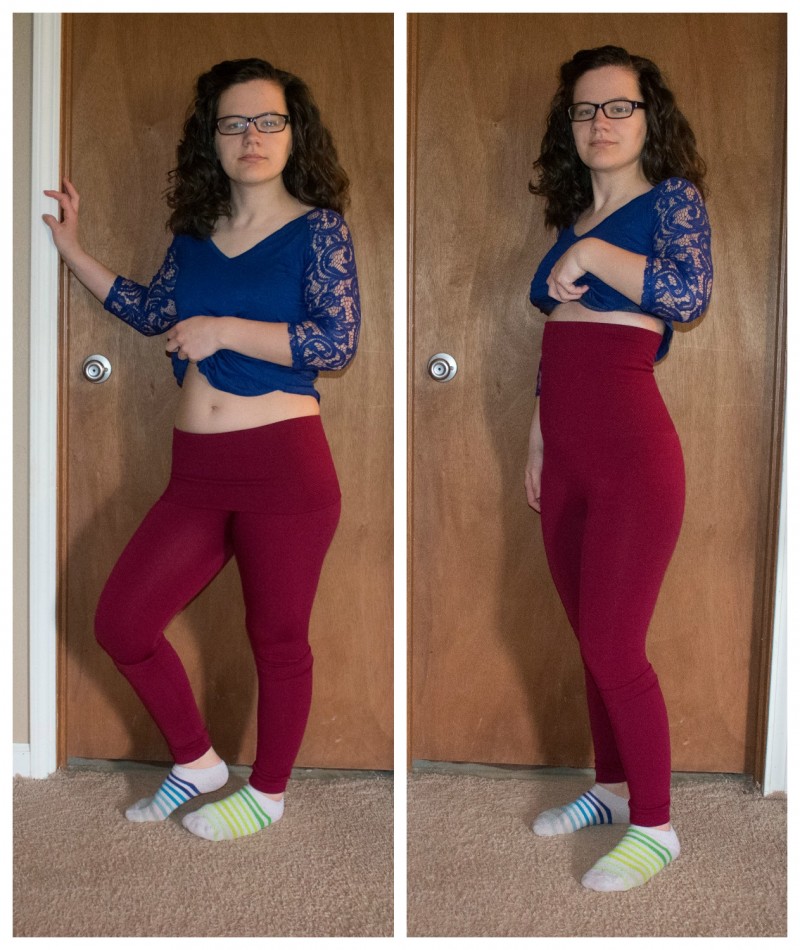 These are fleece lined leggings that seem to have some compression to them. They are extremely high waisted. I am only 5'1″ but these reach all the way up to touch the underwire on my bra when fully stretched up – I just lowered them a bit knowing I was taking a public photo. I think they help "shape" or conceal lumps and bumps on the body a bit. Or you can roll the top down at the waist if you prefer, as I did on the left. As fleece-lined leggings, they are a thick material so once doubled over it feels a bit restricting. These are a no-go for me due to how high waisted they are. These are $22.99 to keep.
I'd love to hear what you guys think of my shipment this tie around. What was your favorite? What would you keep for yourself if you had received this order?
Don't forget! There is a LIMITED TIME offer
 from Nadine West! Waive shipping debit and receive your shipment without paying a cent using the code NADINE!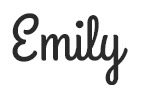 Hi there! I am Emily Evert, the owner of Emily Reviews. I am 28 and live in a small town in Michigan with my boyfriend Ryan and our two pugs. I have a large family and I adore my nieces and nephews. I love reading memoirs, and learning about child development and psychology. I love watching The Game of Thrones, Teen Mom, Sister Wives and Veep. I like listening to Jason Isbell, John Prine, and other alt-country or Americana music. I created Emily Reviews as a creative outlet to share my life and the products that I love with others.
This post currently has 6 responses.