I was sent this Nadine West package for review. All opinions are my own. There are affiliate links in this post.
If you're new around here, Nadine West
is a subscription service for women's clothing and accessories. You fill out a style profile that includes your clothing sizes and tells the stylists what you like to wear. Gold or silver toned jewelry? Animal prints? Do you want to conceal your belly area? Do you wear scarves? Do you refuse to wear orange? These are the types of information that you get to fill in while filling out the style profile. From there, you'll be sent a package of clothing and accessories monthly or bimonthly depending on your preference. When your package arrives, you get to try everything on, and there will be a prepaid return shipping label included. Anything you don't wish to keep, you simply mail back. You're only charged for the items that you keep. Then you can go into your account, rate each item on a 1-5 star system, and leave comments on each individual item and/or the clothing bag overall. Then your next shipment will be even more customized!
This time I received 13 items. I'll go through each item individually, as always, but Ryan was home when I Was trying these on. His statement was "Wow I think this may be your best bag yet!" and I think he may be right! This definitely had a lot of items that worked out well for me.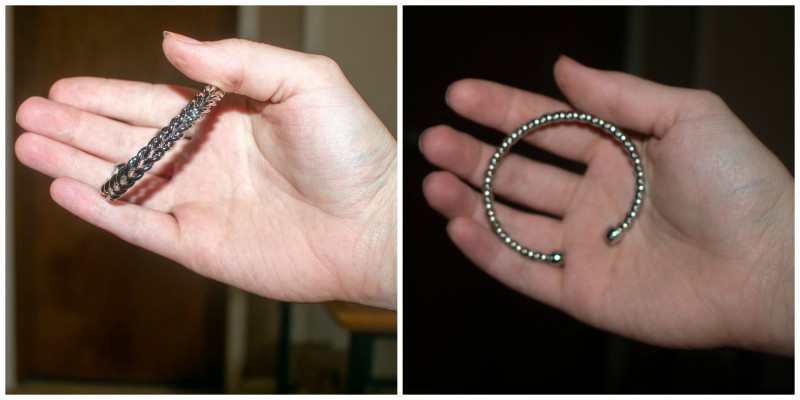 This bracelet was surprisingly small. I have petite wrists, but big hands. I'm used to bangle type bracelets being a bit of a struggle to get over the knuckles on my hand. However, I had never run into a bracelet like this that is designed to slip over the narrowest part of your wrist, that I couldn't get on! The opening is too narrow for my wrist to slip through and it's too rigid so you can't bend it to expand the gap in the bracelet. I think this is a child-sized bracelet, which is quite odd for Nadine West. Anyway, it is $13.99 to keep.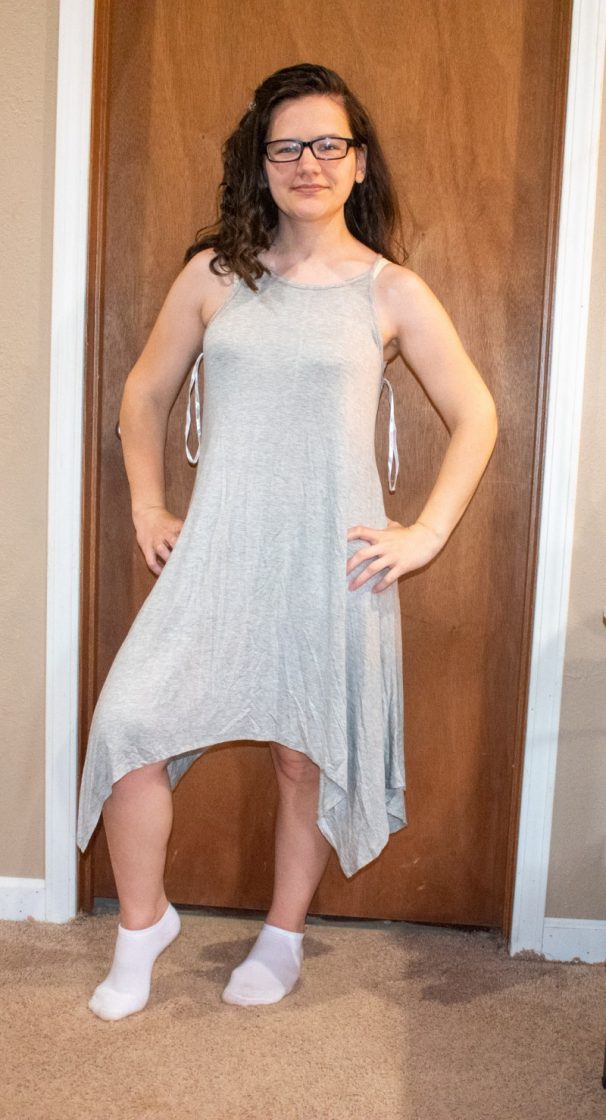 Some of my all-time favorite items that I've received from Nadine West are their dresses. This one isn't quite my style, though. It is VERY comfortable, almost like wearing a cozy nightgown because it's a thin, stretchy material. I like a bit of fitting in dresses though. Also the bottom hem is cute but just not my personal style. It is $31.49 to keep.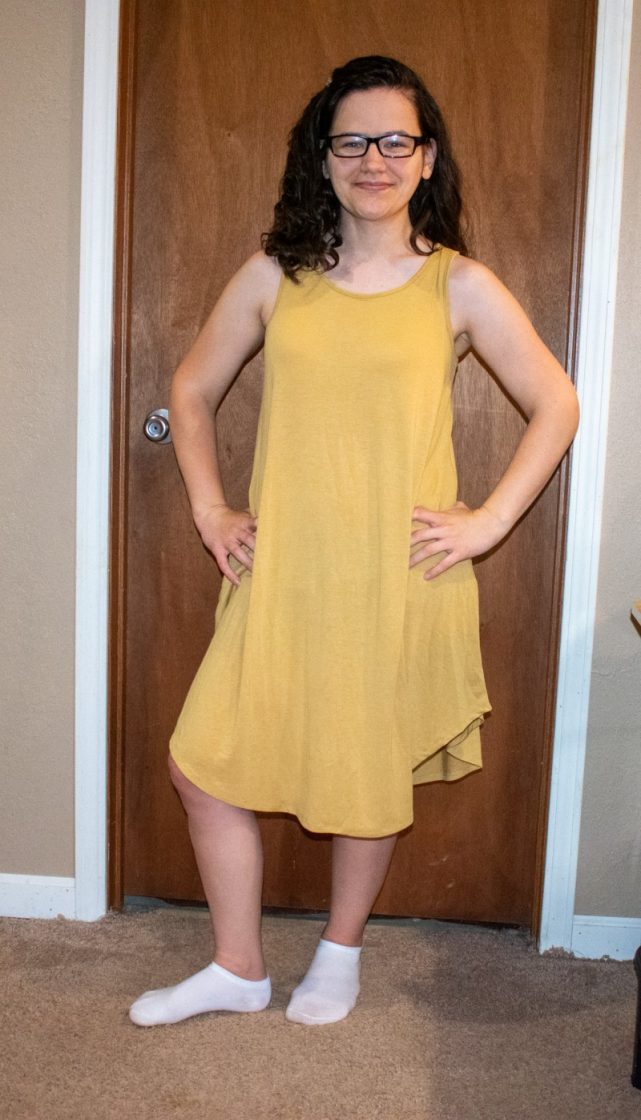 Much like the dress above, this one is super comfy. Very stretchy, thin and airy. I could comfortably sleep in this! Yet again, I prefer dresses that are a bit more fitted, particularly in the bust or waist area to help define my shape. This dress is $44.99. Personally, I'm rather surprised at that price as this appears to be a very basic dress. I would have expected it to be closer to 1/2 that price.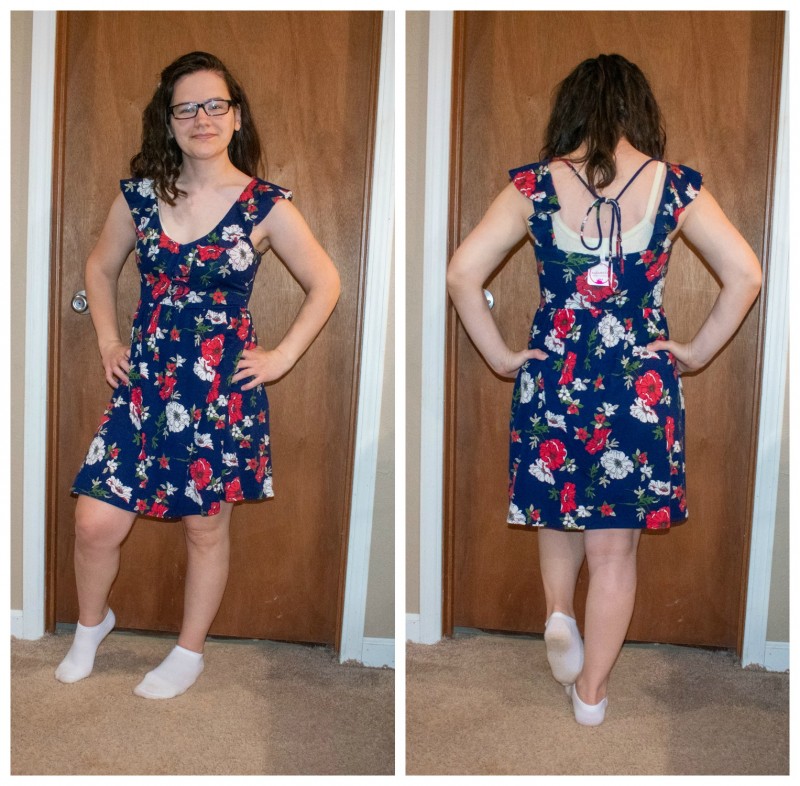 This dress is a keeper for me! I am not often a fan of blue, but I like the floral print, how it pulls in at the chest, the ruffled sleeves/collar and the cute open back. Of course, the bra I am wearing here is a really bad match for this dress. With the right bra the back would be adorable though! This dress is $23.99 to keep.
This top is a favorite from a past Nadine West box! This necklace came in this month's shipment. I like fairly simple jewelry, honestly, so that I don't have to worry about color coordination much! I like how this necklace is simple yet could be paired with most any outfit, and goes above and beyond my typical short necklace with a simple pendant type style. This is a keeper for me. It is $39.99.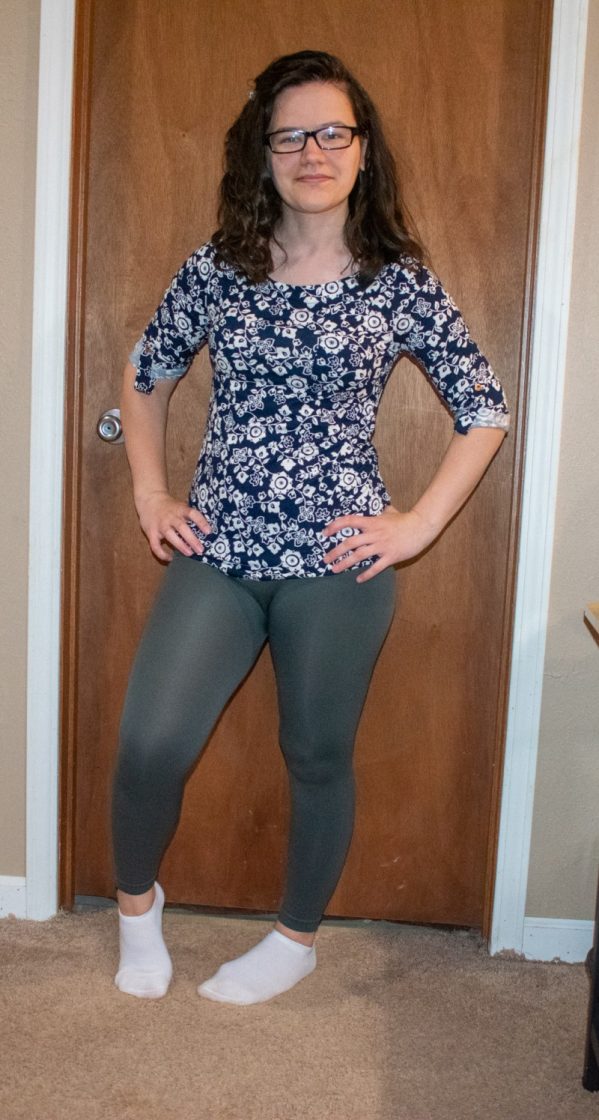 Top and bottom were both sent from Nadine West this month. Blue isn't often a color I like to wear in tops, but I like this top quite a bit. I am a bit self-conscious of my belly right now, and I was surprised that this manages to be a tighter fit yet without seeming to make my belly stand out too much. The material of this top is extremely soft, almost like a blanket – yet not thick like a sweater. The cuffs at the edges are permanently fixed that way, you cannot turn them rightside out. I wish it didn't show the inside of the fabric, but I still like the top. It is $30.99 to keep.
The bottoms are leggings with quite a lot of elastic, and the material is a bit on the thicker side. I like leggings that are completely opaque, and these have a bit of a shine to them when stretched, which I don't care for. They're also just thicker than what I typically like in a legging. These are $20.99 to keep. I also think they are intended to be capri or 3/4 length. I am 5'1″ so they fit me more like full length.
Both top and bottom here were sent from Nadine West this month, but I'll discuss the shorts further down.
I really love this shirt! It's a new favorite. It has two layers to it, one that is opaque and one that is sheer. I just love this coral-ish color, and the floral design as well. I also find the neckline really cute (though again, I need another bra for this one, sorry). Despite having two layers, this is a fairly lightweight top so it doesn't feel sticky or uncomfortable to wear out in the hot summer weather. I also like how it doesn't seem like it has a lot of excess material or is sized too big for me, yet is roomy enough to not highlight my belly area. This top is $36.99 to keep.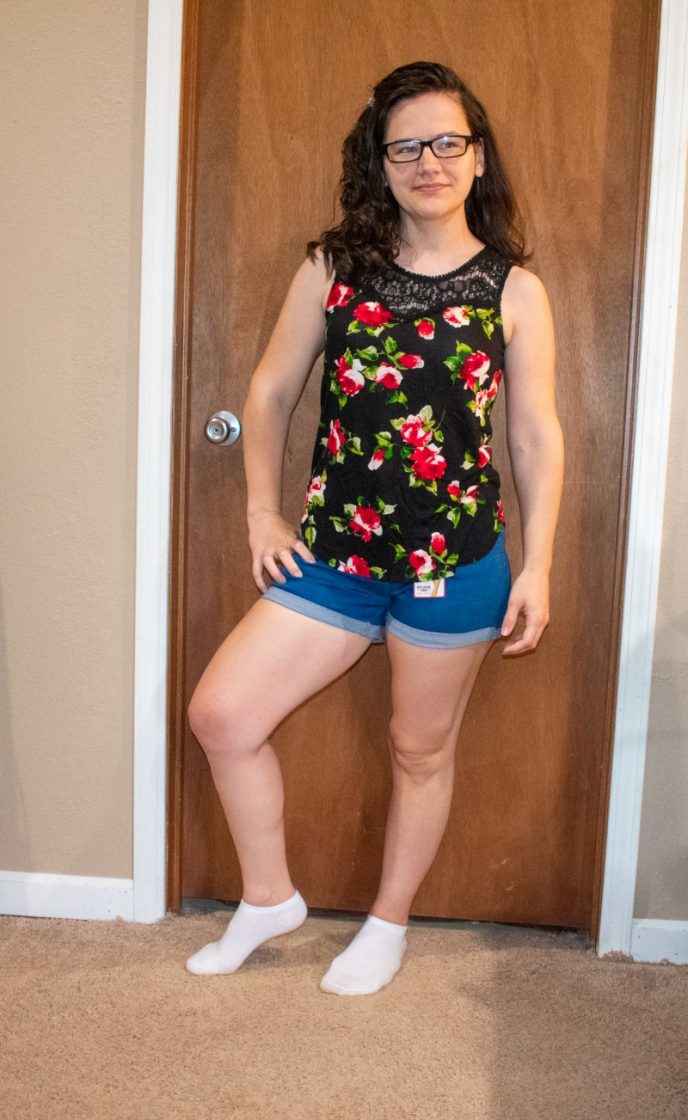 Both top and bottom were sent from Nadine West this shipment, but I'll review the shorts below.
I also really love this top! Black shirts with floral patterns are some of my favorite. I also really like lace. As a woman who loves black but also traditionally feminine things, I just love the combination. It's soft and lightweight, super comfortable to wear in the heat. It is $34.99 to keep.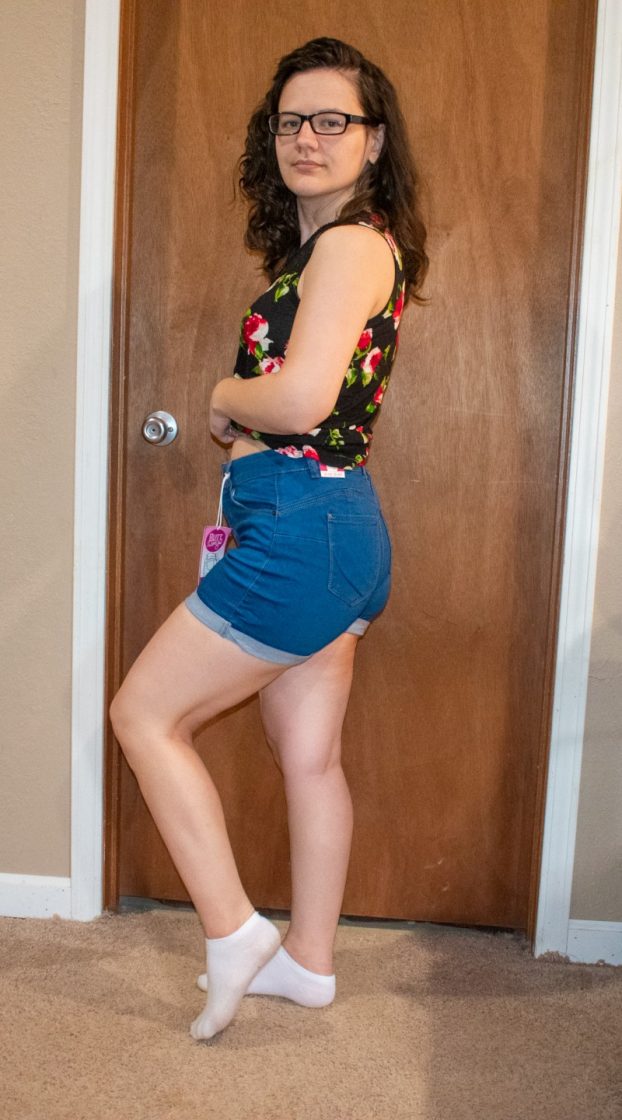 These shorts are also shown in the two photos above. I love when Nadine West sends jean shorts or jean-bottoms! Though it is somewhat rare because they only send items that are s/m/l/xl type sizing, not number sizes. These shorts are sort of a legging or jegging type material, yet they are totally "real" shorts. They have a functioning button and zipper fly, real back and front pockets. They are high waisted which I have really been loving this summer. These were sent to me one size up from what Nadine usually sends me. If they know an item is a-typical sizing, they will adjust and send you what they think will fit as opposed to your regular size. I assume that was the case here. These are slightly big, but not too big, so they do seem to be between typical sizes. They gap a bit when I wear them at my natural waist, but they still look fine under clothing. These go well with almost every top I have. Thanks to the jegging-like thin and super stretchy material, they're super comfortable to wear. Big win for me! These are $24.99 to keep.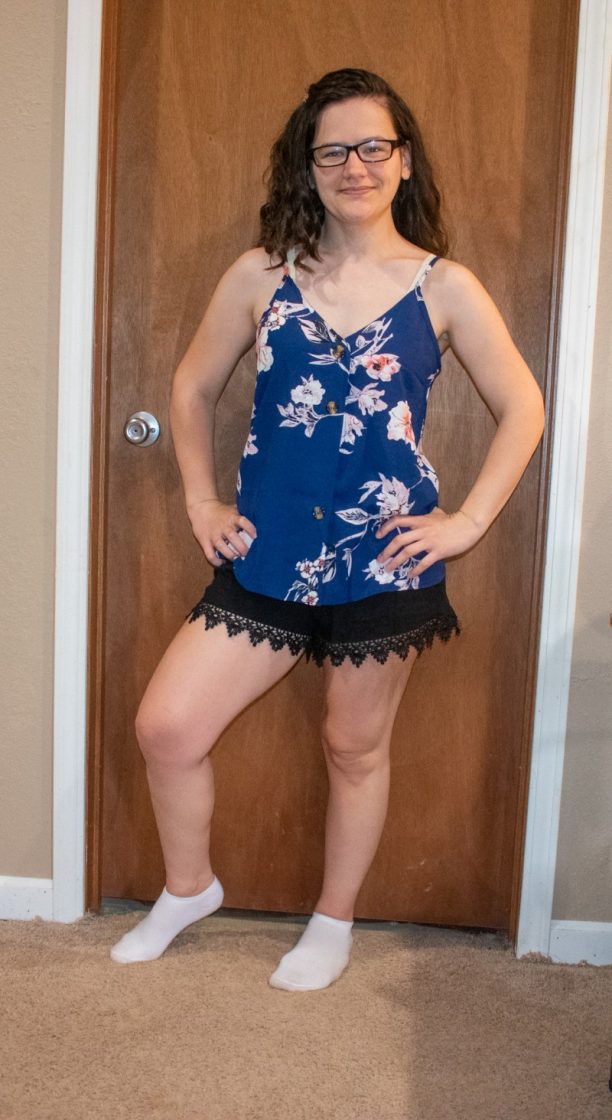 Top and bottom were both sent from nadine west this month.
I also really love this top! Again, blue isn't often my color but the floral pattern, big wooden buttons, and cute neckline make me love this anyway. The buttons are not just for looks, you really can unbutton this shirt. I accidentally had the top button come undone when I was wearing this one day, so I do try to be cautious of potentially exposing more than I want to. I just think it's such a cute top. It is $31.99 to keep.
These shorts are a cotton-y type material, with lace edges. I wouldn't wear these shorts out and about, but they're cozy as sleep shorts. They are $19.99 to keep.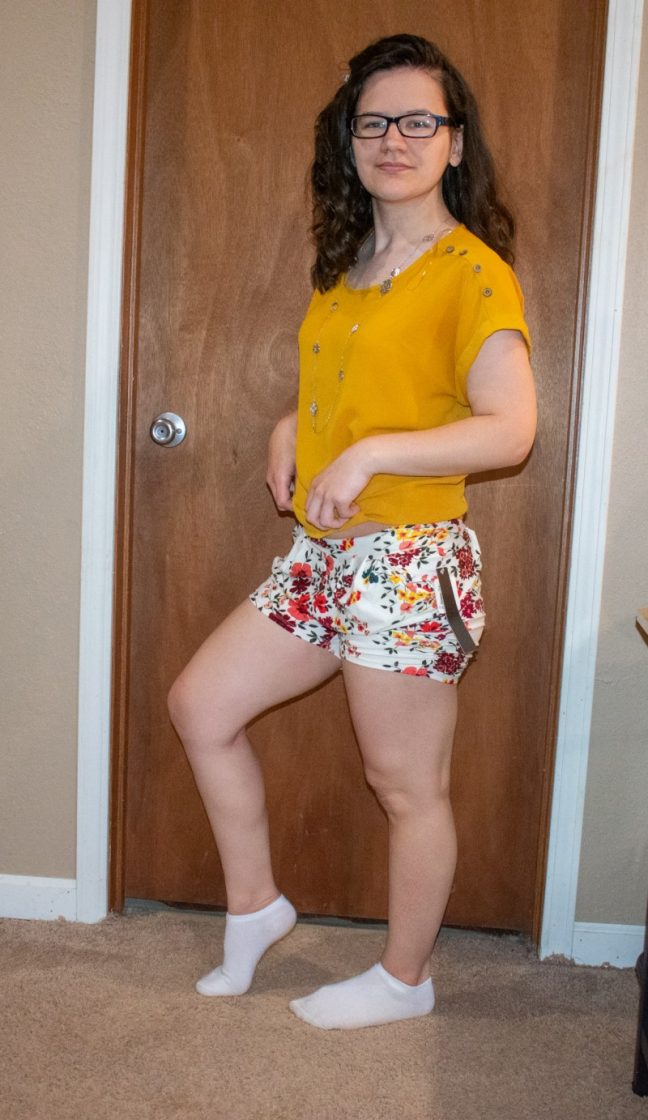 Last but not least, these shorts. I really only wear jean shorts or chinos out and about. I certainly steer away from floral shorts. Yet…I just love the colors in these! I wish this pattern were available in a top or a dress. The material is extremely soft, too. There are real front pockets, and rouching at the side seems that gives the backside of these a bit of a 'bubble' look. Even though I wouldn't wear these as a full outfit, I thought they were cute, soft and colorful so I decided to keep them as PJ shorts. They are $22.99 to keep.
Overall, this was a great bag for my style. I got a dress, shorts, and three tops that I just LOVE, another top, a necklace, and two pairs of shorts that I liked enough to keep. Out of 13 items, having five items that I love and four more that I really like is pretty amazing!
Remember you can sign up for Nadine West
and fill out a style profile today to see what they'd send you based on your own personal style!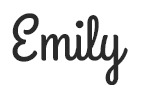 Hi there! I am Emily Evert, the owner of Emily Reviews. I am 28 and live in a small town in Michigan with my boyfriend Ryan and our two pugs. I have a large family and I adore my nieces and nephews. I love reading memoirs, and learning about child development and psychology. I love watching The Game of Thrones, Teen Mom, Sister Wives and Veep. I like listening to Jason Isbell, John Prine, and other alt-country or Americana music. I created Emily Reviews as a creative outlet to share my life and the products that I love with others.
This post currently has 8 responses.