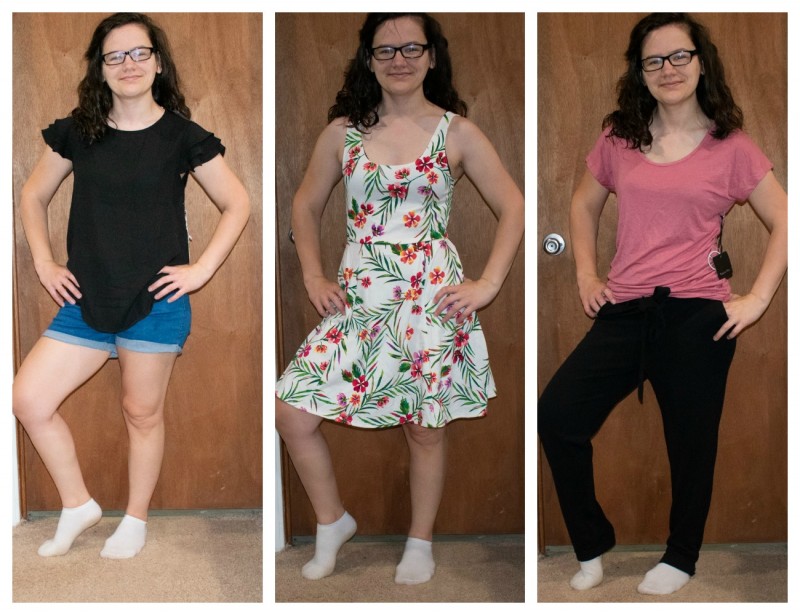 I was sent a Nadine West clothing subscription package for review. There are affiliate links in this post. All opinions are my own.
Nadine West is a fashion subscription service for women. You fill out style profile at NadineWest.com
sharing your sizes, what types of items you do and don't wear (scarves? bracelets? earrings?) as well as some fashion info. Some of the things you share about your style include what colors you like to wear vs what ones you refuse to wear. If you're looking to conceal a body part (Belly? upper arms? whatever it may be) you can share that as well. How do you feel about polka dots? Stripes? All of these are things that go into your style profile. Then a stylist will select clothing and accessories that they think will suit your preferences. They get mailed to you in a pink mailing envelope. It's always shocking to me how well they package all the clothing to fit it into a mailer! I've had package that have just 5 items in them, and I've had packages that included 15 items! Most of mine have been in the 10-12 item range though.
When your package arrives you get to try everything on in the comfort of your home. You decide what you like and what you don't, and you mail back anything you don't wish to keep. They even include a prepaid mailing label right in the package. Once you're done, you can rate/review the items you were sent, and explain why you did or didn't like each piece. Then your stylist will know even more about your style preferences for future shipments!
Ready to see what was in this shipment? I got 12 items this time.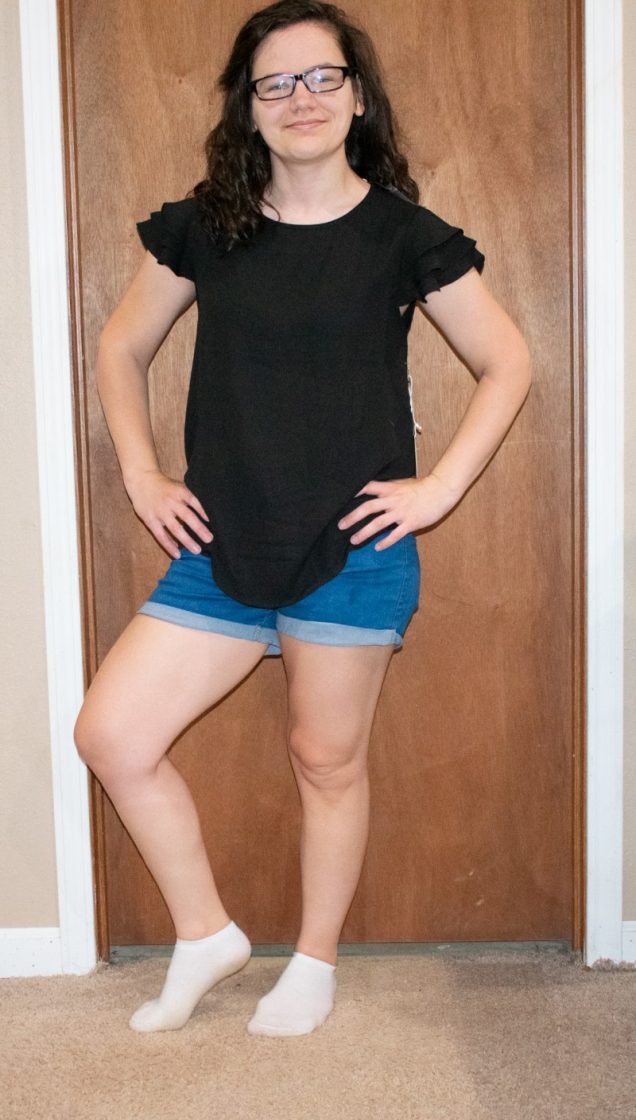 These shorts were included in my June nadine west bag, and have been a favorite this summer!
The top was new this time. Black is one of my favorite colors to wear, but I also like feminine clothing. I love how the ruffles on this top make black feel girly. The material is thin and airy, making it perfect for hot summer days. Definitely my style! This top was $26.99.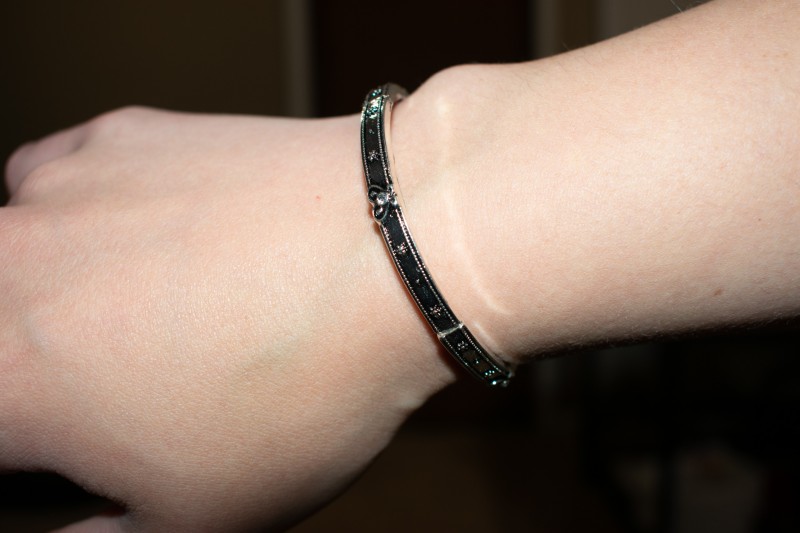 This simple silver bracelet was included in my shipment. While it looks like a bangle, it is more like a beaded racelet, every inch or so is its own piece, and there is a stretchy elastic band running through the center of the bracelet. I like the look of this bracleet, but it feels like it could fall apart easily. At $20.99, it seems priced a bit high to me.
Ahh, this dress! This was a bit challenging to receive, honestly. I love the style of this dress. I like how it has sort of a 90's vibe, how the material is soft and stretchy (SO comfortable), the cute buttons, everything. I love the style of this dress. So…why was it challenging to receive? Because it is a bit too clingy to my body for my comfort zone right now. A couple of summers ago, I would have loved wearing this dress. Right now, I'm not real happy with my weight, particularly in my belly, and it seems to highlight my "love handles" due to the material. I really like the style though. I'm keeping this in hopes of getting my body back to where I'd feel confident in this. It is $35.99.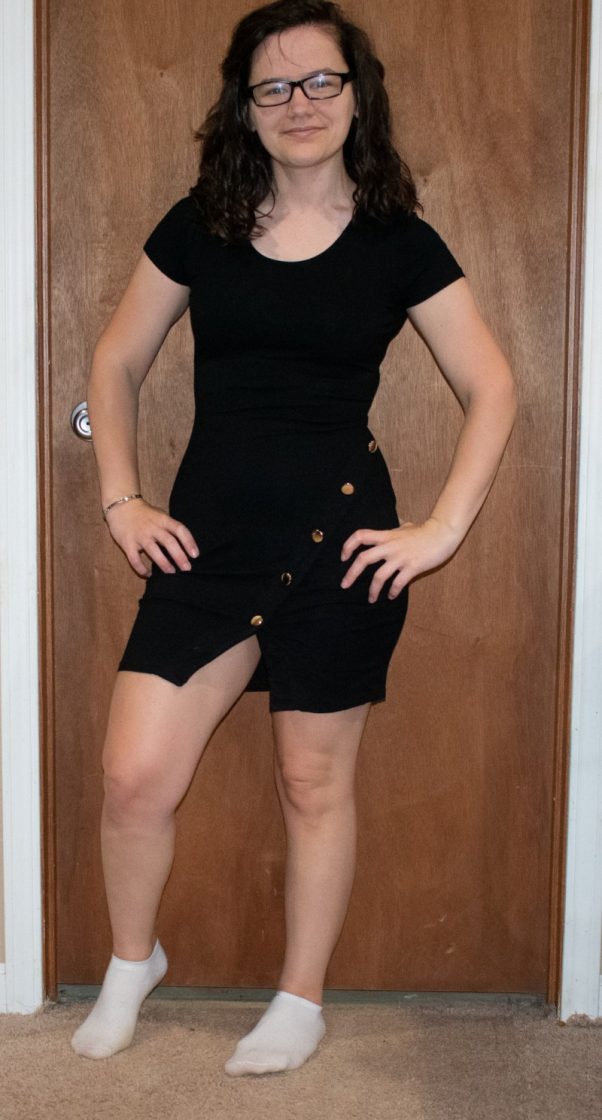 This is one of those pieces that strikes me as cute, but for someone else. I'm not really one to wear dress or skirts that have a slit in them in general. IT's just a bit bold for my style, I suppose. The are where the slit is, is pretty high up my leg as well. Just not as modest as I prefer to dress. This is $35.99.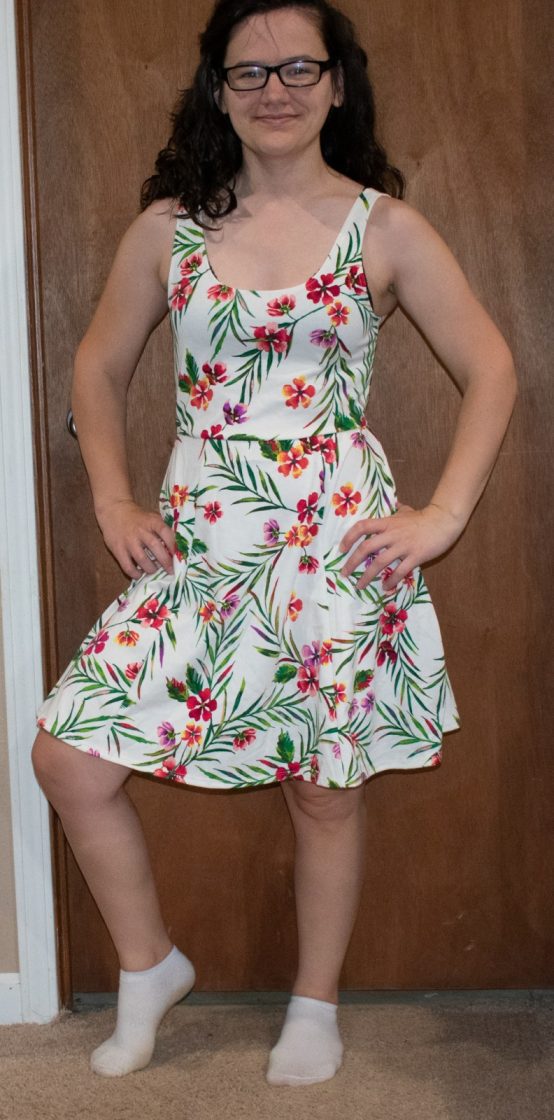 This third dress has a cut that I like. Slim enough to give me shape (not too boxy at the waist) yet not too clingy, either. I often like floral dresses, but this particular pattern isn't quite me. Too much greenery, perhaps? It is $29.99 to keep.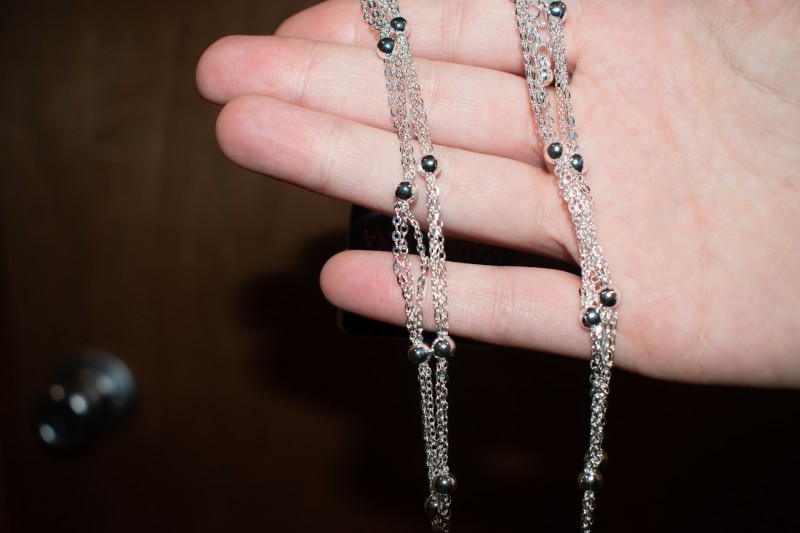 This necklace arrived pretty tangled, but I really like it. It has several strands of chain so it sort of looks like wearing multiple necklaces at once, and has simple silver spheres on it. It's quite a long necklace, ending around my natural waist. I think it would look nice with lots of outfits. Definitely a keeper for me. It is $39.99 to keep.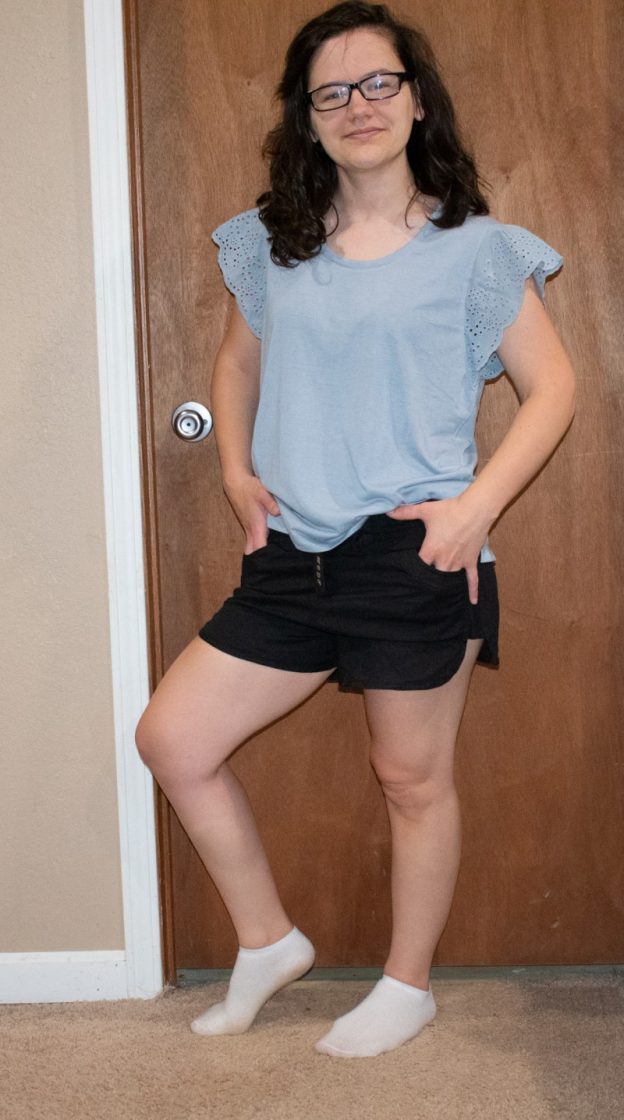 Both top and bottom pictured above were sent to me this month.
The shorts are simple black fabric shorts, that have functioning front pockets (Woot!) and a drawstring waist. They are almost too big, I Think this brand is sized a bit odd. They're really comfy though, I kept these as sort of lounge shorts or PJ shorts. They are $26.19 to keep.
I really like the style of this shirt, the simple body of the shirt with the textured sleeves. I just wish it were slimmer fitting. You can't fully tell in this photo, but the body of this shirt is quite wide, leaving a lot of excess space at either of my sides. If it were more fitted, I'd love this shirt. It fits too big for my preference though. It is $29.49 to keep.
Both the top and bottom pictured above were sent this month.
This top looks mostly like a simple t-shirt, but it's a really thin, stretchy material, and it has touching on the sides. I like the color and the fit. The only downside is this material is the type that wrinkles something fierce, so you have to hang them up instead of put them in a dresser. This top is $25.99 to keep.
These pants are just simple lounge pants with a drawstring waist. They're okay, but I tend to only wear cotton-based leggings in terms of lounge clothing. These are $25.99 to keep.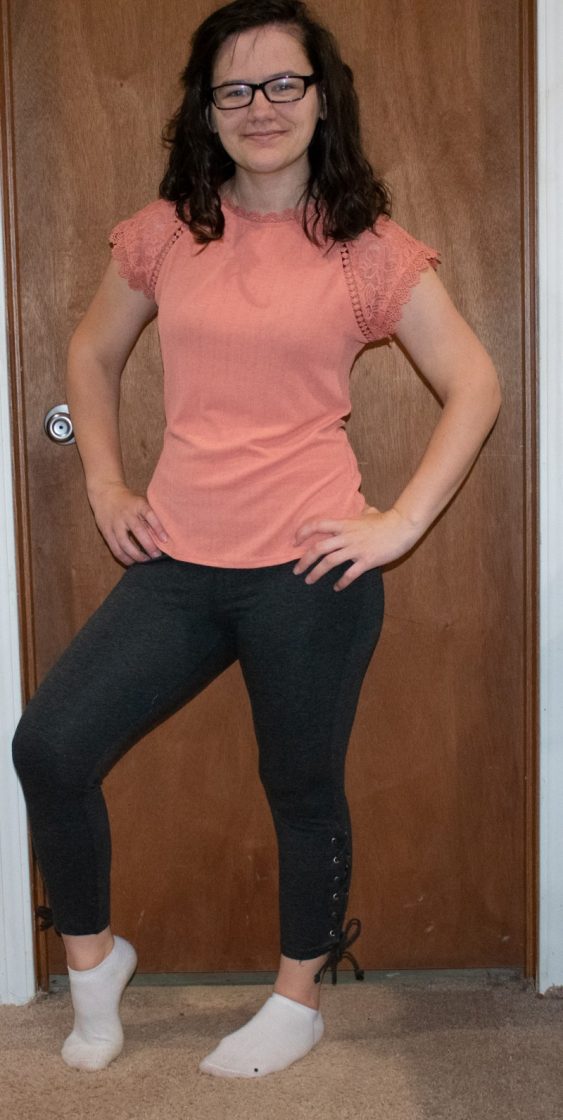 Top and bottom pictured above were both sent this month.
I like the color of this top, and the lace sleeves. Something aboutthe fit of the chest, and the design where the shoulders meet the rest of the shirt, don't strike me as very cute. I think it is a bit too vintage inspired for me. This top is $31.99 to keep.
These leggings are intended to be capri length, I just have short legs! They have ties up the calves. The fabric on these is a bit on the heavier side, between mid and heavy weight, yet somehow feels 'cheap' sort of like cheap sweatpants material? Clearly, these just don't fit me very well due to the length. They are $13.99 to keep.
That's it! What did you think of my shipment this time? I really liked the black top, the necklace and the dress…hopefully I'll feel good wearing it next summer! What were your favorite pieces this time?
Remember you can sign up for Nadine West at NadineWest.com
today and fill out your style profile. They'll send you clothing to try on and you'll only be charged for the items that you keep! It really is a fun way to discover new clothing, and sometimes to try clothing you usually wouldn't.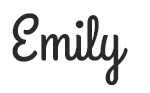 Hi there! I am Emily Evert, the owner of Emily Reviews. I am 28 and live in a small town in Michigan with my boyfriend Ryan and our two pugs. I have a large family and I adore my nieces and nephews. I love reading memoirs, and learning about child development and psychology. I love watching The Game of Thrones, Teen Mom, Sister Wives and Veep. I like listening to Jason Isbell, John Prine, and other alt-country or Americana music. I created Emily Reviews as a creative outlet to share my life and the products that I love with others.
This post currently has one response.