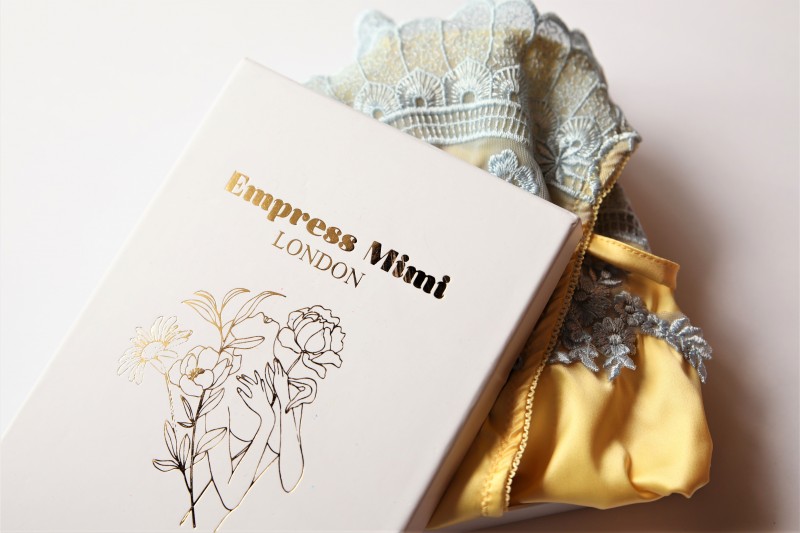 Thanks to Empress Mimi for sending me the beautiful Aurora set. As always, all opinions are my own.
The holidays are sneaking up quickly (less than 100 days until Christmas!) and a lingerie subscription service would make the perfect gift for any woman you love! I've been sharing Empress Mimi's Lingerie Subscription over the past year and I've loved every single piece I've received. This month I'm excited to share the Aurora products with you and let you know a little more about how the subscription service works.
Empress Mimi Aurora Collection
The gorgeous Aurora Camisole Top from Empress Mimi is cut from soft washed silky satin in a bright yellow hue and is trimmed with intricate powder blue scalloped lace along the hem and v-neckline. It's incredibly comfortable and can be worn dressed down with a pair of low-cut jeans or with the Aurora G-String. The camisole is also meticulously embroidered with dainty flower applique and it comes with Empress Mimi's signature adjustable arm straps that will help you get the perfect fit.
The Aurora G-String is made with attention to the smallest of details with scalloped lace and floral applique on its center that gives a luxuriously romantic touch. Just like the camisole, this g-string is a cheery yellow and has adjustable straps to adjust for weight fluctuations throughout the month. Both discreet and comfortable, this piece will lay flat against the skin and is virtually undetectable under fitted clothes.
I love the gorgeous detail on these pieces and they're both incredibly comfortable and sexy. As with all Empress Mimi products, these can be purchased individually on their website or you can receive them in a monthly subscription option. Empress Mimi offers custom boxes filled with delectable lingerie, delicate jewelry, and luxurious sleepwear. You get to choose your box options, starting from one pair of panties all the way to a full matching intimates set with loungewear, accessories, and all things naughty and nice!
Each month they keep things exciting by surprising you with a curated delivery. If you want to spice things up in the bedroom during the pandemic, or are looking for a gift for the holidays, be sure to check out Empress Mimi and all of the gorgeous sets available on their site and through their subscription service.
Buy it: Empress Mimi
Discount: Use the code EmpressAmberB30 for 30% off your first order!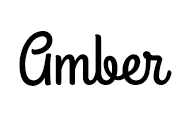 Hi there! I'm Amber, a 30 year old wife and mom of two from central Minnesota. I love to travel and to be outside with my kids anywhere the weather is warm! When I have a spare free moment, I love to read and scrapbook as well as binge-watch Netflix long after the kids are asleep. I drink too much Caribou Coffee and have a real sweet tooth but also try very hard to consume organic foods and use eco-friendly, fair trade products as much as possible. I also love socializing and sharing about my favorite products!
This post currently has 4 responses.