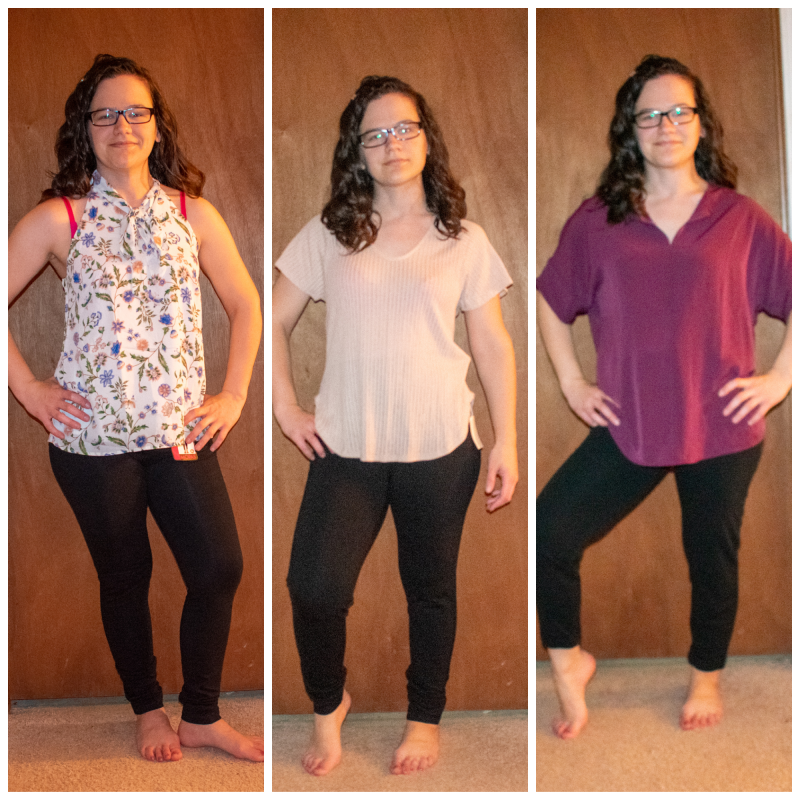 I was sent a Nadine West shipment in exchange for a review. There are affiliate links in this post. All opinions are my own.
Nadine West
offers a clothing subscription service. You fill out a style profile when you sign up to give them an idea of your personal style. You answer questions about things like whether there are any areas of your body that you like to conceal, what colors you like to wear and what colors you refuse to wear, among other things. They take the information you give them and send you 5+ pieces that they hope you'll like on a monthly or bi-monthly basis depending on what you choose. They ship you the items so you can try them on at home. They also send you a price list and a prepaid mailing label. That way, you can decide which pieces you want to keep and pay for, and which you don't want. You simply mail back any that you don't want to keep. You're only charged for the pieces that you decide to keep. Then you go into your account and rate each piece from 1-5 stars, and you can leave commentary to further explain why you gave that item its rating. This helps your stylist learn more about your personal taste. There is also a general commentary box at the end, where you can put additional information. For example, you could put that you're really in need of long-sleeved shirts right now, and they'll take that into consideration with your next shipment.
This time, I was sent 11 items. Let's jump in to what was included!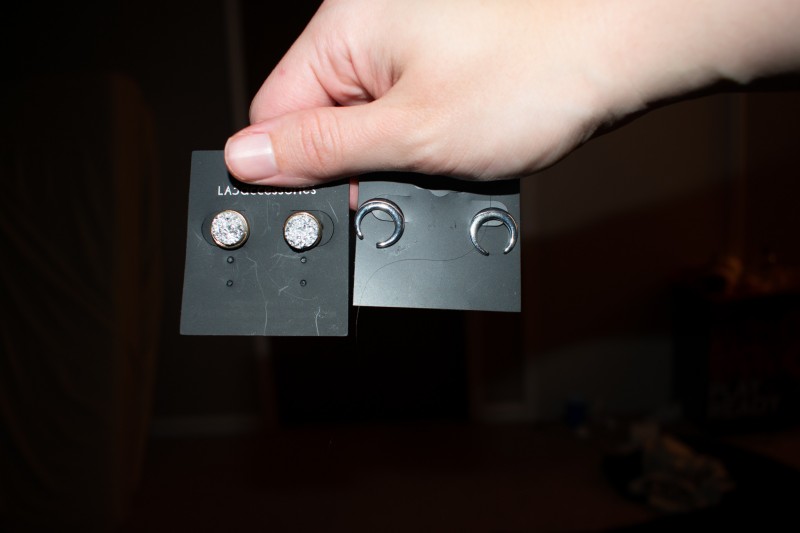 I was sent two sets of earrings. I like the "raw cut" look of the earrings on the left, though they are a bit larger than what I would typically like to wear. The ones on the right are quite similar to my taste. I often like earrings that are just a simple design, and silver – for some reason I just don't care for this particular shape. The earrings on the left are $20.99 to keep. The set on the right is $20.99 to keep also.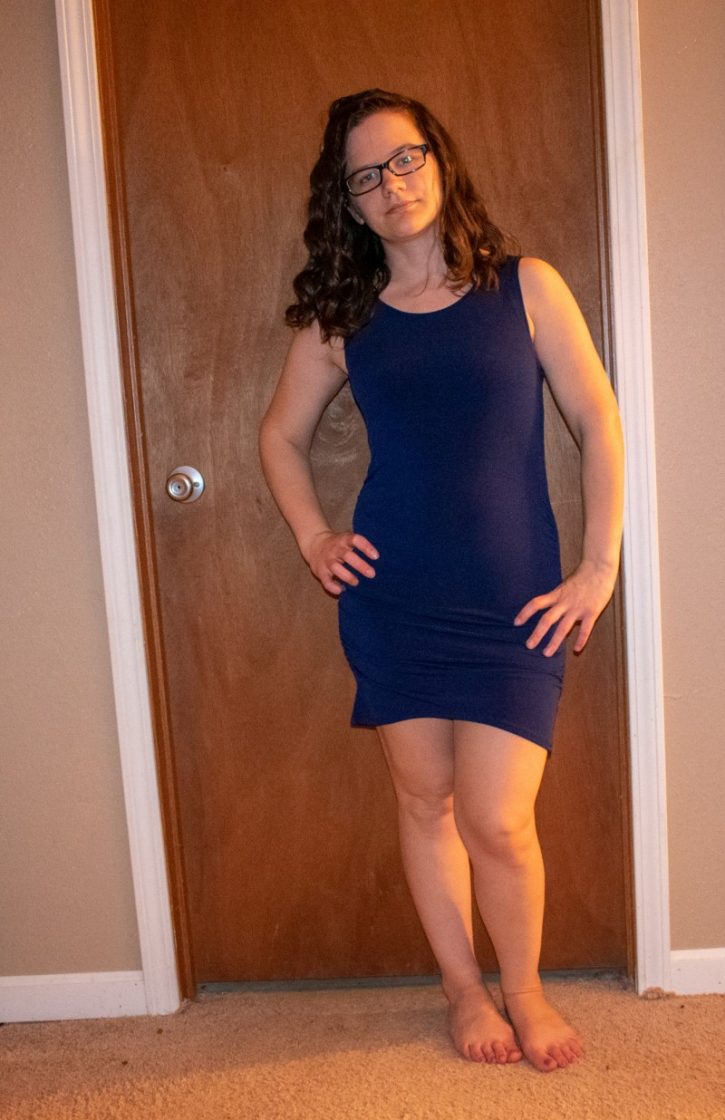 When I first put this dress on, I put it on with pants because I thought it was a shirt. Then I realized there was a lot of excess material at the bottom so I pulled it down, thinking it was a dress. I see on the Nadine West site that it is listed as a shirt after all. Short girl problems, I suppose! Anyway, as a "dress", I thought this was too form-fitting. As a shirt, it has way too much material at the bottom. Not a good fit for me either way. This top is $39.99 to keep.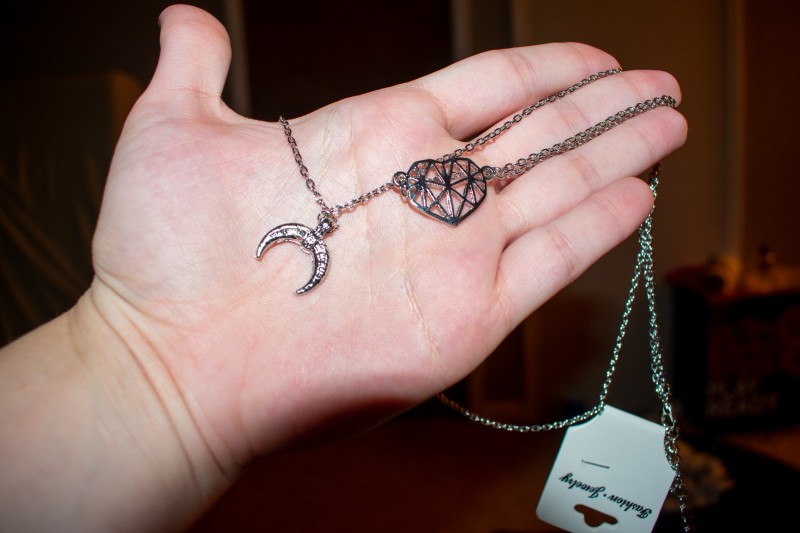 This necklace has two pendants and is made to look like you're wearing two at once. The pendents (moon and heart) aren't my style but it is cute. This necklace is $29.99 to keep.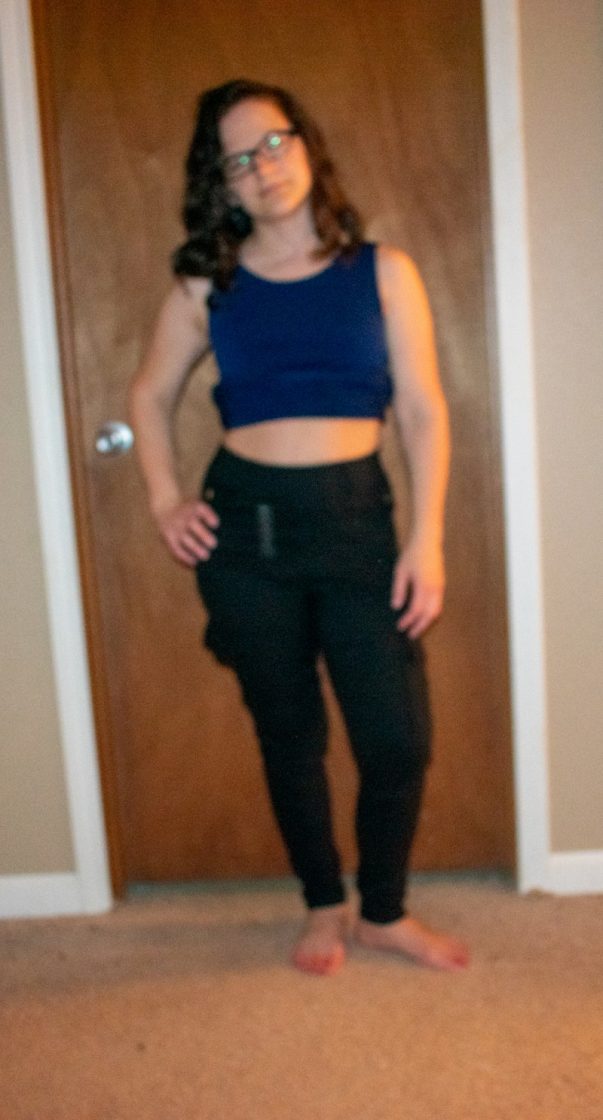 This "top" is the dress in the first photo, hiked up, haha. The bottoms here are skinny leg and a cloth, stretchy material, but have cargo pockets. Cargo pockets are a no-go for me. These pants are $22.99 to keep.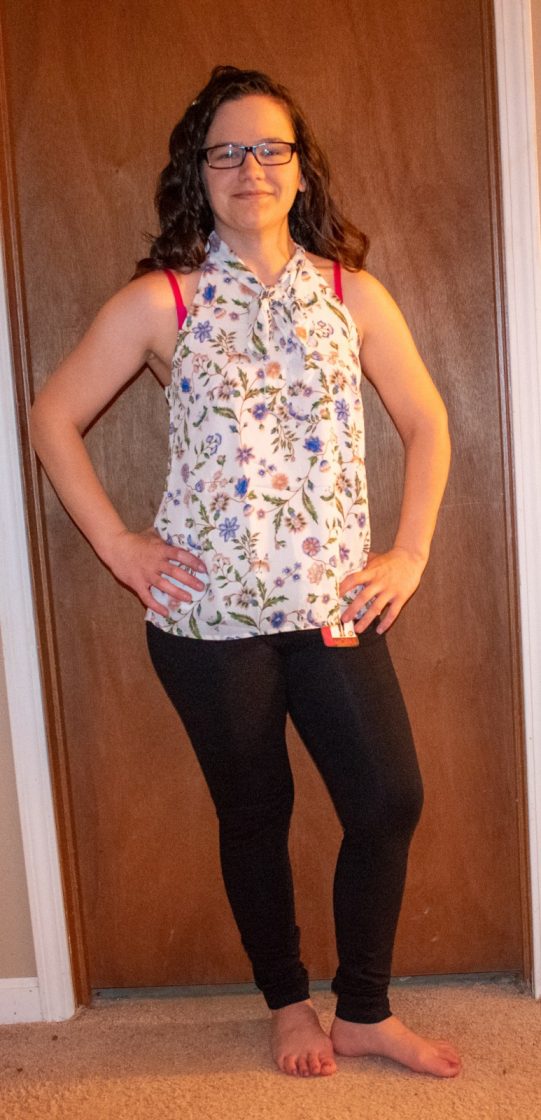 The top and bottom pictured above were both sent to me this time. I'll discuss the pants more in the following paragraph. This top uses colors that I like, but the pattern I was a little unsure of. I was really unsure if it would be a win for me or not prior to putting it on. However, it was really challenging to get on! It has a tie around the neck area, which I untied to help get the shirt on. Even when the neck tie is completely undone, the hole remaining for your neck is very small, and the armholes are very close to the neck holes. I almost had to have help getting this shirt on and off. I don't think I have a larger than average neck…at least, I've never struggled with clothing or necklaces in the past. I think the design is just odd. Anyway, seeing how challenging it was to get on helped me to decide this wasn't for me. This shirt is $33.49.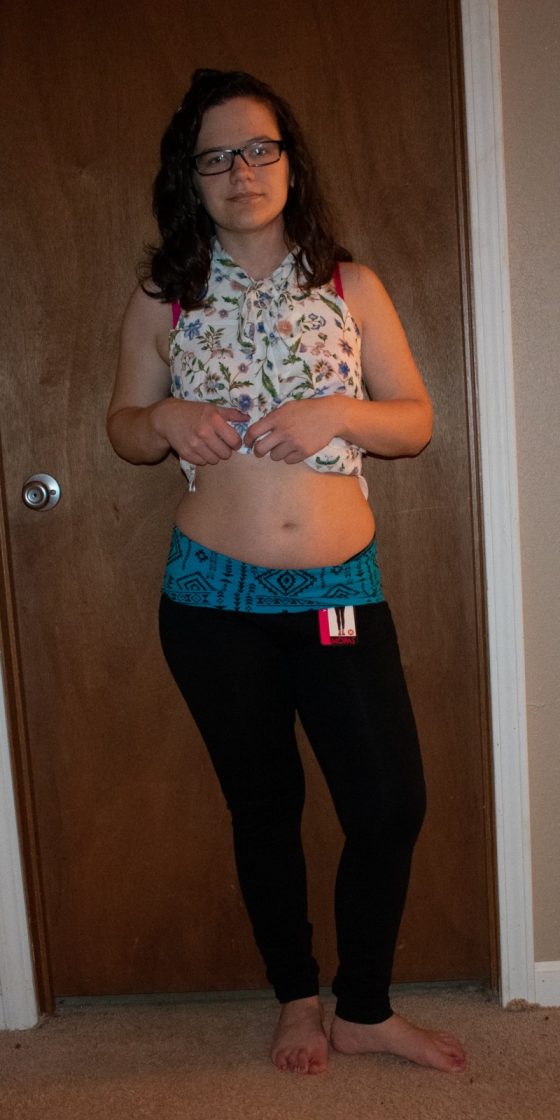 These bottoms are really casual yoga pants. They are not moisture-wicking or typical 'athletic' material, they are more of a cotton fabric. The waist can go up really high, but I doubled it over as I find that more comfortable. These yoga pants were a win for me. I love cotton leggings or yoga pants! They are $15.99 to keep.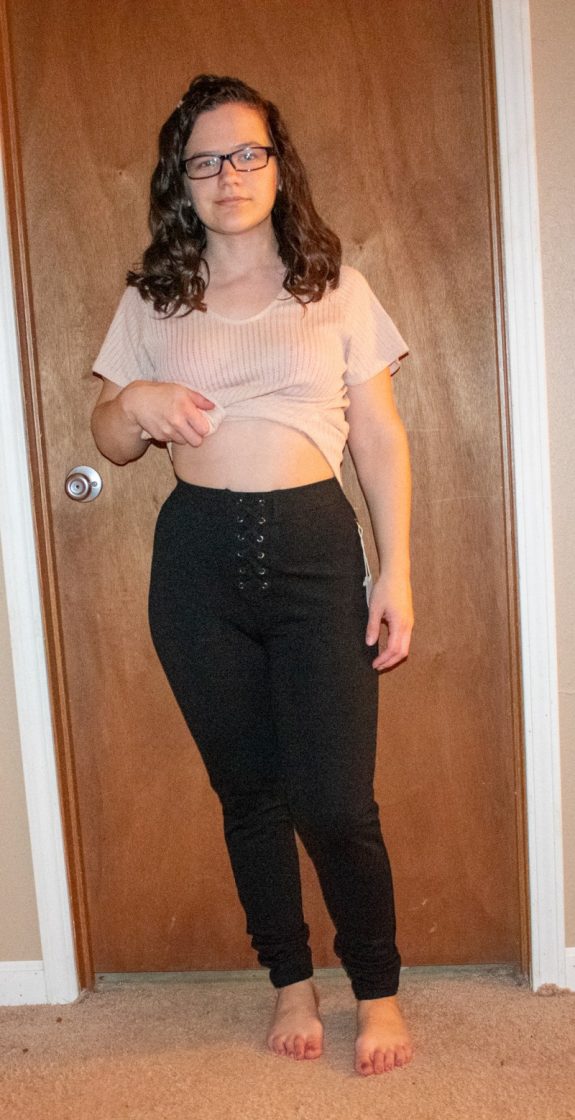 Both top and bottom were sent this month. I'll discuss the top in the paragraph below. These bottoms feel like a casual material, yet they have this criss-cross lace front. They are comfortable, I just don't care for how they look. They are $22.99 to keep.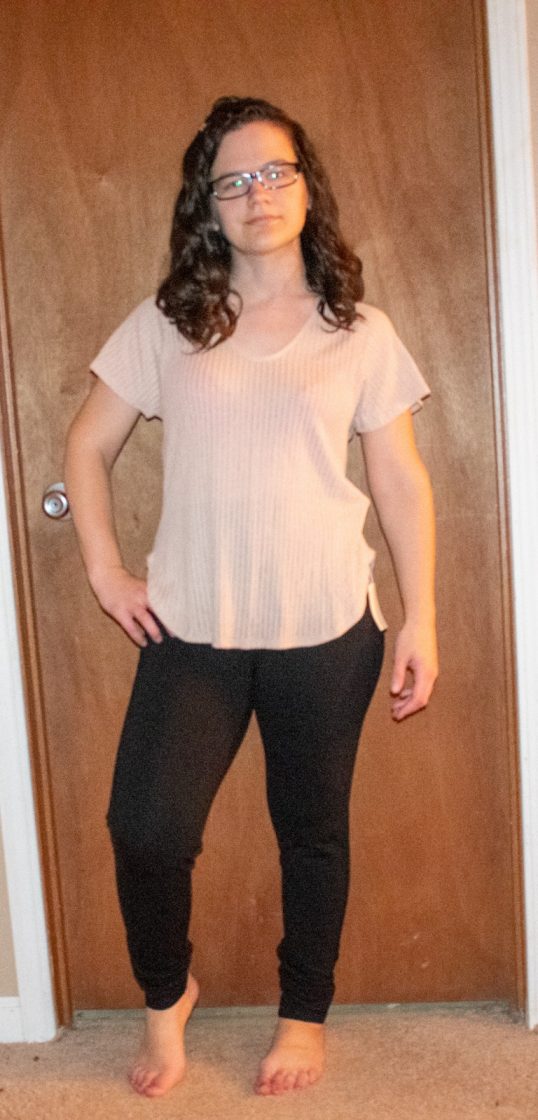 This top is soft, almost slightly fuzzy, like a sweater. Yet it is sort of a knit fabric, with tiny holes if you stretch it a bit. I like the color and the fit. Living in Michigan, I often find short-sleeved sweaters difficult to wear. It seems that we go from summer to winter back to summer again, more so than having "true" spring or fall-like weather for very long. So, I'm not sure that I'll find a lot of days where I can be warm enough without sleeves without being too hot to wear something fuzzy. I like the look and feel enough that I decided to keep it though. I'll just cross my fingers that we get enough mild weather so I can comfortably wear it! It is $25.99.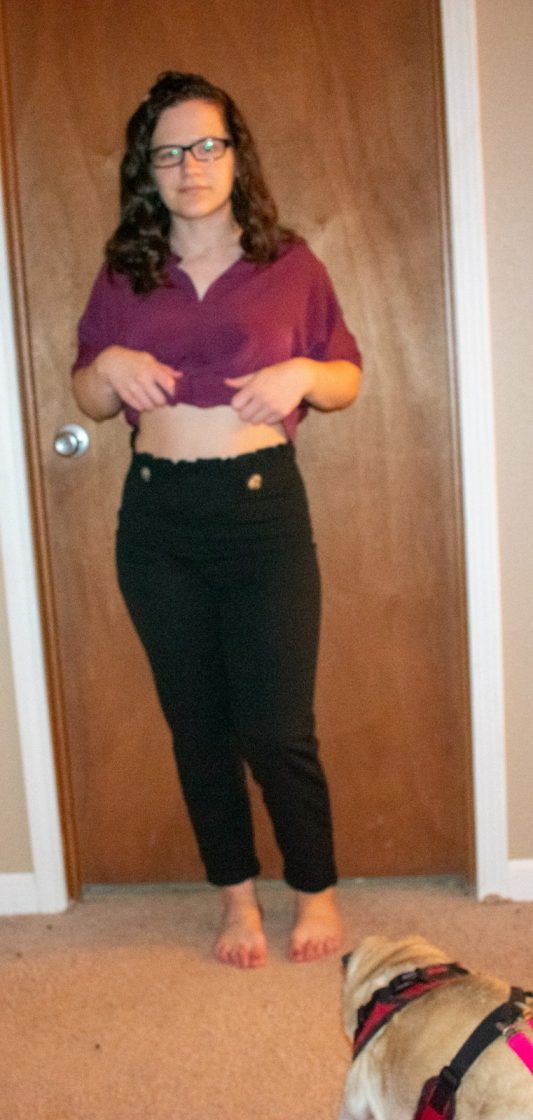 Sorry for the pug photo bomb! These pants are sort of a business casual high waisted style. I work from home so I don't really have much use for dressy clothing. These are $25.49 to keep.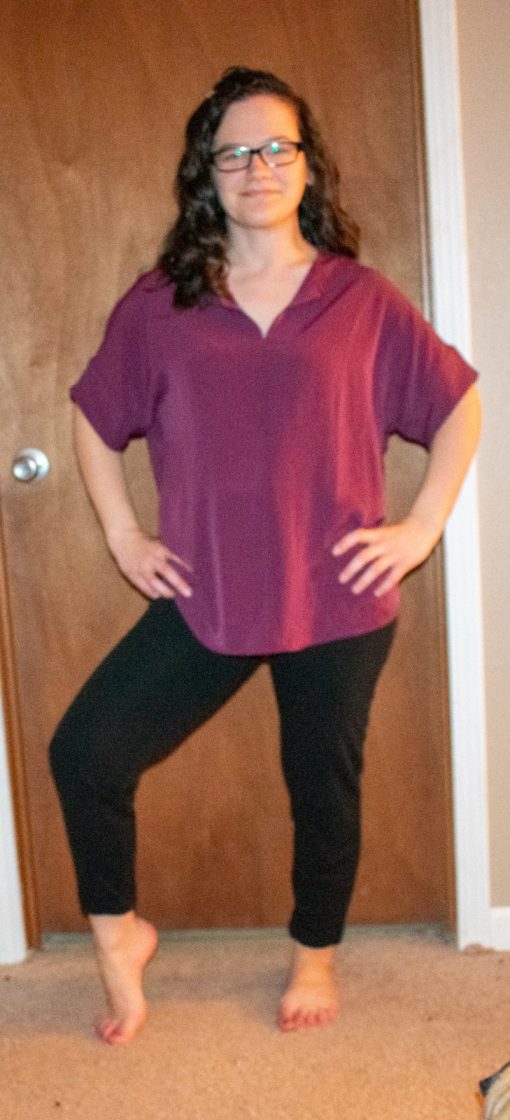 This top feels a bit business casual to me as well. It's just not something I would wear very often because I work from home. It's also a bit too shapeless for my preference. I like the color though. It is $39.99 to keep.
That's it!
I found fewer items that I wanted to keep this time vs usual. I just kept the sweater and the yoga pants this time. What's great about Nadine West is you only pay for the items you keep, other than shipping, but the shipping cost goes against what you do keep. So as long as you want to keep 1 item each time, you don't lose any money. I have never been sent a bag that didn't have at least 2 items that I wanted to keep, but I frequently decide to keep at least 4-5 items. Not every bag will be a "winner" but I will give a lot of feedback on this bag so hopefully the next one will be a better match for my style.
What items were your favorite from this shipment?
Now through 10/31/2020 use the code NEWNADINE15 on your first order at Nadine West
and you'll get FREE shipping and $15 off your first item!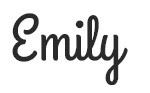 Hi there! I am Emily Evert, the owner of Emily Reviews. I am 28 and live in a small town in Michigan with my boyfriend Ryan and our two pugs. I have a large family and I adore my nieces and nephews. I love reading memoirs, and learning about child development and psychology. I love watching The Game of Thrones, Teen Mom, Sister Wives and Veep. I like listening to Jason Isbell, John Prine, and other alt-country or Americana music. I created Emily Reviews as a creative outlet to share my life and the products that I love with others.
This post currently has 5 responses.