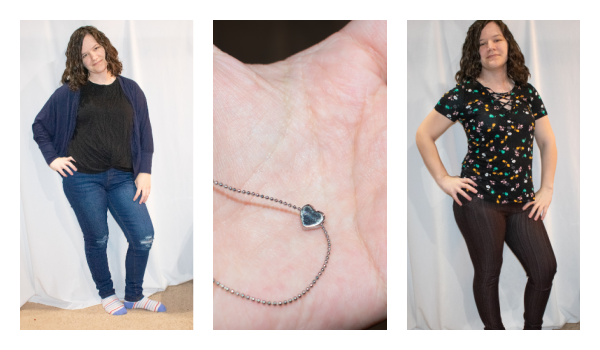 Nadine West sent me a bag of clothing for review. There are affiliate links in this post. All opinions are my own.
If you're new to Nadine West, it's a clothing subscription service. You fill out a style profile to let the company know your size and some basic style preferences. For example, you can share that you like silver-toned jewelry, dislike stripes, and want to conceal your upper arms. Then, monthly or bimonthly, depending on the setting you choose, you'll be mailed a pink evenlope of clothing and accessories.
It's a fun way to get clothing that you may or may not have thought to try on if you saw it in store. I love getting items from Nadine West that are 100% my usual style, and I also like how it encourages me to step outside of my comfort zone sometimes.
You're sent a prepaid return mailing label so that you can mail back anything you decide you don't want to keep. You're only charged for the items that you do decide to keep. There is a shipping fee to get the items to you, but if you keep 1 or more item, the cost of shipping will be taken off that item, so you don't end up paying shipping as long as you keep 1 item (or more).
This bag had six items. Let's jump in to what they were!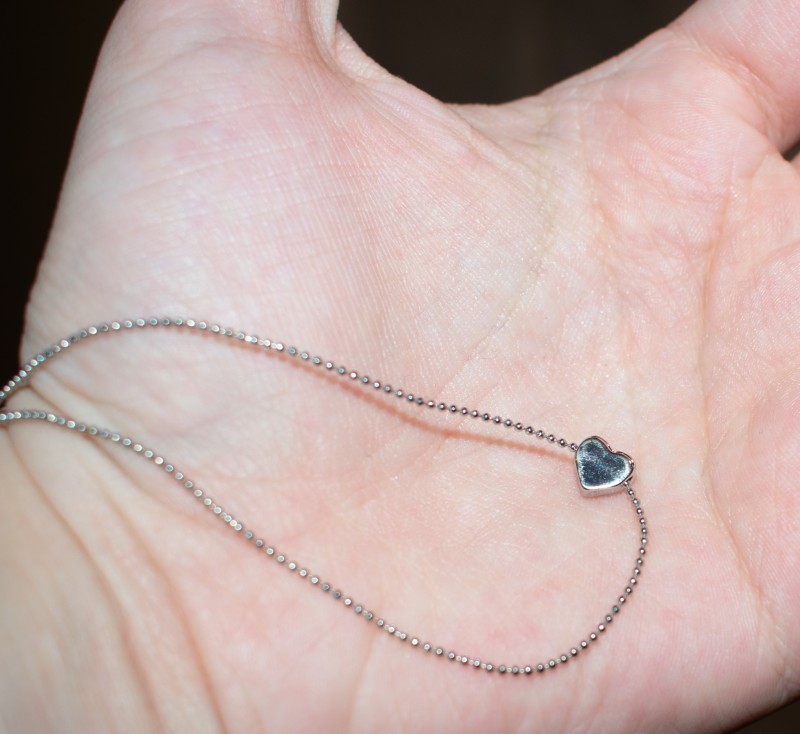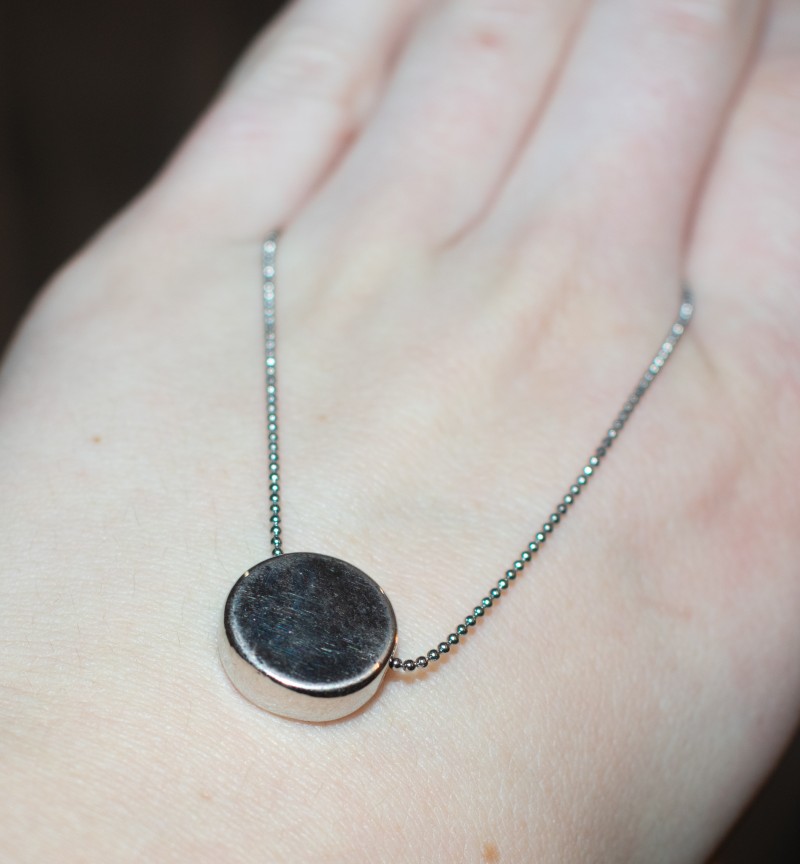 I thought these were two separate necklaces which is why I photographed them separately. Then I realized after looking at my Nadine West account that they are a set. You're supposed to wear the heart necklace above the circle one. I think both are cute, but for some reason they just don't strike me as 'me'. The set is $29.99 to keep.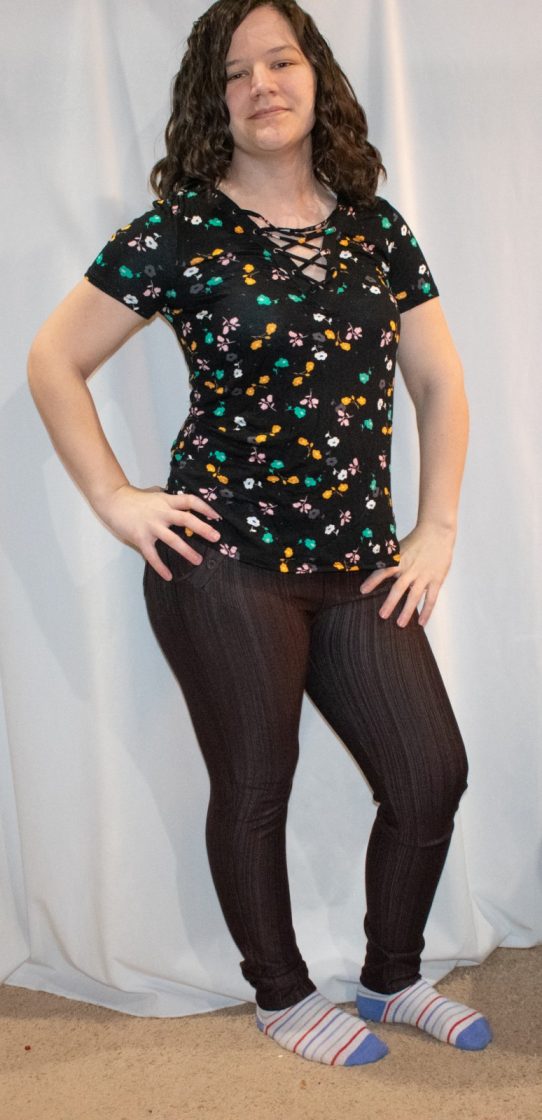 The top and bottom shown here were both sent in this shipment. These pants have sort of a jean-like print to them though they are jeggings or stretch-waist skinny jeans. I think they look okay in this photo, but the waistband has some funny buttons, and the back pockets have some bejeweled elements that I really don't care for, so they are a no-go for me. They are $22.99 to keep.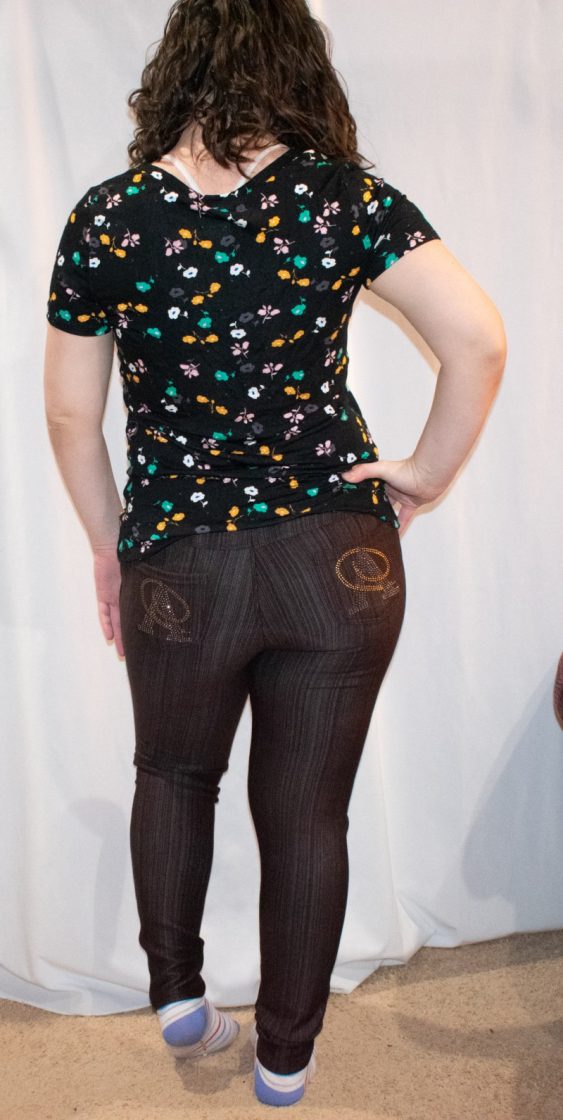 While the bottoms aren't for me, I really like this top! I like the criss-cross or lace-front tops, and I think the print on this one is really cute. I've mentioned before that I really like bright, feminine colors on black clothing. I enjoy wearing black but I also like feminine accents so this really suits my style. The top is $35.99 to keep.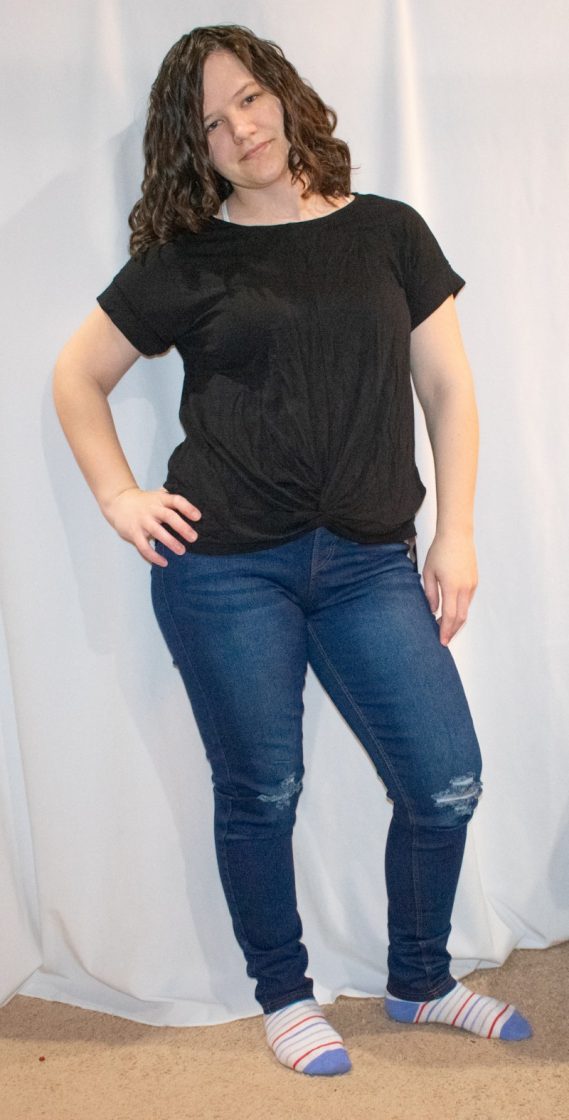 Both top and bottom in this outfit were sent this shipment, as well.
I'm currently at my highest ever weight, which is of course, not a statement anyone likes to say! In particular, I am bigger in my midsection than usual. I used to enjoy wearing feminine-cut t-shirts, but I tend to be uncomfortable in those these days. I've tried some shirts that have a lot of excess fabric around the waist and hips, as that seems like a potential solution if you don't want to draw attention to that area. However, I Find that shirts that are baggy in the midsection leave me looking shapeless or even bigger than I really am. So, that's been my struggle with shirts the last several months. This isn't a great picture of this shirt due to me tipping at an angle vs standing upright. When I am standing more naturally, I feel like this shirt does a nice job of concealing the belly and love handles a bit more than it appears to be doing here. Anyway – it's a winner! It is $38.49 to keep, which is higher than most Nadine West items cost. Typically they stay under $35 or so. Just so you know, if you only want to be sent low-cost items, there are price options in your style profile. You can opt to only be sent items valued at $25 or less if you prefer that.
These jeans? Or jeggings? stretch-wast skinny jeans? I don't know what to call them, exactly – but I love them! I just love pants that look like jeans but feel like leggings, I am all for being comfortable as can be while looking like I am wearing 'real pants'. Nadine West has sent me several pairs of jeggings in the past that fit that bill, but these are the first that have some distressing. I love that! These are $25.99 to keep.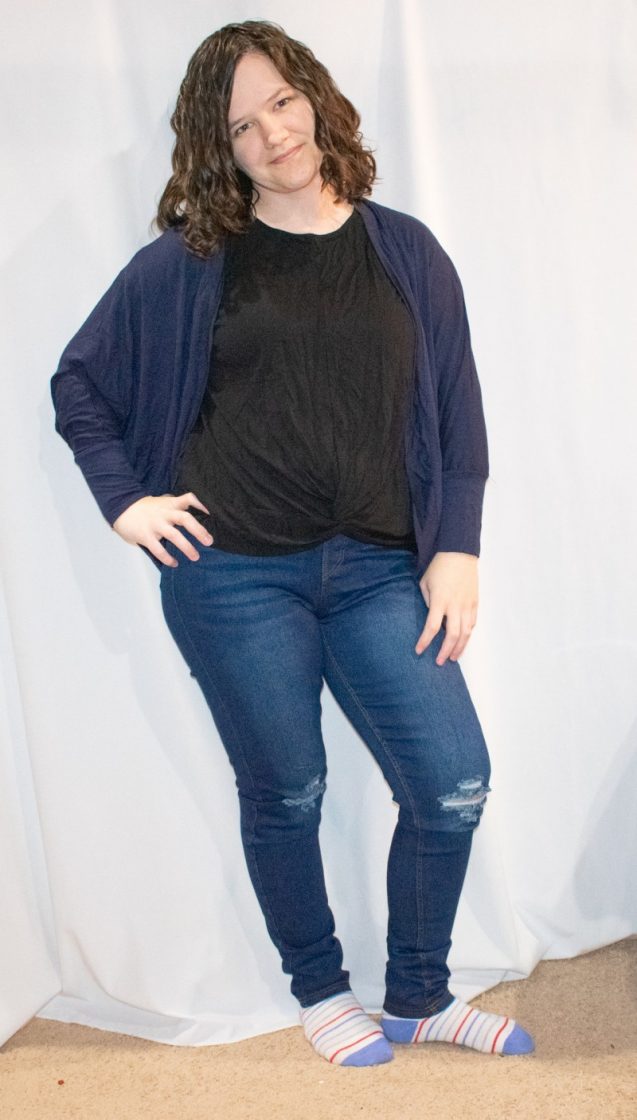 The last item was this cardigan. I wish this were a different color, as I am not one to wear navy blue in tops very often. It's really soft, stretchy and cozy. I haven't really decided yet if I'll keep it in my wardrobe longterm or not. You guys should let me know what you think about this one! It is $36.99 to keep.
Overall this was a good shipment. I believe these bottoms are the favorite ones I've ever been sent from Nadine West, and I really like the two shirts as well.
You can sign up for Nadine West today and take a style profile to see what a stylist would select for you! I find it to be a really fun way to shop and with COVID, it's a safer way to shop, too.
We have a special discount for those new to Nadine West! Use code NEWNADINE15 now through 2/23
and you'll get FREE shipping and $15 off any item that you choose to keep from the shipment!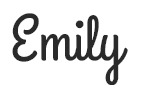 Hi there! I am Emily Evert, the owner of Emily Reviews. I am 28 and live in a small town in Michigan with my boyfriend Ryan and our two pugs. I have a large family and I adore my nieces and nephews. I love reading memoirs, and learning about child development and psychology. I love watching The Game of Thrones, Teen Mom, Sister Wives and Veep. I like listening to Jason Isbell, John Prine, and other alt-country or Americana music. I created Emily Reviews as a creative outlet to share my life and the products that I love with others.
This post currently has 9 responses.