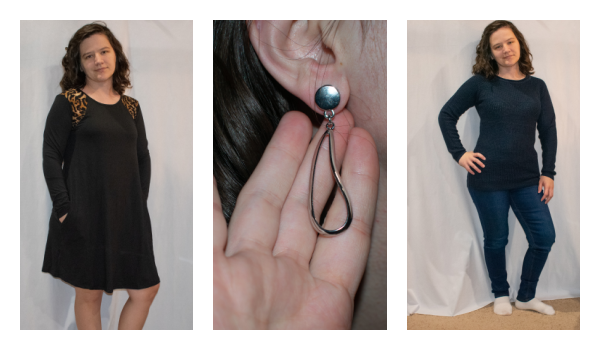 I was sent this shipment from Nadine West for review. All opinions are my own. There are affiliate links in this post.
Nadine West Reviews 2021
Nadine West is a clothing subscription service that sends you items in your size, with your style preferences in mind. You get to try everything on, and mail back anything you don't wish to buy. You're only charged for the items that you keep.
When you sign up, you let them know your size, which colors and prints you like or dislike, which colors of jewelry you like, which types of accessories you wear, and more. Then each month (or twice a month, if you choose) you will get a Nadine West bag in the mail. It will have clothing and accessories that a stylist has chosen for you.
I first experienced Nadine West in 2019, and enjoyed some of the clothing I got back then. However, I am really excited to see that Nadine West has been including higher quality feeling clothes recently. I never used to get jeans or jean-shorts, and I have been seeing those more and more which I absolutely love. For me, jeans, jeggings or jean-shorts are absolute staples in my wardrobe. I've found that leaving commentary in the notes box when reviewing your previous bag seems to result in the best outcomes the next month. You're able to let them know what type of clothing you'd like to see the next month.
Okay, on to what was included this time!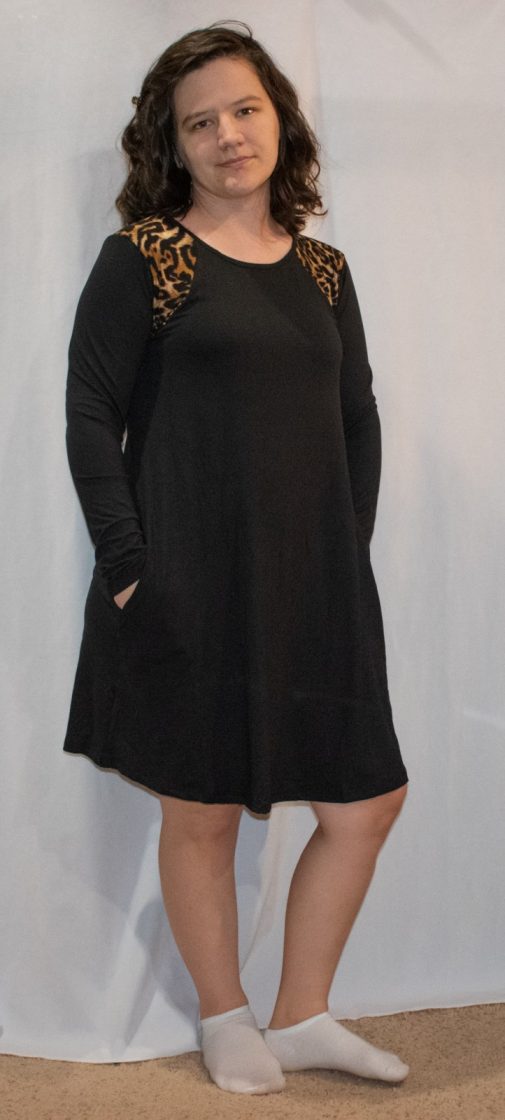 This dress is a soft, cotton-y feeling stretchy dress with pockets! I always feel like dresses need to come in either at my natural waist or under my bust, or I end up looking quite shapeless. I also don't care for wearing animal prints. So, this dress isn't for me. It is $29.99 to keep.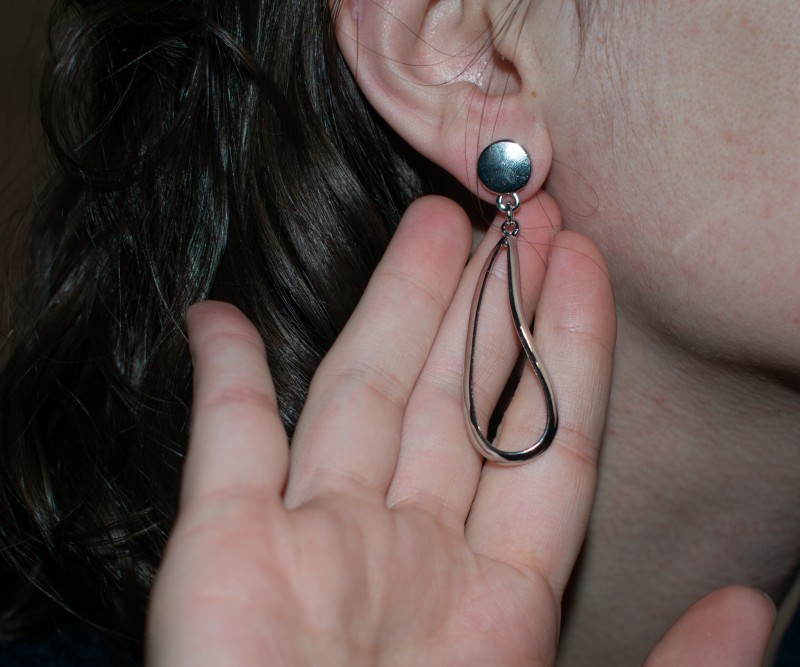 These silver-toned earrings are large but not super heavy, which I appreciate. I like earrings that are pretty yet subtle and can be worn with a lot of different outfits. These definitely fit the bill so they are my type of jewelry. They are keepers for me. These are $14.99 to keep.
Both the top and the bottoms here were sent this month. This top is a knit blue sweater that is slightly oversized, but so cozy! Because it is knit, underclothing can show through in certain lighting. So, I will be wearing it with a camisole underneath. I quite like the sweater though! It is $37.49 to keep.
These bottoms are leggings designed to look like jeans, so maybe we can call them jeggings? They have full-sized, functioning front and back pockets, but no zipper or button. They have a super cozy stretchy waist band! They are long on me, but I am 5'1″ and have particularly short legs so it's literally impossible for me to find pants/bottoms that are the correct length for me off the rack. Even jeans that come in "short" lengths are always too long for me. So, I don't worry about the fabric bunching at my ankles, that's just normal life for me. Anyway, these have been my favorite "jeans" ever since they came. So comfy, and I love that they look like "real pants" despite being so comfortable to wear. They are $21.99 to keep.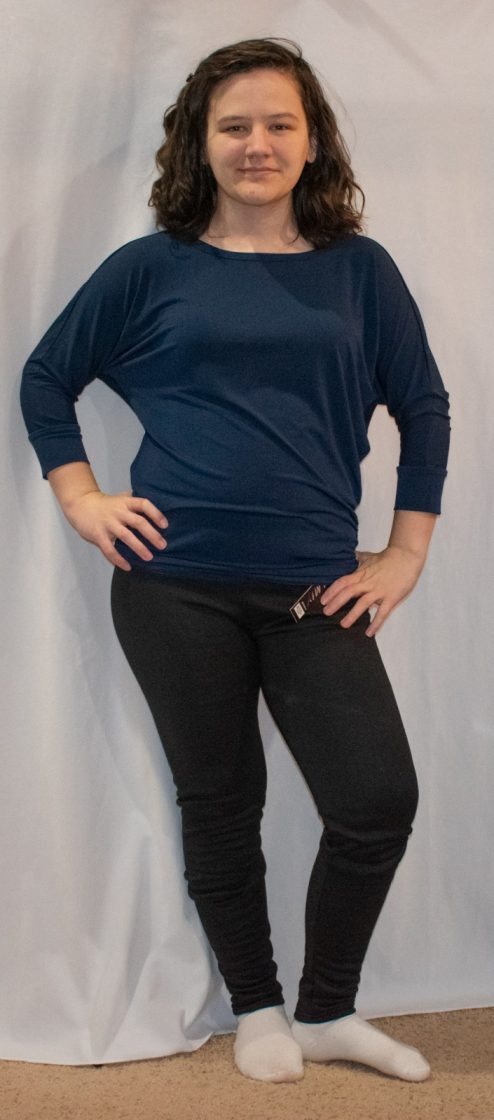 Both the top and the bottom here were sent this month as well.
This top I'm a bit unsure of. I haven't removed the tags yet. You guys let me know what you think in the comments! I'm always a little unsure of dolman style tops. Sometimes I feel that the tighter waistband highlights my "love handles", but I don't think this top does that. When looking at it, there isn't really anything I dislike, I guess? At the same time, it doesn't make me happy or get me excited either. Maybe that means it's not quite for me?
The bottoms were another favorite! They are fleece-lined on the inside, but are a shorter, thinner fleece than many other fleece-lined legging that I've owned. They aren't bulky. I've noticed that a lot of fleece-lined leggings have really intense elastic, the type that really "suck you in" and I find that uncomfortable. These aren't that tight elastic, they remind me more of sweatpant material on the outside. I've only washed them twice so far, but they haven't gotten "bally" or had strings from the dryer yet, which is a common problem I've had with fleece-lined leggings. They also seem a bit more breathable, as they keep me warm but I haven't gotten sweaty or overheated in these. They're some of my favorites to wear around the house or to sleep in.
Overall this was a really successful shipment for me. I loved both bottoms, one sweater, and the earrings. I didn't care for the dress, and the other top wasn't my favorite. But 4/6 is great! Because this is my first review in the new year, I wanted to go over a few more areas that I don't always cover.
Nadine West Cost
In your Nadine West profile you can control the cost somewhat. There are two price categories that you get to pick. For jewelry, you can choose to only receive item valued at $25 and up, to only receive items valued at under $25, or to receive a mix. Same thing with tops, you can select over $25 only, under $25 only, or a mix. My settings are to receive a mix for both jewelry and tops.
Nadine West How To Return
You're sent a prepaid mailing label with each shipment. They send your clothing in pretty sturdy mailers. To return items, you just stick the return mailing label over top of the original label, add the items you want to return, tape it up and mail it back!
Does Nadine West Have Plus Size?
Yes, Nadine West has sizes XS to 3X for tops and bottoms.
Nadine West Shipping
Nadine West used to ship via DHL and USPS. So, the packages would start out as DHL, but then transfer to USPS and be left in my mailbox. Just the last two shipments, mine have switched to FedEx instead. In the late fall, their shipments were slow due to COVID related delays, I believe. I suspect this is why they have transferred to FedEx. When there are delays in shipping, they extend the deadline for when you can mail items back. If your shipment arrives late, they should know. They usually email me to let me know they are aware that my package arrived late but the tend to email me after the delayed package has already arrived. Still, I'd advise emailing them if you see that your tracking number isn't moving as quickly as expected. Can't hurt to be extra cautious! I've always had really positive interactions with their customer service team.
Head to NadineWest.com
to fill out your style profile today. You can use the code NADINE to get free shipping on your first shipment! Typically shipping is $9.78 which is debited to the account, so that cost would be taken off the price of anything you decide to keep. Meaning, Nadine West is always really low risk financially. However, if you use that code, you're out nothing if you decide you don't want to keep anything.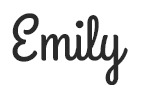 Hi there! I am Emily Evert, the owner of Emily Reviews. I am 28 and live in a small town in Michigan with my boyfriend Ryan and our two pugs. I have a large family and I adore my nieces and nephews. I love reading memoirs, and learning about child development and psychology. I love watching The Game of Thrones, Teen Mom, Sister Wives and Veep. I like listening to Jason Isbell, John Prine, and other alt-country or Americana music. I created Emily Reviews as a creative outlet to share my life and the products that I love with others.
This post currently has 12 responses.