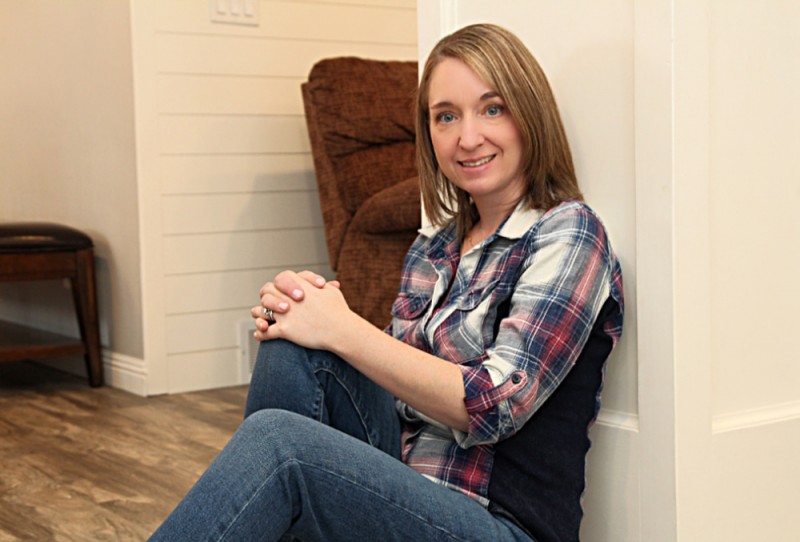 Wantable – A Fun Clothing Subscription (January 2021 Reveal)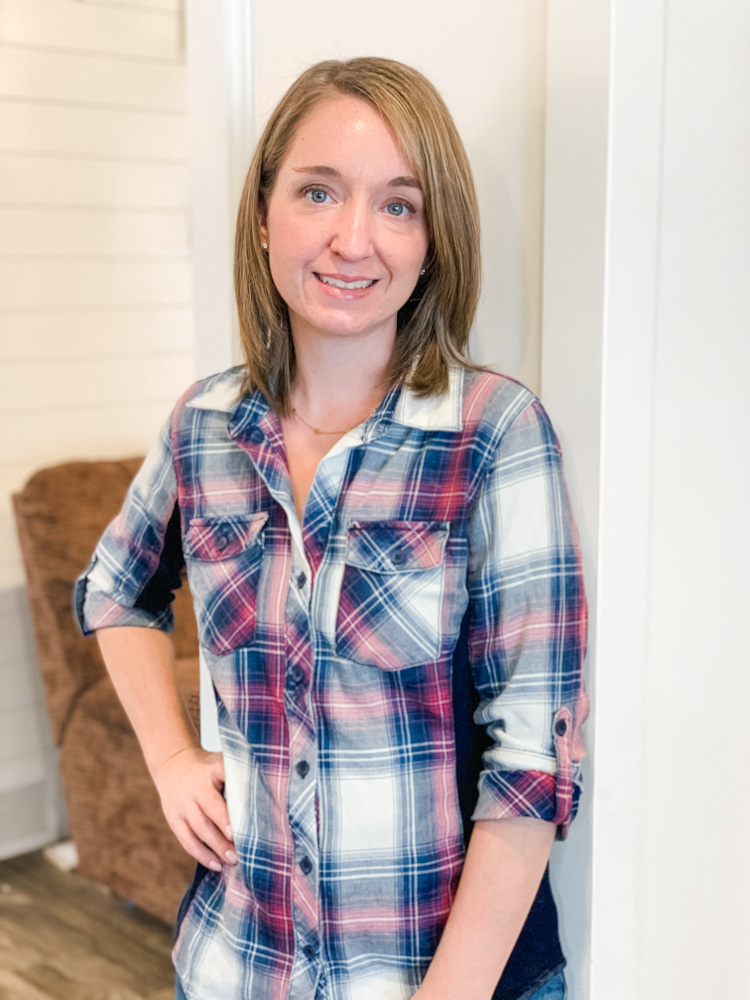 I received product from Wantable to facilitate this post. As always, all opinions are my own.
It's a new year, does that also mean you are wanting to update to a new wardrobe? If so, the Wantable Subscription Service is great choice! Being able to find awesome fun styles that are delivered right to the front door is the perfect choice for anyone who just doesn't have time (or doesn't LIKE) to go shopping. So that's what initially led me to Wantable! Add in the fact that NO dressing rooms are open at any stores near me and I needed a way to try on clothes before I purchase them.
Wantable – A Fun Clothing Subscription
After taking a quiz and giving the Wantable team all your information, they will curate an edit just for you. Your stylist will select 7 items, based on your preferences given and send them right to your doorstep. The items they choose are in hopes of empowering you to be the best you possible.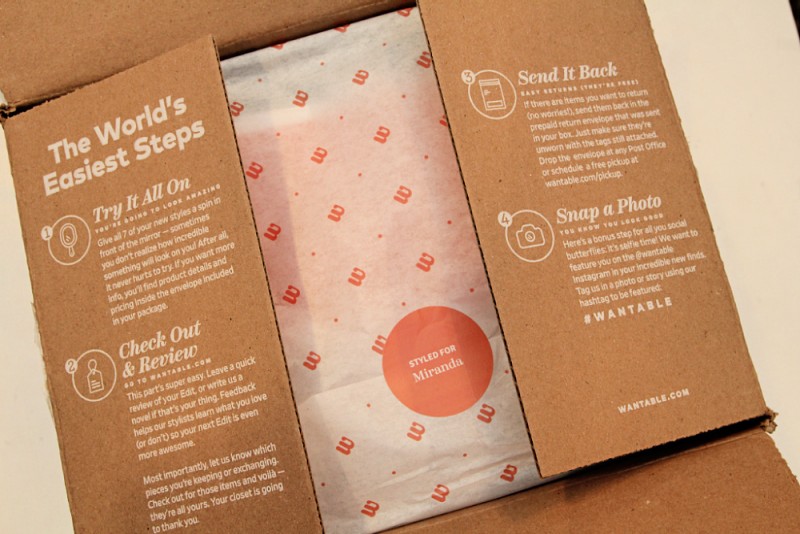 Returns & Exchanges
Once your package arrives, you'll have a few days to go through it and try everything on. You can send back returns and exchanges in your prepaid return envelope within the allotted time to avoid being charged for them. Just use the USPS or UPS labels to get those back to Wantable.
Checkout & Review
As the deadline approaches, Wantable does send you an email reminder to 'checkout'. This lets them know what you plan to keep as well as what you're returning. There is also an area to give feedback to your stylist so they know why you made the choices you did. (They also take that feedback into consideration as they create future edits for you!) It's super easy and takes just a couple minutes total to complete your checkout.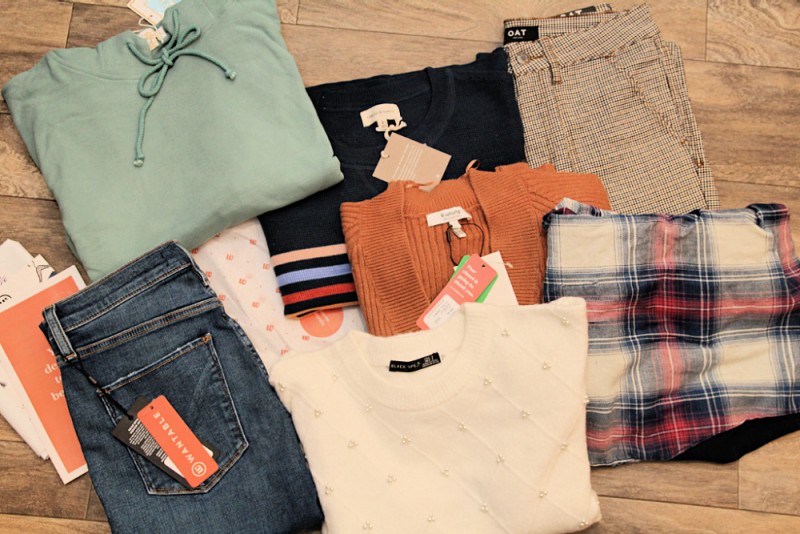 January 2021 Reveal
My package consisted of a variety of tops and bottoms. Some were SO me while others weren't necessarily what I would have chosen for myself had I gone out shopping. Honestly, that is part of the beauty of a clothing subscription. You discover new styles you may not have otherwise tried! I've been surprised over the years and subscriptions how I've learned that my preferences change if I only give something a try!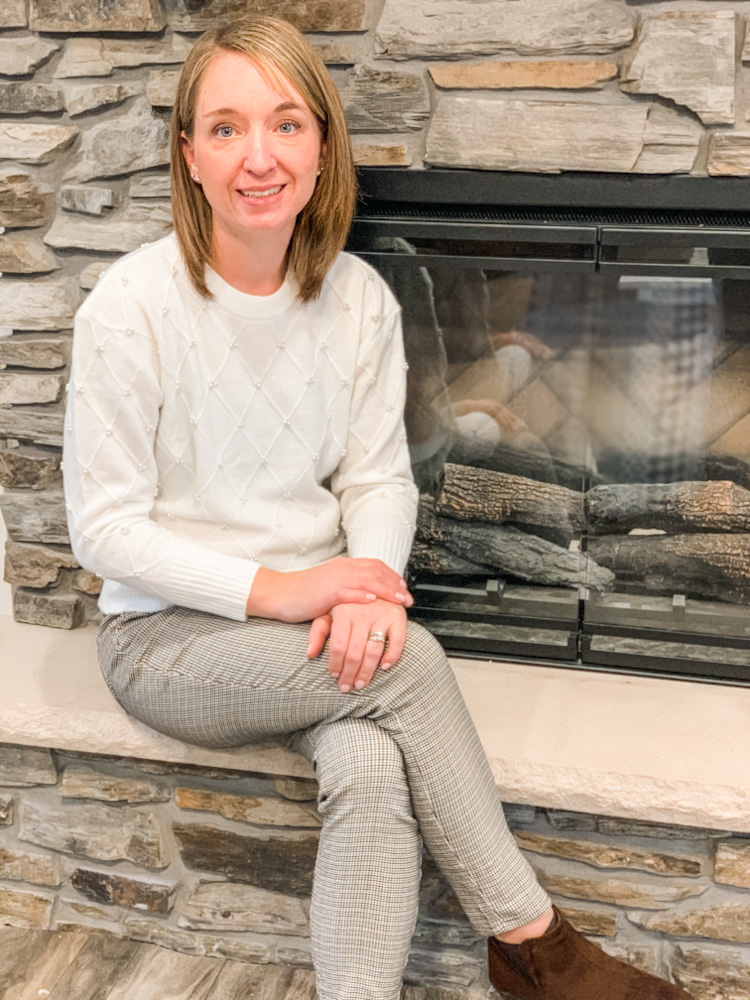 Item 1 & 2: Long Sleeve Pearled Sweater In Off White/ High Rise Ankle Skinny In Grey Checker Plaid
Paired together, these items are super stylish and chic. I will note that both are a bit out of my zone though. The sweater is just a little shorter than I typically wear and the pants are not 'high rise ankle' when I'm standing as I'm only 5′ 1″ and I think they are geared for someone a little taller than that.
Sweater ($80 to keep)
Pants ($79 to keep)

Item 3: Milo Cardigan In Thrush Melange
This sweater is too 'young feeling' for me and I don't know that I would ever truly wear it. It's trendy and definitely in style, just too short for me and I don't love the brown color either. But seriously, look how cute it is. I know some women would look AMAZING in this sweater!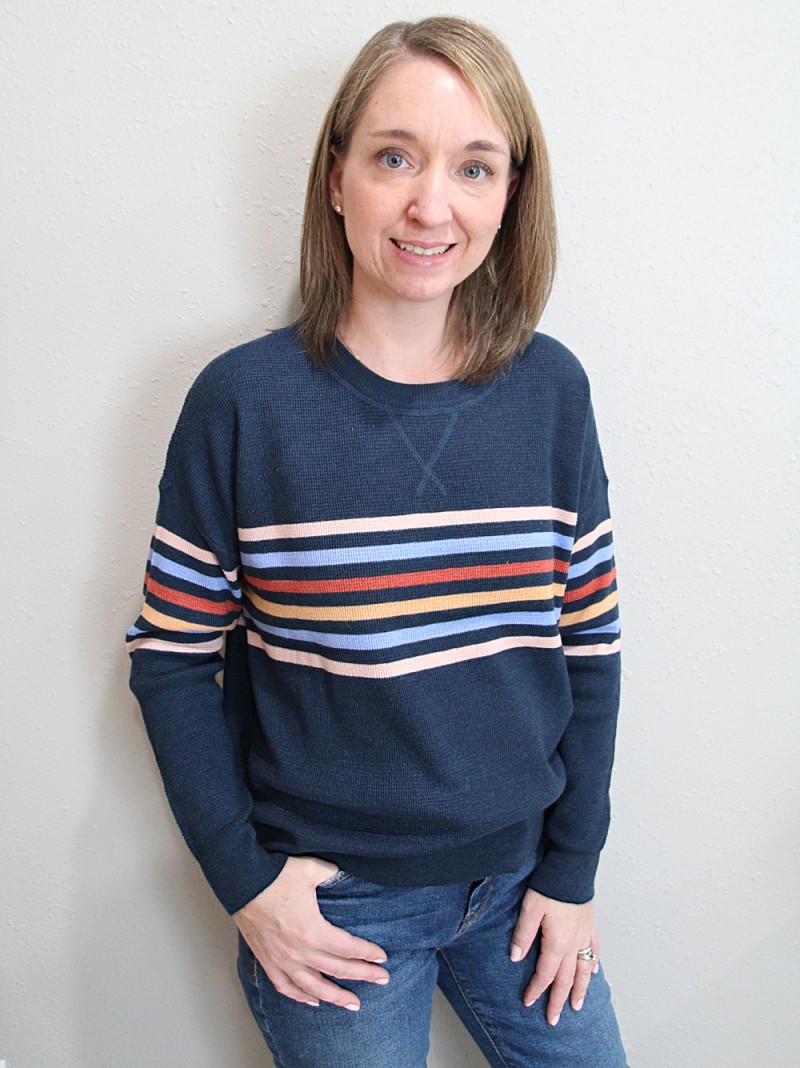 Item 4: James Top In Navy Multi
This sweater is so fun! I love the colors, design, and style. While it's also right at the length where it's almost little too short, I love it anyway as it just fits great.

Item 5 & 6: Washed Denim Plaid Shirt In Abbie / Barbara High Rise Ankle Skinny Jeans
ME ME ME! I can't tell you how much I LOVE these two pieces. This top is actually one that I requested from 'the stream'. Both the top as well as the jeans offer stretch and are super comfortable while looking great. I can't say enough great things about these two pieces. The only problem with the jeans is they are just an inch or two too long so I will have to find someone to alter them. But they fit amazing everywhere else.
Top ($58 to keep)
Jeans ($195 to keep)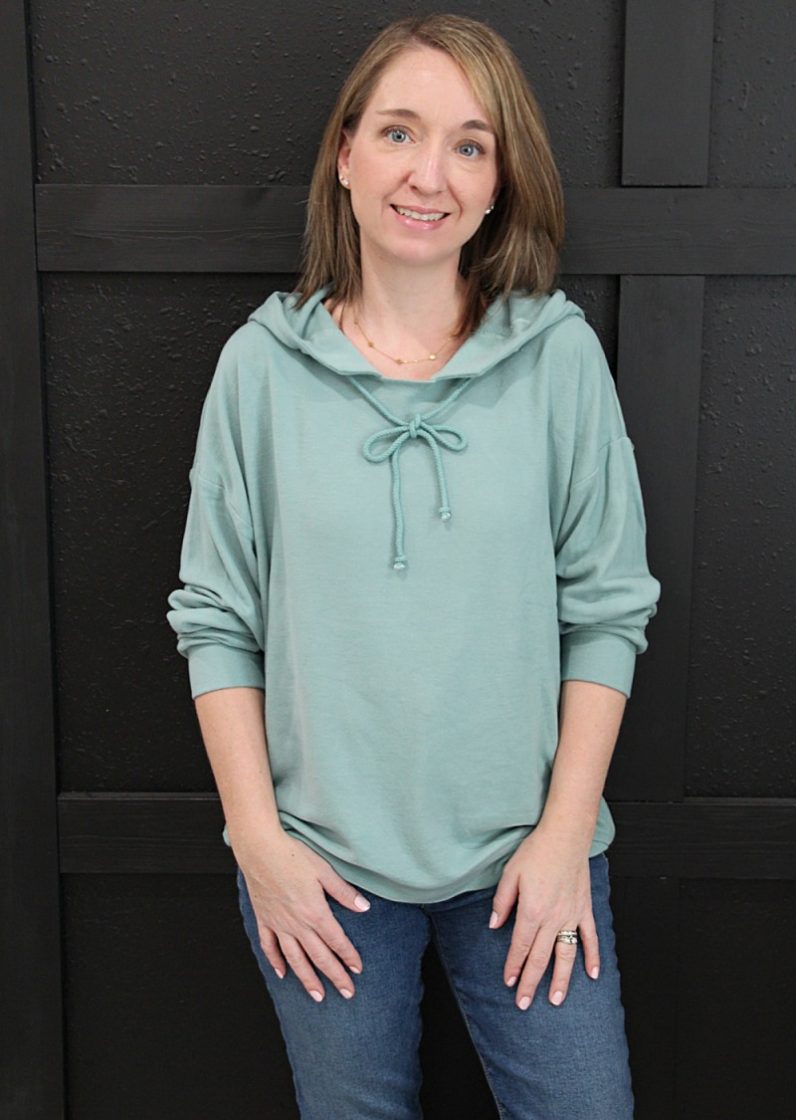 Item 7: Plush Drawstring Hoodie In Teal
Okay, seriously, what's not to love about this hoodie! The color is gorgeous and fun. The material against your skin is SO very soft that I never want to take it off! It's the perfect comfort hoodie to help keep you warm and cozy. It's quickly becoming a favorite, tied with the grey hoodie from my first Wantable Review.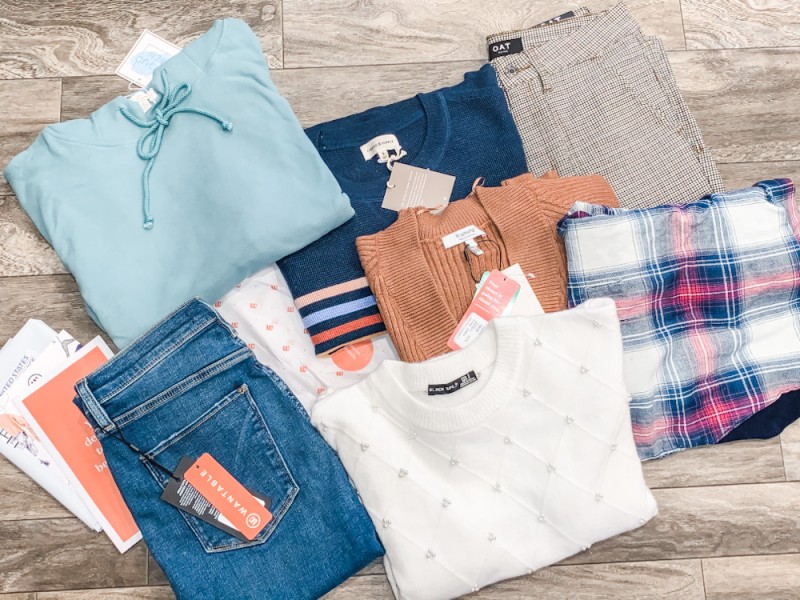 Discount For Keeping Multiple Pieces
Something I didn't mention yet is if you keep 5+ items, Wantable also gives you an extra discount! So the total of all 7 of my items came to $628 but with the 5+ discount of $125.60 and styling fee credit of $20; the grand total for all 7 of these great fashion pieces comes to just $482.40!
So tell me, which item was your favorite from this month's package?
Connect With Wantable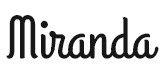 I'm a city girl turned country by my awesome husband and we have three busy boys and two darling daughters. I love spending time with my family, reading Karen Kingsbury novels, and catching up with friends while our kiddos have play dates. I'm blessed beyond measure and can't wait to see what God has in store.
Follow Miranda on Pinterest | Twitter| Blog | Instagram
This post currently has 11 responses.