Nadine West sent me a shipment of clothing and accessories in exchange for this review. There are affiliate links in this post. All opinions are my own.
Nadine West is an affordable clothing subscription service for women. You fill out a style profile, they send you clothing monthly or bimonthly, you get to try everything on, and ship back anything you don't wish to keep. You're only charged for the items that you do keep. Their items are typically priced at $35 or less, though you can even opt for a lower budget if you prefer.
It makes for a fun way to try out some new clothing. Sometimes they send me clothing that I wouldn't have likely tried on if I saw it hanging on a rack in the store. However, once I try it on at home, I realize I like it! It's helped me to change up my style a little bit. Then other times, they send me items that are 100% my style but it's a surprise instead of something I picked out for myself, which makes it a bit more fun still.
This shipment included 6 items.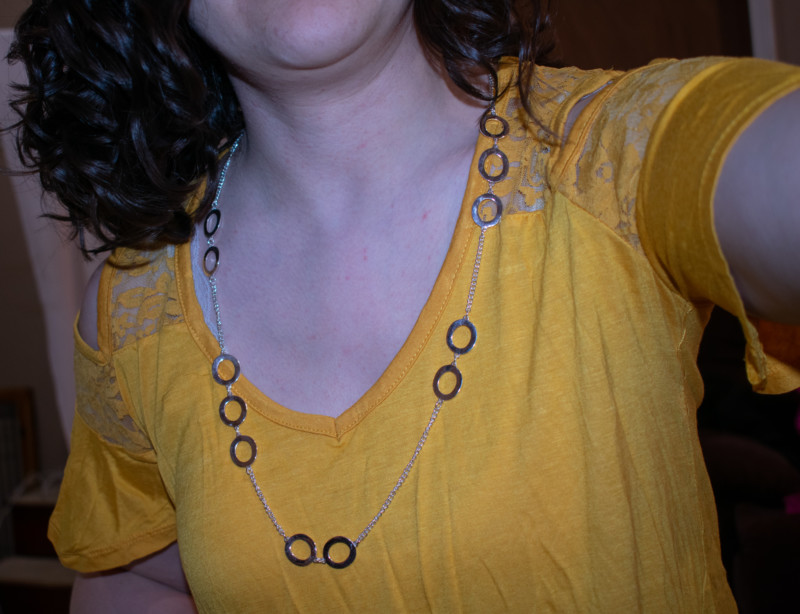 I was sent this silver necklace with silver rings on it. I like how it could pair with most any outfit. This was a keeper for me. This necklace is $35.99 making it on the more pricy end of the spectrum for what Nadine West sends.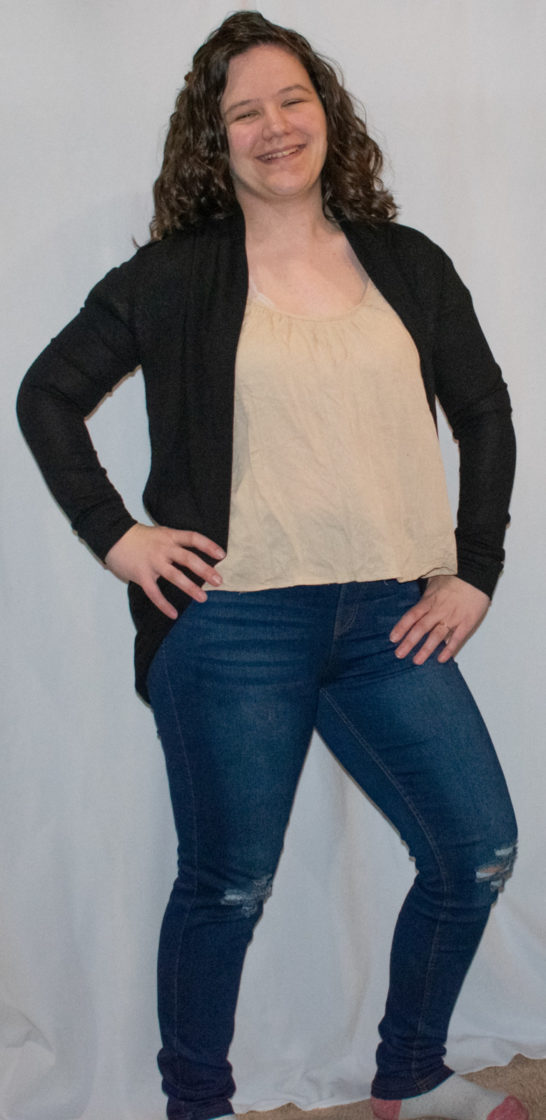 The pants here were previously owned (Though they did come to me from a former Nadine West shipment!). The shirt and cardigan are both from the shipment this month.
This long-sleeved black cardigan is a great staple piece. It's a thinner material which makes it great for spring here in Michigan. I like how it's slightly longer in the back, without being so long that it feels like a tail or something. I don't like the really hi-lo tops but this gets the ratio of longer-in-the-back just right in my opinion. This is another keeper for me! It is $39.49, so again this is on the more expensive side for Nadine West.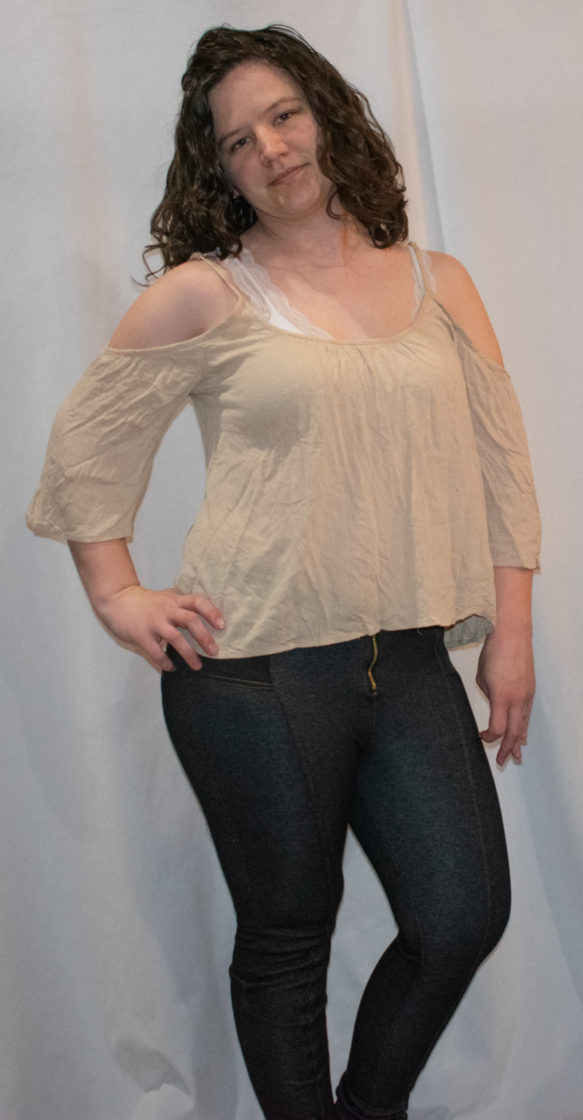 The top and bottom here with both sent this month. I'll talk more about the pants after the next photo.
I would typically wear a better-suited bra with this top, but I like it! I think it's cute how it shows a bit of the shoulders, I like the light tan color, and how it conceals my belly a bit, while still being feminine. It got quite wrinkled while being shipped but I imagine it will be fine once it gets through the dryer and is left hanging up after. It is $19.49 to keep, and is another keeper for me!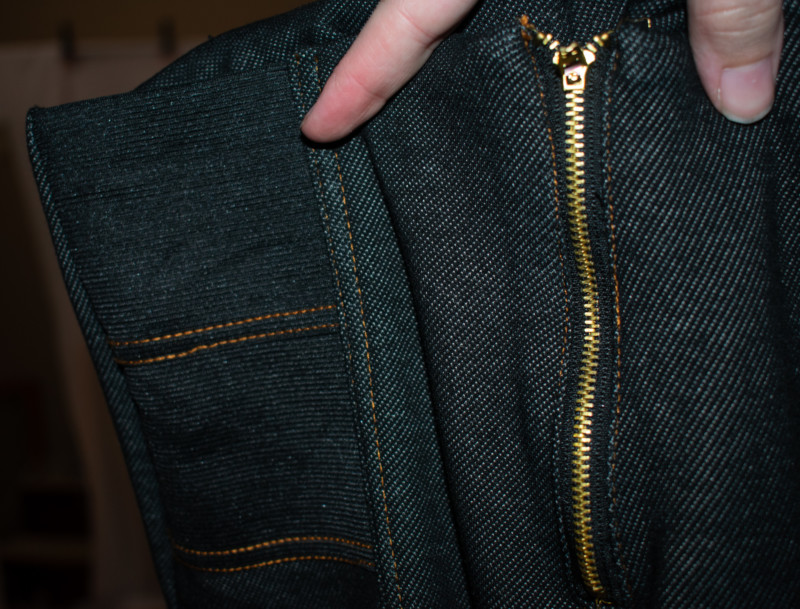 The two pictures directly above, and the photo above the former paragraph, are all of the same pants. These are stretchy, fleece-lined leggings that have somewhat of a jean look. The sides have a different pattern to them, which I wasn't crazy about. Although these are in my updated (larger) size since gaining weight, they were still too tight for me. Most bottoms in that size fit me fine, so I think these are unusually small. What is most odd about these pants, is they have no button or snap above the zipper, and the top of the zipper doesn't have that biggest piece of the zipper to help hold it in place. It's like the zipper just ends. Because these pants are stretchy, and there is no button or snap, when you move around in these pants, the zipper doesn't stay put. There is no fabric directly behind the zipper, so the top of the zipper was up against my lower belly and my skin was pinched in the zipper! I am sure this was made worse because these were too small for me, causing the top band of the pants to pull a bit, letting the zipper drop down. Still, I feel this is a really poor design. I think even if you purchased these in a bigger-than-needed size, moving around would still cause the zipper to fall out of place. These are $22.99 to keep.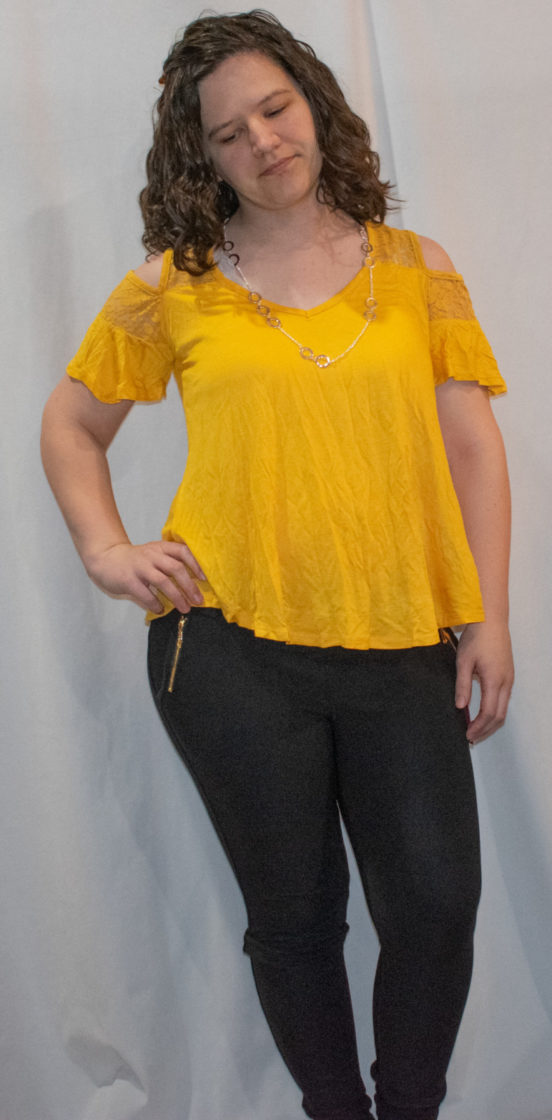 Top and bottom here were both sent in this shipment. These bottoms are the same size as the bottoms above, but they fit great. They're stretchy and comfy. They have cute zipper details at either front pocket. They're a keeper for me, and they're just $17.49.
The top here was yet another keeper for me! I like the mustard yellow color, the lace top, the "cold shoulders", the neckline, and how it helps conceal my belly a little. It is $29.99.
Overall this was a good shipment for me! I kept a necklace, 2 tops, a cardigan and a pair of bottoms.
Receive FREE shipping + $15 off anything kept in your first shipment (new customers only) with code NW15MARCH!
Hurry, offer ends 3/25!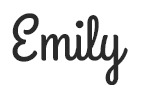 Hi there! I am Emily Evert, the owner of Emily Reviews. I am 28 and live in a small town in Michigan with my boyfriend Ryan and our two pugs. I have a large family and I adore my nieces and nephews. I love reading memoirs, and learning about child development and psychology. I love watching The Game of Thrones, Teen Mom, Sister Wives and Veep. I like listening to Jason Isbell, John Prine, and other alt-country or Americana music. I created Emily Reviews as a creative outlet to share my life and the products that I love with others.
This post currently has 6 responses.