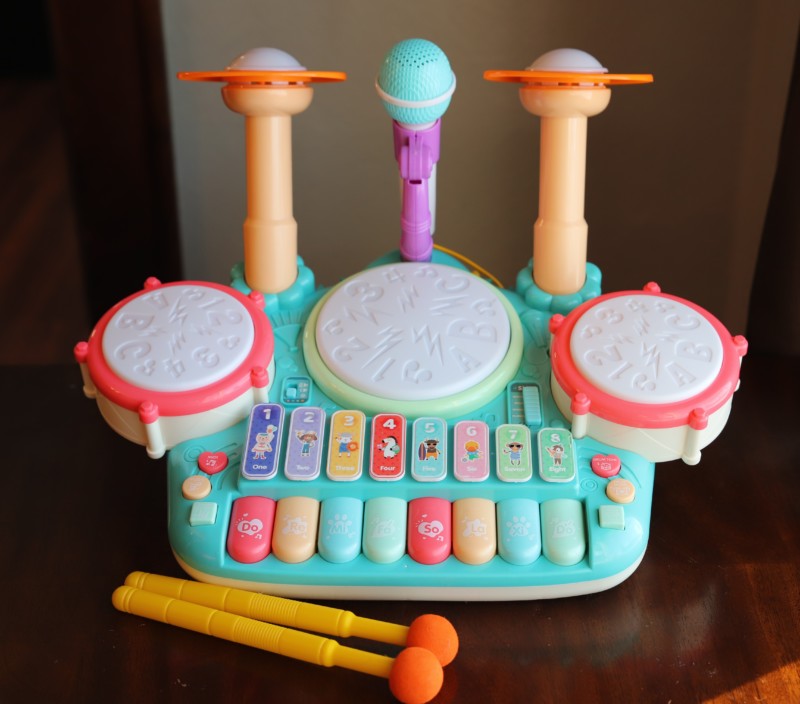 Thanks to VOOHEK for sending me this toy. As always, all opinions are my own.
I have so many friends with young children right now, and while Covid has thrown a wrench in party plans, I still love buying gifts for little ones and seeing pictures and videos of them enjoying the toys. I recently found this adorable Voohek Musical Instrument that our kids (ages five and seven) enjoy, so I know it will make a great gift for other kids!
Voohek Musical Instrument
This instrument has a variety of fun features and ways to interact. It was simple to assemble out of the box and does require 4 AA batteries which are not included. The toy is rated for ages 3+ but I see no reason that younger children and even a little older wouldn't enjoy it also. The drums are our son's favorite part and they light up and make noise when you hit them with the soft drum sticks.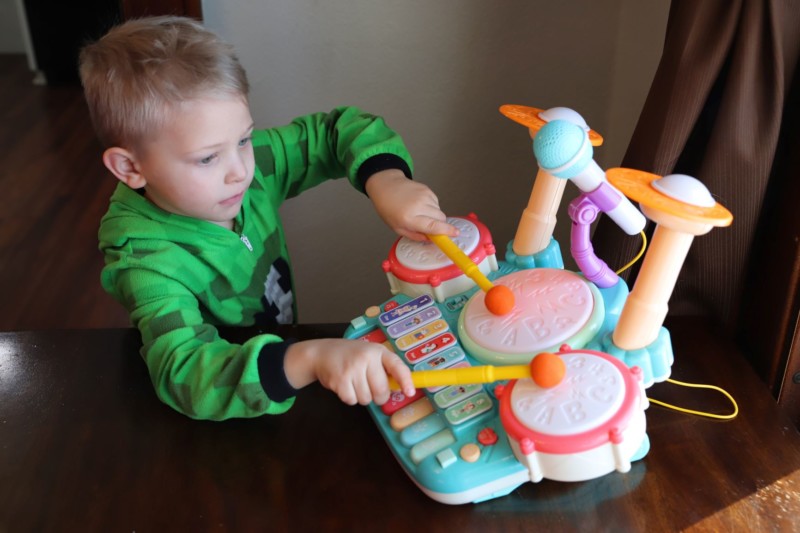 There's also xylophone/keyboard area with four modes to make different noises: Glockenspiel, Xylophone, Animal and Number modes. I like the "Do, Re, Mi" feature though instead of the "Ti" we usually use before "Do", this instrument shows "Xi". The volume can be adjusted and the bright colors and lights are very fun for babies and toddlers.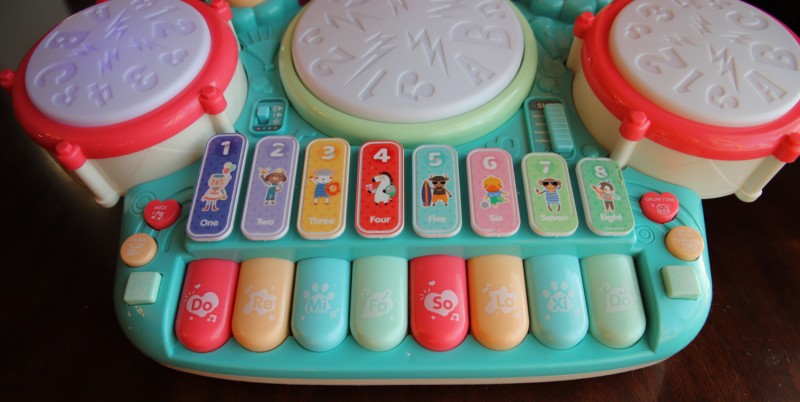 The cymbal-like drums also make fun noises and the microphone is a great addition that you simple attach to the back with the attached cable. If you have young children or babies playing with this, the cord would be my only concern for safety but as long as they're being watched it should cause no issue.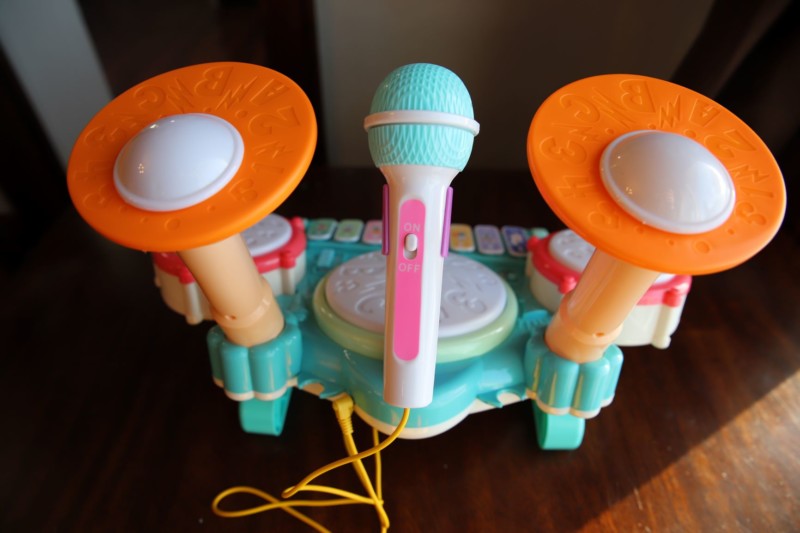 On the toy we received, the microphone is actually off in the on position and on in the off position; not a huge deal but something worth noting in case you purchase one and think the microphone doesn't work. Even our seven year old daughter has fun singing into the included microphone while our son bangs away on the drums!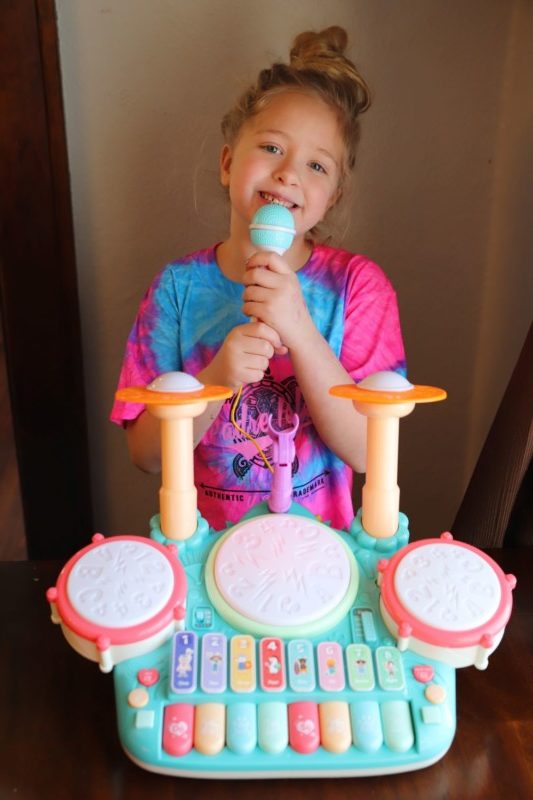 While this toy is definitely made for kids younger than my own, I know it will be a blast for children in the 1-5 age range and at $34.99 it's an affordable investment for a toy with lots of interactive options.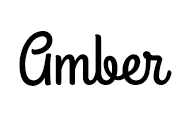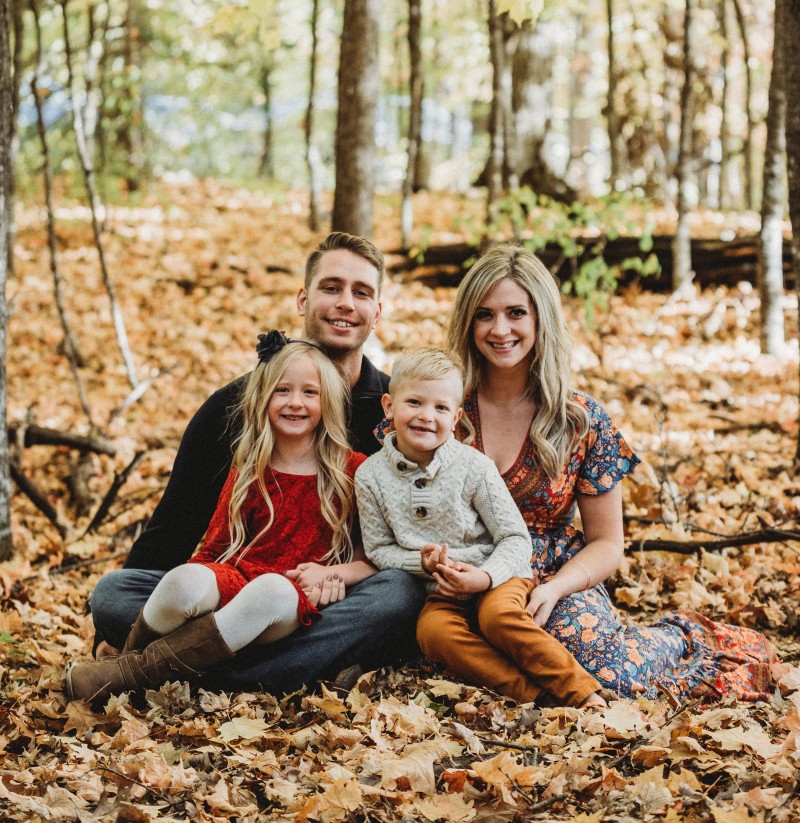 Hi there! I'm Amber, a 32 year old wife and mom of two from central Minnesota. I love to travel and to be outside with my kids anywhere the weather is warm! When I have a spare free moment, I love to read and scrapbook as well as binge-watch Netflix long after the kids are asleep. I drink too much Caribou Coffee and have a real sweet tooth but also try very hard to consume organic foods and use eco-friendly, fair trade products as much as possible. I also love socializing and sharing about my favorite products!
This post currently has 8 responses.