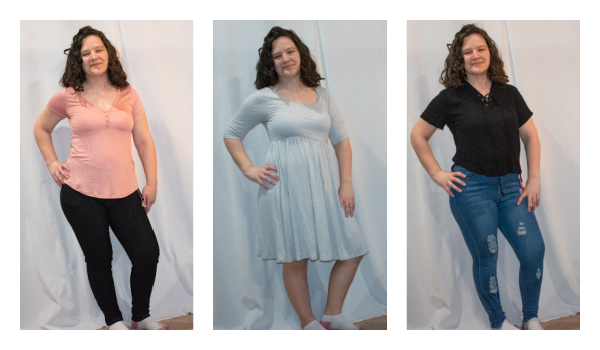 I was sent clothing and accessories from Nadine West. There are affiliate links in this post. All opinions are my own.
Nadine West Outfits Review
Nadine West is an affordable women's clothing subscription service. You fill out a style profile to let them know your size, the colors and prints you like to wear, what tones of jewelry you like, and more. Then a stylist will send you clothing items each month that they feel suit your style. You pay a shipping fee of just under $10 upfront, but if you keep an item then the shipping cost is taken off of that item.
When they send you your clothing and accessories, they'll also send you a return mailing label that is prepaid. After checking over the items and deciding what you do and do not want to keep, you just pack the items you don't want back up, put the return label on it, and send them back. You'll only be charged for the items you keep.
Most other clothing subscription services send expensive clothing. Most items that Nadine West sends me are between $20 and $35, though I have been sent items closer to $10 and some as expensive as $44. Also, on your Nadine West profile you can choose your price range.
Let's check out what I was sent this time! My package included six items this time.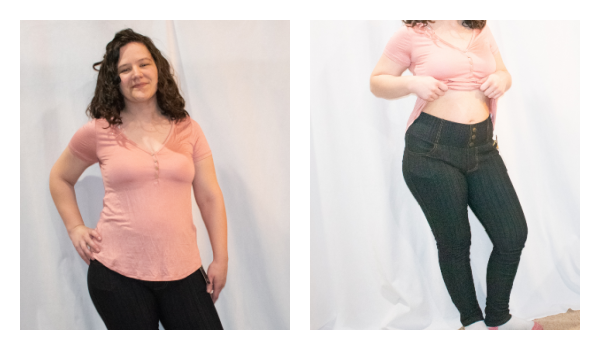 The shirt and pants here were both sent this month.
This shirt is a cute pink top with tiny button up in the center. I don't love how it looks on my body at it's current size/shape, but I do like it. I decided to keep it and tuck it away for once I lose the weight I've gained during the pandemic. Womp womp! Anyway. This top is $24.49 to keep.
The pants here are stretchy waist but they are made to look like jeans. They do have functional pockets, but no zipper. I'm not sure if these would be considered jeggings or skinny jeans but whichever they are, I like them! They are super comfy while looking like 'real pants'. They are a keeper for me. These are $37.19 to keep.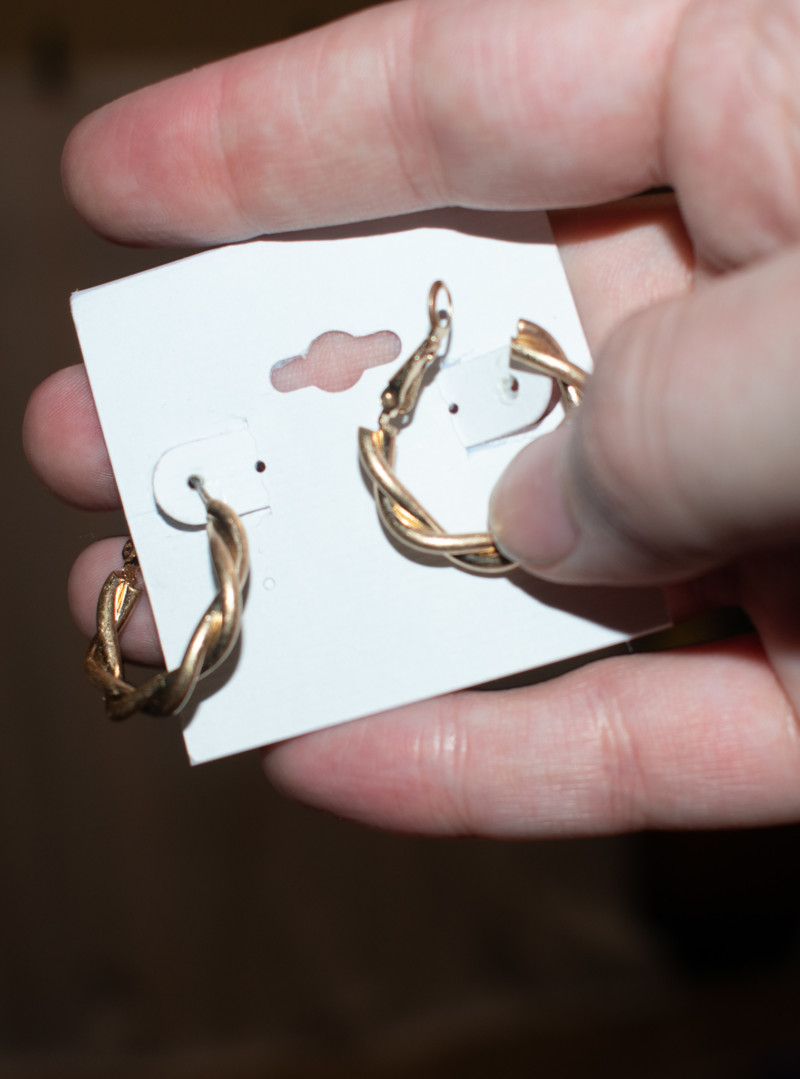 This pair of earrings was sent to me, but unfortunately, one of them arrived damaged. The one on the right had the post piece that goes through your ear broken off. It was in the bag but loose. If you ever receive damaged items, of course return them, but I'd also contact Nadine West to explain the issue. These earrings, if undamaged, would be $22.99 to keep.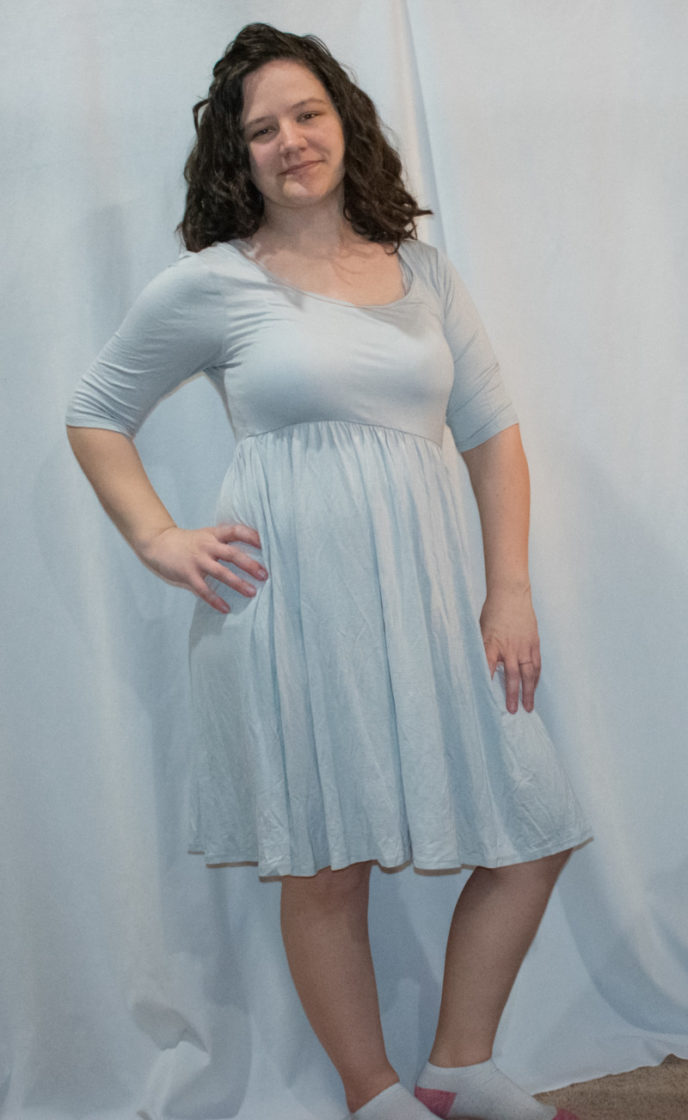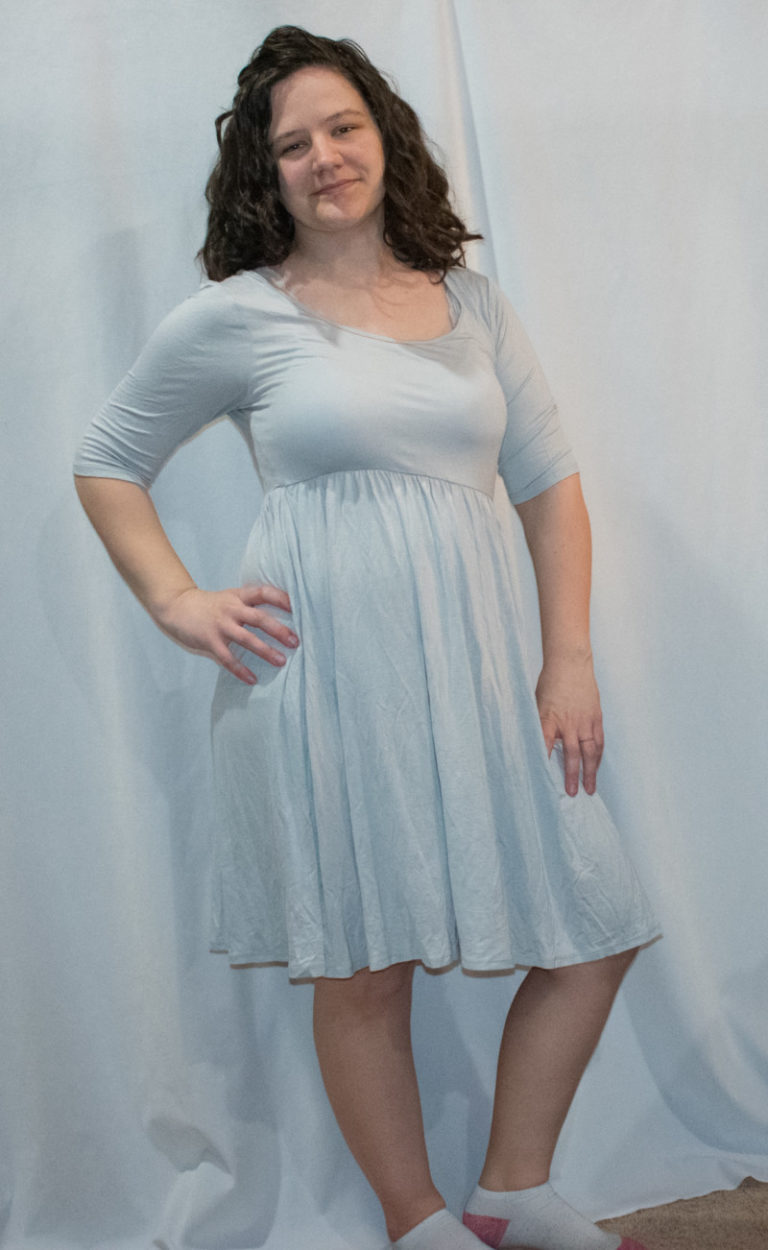 April is all over the place weather-wise here in Michigan. Most days range from about 40-60 degrees, but the nights often drop below freezing and it's common for us to get a light dusting of snow once or twice in the month of April. Then we may also have a couple of days to that break 70 degrees. It's a mess, and for the most part it's not usually very warm yet. Shorts tend to be broken out in late May around here. Still, the idea of warmer weather starts to sound reaaaaally exciting by April. So, I liked seeing a light colored, thin dress. This is a bit too plain for me. I'm sure other women would really make this cute by pairing the right accessories with it, but I'm not good at that. This dress is $32.99 to keep.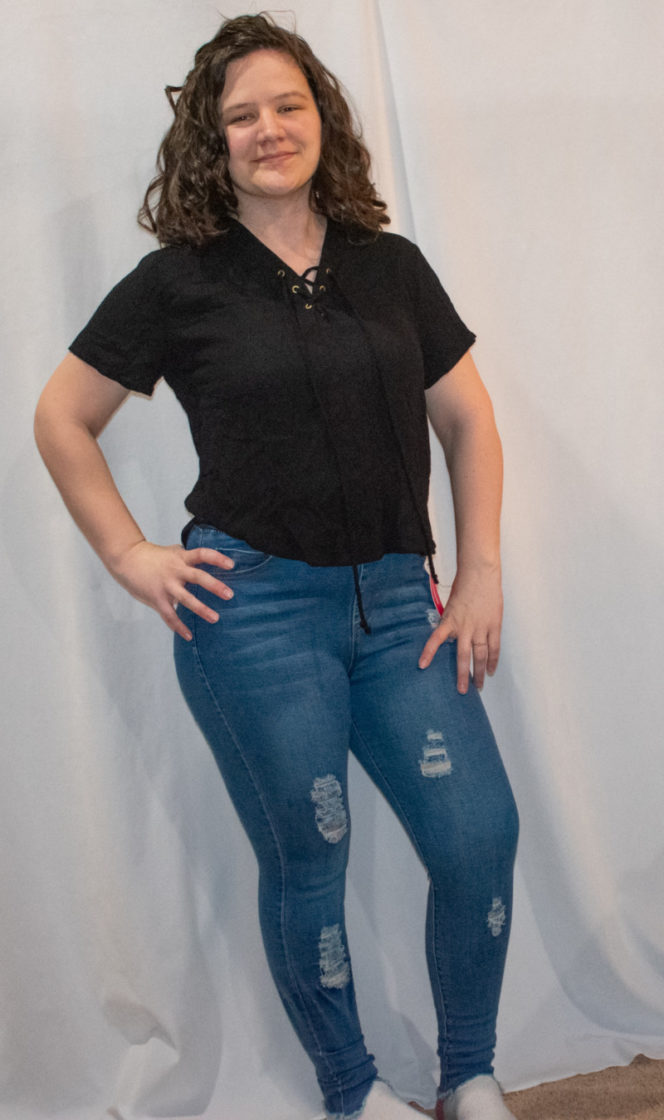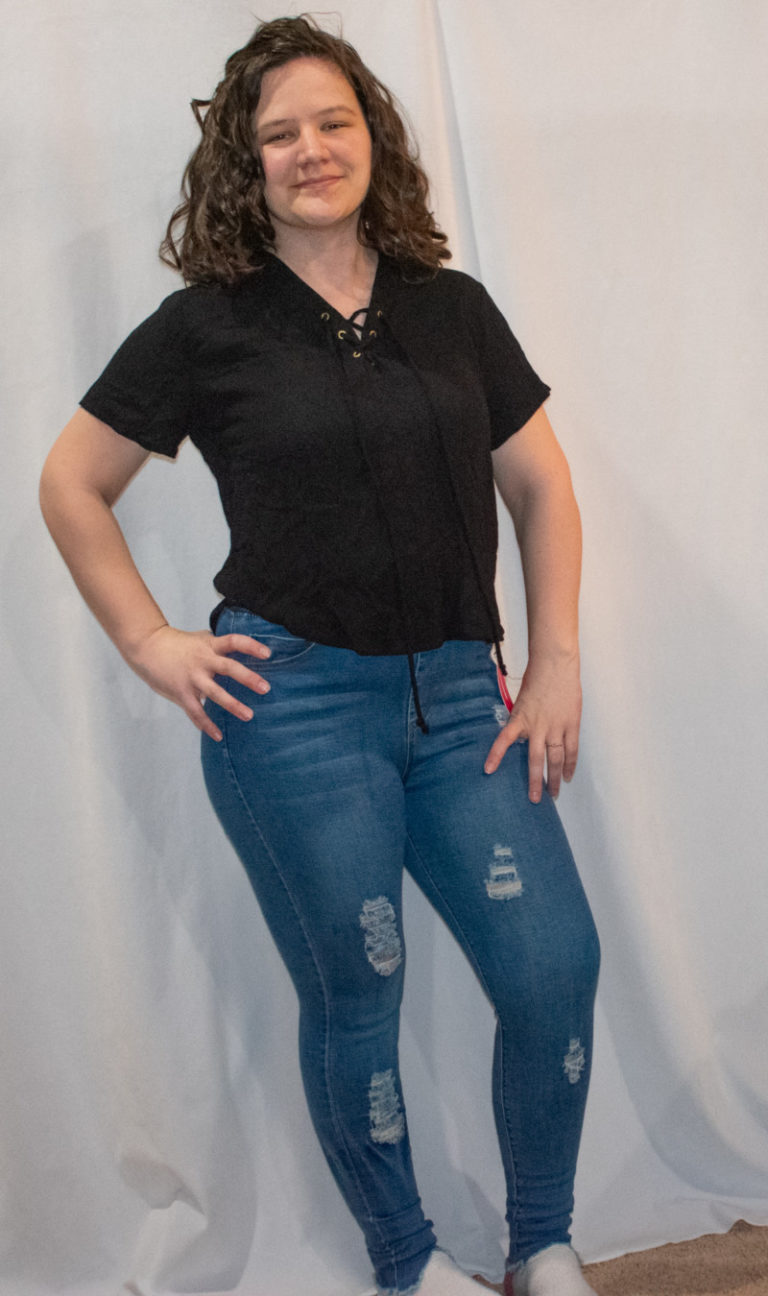 The jeans and top here were both sent in this shipment.
Both of these are pretty close to my style, but miss the mark a little.
I like skinny jeans and don't mind the distressed look. These are just really small for their size. They're the same size as the jeans I received above, but they feel a full size smaller, if not more than a size smaller – I barely was able to get these on for a photo. Even if they had fit me better size wise, I think I would have passed on them due to the torn ankles. I know this is a style and nt just random damage, but I just don't care for the unfinished ankles. (pictured below). Even the ankles were extremely small, I had to really point my toes hard and pull hard to get these over my feet and ankles! While I've gained weight overall (and I have upped my size in my Nadine West profile), I am pretty sure my feet and ankles are the same size they've always been, haha. So, these are just really skinny in the ankles, which I find unfortunate with the teared-edge style as they'd be easy to rip worse when trying to get them on and off.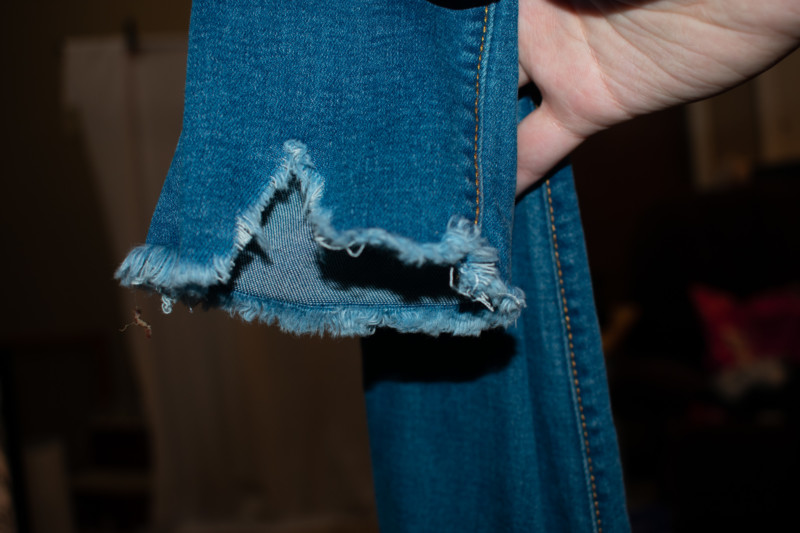 The top pictured above is close to something I'd love. I like to wear black, and I like lace-up tops or criss-cross tops. This one was a pass for me because of how the ties really are needed to hold the shirt in the right shape. If you were to remove the laces, the chest would be extremely wide open and too revealing. While I like criss-cross or lace-up tops, I don't like when they are dependent on staying tied properly to avoid revealing more of your body than you wish to show. Also the strings are really long, hanging all the way down past the bottom of the shirt, which just feels like they'd get in the way. This top is $16.99 to keep.
Overall this was a pretty good bag for me. I kept one pair of jeans/bottoms and a shirt. 2 out of 6 isn't bad!
Nadine West Discount Code
Right now Nadine West is running their best discount code deal to date!
If you are new to Nadine West, sign up today and you'll get FREE shipping on your first shipment, plus you'll get $20 off! Meaning you may be able to keep an item completely free! You'll need to put a card on file to sign up, but you can cancel at any time. OFfer ends 4/27/2021. Use my link and use the code APRIL20NW when you check out to get the deal.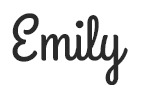 Hi there! I am Emily Evert, the owner of Emily Reviews. I am 28 and live in a small town in Michigan with my boyfriend Ryan and our two pugs. I have a large family and I adore my nieces and nephews. I love reading memoirs, and learning about child development and psychology. I love watching The Game of Thrones, Teen Mom, Sister Wives and Veep. I like listening to Jason Isbell, John Prine, and other alt-country or Americana music. I created Emily Reviews as a creative outlet to share my life and the products that I love with others.
This post currently has 13 responses.