I was sent a shipment of clothing and accessories from Nadine West for review. There are affiliate links in this post. All opinions are my own.
If you're new around here, Nadine West is a clothing subscription service. You fill out a style profile so they know your sizes as well as some of your fashion preferences. For example, you share whether or not you wear scarves, and what colors and prints you like and dislike. Then a stylist will assemble a shipment of 5+ items for you. You're initially just charged a shipping fee. You get to try on everything they send you, and decide what you want to keep.
If you keep anything, the shipping fee will roll into the cost of the item. The shipment also comes with a prepaid return shipping label, so you send back anything that you don't wish to keep and you won't be charged for those items.
Nadine West is a fun way to shop for new styles and sometimes it gets me to try on new styles that I end up loving! So, it can be a fun way to expand your usual wardrobe a bit. Other times, they send me items that I would 100% pick out myself, but it is more fun because they were sent to me as a surprise.
This shipment included six items.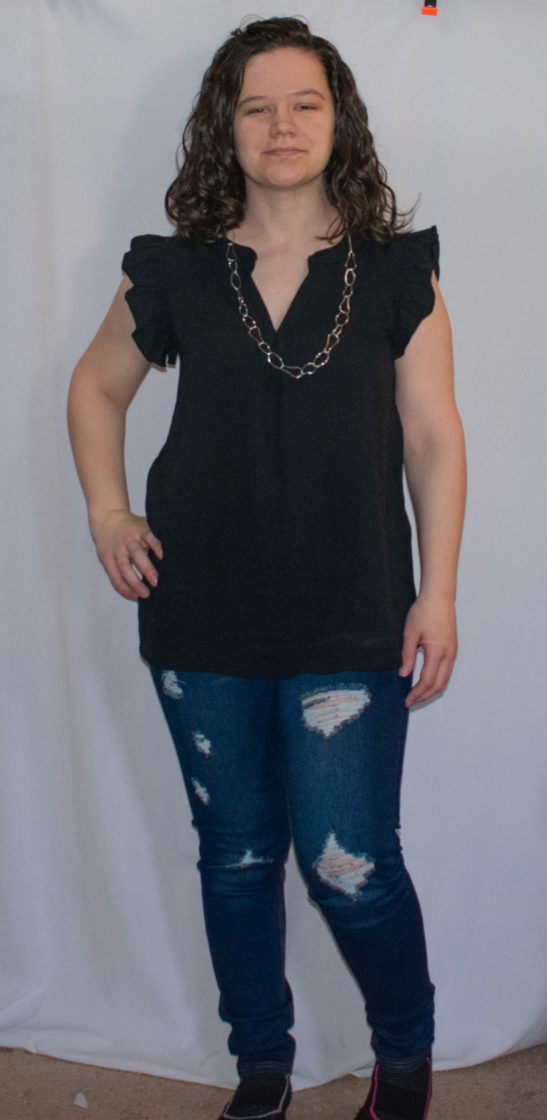 The jeans, top and necklace shown here were all sent this shipment.
These jeans/jeggings were a big win. I like the destroyed look, and these are super comfortable. They are jeggigs or jean-look leggings as they don't have any button or fly. This makes them very comfortable, while looking like 'real pants'. Win win! They do bunch up at my ankles due to being too long, but that's normal for me. I am 5'1″ and have a pretty typical length torso, it's my legs that cause me to be short so I never find jeans or leggings that are made for my inseam. Even brands that offer 'short' inseams are still too long. I don't mind the buching, anyway. Definitely a good match for me. These are $27.49 to keep.
The top was also a win for me. It's really light ad airy, making it work well in summer despite the dark color. I like the textured sleeves and the neckline. They make this top cute ad feminine yet it's quite basic, relatively modest and comfy. It is $26.99 to keep.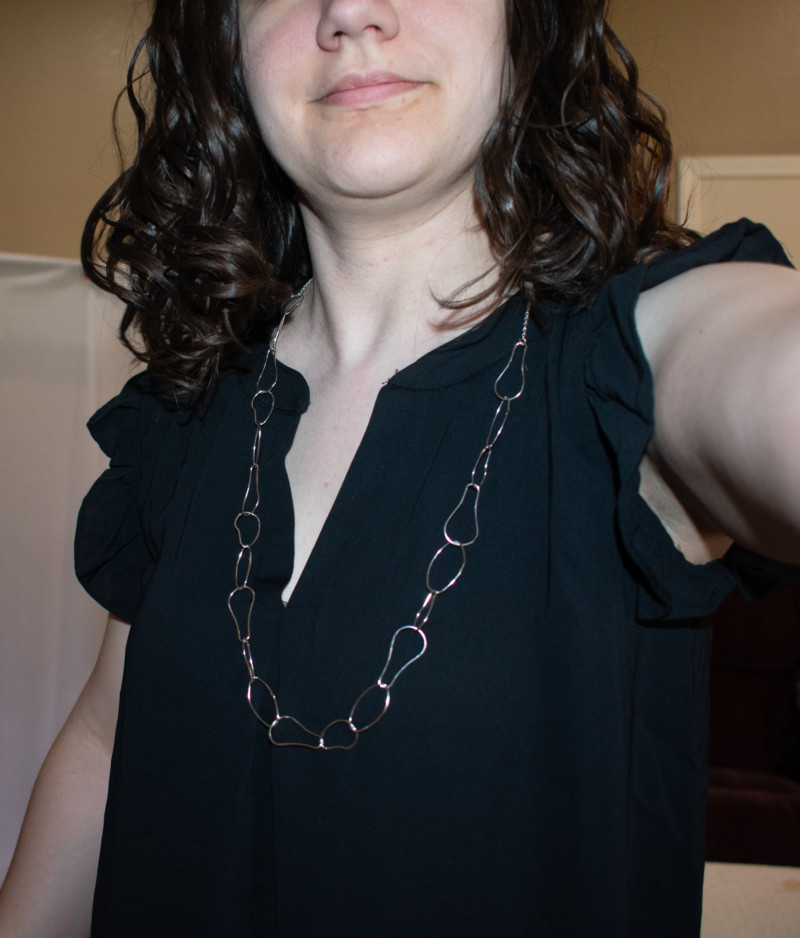 Please excuse the unfortunate angle of my face/chin!
The necklace sent this month is simple but I like jewelry that is a bit on the minimal side. I've never been good at pairing colored jewelry with outfits. I prefer to stick with jewelry that is gold or silver toned, and pretty simple in shape so that it will pair with most any outfit. this necklace fits that bill. I like how it has irregularly shaped links, some of them almost look slightly 'melted' or bent. I also really like the length. The necklace is $29.99 to keep.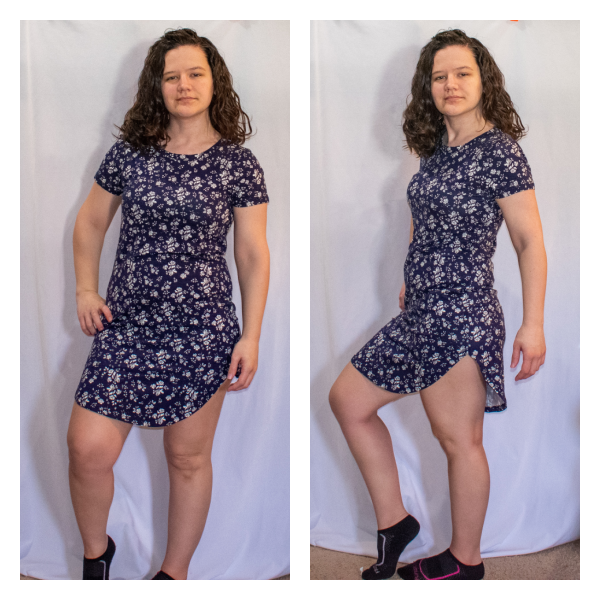 I like the print of this dress, and the general idea of it. It basically is designed to look like a long t-shirt made into a dress. I think this could be really cute on someone, but I don't think it flatters my body very well. The slit in the side also comes up too high for my comfort level personally. This dress is $32.99 to keep.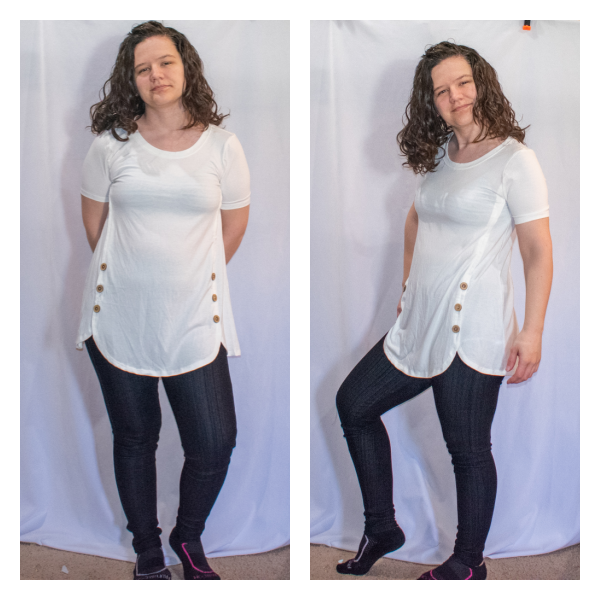 The top and bottoms here were both sent this shipment.
These bottoms are leggings that look sort of like jeans, but more like leggings than the other jeggings sent in this shipment. These are thinner and just strike me as being a bit closer to 'leggings' than 'jeggings'. Still, I like them and they're very comfy. I'll definitely get a lot of use out of them. These are just $11.99 to keep, which I think is a really great price.
I feel a bit mixed about this top. I like the button details, and I generally like white tops. There's something about the way this is sewn in the shoulders and chest area that felt a bit 'off' to me. I am not large chested, but it almost seemed like it wasn't really designed to make room for a woman's chest or something, as it felt oddly snug in my upper chest area, pulling from the armpits. I also don't really love how the front of the shirt hangs, it looks sort of like an apron or something? Anyway, this shirt wasn't a match for my style. It is $39.99 to keep.
Out of these six items, four were ones that I chose to keep and add into my wardrobe. That's pretty good!
Remember, you can sign up for Nadine West today. They're currently offering $20 off if you keep the full box, AND free shipping, so you truly have nothing to lose! Why not sign up and see what they send you? If you don't keep anything, you won't be out anything due to the free shipping offer.
Get $20 Off a Full Box + Free Shipping! Use code: NWSUMMER20! Ends 7/01!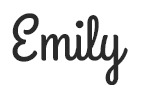 Hi there! I am Emily Evert, the owner of Emily Reviews. I am 28 and live in a small town in Michigan with my boyfriend Ryan and our two pugs. I have a large family and I adore my nieces and nephews. I love reading memoirs, and learning about child development and psychology. I love watching The Game of Thrones, Teen Mom, Sister Wives and Veep. I like listening to Jason Isbell, John Prine, and other alt-country or Americana music. I created Emily Reviews as a creative outlet to share my life and the products that I love with others.
This post currently has 2 responses.