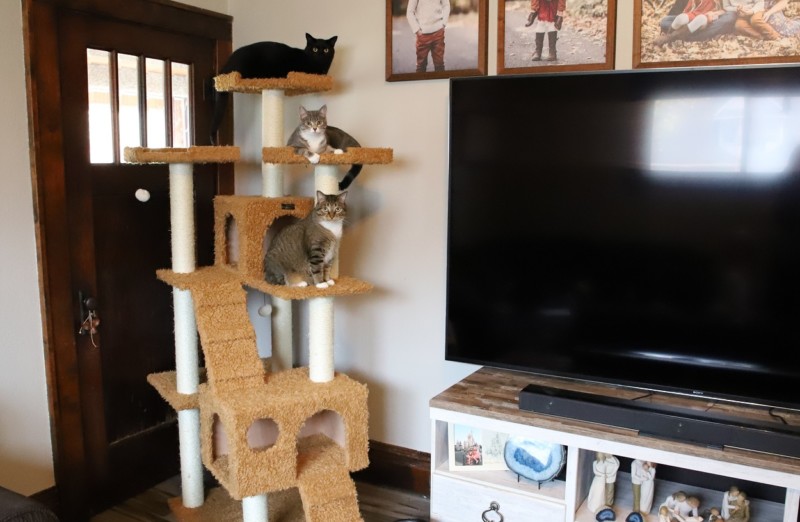 Thanks to Armarkat for providing product to review for our cats. As always, all opinions are my own.
If you've followed the blog for awhile, you know that our family loves cats! This year we adopted another sweet kitten who brought us up to four cats in the house – Mittens, Kismet, Calypso, and Olive. The transition from three to four was basically seamless and we love having purr-babies around to snuggle and love. Our kids are particularly enamored with the cats, and they insisted we get them gifts this Christmas. Everyone knows cats love being up high, so we thought an Armarkat Cat Tree would be the perfect present.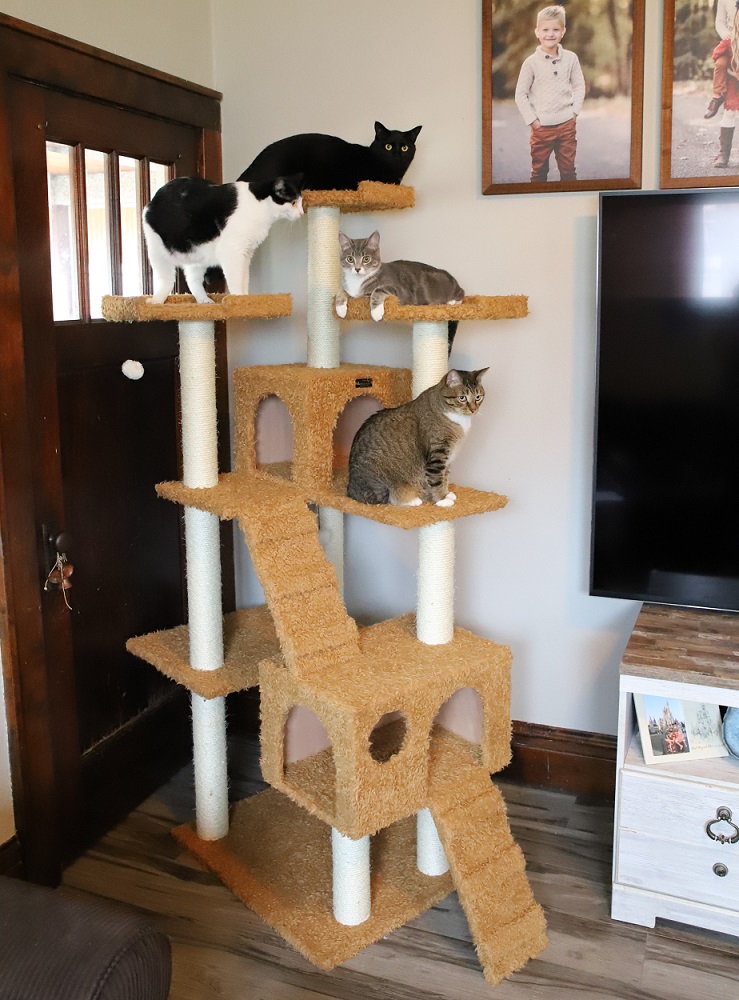 Armarkat Cat Tree A7407
I decided to go with the Armarkat Cat Tree A7407 for a few different reasons. First off, at 74″ high and with multiple perches, it's tall and wide enough for all four cats to use at the same time. It's like a domino effect; if one climbs up, they must all climb up! I also chose this cat tree because I figured it wouldn't be too difficult to put together, and I was right. It took me (with help from a five year old) just a little over twenty minutes to assemble.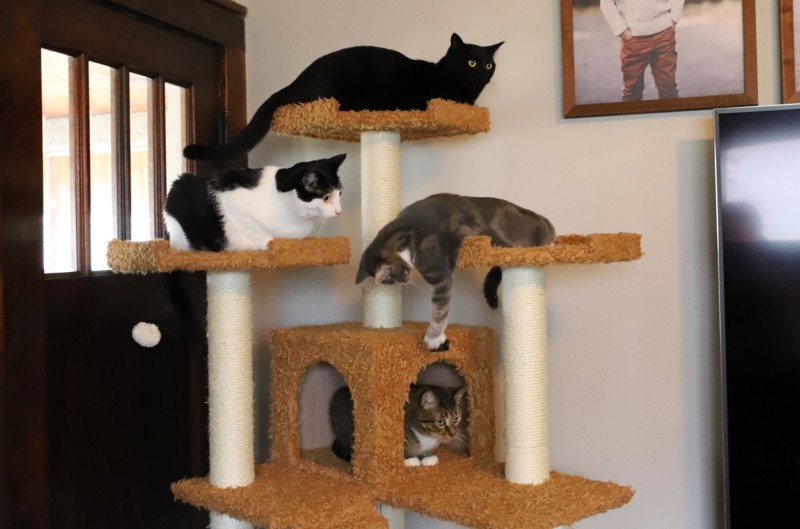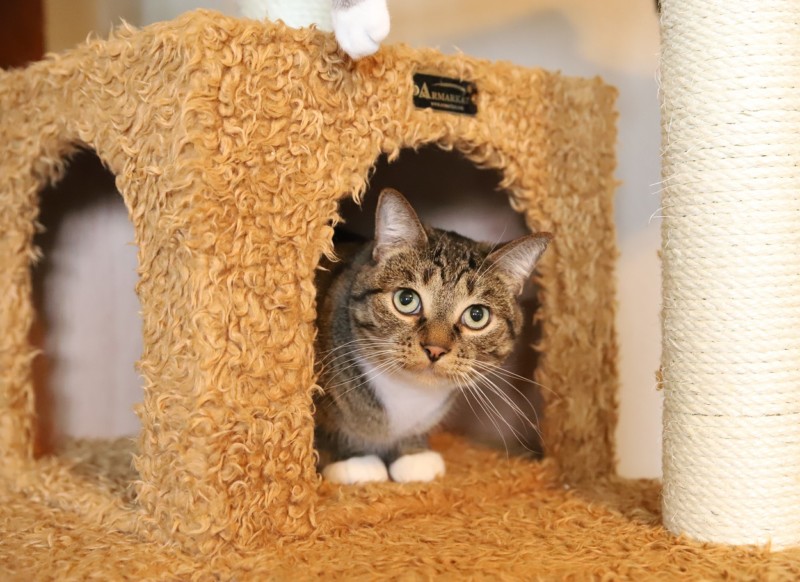 Our three younger cats usually commandeer the top perches immediately, while our older cat Mittens prefers to curl up in one of the two boxes. The fabric on Armarkat Cat Trees is super soft and can come in a variety of colors, depending on your needs. This particular cat tree, the A7407, comes in this brown color and is covered in the ultra-thick faux fur material.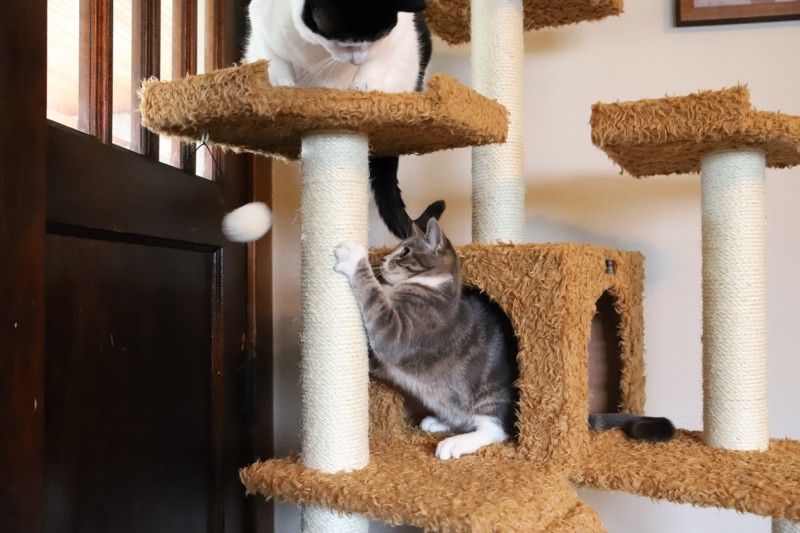 Our cats LOVE to scratch, and thankfully they are super good about only using the scratch posts rather than our furniture. Before we had a cat tree, they would scratch at my couch legs and even at our box springs! Thankfully, that's stopped now and they have plenty of scratching posts (10, in fact) on this cat tree. This particular tree comes with fuzzy, hanging balls for the cats to play with as well (you can see one in motion in the photo above) and all of our cats enjoy playing with those!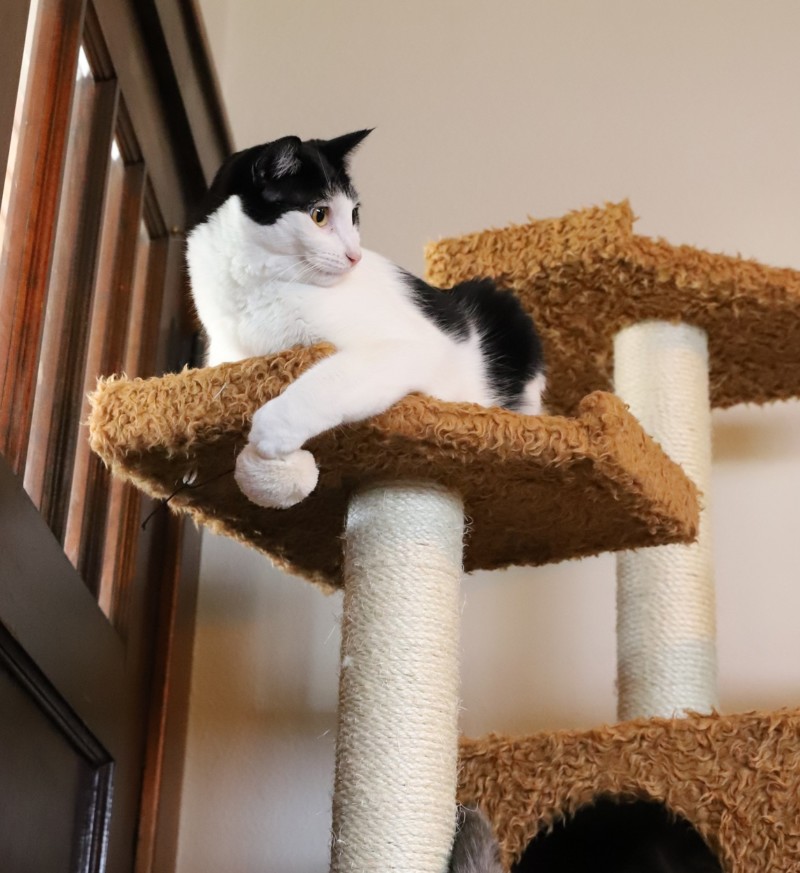 The A7407 model also comes with two sets of stairs to make it accessible for older cats or cats who cannot jump. Our furry friends usually bypass these by jumping straight onto the next level, but I appreciate that the cat tree has them as an option.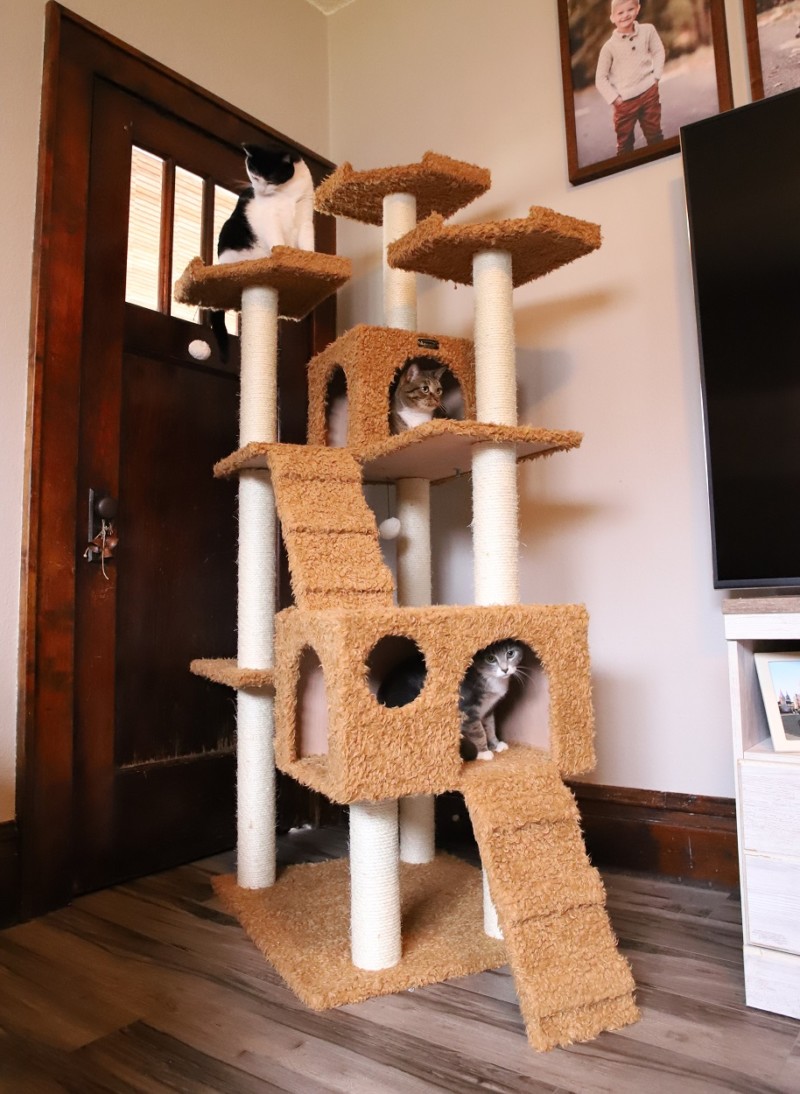 Overall our cats are just obsessed with this cat tree and I know they'll get so much use out of it! Another great gift from Armarkat is the Cat Bed C35HQH/MH. Cats love to curl up on a warm, soft surface and ours always enjoy snuggling up together!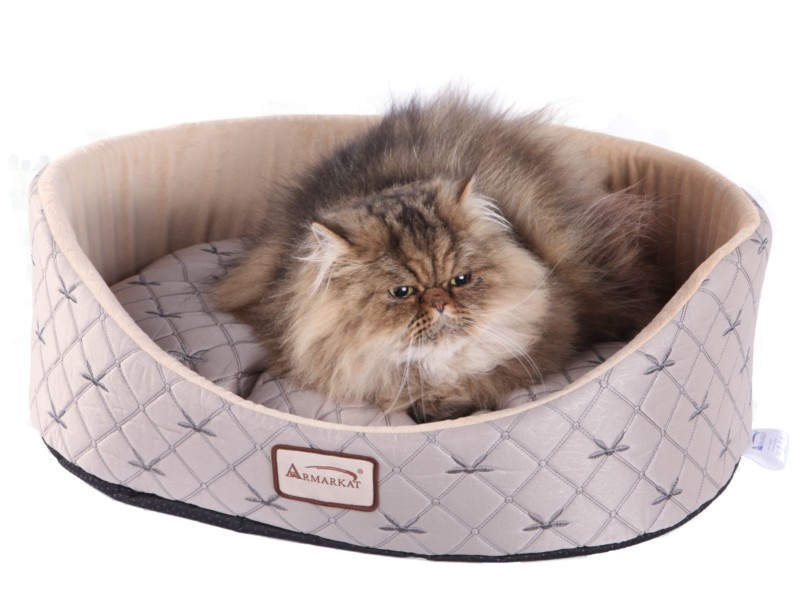 This cat bed is made from a silk-like fabric and soft velvet to make it extra comfortable and inviting. It's also waterproof and has a skid-free base so it will stay put! It's filled with an extra-thick 100% poly fill and is machine washable which is a huge bonus.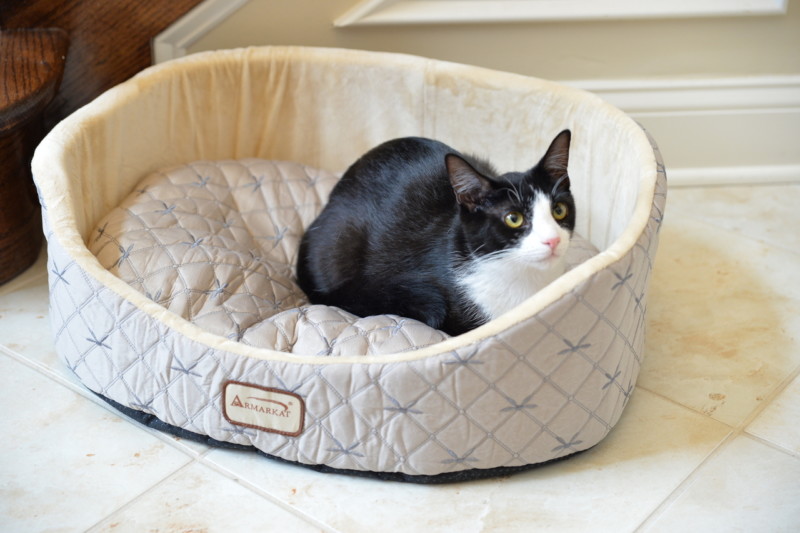 Armarkat offers a huge variety of products for cats and dogs, so be sure to head to their site and pick out your favorite items this holiday season!
Buy it: Armarkat
Win it: One lucky reader will take home an Armarkat C35HQH/MH Cat Bed! This is a US giveaway ending 11/19. Enter using the Giveaway Tools form below, and good luck!
Happy Holidays from our four furry family members!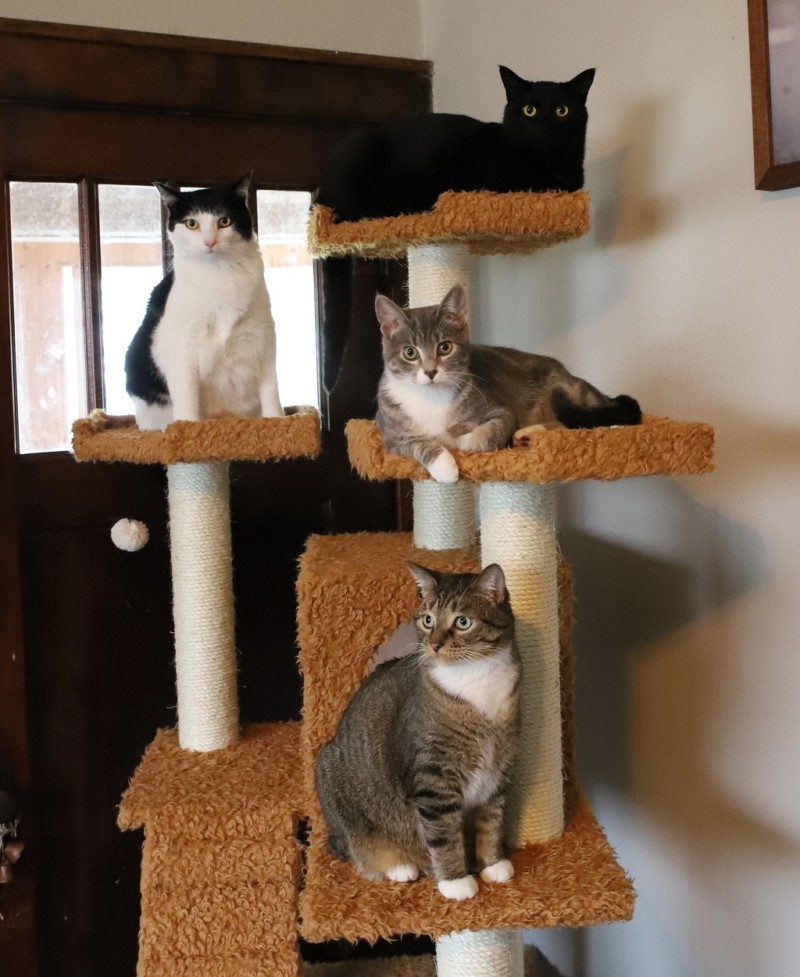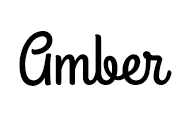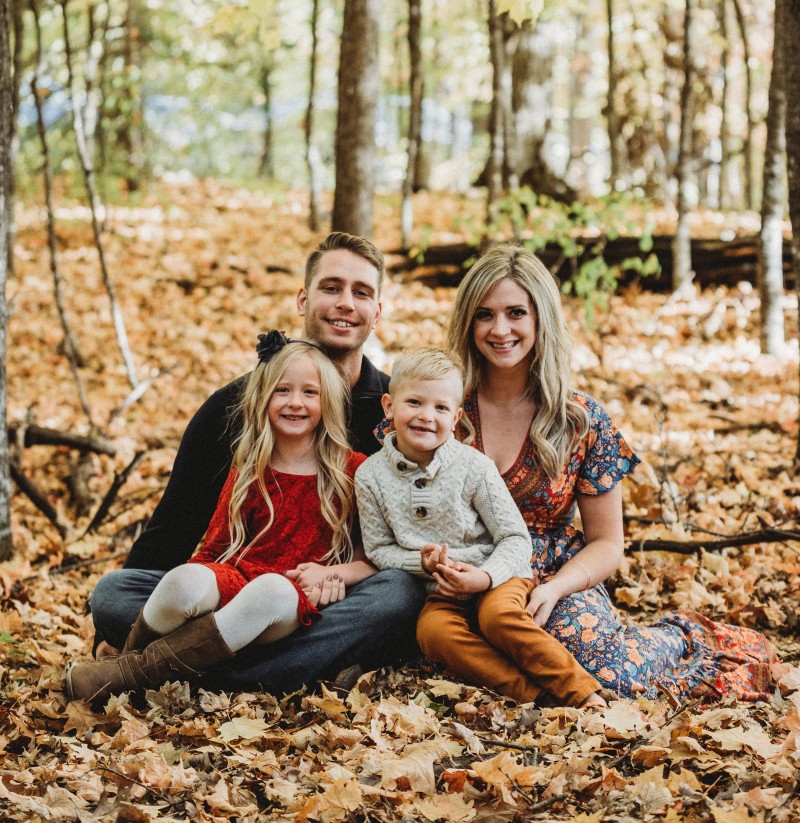 Hi there! I'm Amber, a 34 year old wife and mom of two from central Minnesota. I love to be outside with my family anywhere the weather is warm (which means I spend half the year freezing). We're a homeschooling family that loves to travel as often as possible! When I have a spare free moment, I love to read, take photos, and scrapbook. I'm interested in anything that makes life more fun; I also love socializing and sharing about my favorite products!
This post currently has 12 responses.