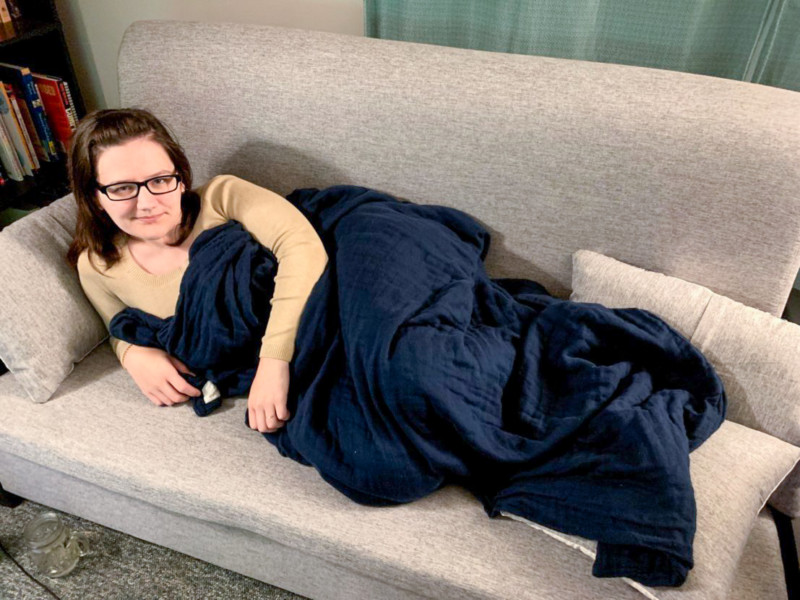 If you've been following me for a few years, you probably have realized that I am a bit of a blanket fanatic. Have you ever seen those memes that say something like "Just in case anyone is wondering, it's ALWAYS okay to give me a blanket as a gift. It doesn't matter how many I have, I always want a new blanket!"?
I've seen those shared by several people on my Facebook list over the years. Honestly, that isn't entirely true for me. I don't want an endless supply of blankets, the clutter would bother me. However, I do really love a good blanket. I am sitting under a blanket at least 75% of the time that I'm at home and sitting down. Also, there have been many times in my life where a specific type of blanket was pretty high on my wish list, including this year. Actually, an adult-sized muslin blanket had been on my wish list for several years now. I purchased one a few years back, but sadly, it didn't meet my expectations. I primarily chose it because it was purple, and I love the color purple. I had felt muslin swaddling blankets before ad loved how soft they were. I expected that ordering this purple muslin blanket would be the same. I, unfortunately, discovered that muslin is not all made equally. The blanket I received wasn't soft, it was almost a bit scratchy, honestly. I knew that muslin is known for softening with additional washes, so I washed it over and over. It did improve some, but it never became soft. That really surprised me! Lesson learned though, going cheap on a muslin blanket may not be a good idea.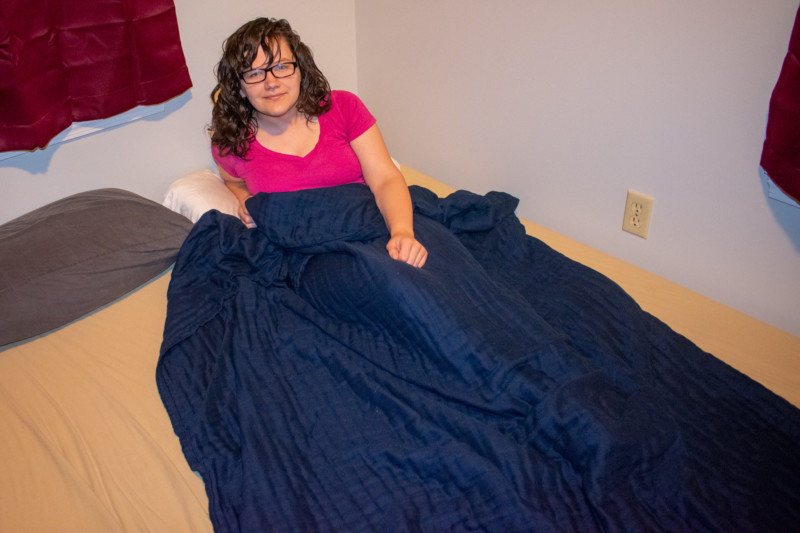 Gray Heron Oversized Throw Muslin Blanket Review
This year, I got a new muslin blanket from Gray Heron. This blanket is my #1 favorite item that I've got as part of my gift guide this year! I have absolutely been loving it.
The founder of Gray Heron sets softness as a high priority for the blankets they sell. Gray Heron's muslin blankets are woven in 4 layers of organic cotton muslin. Most muslin is woven in just two layers. Gray Heron's blankets are made really thin (they call it whisper-thin!) and the material is really breathable. Some Gray Heron blankets are 4 layers, while others are sewn together for a total of 8 layers. While "8 layers" may sound bulky, these blankets are not bulky at all.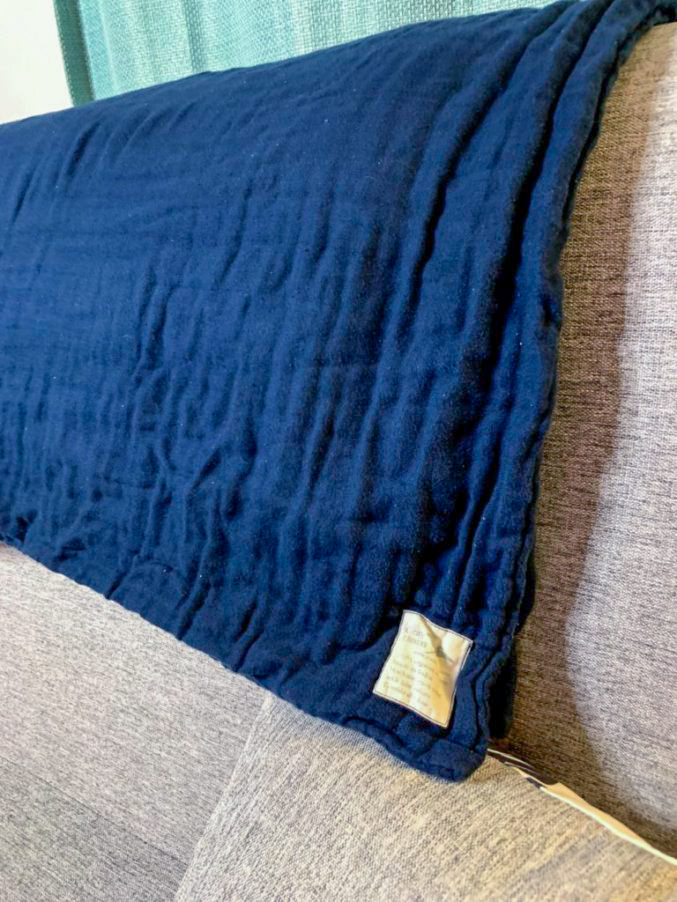 I was sent the Navy 8 layer oversized organic muslin throw blanket. It comes rolled up in a carrying bag. When first received, it looks like a thick bedsheet or something along those lines. It doesn't initially have the textured appearance that you'll see in the photos here. That's just because it hasn't been washed yet. Once you wash it (use cold water) and dry (on low) it'll emerge from your dryer looking thicker and more textured.
I've had my navy oversized throw from Gray Heron for about two months now. I've been using it every night (and everyday, honestly! I sit under a blanket while working, watching TV, etc). I've washed it and dried it several times, and it does seem to be getting softer each ad every time. However, it wasn't rough on delivery, the way the other muslin blanket that I had was. The Gray Heron blanket was soft on arrival, but it was more like 'normal' cotton at first, and has gotten softer.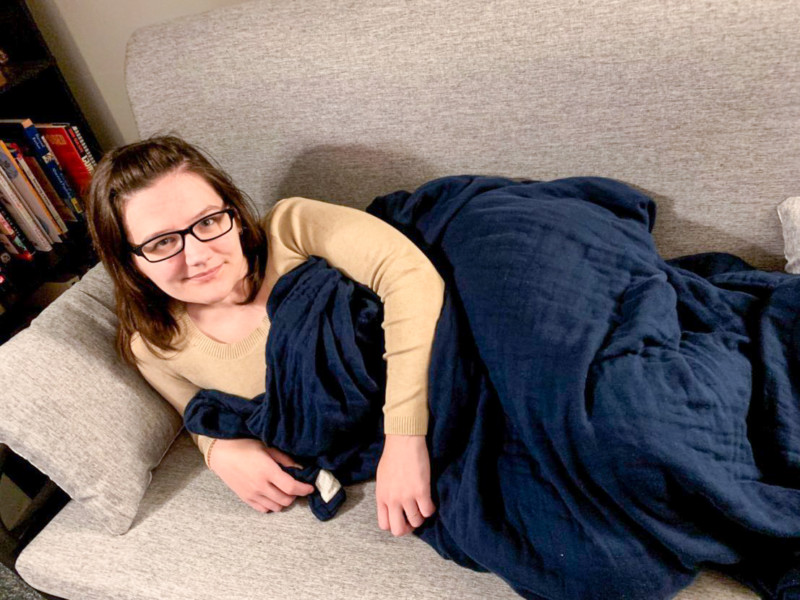 I get both cold and hot easily, my body just isn't good at regulating my body temperature! It's annoying in general, but especially while sleeping. I don't want to wake up cold, or sweaty! I've found this 8 layer blanket to be perfect for sleeping under this fall and 'winter'. Yes, I know it's not winter yet officially, but it's snowed 3 times here in Michigan already. In my mind, it's "winter" from November through March.
Also, if you're asking yourself if I sleep in bed with an oversized throw? I do! I always have slept with a throw blaket or two sized blaket, despite sharing a queen bed with my partner. We have just always found it more comfortable to have separate blankets. It's never really bee about struggling for blanket "space" so much as we get overheated if we are under the same blanket. At least, I do! Too much body heat! So, we use separate blankets and it works out well. When I've shared this with others, I've been a bit surprised to learn that other couples do this, too.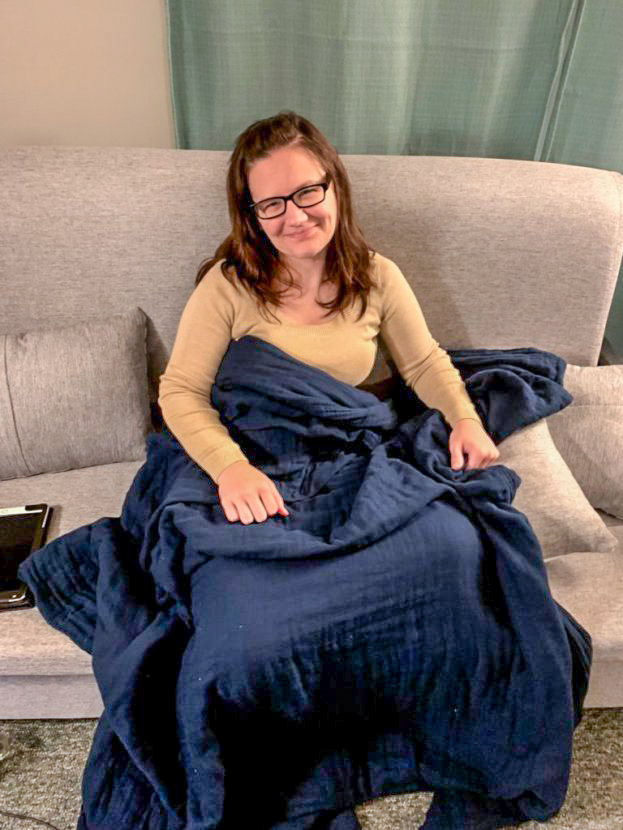 Anyway, I've found that this blanket has kept me comfortable at night the last two months. I don't wake up cold, or sweaty. I love the size, too. It measures approximately 82″ by 64″ after washing. The most common size for throw blankets is 50×60, so this is quite generously sized. That means that I can hang out under this blanket ad change positions without having to readjust my blanket every time I move an inch. It also means that even though I move around a lot in my sleep, I still wake up covered. This is also about the same size as a normal twin-sized blanket, so it would work great on a twin bed! Though Gray Heron does also offer blankets in specific bed sizes (Twin, full/queen and king) the twin size is the same sizing as the oversized throws.
I like how Gray Heron offers blankets in colors rather than in just white or white-with-print, as you'll find are the only options in many other muslin companies. I also think it's nice how they offer a variety of colors that are gender-neutral, so these could make a nice gift for men, or to use on a bed that you share with a partner. My partner has never been bothered if I get us pink sheets or something, but I am sure there are couples out there who appreciate the more neutral bedding options!
Gray Heron also has baby blankets, in 4 or 8 layers. I just have focused on the bed blankets because they are harder to come by. However, if you have a little one to shop for, Gray Heron muslin blankets are an awesome ethical choice for baby muslin blankets!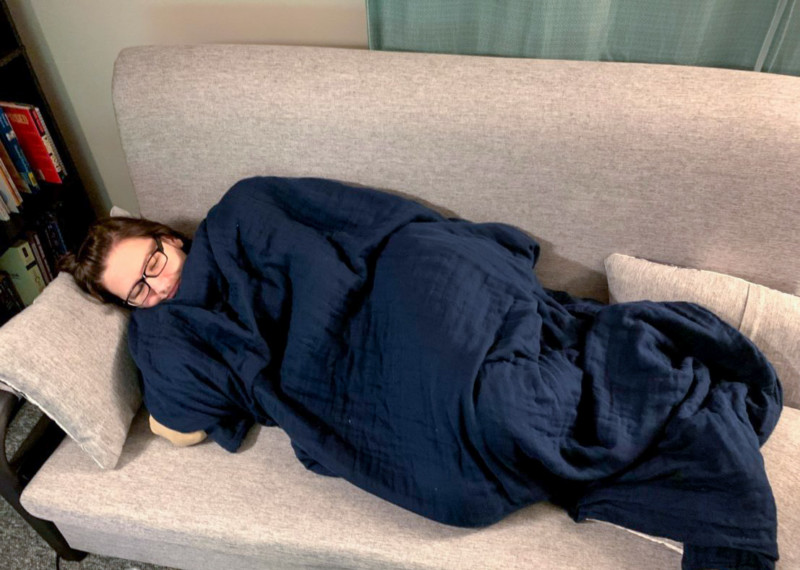 Why Would a Blanket Lover Want a Gray Heron Muslin Blanket?
If you're reading this while trying to do holiday shopping for others, you may be wondering what makes these 'special'. If you aren't a "blanket person", I forgive you for not understanding! Haha! These aren't the cheapest blankets around, so I can understand wanting to understand before purchasing. I thought I'd help explain for those who want to understand.
They're warm, yet breathable. Staying comfortable under these blankets is a big part of the appeal. No overheating and no being chilly, either.
They're soft, and get softer over time. This another key point. "Blanket people" love soft things. Many types of blankets that start out really soft, will get less soft over time, like fleece, sherpa and some microfiber blankets. It really stinks when you buy a blanket that feels amazing at first, but a year later isn't soft anymore, but that's the reality for a lot of fabrics. Muslin gets softer with more use, so this make them a great blanket to use longterm. Gray Heron muslin blakets are soft from the get-go (though other muslin blakets may not be). The part about them getting softer over time is part of what helps justify the price, in my opinion. They'll last, and stay in a condition to where you'll enjoy continuing to use them. You won't need a new blanket a year from now.
They're ethically made. I'll share more about this in the segment below…but a reason for choosing Gray Heron over some other companies is their ethics!
They come in nice colors. It's common for muslin to primarily come in white, or white with some sort of pattern on it. Gray Heron's blankets come in different colors and prints, which those like me who prefer color over white, will love.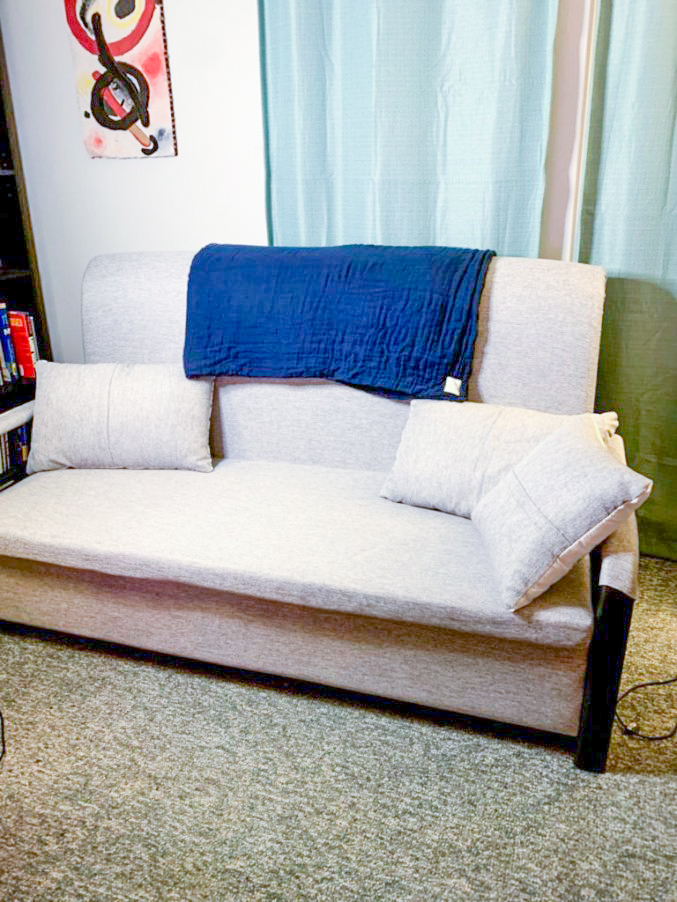 Gray Heron Blanket Company Ethics
Something important to know is that "all natural cotton" and organic cotton are not the same thing. Companies can say that they use 'all natural cotton' if they are just using cotton, because cotton is a natural plant. They are often still using pesticides ad insecticides. In fact, the cotton crop is grown with more toxins than any other crop!
Gray Heron blakets are made from GOTS certified organic cotton muslin. Being GOTS certified requires that products contain at least 95% organic fiber, they must be dyed with non-toxic dyes, and they must be produced in a mill that enforces strict social and environmental standards.
Gray Heron operates with concern and consideration for the environment and workers welfare, which means a lot to me. It feels good to help support ethical businesses!
All of their workers are paid a living wage, and are adults. Did you know that child labor is a major problem in textile production? Sad but true!)
Buy it: You can shop from Gray Heron online at GrayHeron.com!
Follow along: Keep up to date with Gray Heron by following them on Instagram and Facebook.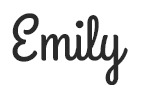 Hi there! I am Emily Evert, the owner of Emily Reviews. I am 28 and live in a small town in Michigan with my boyfriend Ryan and our two pugs. I have a large family and I adore my nieces and nephews. I love reading memoirs, and learning about child development and psychology. I love watching The Game of Thrones, Teen Mom, Sister Wives and Veep. I like listening to Jason Isbell, John Prine, and other alt-country or Americana music. I created Emily Reviews as a creative outlet to share my life and the products that I love with others.
This post currently has 9 responses.