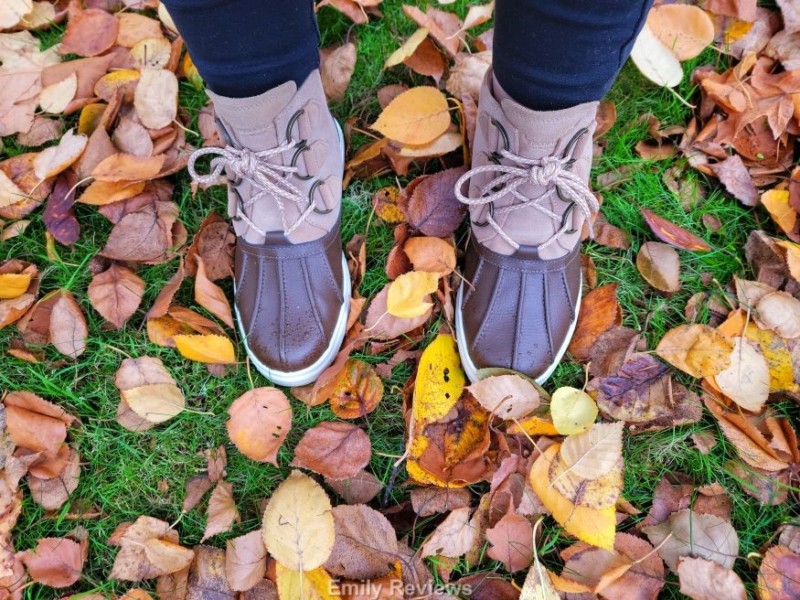 Thank you to Koolaburra by UGG for providing me with products to facilitate my blog review. All opinions are 100% my own.
I have a very busy life (as most of us do) and there are times that I need to be outside during some cold, wet, rainy, and snowy weather. I may be doing chores on our rural property or getting our two teenage daughters to and from all of their events. Living in Oregon, most of our Spring, Fall, and Winter seasons have some type of moisture whether it is rain or snow. Life doesn't stop during these 9 months. If anything, it gets busier…which is why I needed a reliable and comfortable weatherproof boot and Koolaburra by UGG came to my rescue.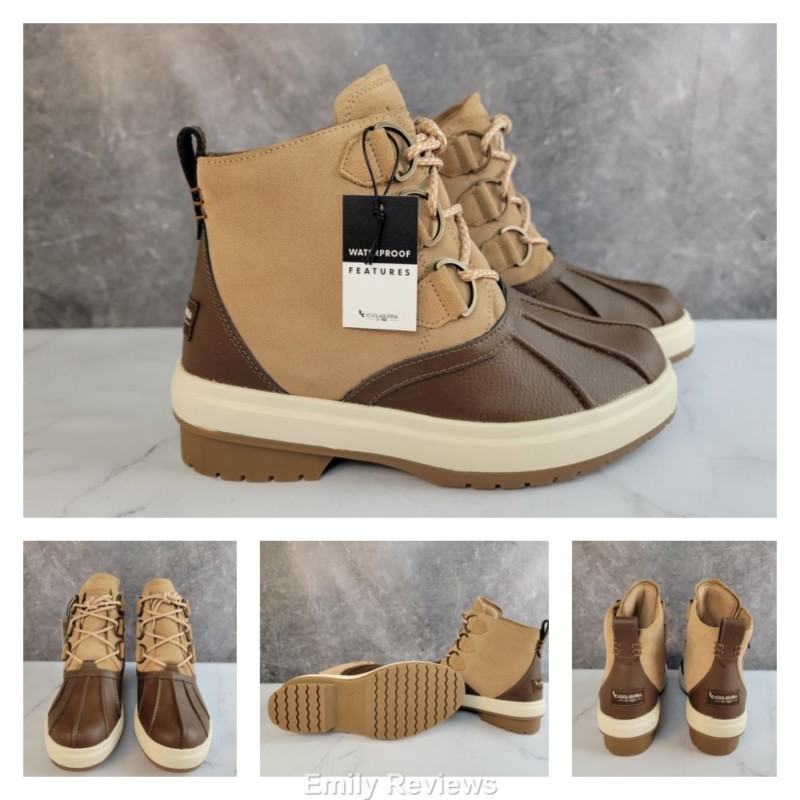 The Koolaburra by UGG Ysoria is the boot for me. It is fashionable while being fully suited for our Oregon weather. My feet stay warm and dry even when the wind is blowing the rain sideways or we're getting that occasional ice and snowstorm.
The Ysoria is made of waterproof suede and leather to keep moisture out and the faux fur/fleece lining keeps my feet so comfortable and warm. Some "waterproof" boots that I've had in the past were waterproof to a point. It seemed water would somehow always find a way to sneak inside the boot usually around the lacing or tongue area. The Koolaburra by UGG Ysoria has a gusseted tongue that has been coated with a water repellent and all of the seams have been sealed. No more soggy socks and damp/cold feet!
The height of these boots is around 4 inches and there is a 1-inch heel. Since Oregon typically doesn't get a lot of snow (maybe a couple of inches), this lower profile boot is perfect for me.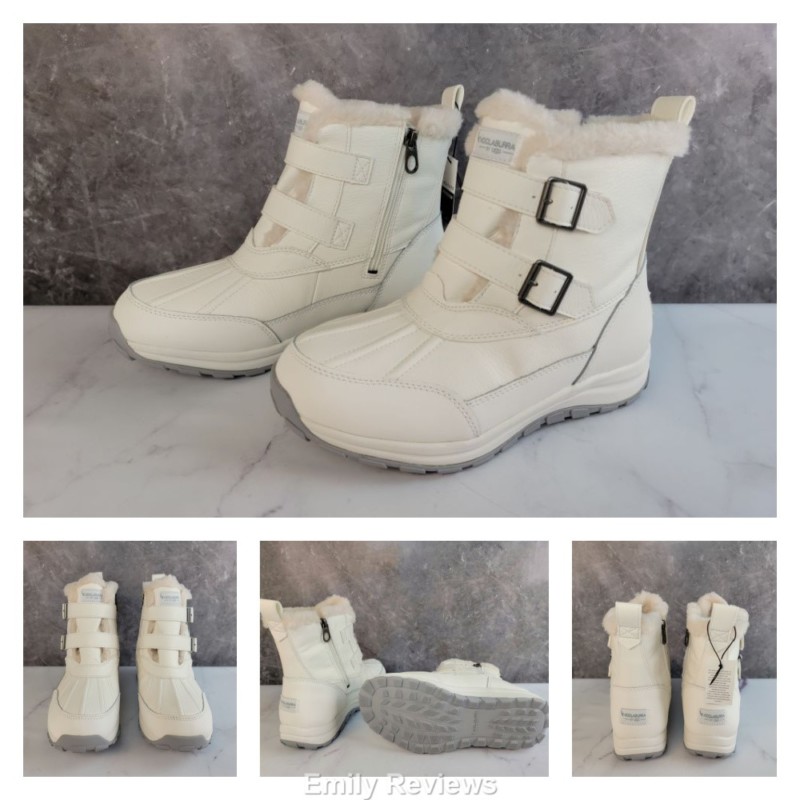 My Mom is a Realtor so finds herself trekking around showing homes in all sorts of weather. She was looking for something that looked attractive but also provide her with warmth, some weatherproofing and that helped her to walk in icy situations. She found the Koolaburra by UGG Imree Moto boot.
The Imree Moto is a beautiful snowy white boot with two outer buckles. The faux fur lining and sheepskin sockliner are so thick and luxurious that you won't feel a need to wear socks. If you do decide to wear some thick winter socks, you may want to order a ½ or full size larger than normal. In case you're wondering about the inside of the boot getting moist if you don't wear socks, don't give it too much thought because Koolaburra by UGG already has. They've made with interior with non-wicking material.
Like with the Ysoria, the Imree Moto has a waterproof suede exterior and a waterproof membrane bootie. The gusseted tongue and zipper area have both been treated with a water repellent coating. The shaft of this boot is just under 6 inches so will work for Oregon rain and snow without being too bulky.
Typically showing property during rain and snow is not something most Realtors look forward to but she can't wait for the weather to change so she can put these boots into action.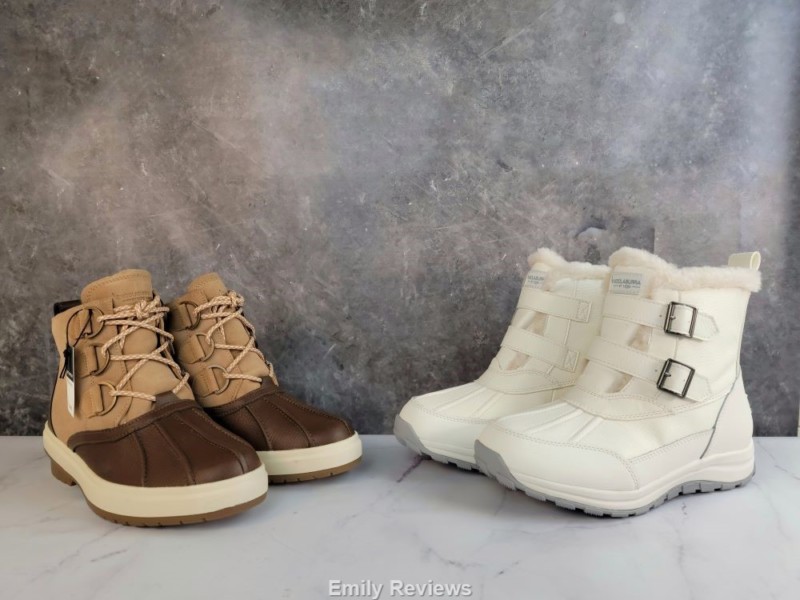 Buy It: Please visit the Koolaburra byUGG website to see the great selection of products they offer and convenient shopping locations.
Connect: Don't forget to follow Koolaburra by UGG on Facebook, Twitter, and Instagram for the latest product announcements and special offers.


Hello, my name is Laurie. My family and I live near the Oregon coast. When we aren't at work, in school, or on the volleyball court, we enjoy traveling, cheering for our favorite sports teams, playing outdoors, and checking off items on our bucket list. We are lucky in that both sets of our parents, as well as our siblings and their families, live within an hour of us. We get together often to help one another out, celebrate milestones, and go on adventures together.
This post currently has 6 responses.