I was sent a Nadine West Subscription Bag for review. There are affiliate links in this post. All opinions are my own.
Nadine West
Nadine West is a subscription service for women's clothing and fashion. It sends more affordable clothing than other fashion subscription services. When you sign up, you fill out a style profile that asks you for your clothing sizes, as well as various fashion related preferences. For example, it asks if there are any parts of your body that you'd like to conceal. For example, if you're insecure about your belly or your upper arms, you can let the know and they'll send you clothing that conceals those areas.
The style profile also lets you share which colors you enjoy wearing and the colors that you don't like to wear. You share what tones of jewelry you enjoy, if you're open to wearing florals or stripes, whether you wearing earrings or not, and more.
Based on that information, a stylist will select 4+ items to ship to you monthly or bimonthly, depending on which you request. You pay $9.78 for shipping initially. You get to try on everything you're sent, and decide what you'd like to keep and what you don't. If you decide to keep anything from the shipment, that $9.78 fee will roll into the cost of the item, so you can look at it as the shipping becomes free as long as you keep at least one item.
For any of the items you're sent that you don't wish to keep, you simply mail them back by the deadline listed in your package. When you're sent your shipment, they'll include a prepaid mailing label so you don't have to pay return shipping. You're only charged for the items that you keep.
You can log on to your Nadine West account and leave feedback for each shipment. You get to rate each item that you were sent out of 5 stars, and there is a feedback box for each item so you can explain the reason for your rating that it the way that you did. There's also a feedback box for the entire shipment. You can use that area to make requests for your next box if you'd like!
Over time, the more feedback you provide, the more they'll learn your style.
I've used Nadine West for quite a while now, and I've found it to be a fun way to shop for clothes. Sometimes they send me clothing that I'd totally pick out for myself, but it's fun and convenient to have it sent to my door instead. Other times they send e items that I wouldn't have thought to try on in the store, but I try them on because they were sent to me, and I realize that I actually really love it once it's on. This is neat because it's helped me to discover my own style a bit better.
Nadine West Reviews 2022
I was sent six items this shipment.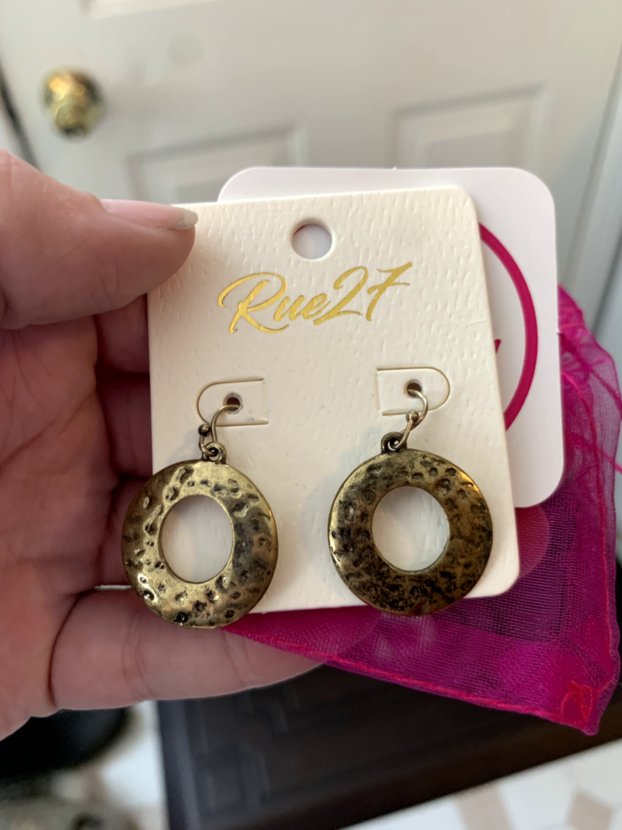 These earrings are a rather simple design which I often like. In this case, it was the color that didn't suit me. I like gold-toned jewelry, but these are a vintage gold or tarished gold type color that I don't really care for. These were a 'miss' for me. They are $11.99 to keep.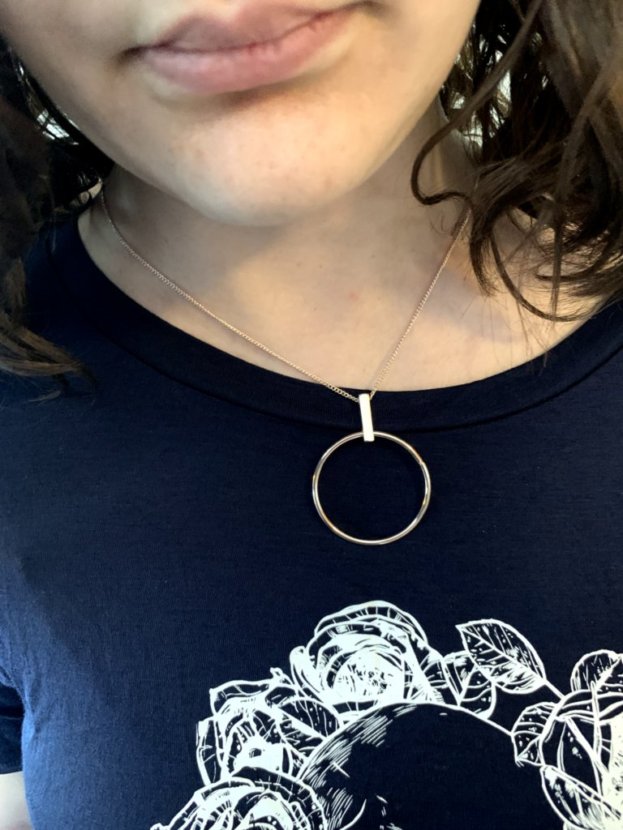 The other piece of jewelry that I was sent was this necklace. For the sake of showing off the pendant, I pulled it up to the part of my shirt that was plain. The chain it came on was quite long, so it falls much lower on my chest typically (you can see that in the photos below if you'd like). I thought this simple hoop pendant was quite pretty! It is $19.99 to keep.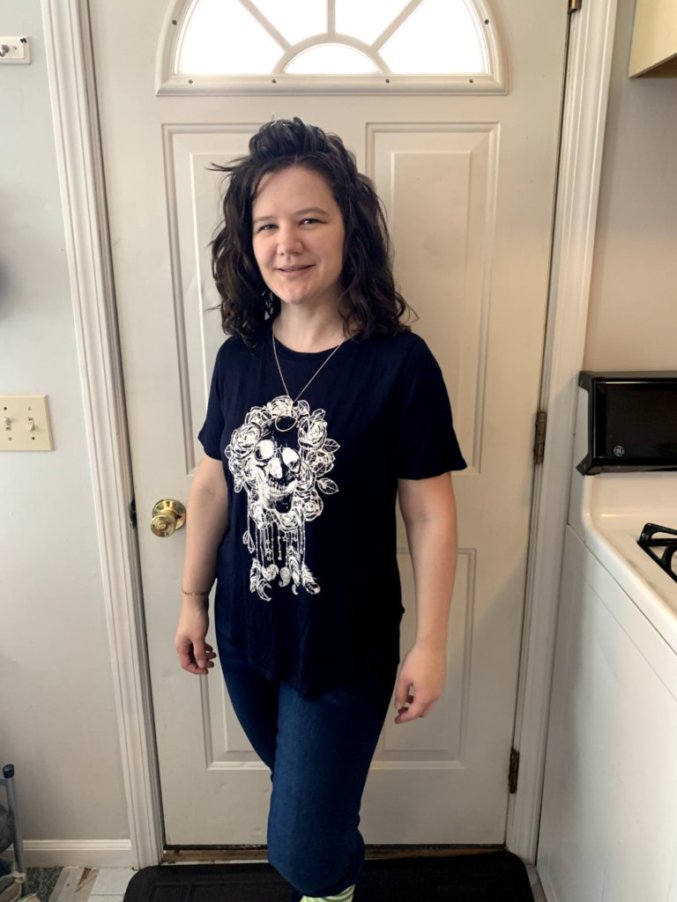 The top, necklace and bottoms shown here were all sent this month.
I think this may be the first time I've ever been sent a graphic t-shirt through nadine west! The skull and dreamcatcher designs aren't really items/symbols that I am drawn to, so this top wasn't a keeper for me. Still, I was excited to see something that felt noticeably different from what I've received from Nadine West in the past. If the design printed on this top had been something a bit different, I may have kept this. So, I'll be curious to see if Nadine West continues to send graphic t shirts. This top is $24.49 to keep.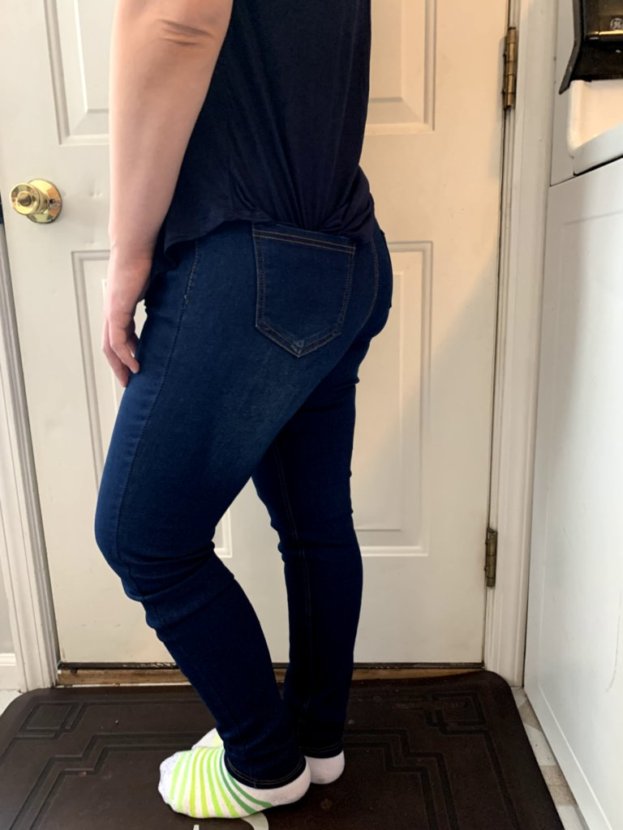 The bottoms shown here are leggings, they have an elastic waist (no button or zipper). They have functional pockets though, and look like skinny jeans at a glance, they're just more comfortable than 'real' jeans! These are definitely a keeper for me. They are $29.99.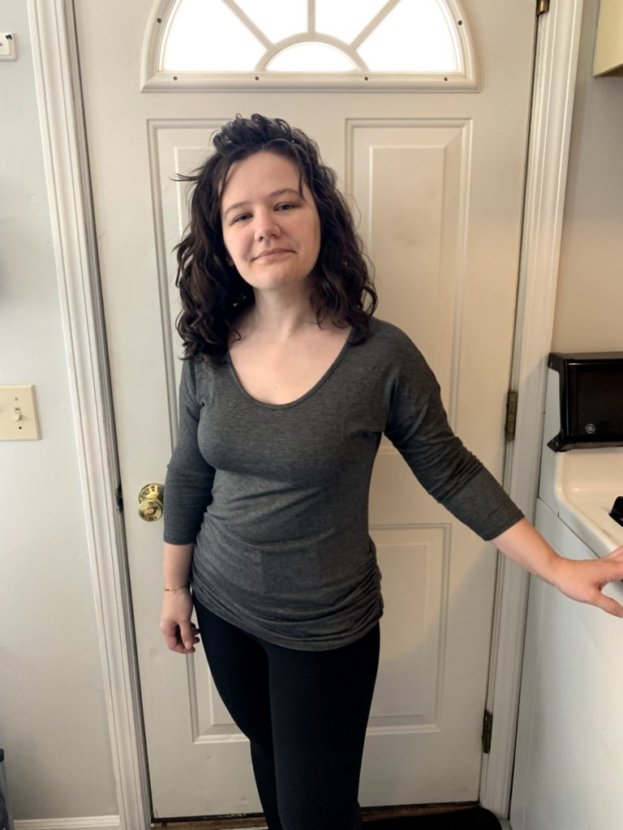 The top and bottoms shown here were both sent in this Nadine West shipment.
I really like this top! Gray is one of my favorite colors to wear, and I often like pretty basic tops. This one is a simple scoop neck with 3/4 sleeves, and touching along the hips. I've found myself reaching for this top really frequently since I got it. It is $25.99 to keep.
The bottoms shown here are plain black, they have an elastic waist, no zipper or button but they look like dress slacks. They are designed to help create the appearance of a flatter tummy, which I do think they succeed at. I didn't care for these for two reasons. One, I just don't really wear dress-slacks, as I work from home. Also, the material felt really cheap, it sort of reminded me of the material that Halloween costumes are made out of? Thin and a bit scratchy. Most items that I receive from Nadine West feel like they're pretty good quality, but these just did not. These bottoms are $28.19 to keep.
Overall, this was a good shipment for me. I really liked the gray top and the jean-looking leggings. I also liked the necklace. The graphic top wasn't quite my style, but it was definitely a good attempt to get me to reach outside of my usual comfort zone, as it was close to something I would like to wear.
Remember, you can sign up for Nadine West today and fill out a style profile to see what a stylist would send you! Head to NadineWest.com
to get started!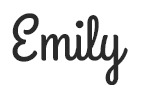 Hi there! I am Emily Evert, the owner of Emily Reviews. I am 28 and live in a small town in Michigan with my boyfriend Ryan and our two pugs. I have a large family and I adore my nieces and nephews. I love reading memoirs, and learning about child development and psychology. I love watching The Game of Thrones, Teen Mom, Sister Wives and Veep. I like listening to Jason Isbell, John Prine, and other alt-country or Americana music. I created Emily Reviews as a creative outlet to share my life and the products that I love with others.
This post currently has 12 responses.