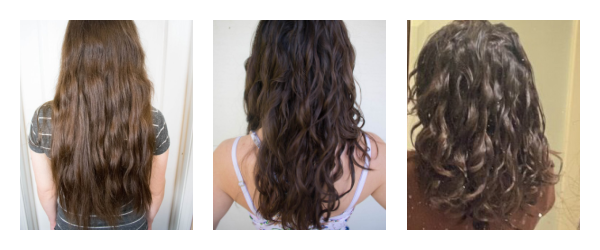 Verb sent me product samples for review. All opinions are my own.
Those of you who follow me over at my other blog, Wavy Hair Care, know that I've gotten really interested in taking care of my hair the last few years. For most of my life I didn't really think much at all about how I cared for my hair or what products I used. I pretty much thought my hair would be about the same regardless.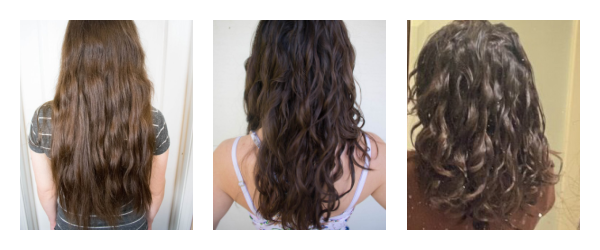 As you can see from looking at these three pictures spanning about five years…I've learned a lot about how to embrace my waves. There's a whole lot that has assisted me along the way…that's why I have a whole blog about it! Haha.
However, one of the things I've learned is that while the techniques I use to style my hair are most important, the products I use matter, too. More specifically, using hair products that are too heavy for my hair type can really weigh it down, stretch it out and/or make it look oily or greasy.
Verb Ghost Shampoo & Conditioner Review
I was excited to try Verb's ghost line of hair products because they're specifically designed for fine hair that is easily weighed down. People sometimes comment about how 'thick' my hair is, because it looks "big", but my individual hair strands are fine. My hair just looks thick because I have a ton of hair.
I was sent the Verb ghost shampoo, conditioner and ghost oil.
While I try to find shampoo and conditioner products that won't weigh my fine hair down, I also look for products that are moisturizing enough to make my hair easy to manage. It can be a tricky balance to strike, sometimes.
I was excited when I first squirted some Verb ghost shampoo into my palm. I could tell just by the look and consistency that it would be at least somewhat moisturizing. It's a bit more watery than some shampoos I've used so I do try to remember to not squeeze the bottle too hard as I'll get more out than I wanted.
The shampoo lathers nicely and I'm able to work my fingers through my hair during this step, which is always a sign that it's a little on the moisturizing side which I like. I'd describe the scent of the shampoo and conditioner as clean and fresh.
The conditioner is slightly thicker than the shampoo, and offers a great amount of slip for my hair type. I can easily detangle my hair while the verb conditioner is in my hair.
After using both, I feel that my hair looks and "acts" nicely. It isn't weighed down or greasy. These are a good match for my hair type. Really the only downside I've found on these is the price tag. They are more than I'm used to spending on shampoo and conditioner, and while they meet my needs well, I've found cheaper products that do as well, and these don't offer anything additional. So, being the value-seeker I am, I'll probably only purchase these if I catch them on a good deal.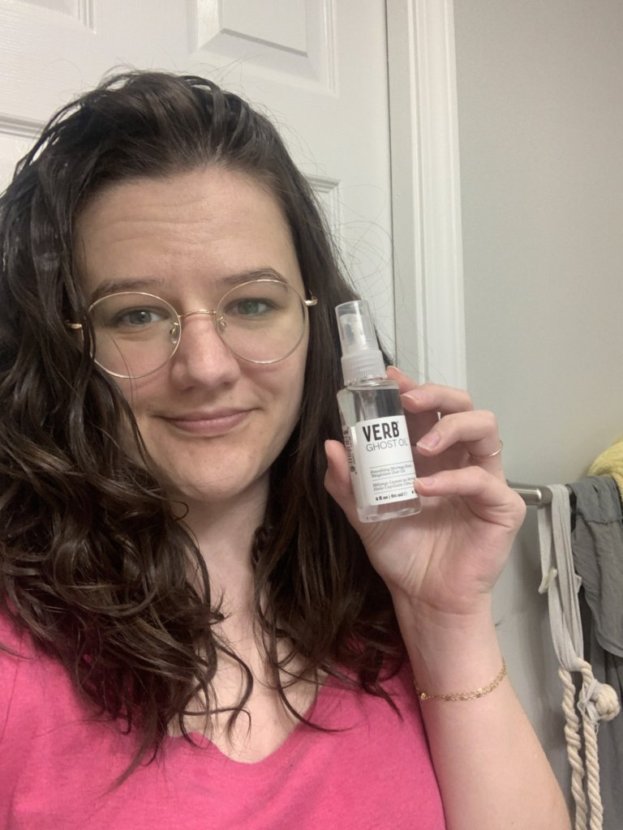 Verb Ghost Oil Review
The last product that I was sent was the Verb ghost oil. This oil is one that I hear quite a bit of talk about in the different wavy curly hair communities that I participate in. I knew this was a really popular hair oil for people with wavy hair.
I'm not in the habit of regularly using a hair oil even though I know they can do a great job of helping to seal in your conditioners to keep your hair more moisturized between washes. I had tried a couple of hair oils when I was new to embracing my waves and I found them to make my hair look greasy. This is a common issue for people with fine hair or wavy hair…and that's why I've heard Verb ghost oil praised so much.
Verb ghost oil is said to be 'weightless', it's not supposed to weigh your hair down even if you have fine hair. I've used this by adding a pump to my hands and then using it when I scrunch out the crunch. Just as I had hoped, it doesn't weigh my hair down or make it look oily. This is the first hair oil I've used that hasn't done that, so I'm definitely sold on this oil. It even feels like it disappears from my hands after I use it, rather than leaving my hands feeling oily. It really feels slightly magical, haha!
I use very little each time, so although the bottle isn't very big I expect it to last me a long time. Still, once I do eventually run out I can see myself repurchasing this as I think it's a great buy at $10 per bottle.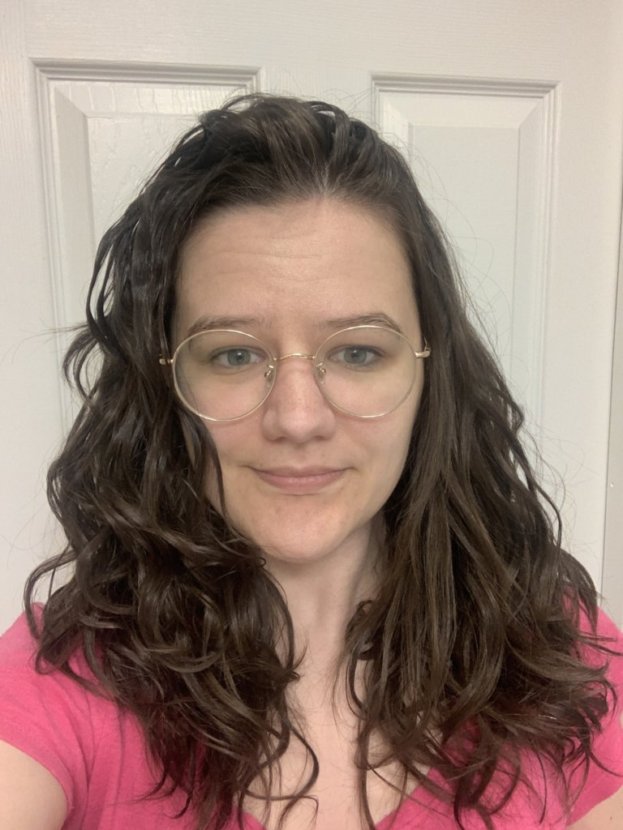 This was my "Day 2" (day after washing) hair when using Verb ghost shampoo, conditioner, a gel from a different brand, and Verb ghost hair oil.
Buy it: You can purchase Verb products at various beauty retailers and at VerbProducts.com.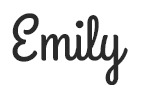 Hi there! I am Emily Evert, the owner of Emily Reviews. I am 28 and live in a small town in Michigan with my boyfriend Ryan and our two pugs. I have a large family and I adore my nieces and nephews. I love reading memoirs, and learning about child development and psychology. I love watching The Game of Thrones, Teen Mom, Sister Wives and Veep. I like listening to Jason Isbell, John Prine, and other alt-country or Americana music. I created Emily Reviews as a creative outlet to share my life and the products that I love with others.
This post currently has 6 responses.