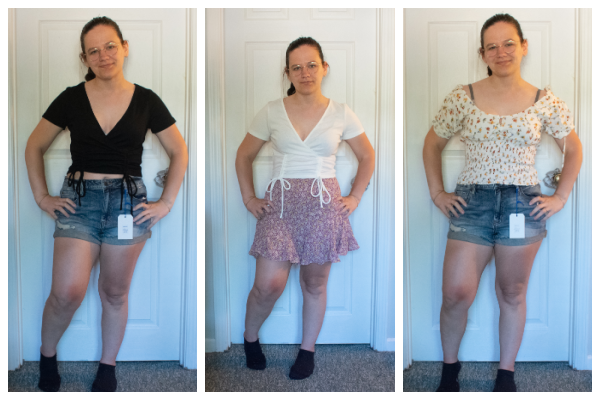 Tobi sent me clothing for review. All opinions are my own.
I realized recently that my clothing choices have gotten pretty out of style. Granted, I am in my 30's so I'm not looking to dress exactly like "kids" today. Still, remember thinking some people were stuck in the 80's when I was a teenager in the early 00's and thinking that was strange. I don't want to be the modern-day version of that, haha!
Anyway, I've been experimenting with letting go of my low rise skinny jeans in favor of high-waisted jeans (not 'mom jeans' like teenagers wear, that's too far for me personally!).
For a long time now I've been a bit frustrated with how every top in stores seems to be cropped. I don't want my belly to hang out for the most part. However, when I realized that with high waist bottoms, you can wear some crop tops without showing belly (or showing very little) this softened me to the idea of crop tops a bit.
Tobi has lots of clothing that are trendy right now. I was a little selective in what I chose. I like to keep my upper arms covered so I avoided tank tops. Also, while I am looking to try some crop tops, I tried to lean towards ones that are longer length. I also chose a pair of shorts and a skirt.
I measured myself and analyzed my measurements in the Tobi size chart. I found that some of my measurements suited one size, while others were in another size. Due to this, I ordered the larger size thinking a little too big was better than a little too small.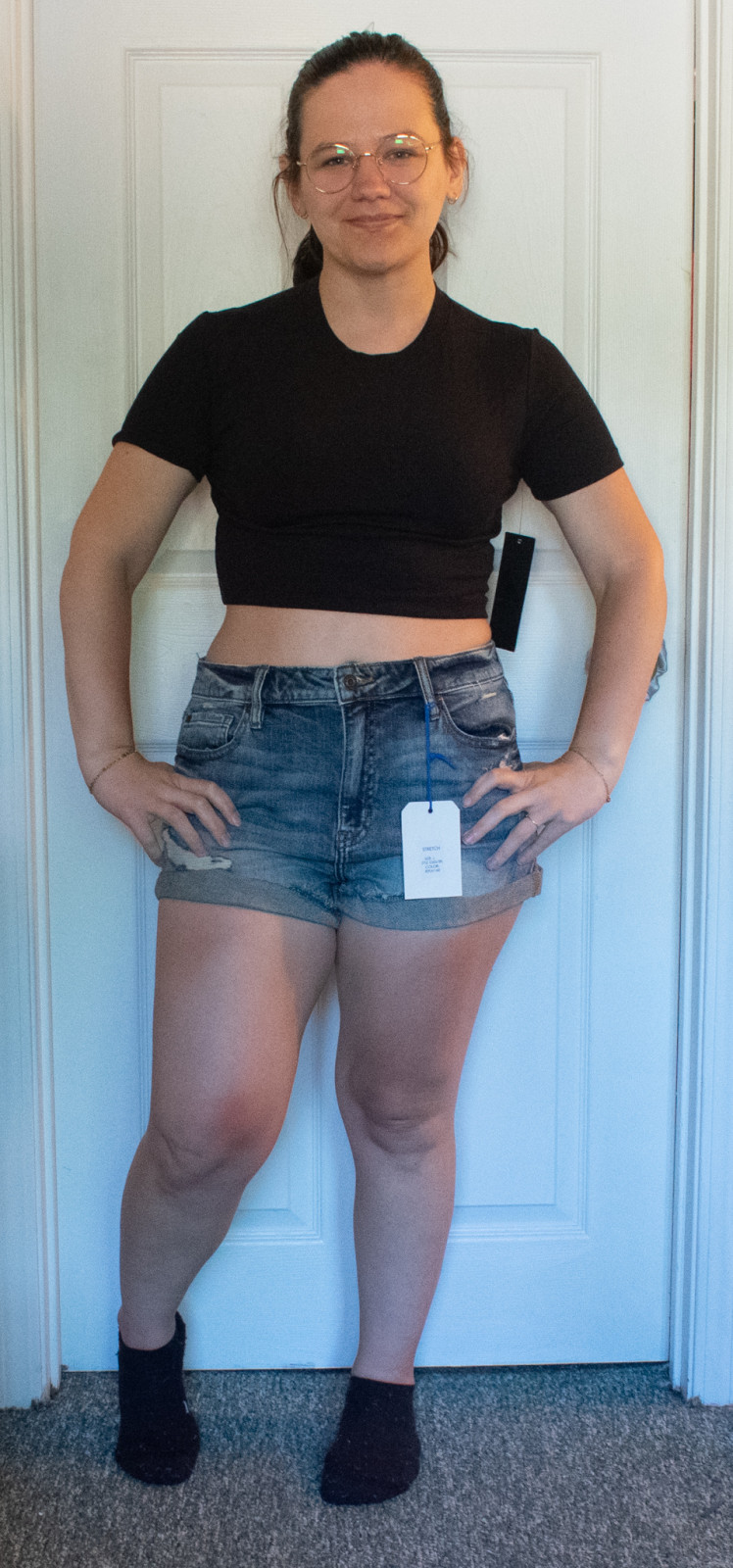 This first crop I tried on was the Micro ribbed cropped tee. This top was shorter than I had anticipated! Oops. This is too short for my liking, so I won't be keeping or wearing it, at least not by itself. I might use it as an undershirt or something.
The shorts are the Replay medium wash high rise shorts. These look okay in pictures, but in person the waist gaps away from my body. I probably could wear them with a belt but I probably won't. I would have fit these better if I had ordered a smaller size.
I kept the same shorts on to try the other shirts. This top is called the Sweetie Surplice Rouched Knit Top. I was sent this in two different colors as you'll see in other photos. I really like this top because it has two strings in the center that allow you to control how tightly or loosely you rouche the material. This allows you to control the length of the front of the shirt shorter or higher depending on which you prefer. Or in my case, I want to have my shirt meet the top of my pants, so I can customize the shirt length depending on the bottoms I'm wearing to ensure it fits at the length I want.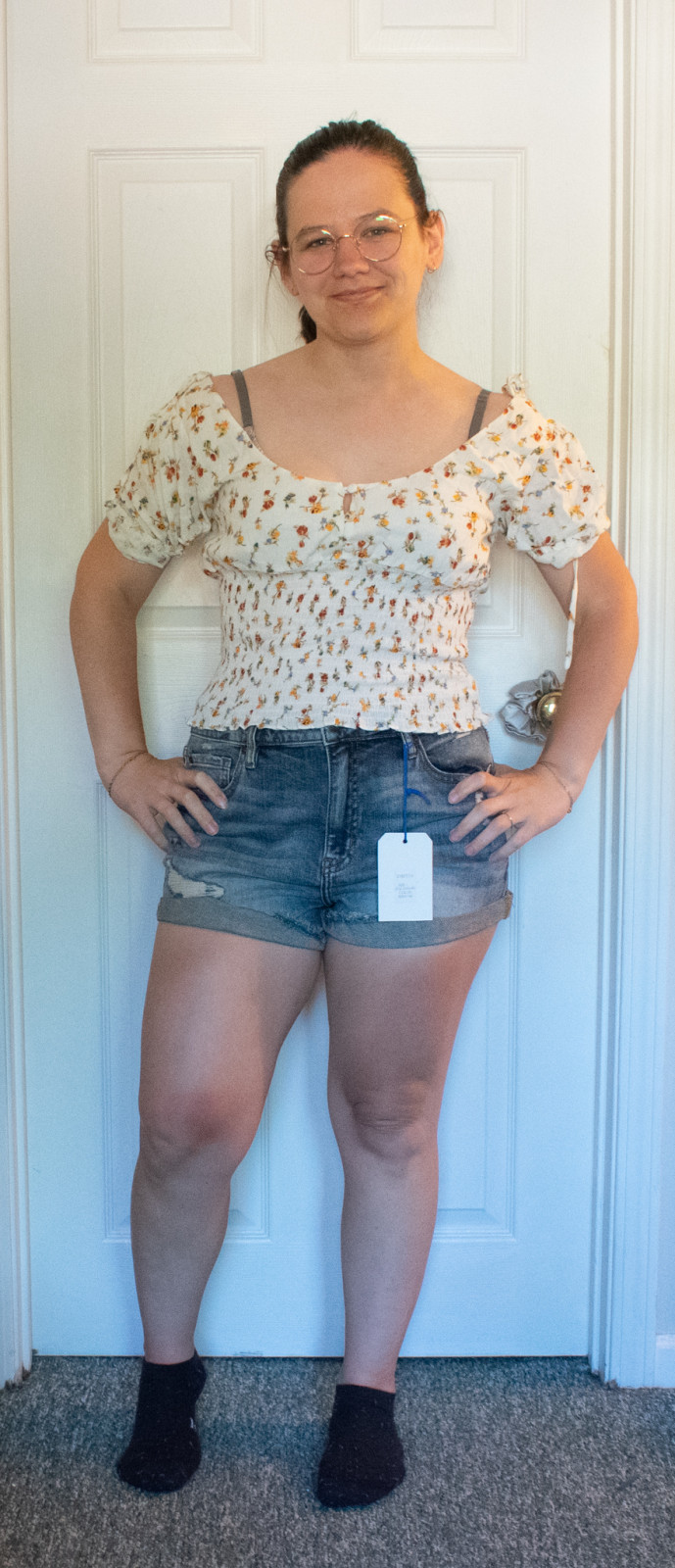 The top here is the Esperanza White multi floral smocked top. I've voiced that smocked tops are really trendy! I liked the floral pattern on this so I thought I'd try it. It looks better in photos than it fits in person. If I don't have my arms pulled to the sides, the top gaps away from my chest. I think it's designed for someone who has a larger bust than I do. This shirt may have fit me better in a smaller size, too. I think it's cute, I just wish it fit me better.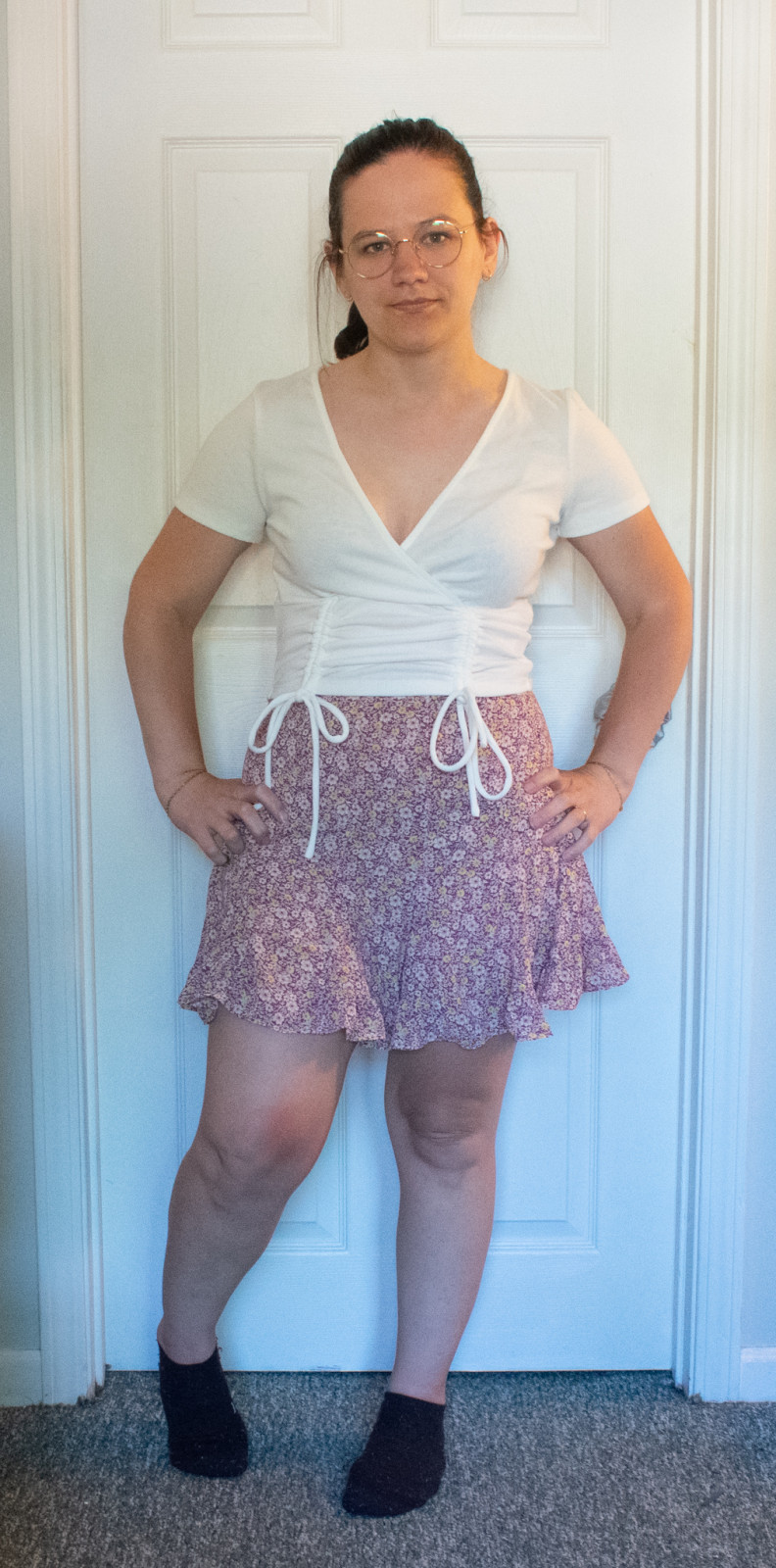 This top is the same one shown in the second photo above, it's the Sweetie Surplice touched knit top, just in white this time.
The skirt is the Look This Way Lavender Floral Skirt. I am not one to wear skirts very often, but I thought this was just so cute! It is higher waisted, and the top of the skirt is a bit too big for my natural waist. So again, I would have found a better fit if I had ordered the smaller size, I think. I liked how I was able to pair these two together and customize the touching to get the shirt to meet the skirt height.
Check out Tobi.com to see more of their clothing. They have a really wide selection of dresses and cropped tops in particular.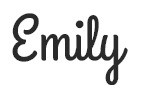 Hi there! I am Emily Evert, the owner of Emily Reviews. I am 28 and live in a small town in Michigan with my boyfriend Ryan and our two pugs. I have a large family and I adore my nieces and nephews. I love reading memoirs, and learning about child development and psychology. I love watching The Game of Thrones, Teen Mom, Sister Wives and Veep. I like listening to Jason Isbell, John Prine, and other alt-country or Americana music. I created Emily Reviews as a creative outlet to share my life and the products that I love with others.
This post currently has 4 responses.