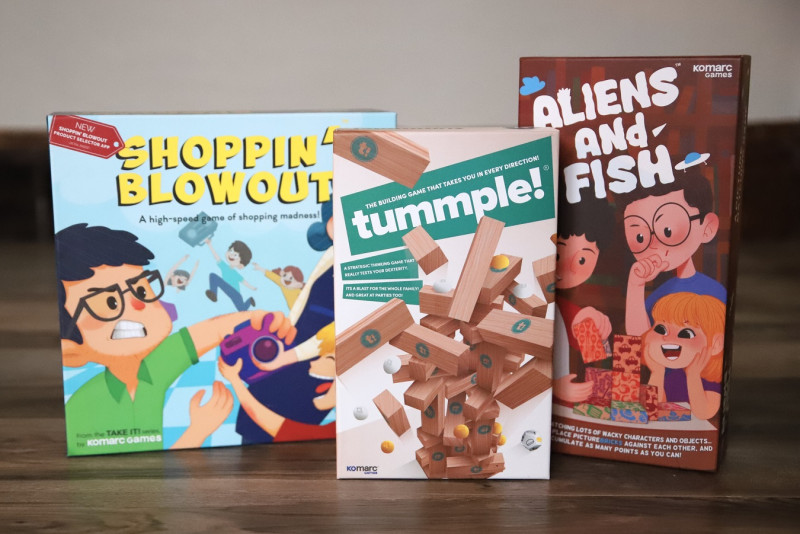 Thanks to Komarc for sending me these games. As always, all opinions are my own. There are affiliate links in this post.
We are a HUGE game-playing family. We love to sit down a couple times a week with family games and spend screen-free time together. Recently I heard about three new games from Komarc that will make perfect gifts this holiday season! Check them out and enter to win at the end of this post.
Komarc Games
Komarc Games lives its motto, Let's Play! with $29.99 & under products that are highly unique and challenging for kids, teens and adults. Their games are meant to be played in the home, at a party, in school or in the office! You'll experience physical skill, laughter, and strategic thinking while playing their extra fun variety of games.
tummple!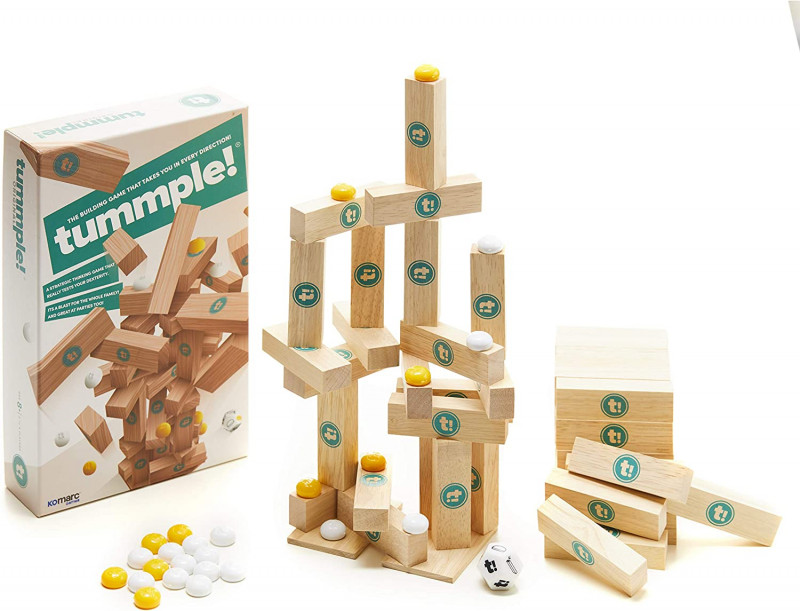 tummple! is Komarc's flagship game which has sold over 200,000 units worldwide since its 2014 introduction. In tummple!, players will strategically place wood bricks and obstacles, called 'tumps' and watch the structure form up, down, sideways and every which way! Test your wits, dexterity and strategic thinking. It's a game that will have you on the edge of your seat with each turn as you attempt to place your brick or block the other players. Be careful not to knock pieces off, or you'll add those to your pile which will count against you at the end.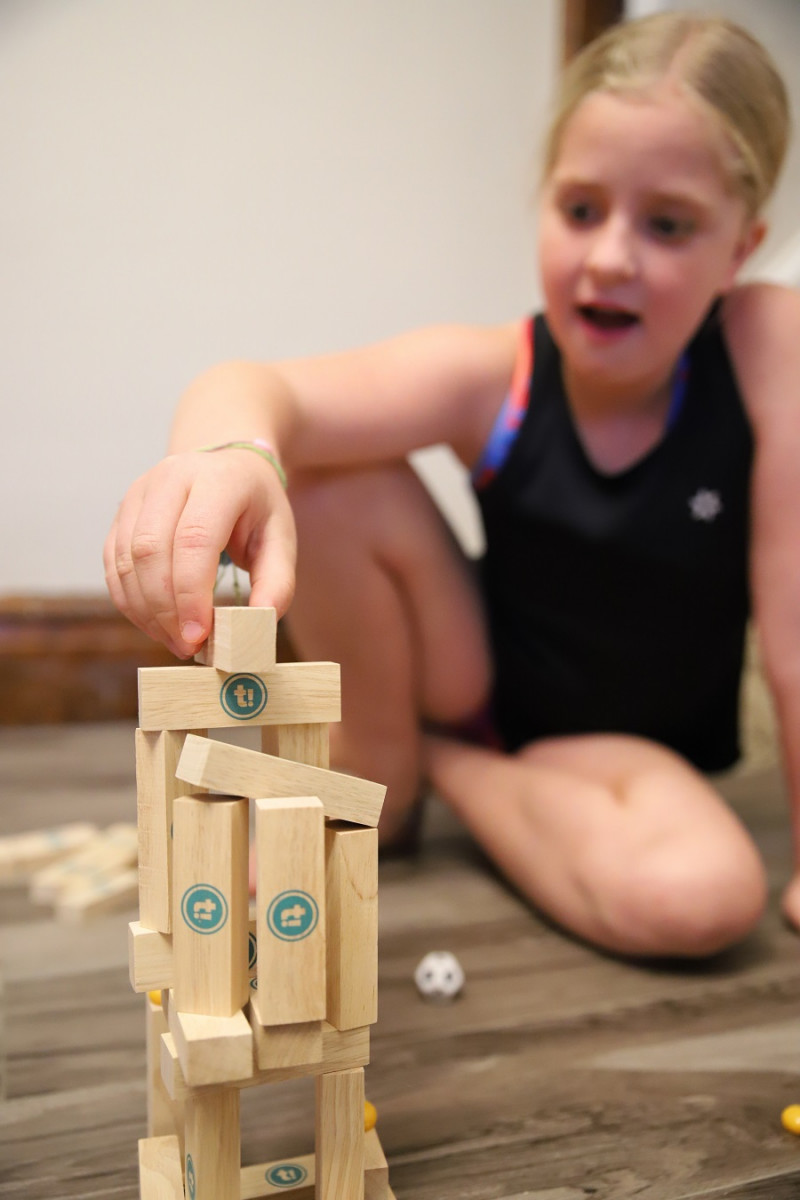 This game is incredibly fun to play as a family because, though it does require some dexterity, it's simple enough for even young kids. It's rated for ages 8+ but our 6 year old son loves it too. There's a secret educational element to it, as it does require some spatial reasoning and thinking ahead to block your opponents. I can't count the number of times we've played this since opening it! I think it would make a great gift, and would be so fun to play with extended family at Christmastime!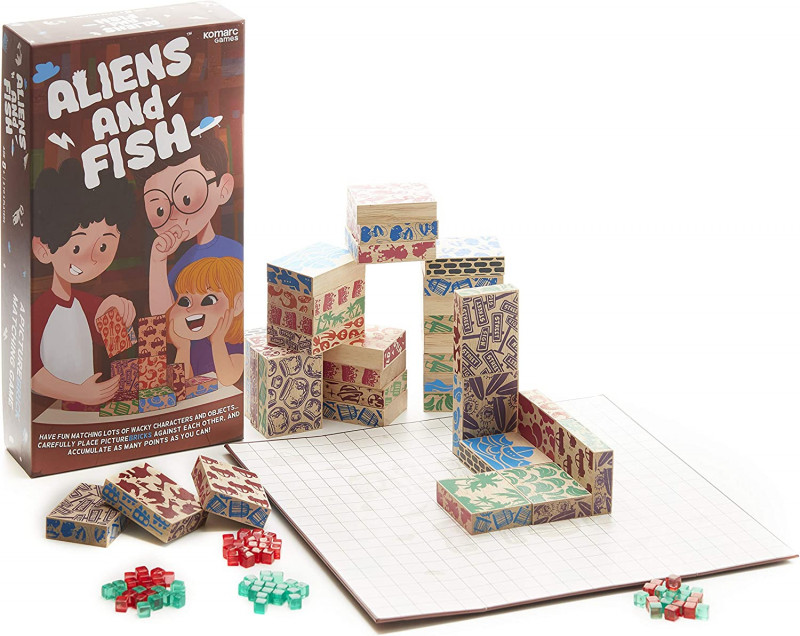 In this thinking game, players accumulate as many points as they can by carefully matching and stacking wooden picturebricks on a rotating game board grid. Each picturebrick is printed with wacky characters and objects. Aliens and Fish is the ultimate family game with lots of educational value, including spatial reasoning, image association and strategic thinking. The unique game play and silly images make this game memorable…easily a favorite for both kids and adults. The game comes in a bright colored compact box, and includes instructions, board grid, 36 beautifully printed wooden bricks, 100 mini points cubes, and a canvas bag.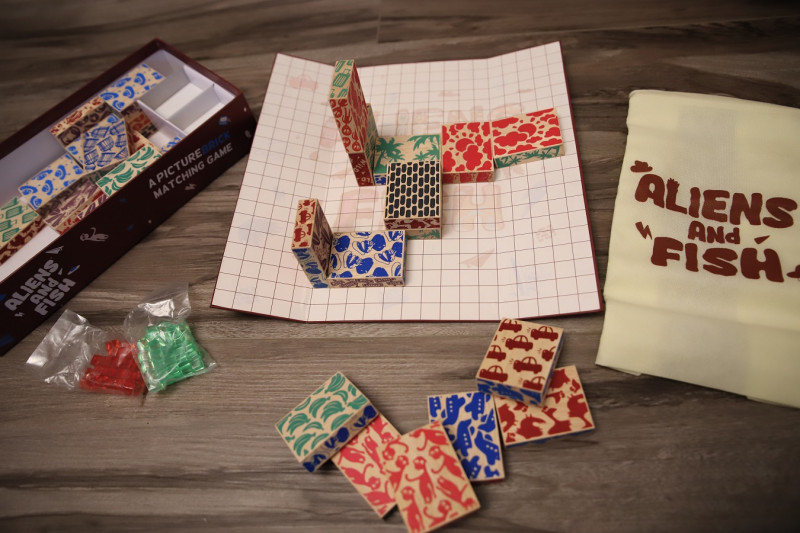 This is probably my husband's favorite game of the three we received, just because there can be so much variation in the gameplay and it's something completely different from other games we own. The kids also love playing it, and the drawstring bag makes it great for traveling with, too.
Buy it: Amazon (Clip a coupon at checkout for 50% off today!)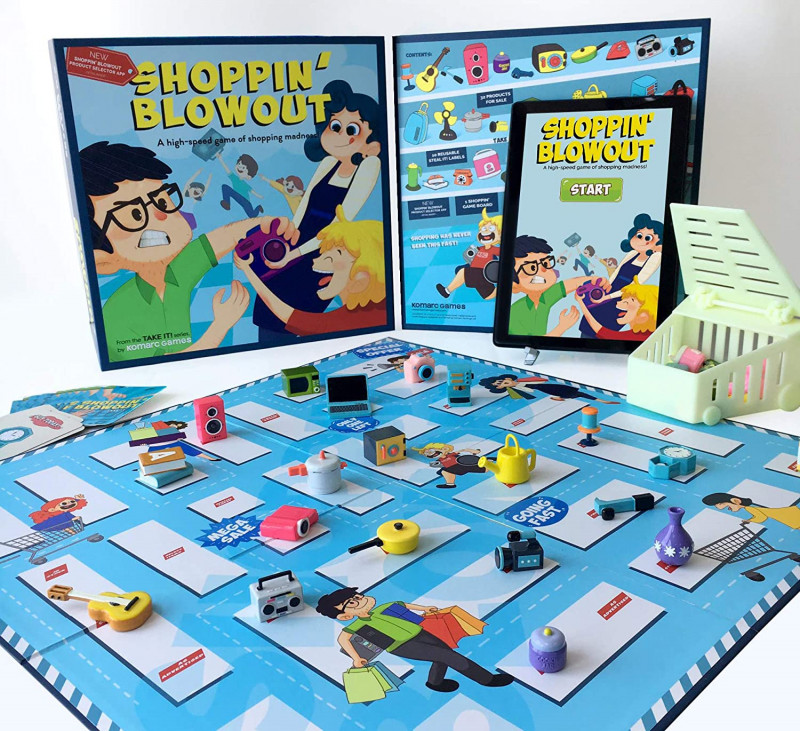 In the first game of the Take It series, Shoppin' Blowout, players stand head to head, and try to grab the item in the store faster than anybody else! After the new Shoppin' Product Selector app indicates the item to take, visually scour the board, find the item and grab it as quick as possible…before any other player! Once you see it, take it — then drop it in your cart. When there's no items remaining, the game is over. Calculate the point total from the items in your cart, and the player with the highest amount is the winner!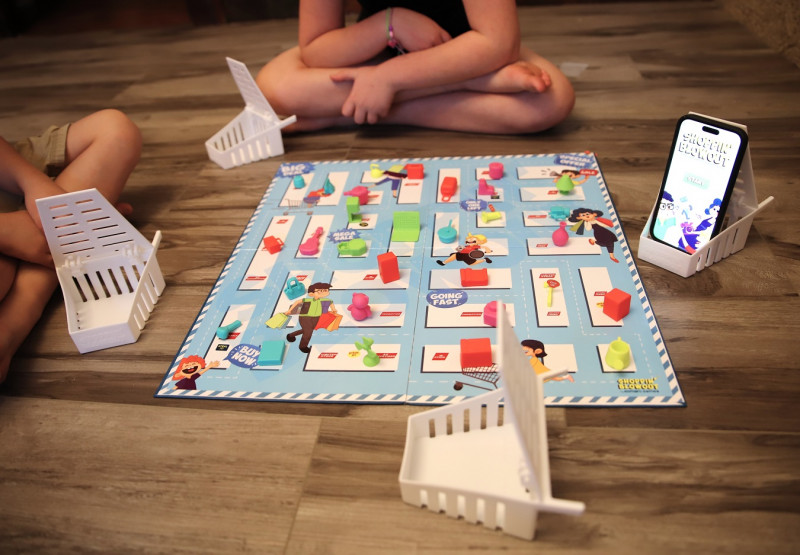 My kids absolutely LOVE this game. It's super quick and you can choose between using cards or the app on your phone to suggest the items you'll need to grab. It's a fast paced game that we really enjoy!
Buy it: Amazon – Clip the coupon for 50% off today!
These games are so much fun, and would be great to open up around the holidays and play with extended family and friends. Don't miss the great Amazon deals featuring these games as we get closer to Christmas!
WIN: One lucky reader will take home their choice of one of these three games! This is a US giveaway ending 12/20. Enter using the form below, and good luck!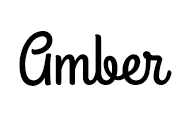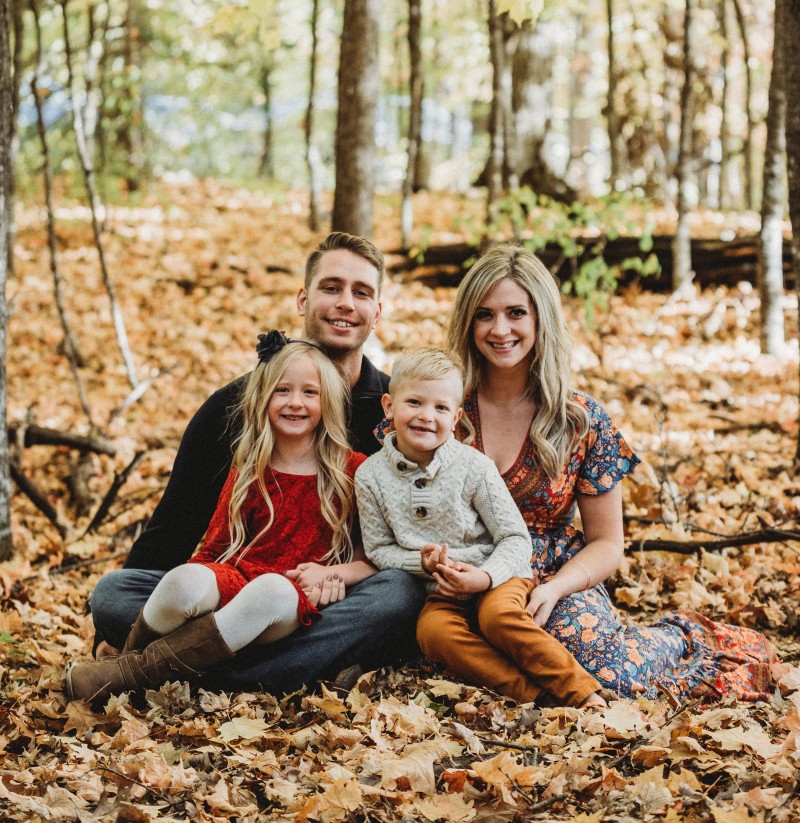 Hi there! I'm Amber, a 34 year old wife and mom of two from central Minnesota. I love to be outside with my family anywhere the weather is warm (which means I spend half the year freezing). We're a homeschooling family that loves to travel as often as possible! When I have a spare free moment, I love to read, take photos, and scrapbook. I'm interested in anything that makes life more fun; I also love socializing and sharing about my favorite products!
This post currently has 5 responses.