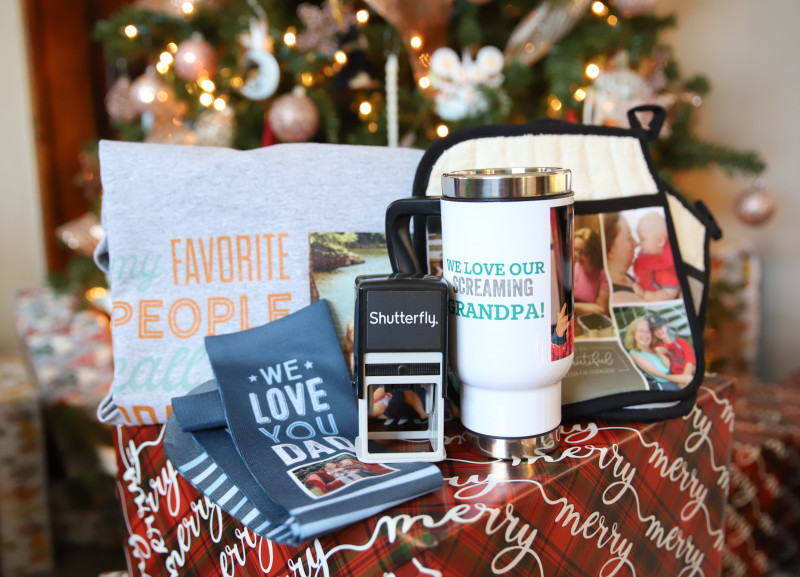 Thanks to Shutterfly for sending me these incredible custom gifts! As always, all opinions are my own.
Shutterfly has been my go-to photo printing company for years, and I've also purchased my fair share of customized photo gifts from them. They have a huge variety of custom gift options and I've loved everything I've gotten over the years. They also have some of the very best customer service! I've partnered with Shutterfly to share some of the gifts I chose this year.
Shutterfly Custom Photo Gifts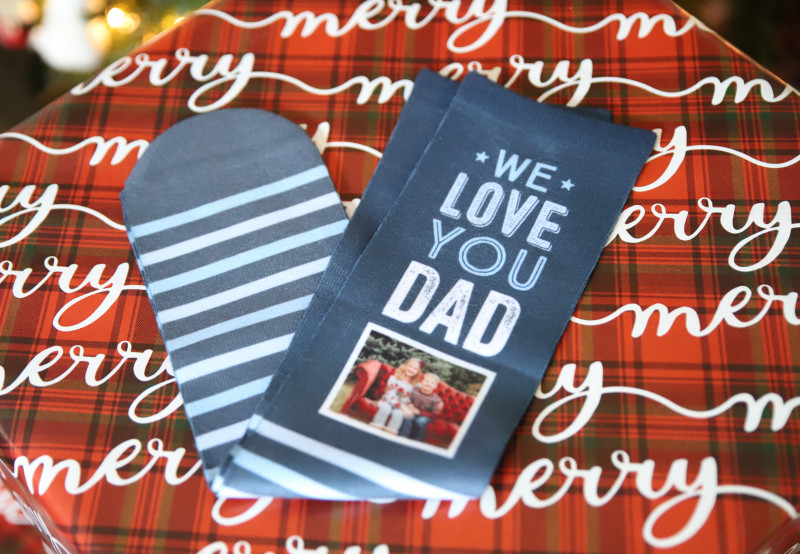 Shutterfly We Love You Dad Custom Socks
My husband is impossible to shop for but I'm pretty excited about some of the things I've gotten him this year! He loves customized gifts and proudly wears anything related to our kiddos. I picked out a pair of 'We Love You Dad Custom Socks' and put a photo of our kids from our recent Christmas photo shoot on them. In the photo my camera focused more on the writing on the socks, but the picture is clear and bright-exactly what I was hoping for.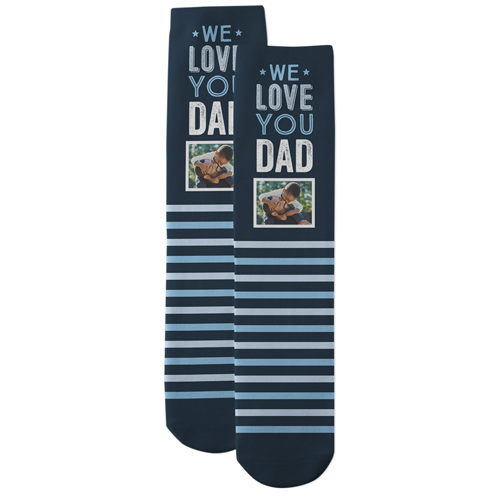 These custom socks are made from 97% polyester, 2% spandex, 1% rubber and come in two size options – medium (size 4-8) or large (size 9-13). You can customize the photo, the text on the socks, and even the colors! They're machine washable and can be dried in the dryer, too. These make a great Christmas gift or stocking stuffer! Shutterfly offers a variety of sock designs for everyone on your shopping list.
Shutterfly Regal Statement Custom Address Stamp
My sister has an affinity for office products and loves things to be neat and orderly. I thought a Shutterfly Regal Statement Custom Address Stamp would make the perfect gift for her! This is a self-inking rubber stamp so you can put your customized return address on envelopes. These stamps are available in a variety of designs and some even allow you to change the font size and style so you can make them truly unique. The included black inkpad is good for 800-1000 uses. I think my sister is going to love this, though she'll complain that I didn't give it to her before she addressed all of her Christmas cards this year!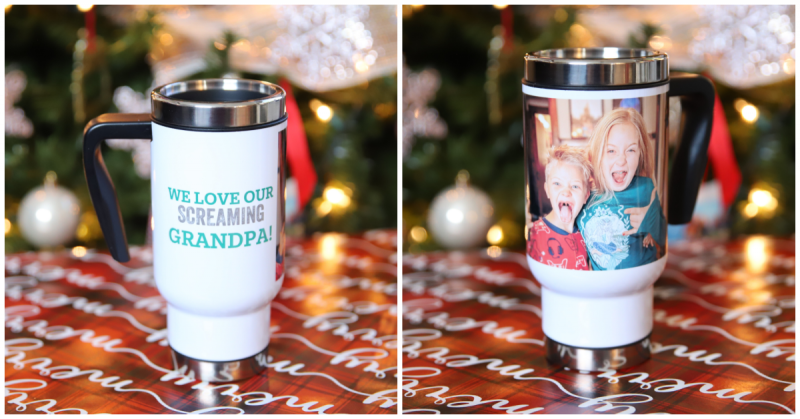 Shutterfly Travel Mug with Handle
This may look like a strange gift because it's sort of an inside joke. My in-laws live in Idaho (and we live in Minnesota) so we don't see them as often as we'd like. During one visit, our son Lincoln who was about two years old at the time, was happily screaming a lot…as toddlers do. My father-in-law said "I can scream too!" and let out a huge scream (he's a big guy-it was loud) and Lincoln thought it was the funniest thing ever. Since then, my father-in-law has been affectionately nicknamed "the screaming grandpa". I asked the kids to take a photo like they were screaming and then we put our own custom text on the side of the mug – I hope he loves it!
It doesn't matter who you are shopping for, Shutterfly will have a Travel Mug for them. With 40 pages of design options (!!!) there's something for everyone. You can choose a travel tumbler with a handle or without, stainless mugs, acrylic tumblers, and more. The travel mug I picked holds 17 ounces and has a tapered bottom to fit into cup holders. It offers double-wall construction and insulation that keeps drinks hot or cold!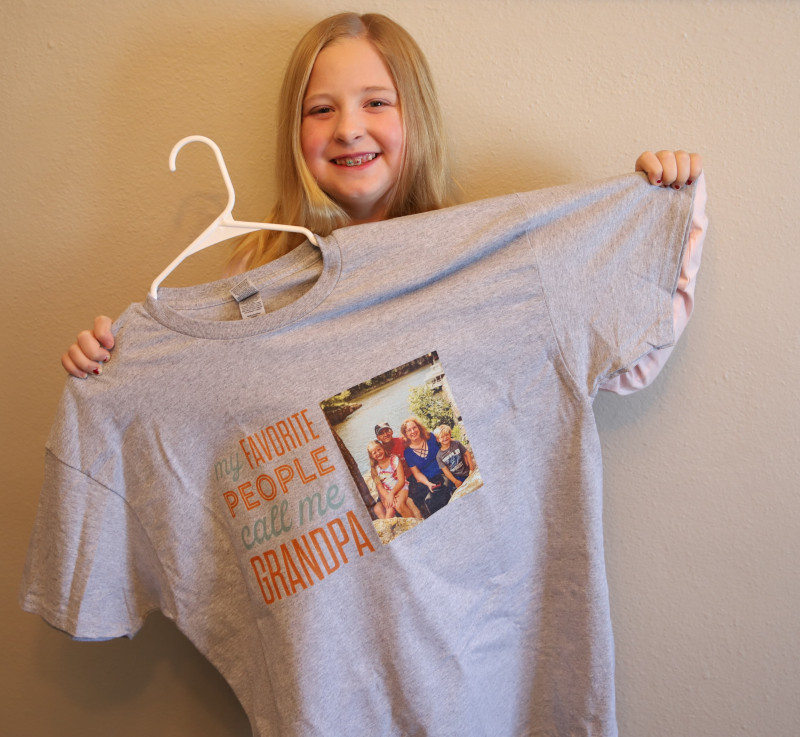 Shutterfly Favorite People Call Me Shirt
My dad is getting a shirt featuring his grandbabies this year! Shutterfly's 'Favorite People Call Me Shirt' is a great gift option because it's completely customizable. Choose from five color options and customized text colors and phrasing. The shirt says "my favorite people call me" and you get to change the final text, so you can change it to 'papa' or 'meemaw' or anything you want! My kids call my dad 'grandpa' so that's what I wrote, and we chose orange text because that's his favorite color. The front of the shirt also features a picture of your choice.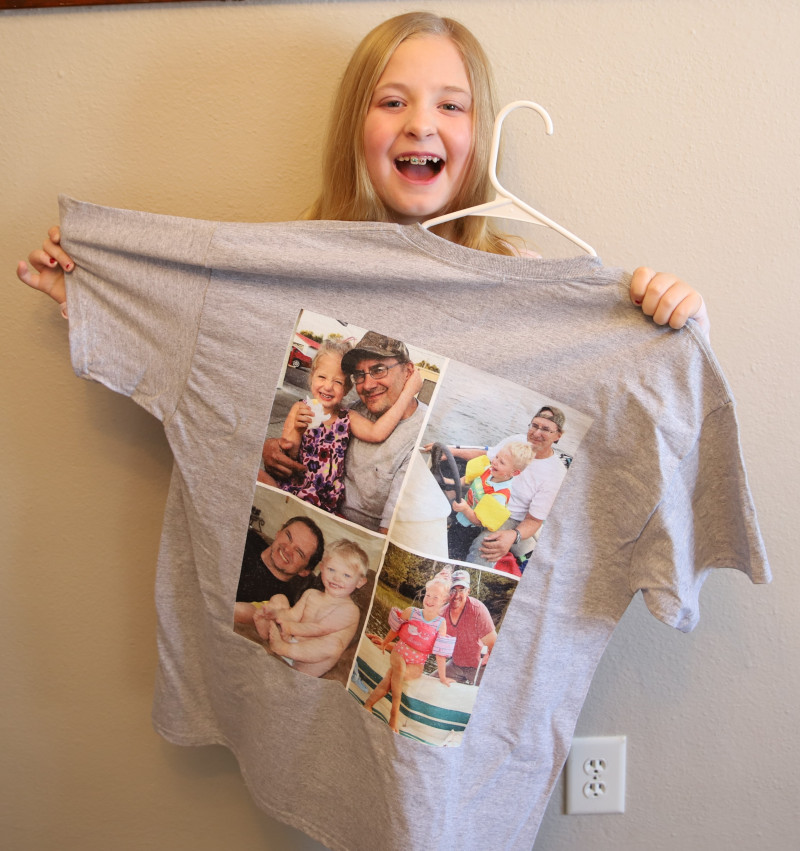 I also chose to customize the back of the shirt, but I wanted to feature a variety of photos so I made a collage and then uploaded that for the back. These are some of my favorite photos of my dad with his grandkids over the years. He wears an XL and the shirt feels like a nice-quality t-shirt. It's pre-shrunk and 100% cotton. I can't wait to see his face when he opens it! Shutterfly offers a TON of t-shirt options (and sweatshirts, too!) so keep them in mind this holiday season.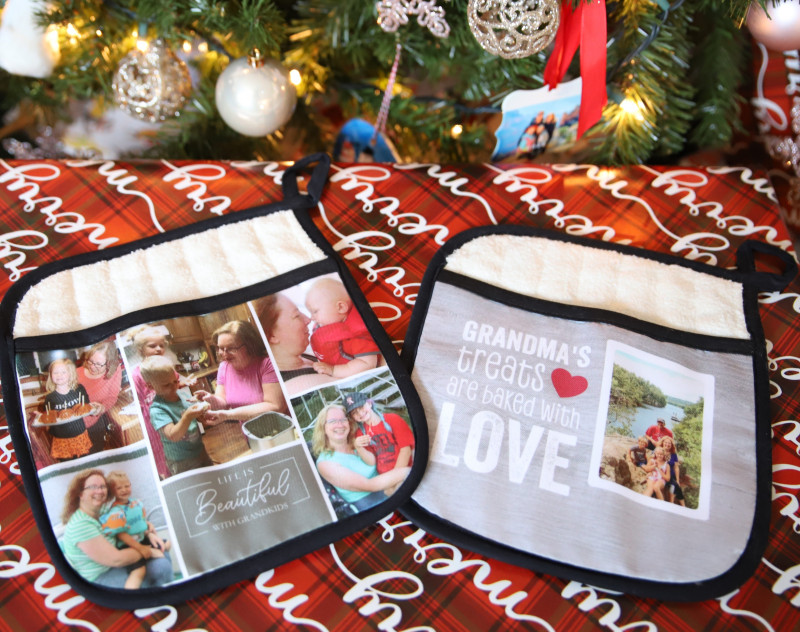 Shutterfly Custom Oven Mitts
Lastly, I noticed a month ago that my mom's oven mitts are in terrible shape. She's had them for years and they're stained and falling apart. When I saw that Shutterfly offers Custom Photo Pot Holders. Like all of the customizable photo products, these oven mitts can be changed to reflect whoever is receiving them as a gift. I chose the 'Life is Beautiful Frame Pot Holder' and changed the bottom text to say 'with grandkids'. I also picked out the 'Baked with Love Pot Holder' and customized it – you can change the "grandma's" text, the "love" text, and you can choose to put text under the photo as well! These oven mitts really are completely customizable which makes them so fun to give as gifts!
Shutterfly also offers a variety of other gift options. Check out some of my other favorites:
Calendars
Photo Blocks
Desktop Plaques
Ornaments
and more!
Visit Shutterfly soon to get your order placed and shipped for the holidays!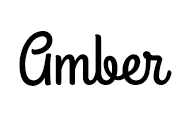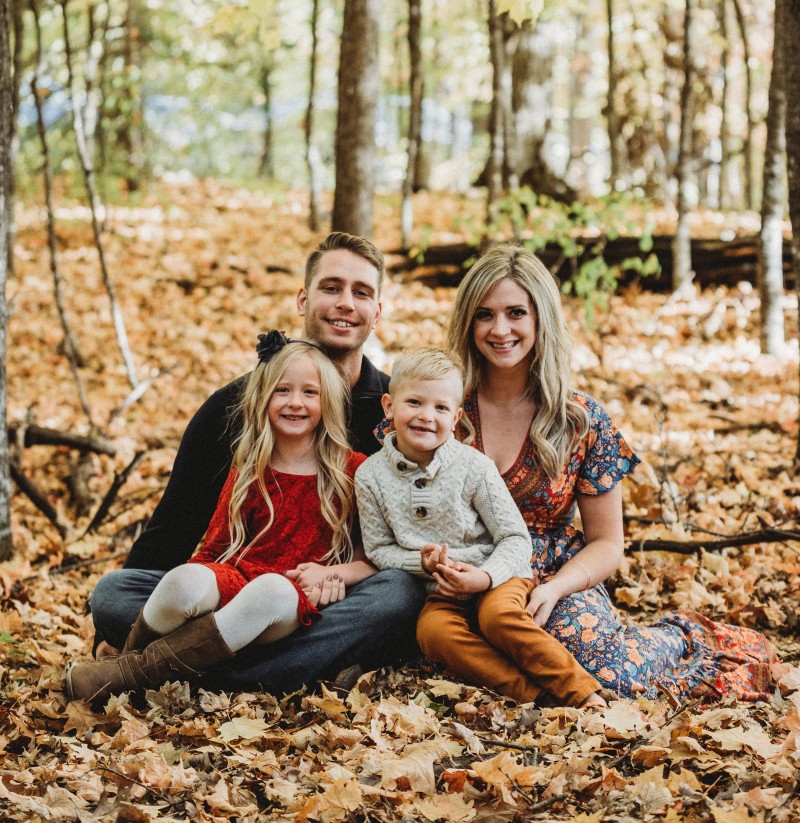 Hi there! I'm Amber, a 34 year old wife and mom of two from central Minnesota. I love to be outside with my family anywhere the weather is warm (which means I spend half the year freezing). We're a homeschooling family that loves to travel as often as possible! When I have a spare free moment, I love to read, take photos, and scrapbook. I'm interested in anything that makes life more fun; I also love socializing and sharing about my favorite products!
This post currently has 9 responses.