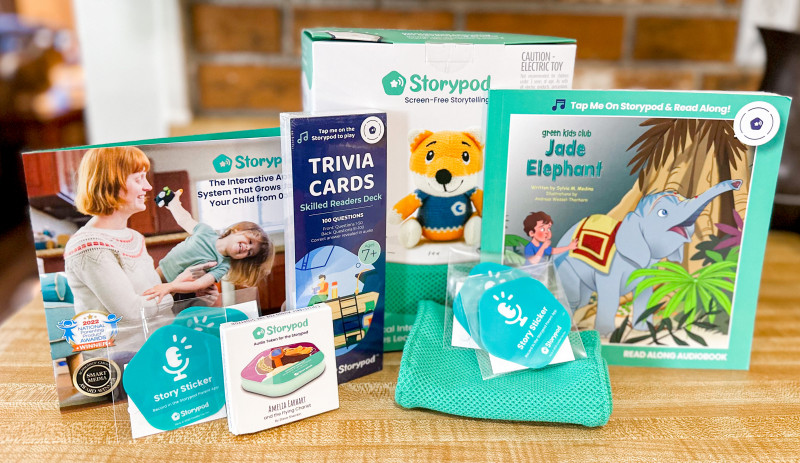 Thanks to Storypod for sending me these fun goodies! As always, all opinions are my own. There are affiliate links in this post.
As we head toward the holidays, I've been thinking hard about gifts for the younger kids in our life and what to get them that they don't already have. I love unique gifts and gifts that can be used for years at a time and passed down between siblings. When I heard about Storypod, I first lamented about how old my kids are now (because I would have loved it during the toddler years!) and then thought "what a cool gift idea!"
Storypod Interactive Audio Learning System
If you haven't heard of it, you may be wondering what Storypod is. Essentially it's a speaker for young children and it comes with accessories that help it tell age-appropriate stories, play music, and more! The Storypod Starter Set comes with everything you need to begin, including the Storypod Audio Speaker, USB charging cord, and iCraftie Owl for recording your own stories. The way Storypod works is that when you tap one of the accessories on the top of the speaker, it magnetically attaches and triggers playback of the audio content.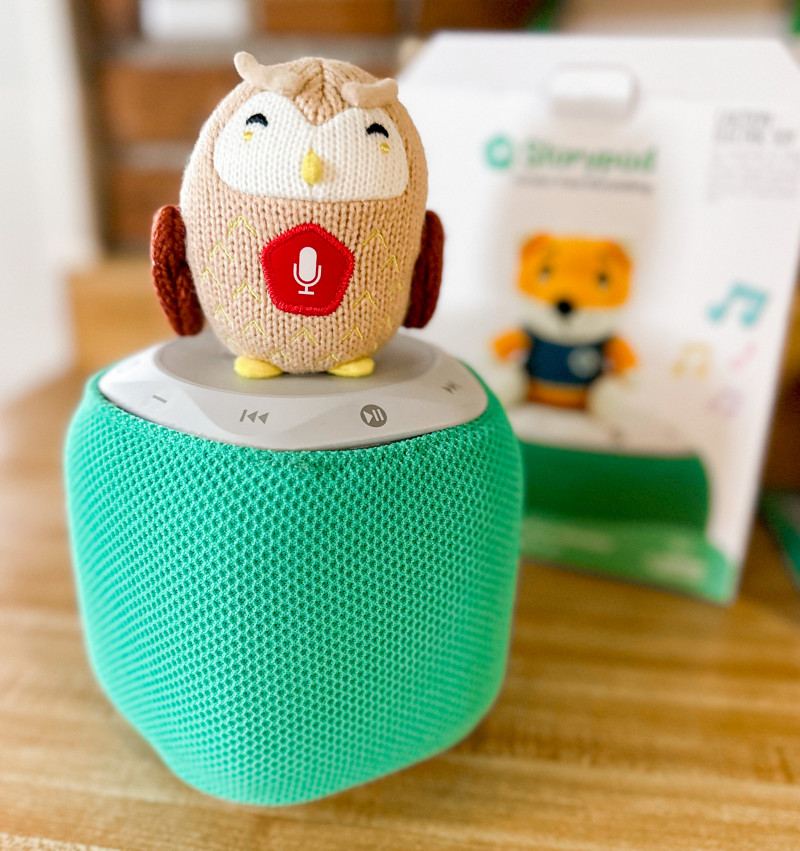 In addition to the starter set, you can choose add-ons for your collection. Some of those include iCrafties which are small plush characters. These characters tell engaging stories (many of which talk about kindness and empathy), teach fun songs and also engage learners in facts about the world, and sing lullabies that transition to white noise to lull little ones to sleep. You can also choose from a variety of sleeves to customize your Storypod!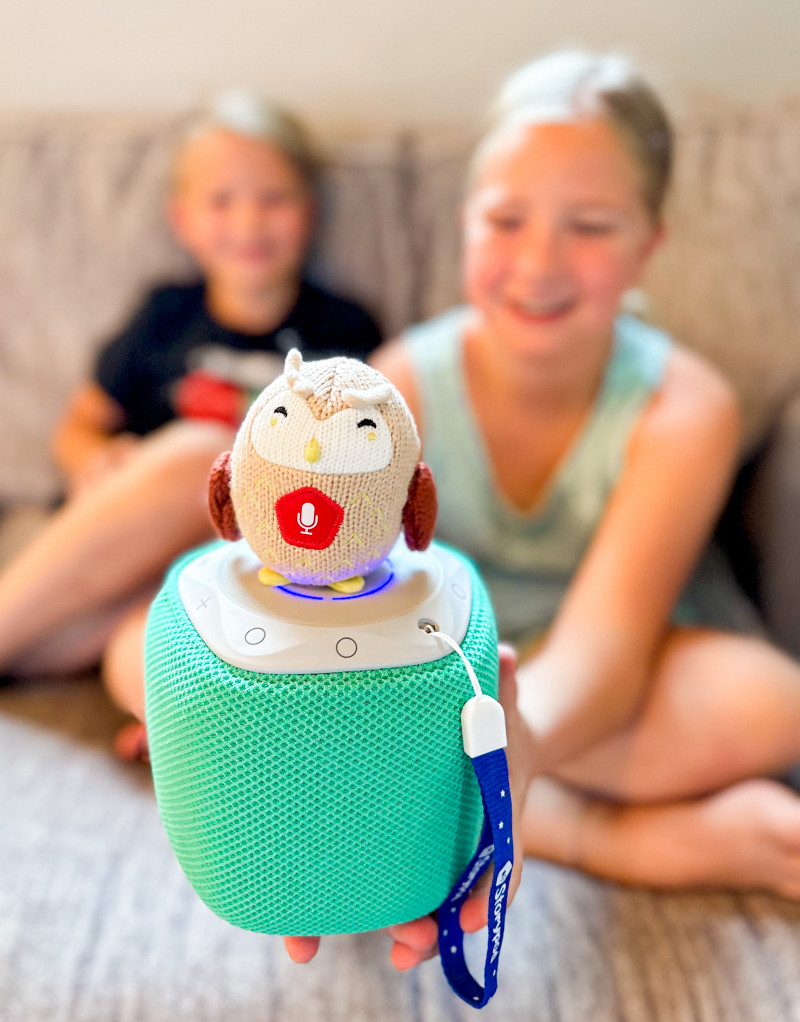 Storypod has an app where you can actually record your own content that will play on your speaker! If you have grandkids, nieces, or nephews who live far away, I just think this is an incredible option! Simply use your iCraftie or a Recordable Story Sticker and the app to record yourself reading. Then, you can put the sticker on a book and gift that to someone with a Storypod and when they tap it on the speaker, they'll hear your voice telling them the story! My mother-in-law lives in Idaho and even though my kids are 7 and 10 and above the recommended age for Storypod, they LOVE the idea of grandma sending them a story so they can hear her voice reading to them.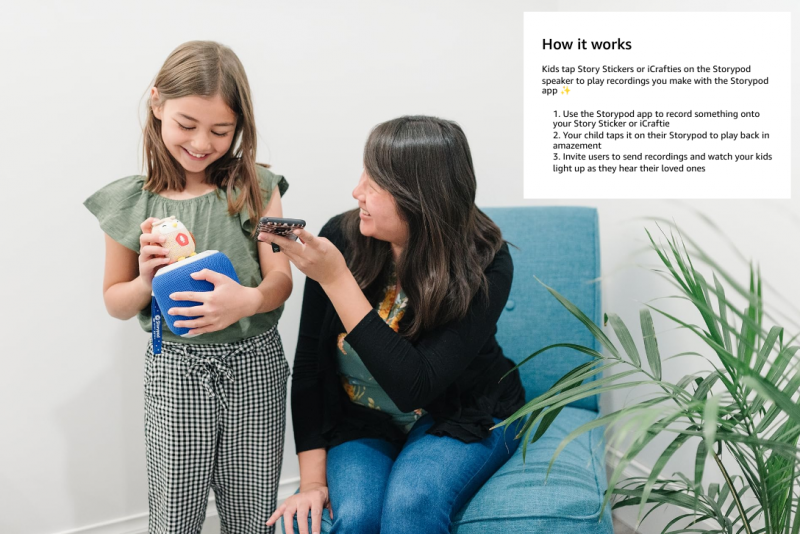 In addition to the iCrafties and Story Stickers, Storypod offers Read-Along Audiobooks that you simply tap on the speaker to listen to and follow along with. For budding readers, this is a great literacy tool! My son is seven and he is really getting a good grasp on reading this year, but he loves to follow along with audiobooks. Having his own physical copy to look at while listening to a story helps him to really comprehend what he's reading!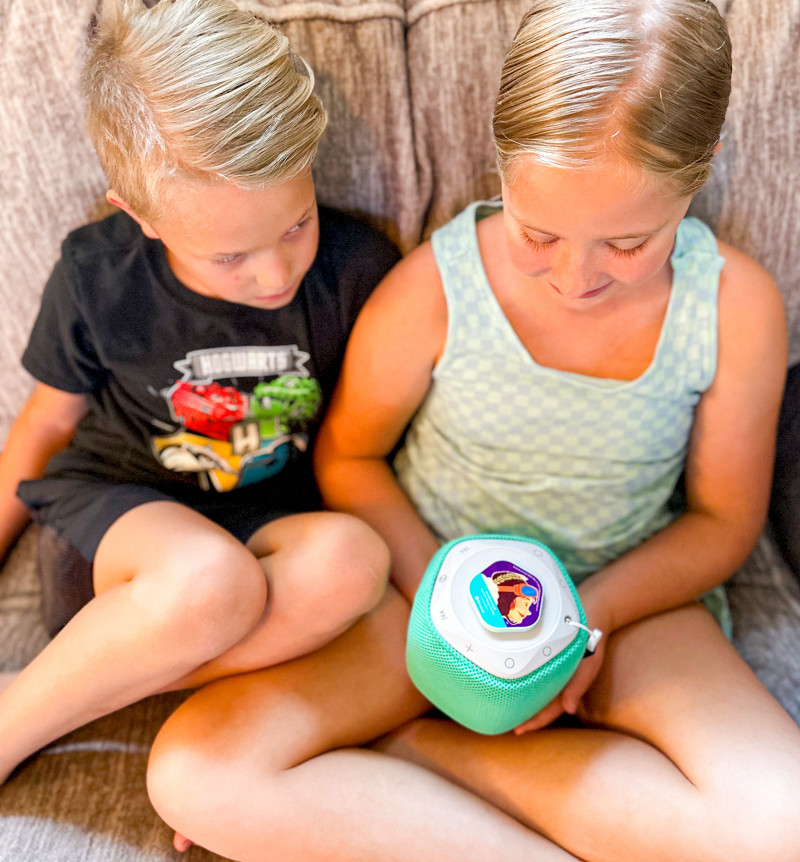 Storypod Tokens are another great way to listen to stories that take up very little storage space. They're also great to ship as part of a gift because they're so small! Just like the iCrafties and books, these tokens have a magnetic chip that you simply tap on the Storypod Speaker. The tokens have pre-loaded stories including classics, short stories, fables, and more! We love the "Ordinary People Change the World" collection in particular-these are great for older children who are learning about important historical figures if you want them to be presented in an age-appropriate way.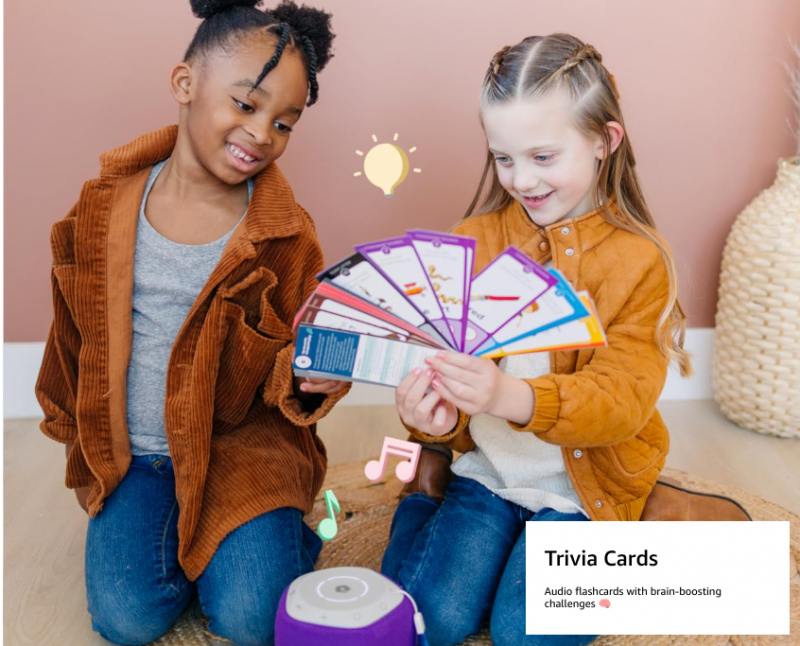 Another add-on that I love is the Storypod Trivia Card Decks! They have options for Kindergarten through 3rd grade. My son is in second grade and he has a blast trying to answer these trivia questions. We love to watch Jeopardy as a family but obviously those questions are a bit hard for a seven year old. With these trivia decks, he can learn more and have fun knowing the answers to questions!
Storypod is such an incredible screen-free gift for kids. The brand has partnered with companies like PBS Kids, Jim Henson, Highlights, and more to create an awesome experience for children of all ages. I think the recording feature is one of my favorite highlights; I could see this being so beneficial for children with parents serving in the military, family members who live far away, and even for making recordings of grandparents and great grandparents to have a keepsake for future children. You can choose from bundles by age if you aren't sure where to start, or just begin with the starter bundle and choose add-ons later.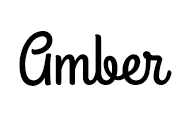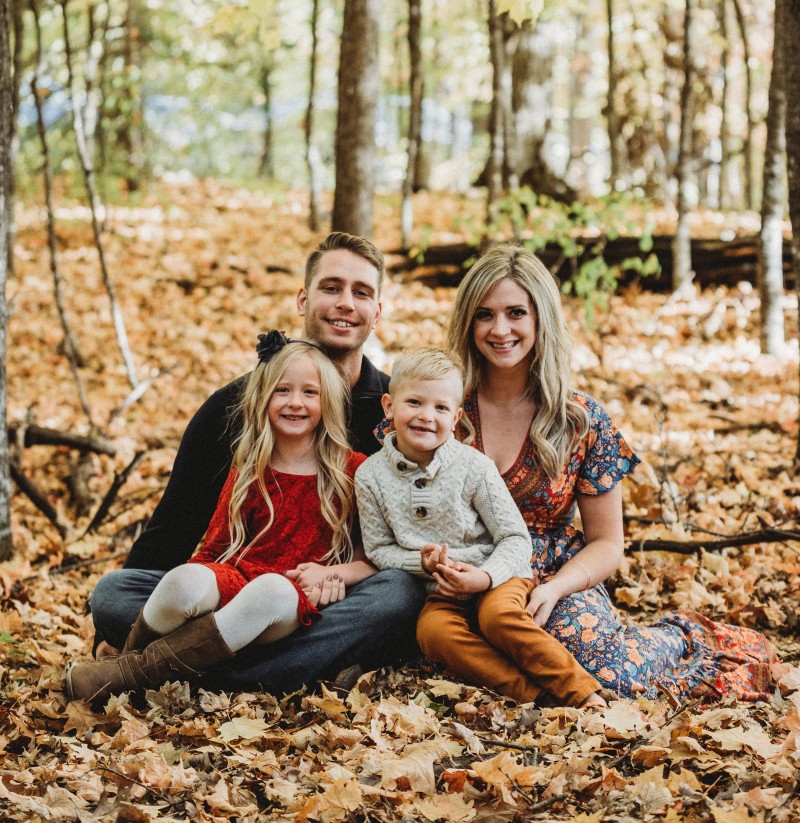 Hi there! I'm Amber, a 34 year old wife and mom of two from central Minnesota. I love to be outside with my family anywhere the weather is warm (which means I spend half the year freezing). We're a homeschooling family that loves to travel as often as possible! When I have a spare free moment, I love to read, take photos, and scrapbook. I'm interested in anything that makes life more fun; I also love socializing and sharing about my favorite products!
This post currently has 6 responses.