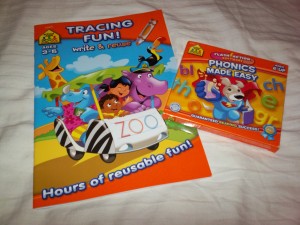 School Zone Publishing Company is one of my favorite producers of kid's educational products. They began in 1972 as School Zone Learning Center, supplying educators with schoolbooks containing a variety of lessons. A few years later, changes were made in the school curriculum (and probably budgets) that prevented the sharing of materials between school and home. Parents were left needing educational products to help teach their children. School Zone Learning Centers recognized this need and began producing a workbook specifically designed for home use. The workbook was a huge hit, selling out in just six months! Another workbook was created that was equally successful.
A few years later, School Zone Learning Center became School Zone and in 1980 they designed a whole new line of educational products for home use. Parents and kids appreciated the new playful teaching materials. Every year School Zone adds products in a variety of media forms; they currently have approximately two hundred items. For our review, we received the Mighty Mini Software and Tracing Fun! workbook.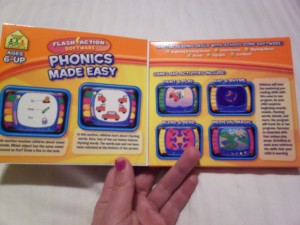 Mighty Mini software is a program designed to help teach Phonics to 6 year olds and up. When your child is learning to read, it is very important that they understand a few pre-reading skills such as individual letter sounds and the sound of different letter combinations. This can be tricky to teach since every kid has a different learning style. School Zone took this into consideration by presenting each lesson in different ways. Fun games and bright animations make learning fun with Mighty Mini software.
Savannah (5) has been reading for a while now. She really enjoys the rhyming games on the Mighty Mini software. She especially likes the game where you are asked to match a picture with a word that has the same beginning or ending sound.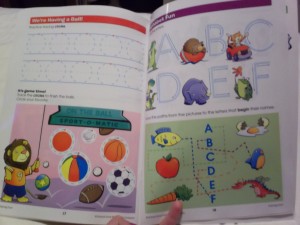 Tracing Fun! workbook helps kids ages 3-5 years old get a feel for pre-writing skills. This workbook is dry-erase, so practicing is easy to repeat. Tracing Fun! is a wonderful tool to help develop the necessary hand-eye coordination that is needed in writing. It also has bright colors and playful graphics that attract children and help make learning shapes, colors, numbers, and letters fun.
Cheyenne (3) is taking after her sister. She loves doing "homework" at the table next to her sister. This book is a great tool for us to prepare her for pre-school next year. She really enjoys writing her letters and is showing signs that she wants to learn to read them as well.
We LOVE School Zone; all of their products are very well made and my kids enjoy "playing" with them. I enjoy watching them have fun while they learn! School Zone makes it easy for me, as a parent, to participate in teaching my children outside of the classroom.
You can find School Zone on their website, Facebook, and twitter pages.

Hello, my name is Laurie. I have been married to my husband for 14 years. We have two young daughters, ages 11 and 13 years old. My family and I live in Oregon so that means we are just minutes from the beach, mountains, and desert.  We love it here and try to spend as much time outdoors playing as we can. When we aren't outside playing, I enjoy reading, gardening, refinishing furniture, and other crafts.
This post currently has no responses.