Jamberry Nails began when three sisters decided to create a product that made people smile. They came up with a nail shield that allows customers to quickly decorate their nails with fun colors and patterns. Their nail shields made high-end nail salon designs more accessible.
Jamberry Nail shields have a plethora of designs including- seasonal, patterns, charities, French tips, holidays, metallic, solids, sparkles, bridal, wild, and so many more!
For my review, I received 5 sheets of holiday Jamberry Nail shields- Christmas Red Plaid, Red White & Green Diagonal Stripe, Snowflake on Ocean Blue, Sting of Lights, and Sparkle Red.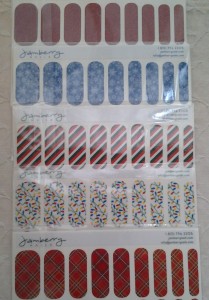 Each sheet of Jamberry Nail Shields can do 2-3 sets of fingers or toes. And unlike some polish strips, Jamberry Nail Shields will not dry out so they can be used over again.
Applications really could not be much easier.
1. Clean your nails with nail polish remover or rubbing alcohol to get rid of any oils.
2. Make sure the ends of your nails are the length and shape you want.
3. Prepare your nail by buffing the top and pushing the cuticle back.
4. Find the nail shields that will fit your size nail.
5. Peel off the nail shield and warm it with a blow-dryer for approx. 10 seconds. This will make the shield more pliable.
6. Press the warm shield onto your nail with moderate pressure making sure you get all the edges. It could be helpful to use a cuticle pusher to seal around your cuticles.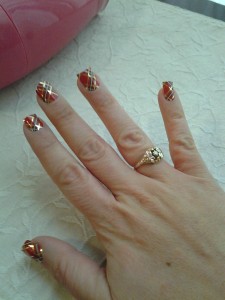 7. Trim any excess nail shield and file the end with a downward motion.
8. Use your blow-dryer to heat the nail shield again so that it seals to your nail.  Repeating this step a few times can create a tighter seal and longer wear time.
When you are ready to remove your Jamberry Nail Shields, simply heat them with a blow-dryer and slowly peal them off.
I haven't run into any problems with my Jamberry Nail Shields. They were easy to apply and remove. The designs are a lot of fun and yes, they do make me smile. I have even been asked where I had my nails done!
Jamberry Nails are on facebook and twitter.
Who are you buying Jamberry Nails for this holiday season? Jamberry Nails make super stocking-stuffers!
FIVE lucky winners will receive a special Emily Reviews prize pack. This is a US giveaway that will end on 12/14/12.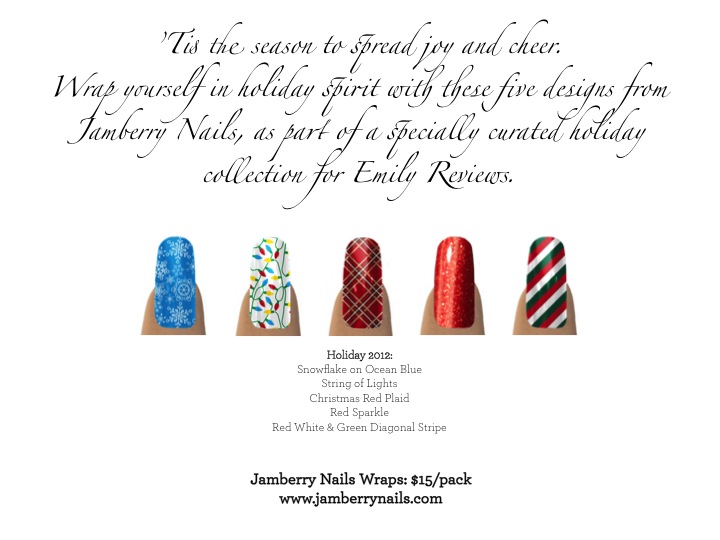 Loading Entry-Form…
…



Hello, my name is Laurie. I have been married to my husband for 14 years. We have two young daughters, ages 10 and 13 years old. My family and I live in Oregon so that means we are just minutes from the beach, mountains, and desert.  We love it here and try to spend as much time outdoors playing as we can. When we aren't outside playing, I enjoy reading, baking, refinishing furniture, and other crafts.
This post currently has 8 responses.