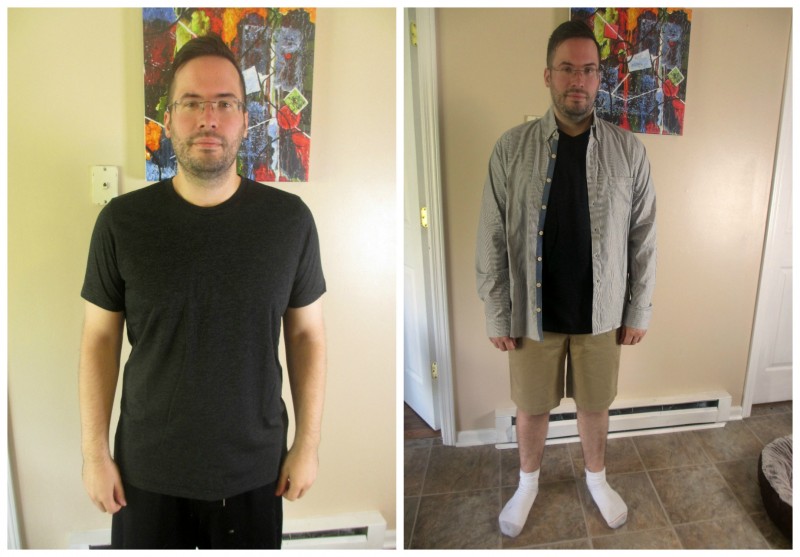 I was sent a ThreadLab box for review. There are affiliate links in this blog post. All opinions are my own.
Back in February I did a ThreadLab review with Ryan. We loved the experience so much that we wanted to try it again seems how Ryan has lost more weight and needed some summer clothing.
ThreadLab is a clothing service that is a mix between a regular order and a subscription service. You've probably heard of women's clothing subscriptions that send you a few outfits each month that are chosen for you by a stylist. ThreadLab is sort of like that, because they send you surprise clothing based on the information that you tell them. You tell them your clothing sizes, clothing color preferences, and whether you like slim or regular fit clothing. However, ThreadLab is not a subscription service. You just place a ThreadLab order when you're in need of clothing, and you won't be charged for or sent any additional ThreadLab shipments until you head back to the website when you're in need of clothing again. For men who only want new clothing a few times a year (or less) this is a huge perk.
When you're ready to place a ThreadLab order double-check that your size and style preferences haven't changed by looking over your profile. Then you simply tell ThreadLab how big of an order you're interested in. We ordered the medium size which is $149 and includes 3-5 items.
You're able to tell ThreadLab what kind of items you're interested in. For example, if your goal is to increase your wardrobe for work you can request items like chinos, dress socks and golf/polo shirts. Or, if you want more clothing for casual wear during summer you can select items like shorts, t-shirts and casual shirts like I chose for Ryan's ThreadLab.
When ordering you can choose to have the shipment sent to you as a complete surprise, or you can request to preview your box before it ships. If you want to preview your box you'll get an email with a link where you can preview what they plan to send you. If something doesn't fit your personal style, you can reject that item and tell them why you rejected it so they'll get a better understanding of your personal taste. Then they'll send you a new email when they've found another item to replace that one. Once you've confirmed all of the items then the box will ship.
I chose to check our order before it shipped. I thought all but one of the items selected would be a good match for Ryan, so I rejected the one item until it was replaced with an item that was more his style. Then I let it ship. It was so much faster than it would have been for me to try to find an assortment of clothing for him on my own. I always hesitate too much when choosing between options so this process made it much faster for us. One of Ryan's least favorite things to do is to shop, and he particularly dislikes clothes shopping so ThreadLab is a great service for men like him. I also think it's great to use in gift situations because you can return items that don't work for you. When I hand-pick an item for Ryan, he often will say he likes it when he doesn't because he wants to avoid hurting my feelings. With ThreadLab, the items were picked by someone else so if he didn't like an item he could exchange it without any guilt. ThreadLab makes returns easy by sending you a return envelope with your order.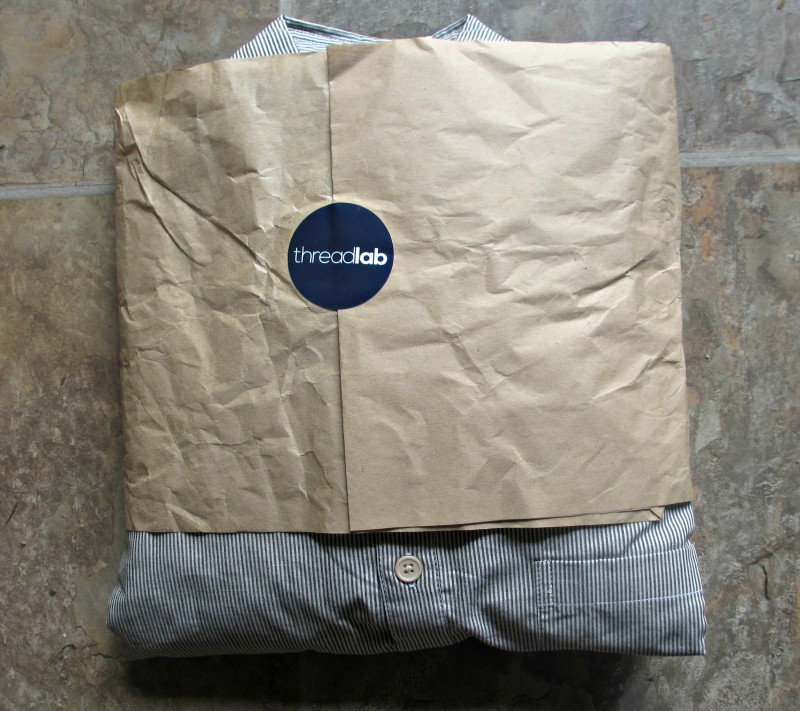 Ryan's ThreadLab included a pair of shorts and three shirts. For the most part TheadLab ships items to you directly from ThreadLab, but they do some drop-shipping as well. One of the shirts from Ryan's order was from a brand that they drop-ship with, so one shirt was sent on it's own, and then the shorts and two other shirts were sent from ThreadLab.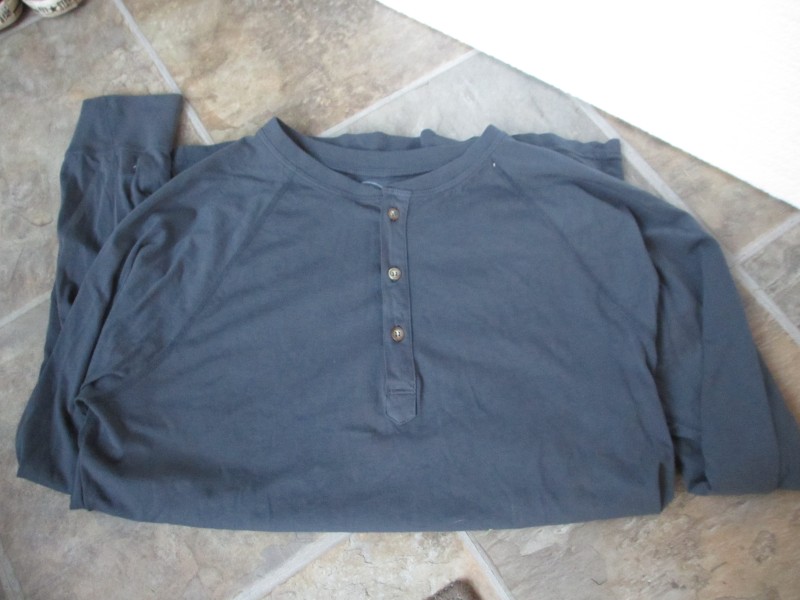 The Drop-shipped shirt was a blue long sleeved henley. It was a bit snug for Ryan's taste, but Ryan is still in the process of trying to lose weight so we'll hang onto it until he feels more comfortable about how it fits him.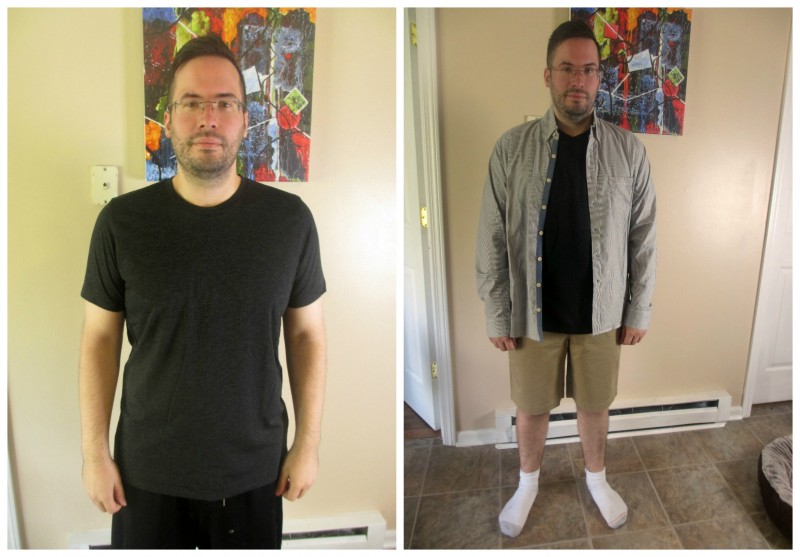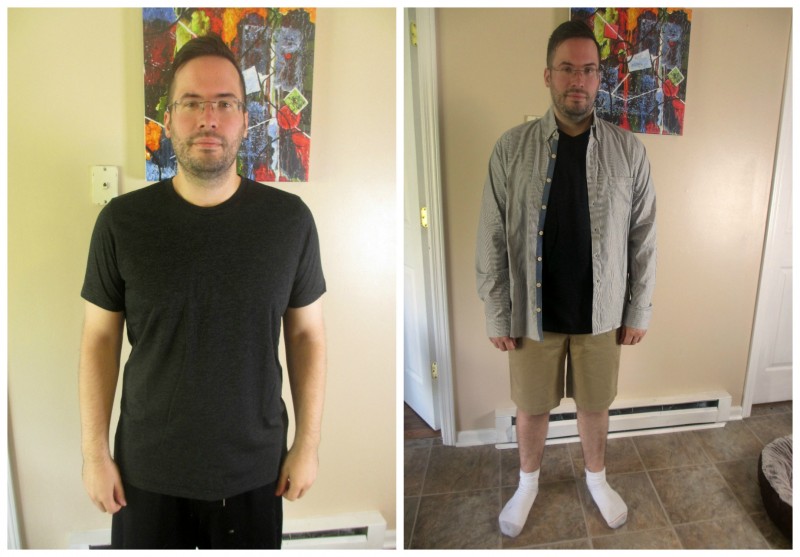 PS – the button up shirt is not too big. It looks a little baggy because it's not buttoned. 
The shorts included were perfect for Ryan's style as they are basic, knee-length khaki colored flat-front shorts. These will definitely be a staple clothing item for him this summer. The t-shirt that he sent has a bit of a unique design to it, I think. With many t-shirt brands Ryan finds that if the shoulder seam hits on his shoulder, then the belly area is too tight and the shirt is too long. So a lot of the time he wears t-shirts where the seam hangs just past his shoulder so that it fits well. This shirt fit perfectly across his shoulders and had a pretty comfortable fit in his belly and chest so it quickly became a favorite of his. The last shirt was a long-sleeved shirt that has white and blue vertical stripes. I don't think Ryan has ever owned a shirt with vertical stripes but we both liked it, it fits well and it will definitely get worn.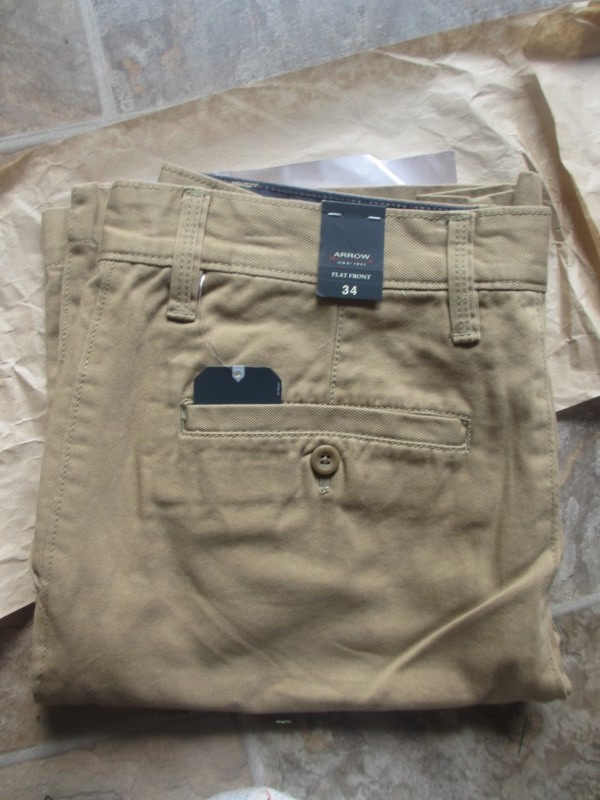 We were both really happy with his ThreadLab order. It was nice to have a quick and easy shopping experience and to get some clothes that we wouldn't have found otherwise.
Buy it: Purchase from ThreadLab after using any of the links in this blog post and you'll get $20 off your order. Shipping is always free!
Win it: A $100 ThreadLab gift card, which is enough to cover the 2-4 item ThreadLab box which is $99 with free shipping.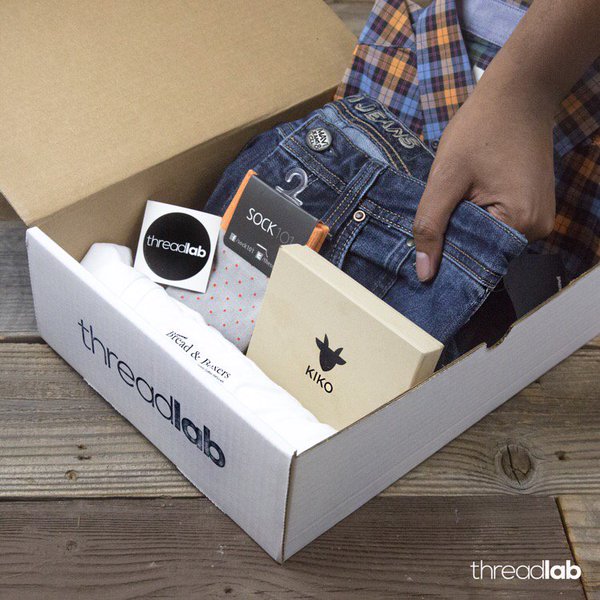 To enter: Fill out the GT form below by 11:59pm EST on 6/15/2016. Giveaway is open to the US.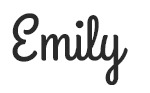 Hi there! I am Emily Evert, the owner of Emily Reviews. I am 28 and live in a small town in Michigan with my boyfriend Ryan and our two pugs. I have a large family and I adore my nieces and nephews. I love reading memoirs, and learning about child development and psychology. I love watching The Game of Thrones, Teen Mom, Sister Wives and Veep. I like listening to Jason Isbell, John Prine, and other alt-country or Americana music. I created Emily Reviews as a creative outlet to share my life and the products that I love with others.
This post currently has 7 responses.