I was sent a shipment from Nadine West for review. There are affiliate links in this post. All opinions are my own.
My December Nadine West package had 9 items in it, making it my biggest to date. If you are new, be sure to go back and see some of my past Nadine West reviews. In a nutshell, Nadine West is a company that sends affordable clothing to you monthly or bimonthly. They send items based on a style profile that you fill out which explains which styles, colors, patterns, etc you like as well as the sizes you need. You get to try everything on at home, and they send a prepaid mailing label so you can return any items you dislike or that don't fit. You're only charged for the items you keep, making this a fun way to try out clothing and accessories in the comfort of your home.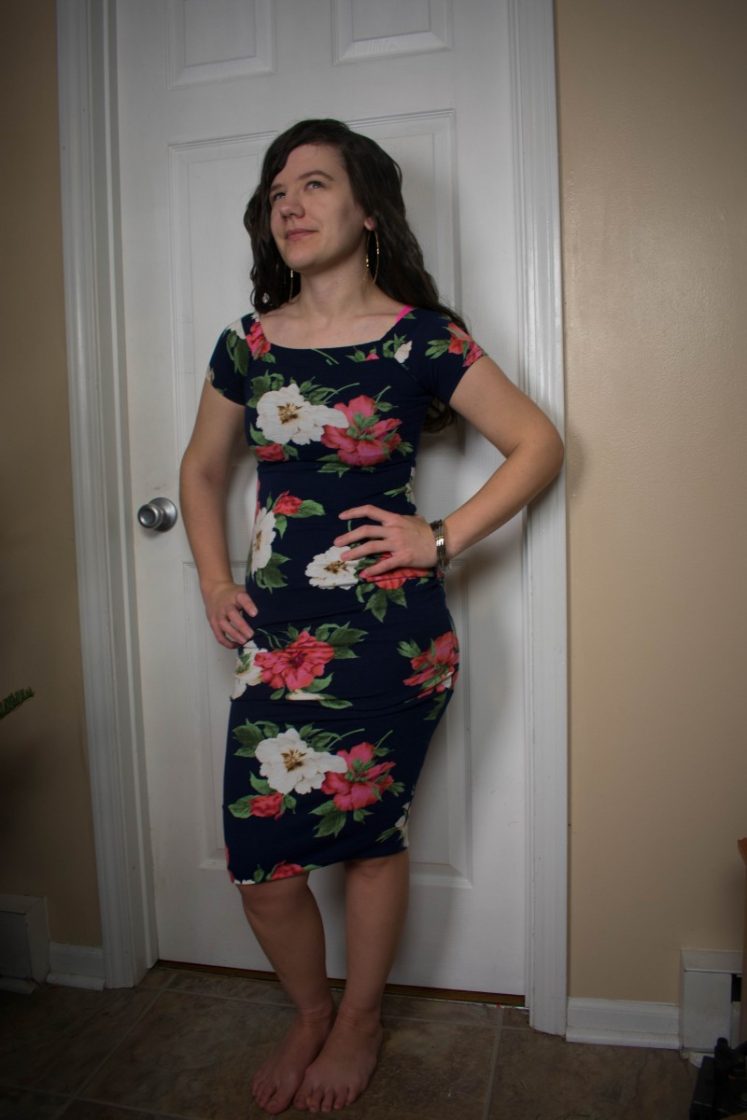 I was surprised to see this floral bodycon dress in my shipment because a couple of months ago I edited my style profile to no longer include florals. I do like florals, but they had been sending me a ton of floral items. I do really like this dress, though! It is intended to be snug because it is a bodycon but I'll feel more comfortable in it once I get rid of the 5 pounds or so that I've gained over the past few months. I'm almost needing a bigger size in clothing than I used to. Still, I was fairly happy with the fit of this. It has two layers of fabric which makes it sort of wrinkle or pucker in certain areas which I like because it adds a texture almost, then there isn't that pressure to have a super sleek look that would highlight the tiniest of imperfections. I am only 5'1″ so on most women this would end a bit higher, slightly above the knee. This is $29.99 to keep which was the most expensive of the 9 items I was sent this shipment.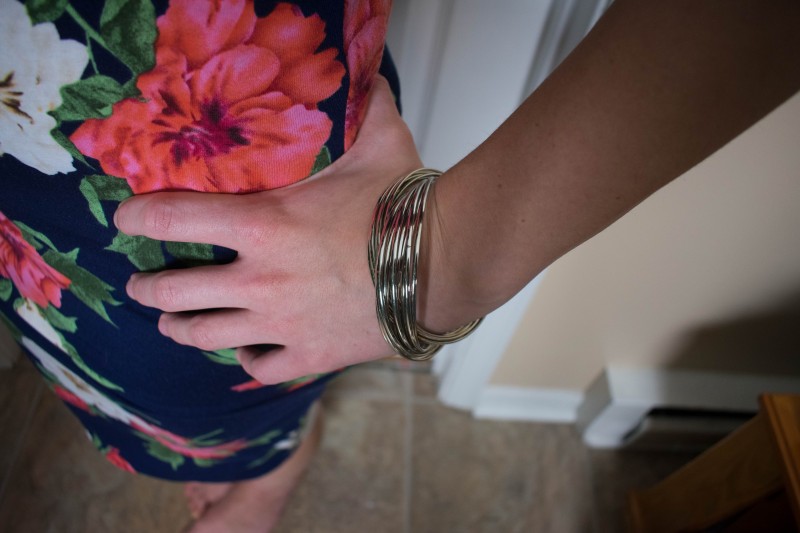 This bracelet is designed to look like many but it's really just one. I have my style profile set to say that I like both gold and silver-toned jewelry but I almost always get sent gold, so I was excited to see a silver piece. This bracelet is just $7.99 to keep and I think it would work with almost any outfit. An easy 'win' for me!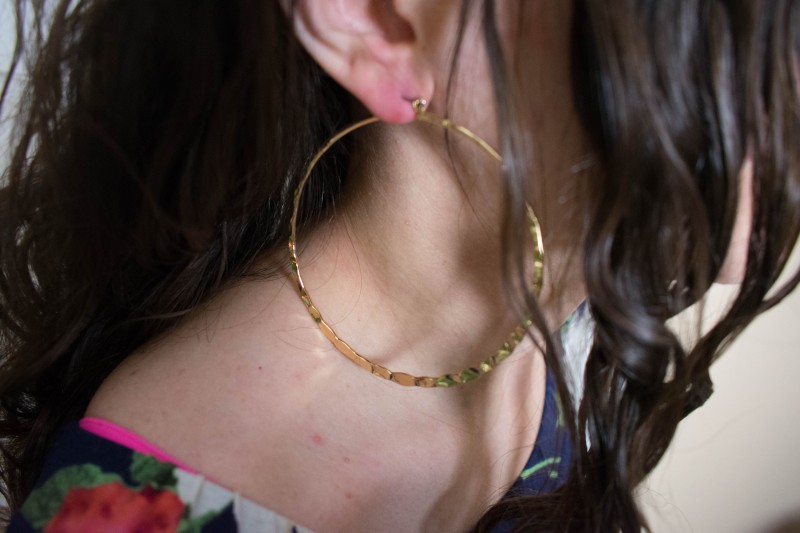 I tend to wear pretty small earrings, so these aren't really my style. They are very big, extending from my ear down to my shoulder. They are also pretty heavy so they made me ears hurt pretty quickly. These aren't a win for me but that's okay, I don't expect to like every item every month. They are $8.99 to keep.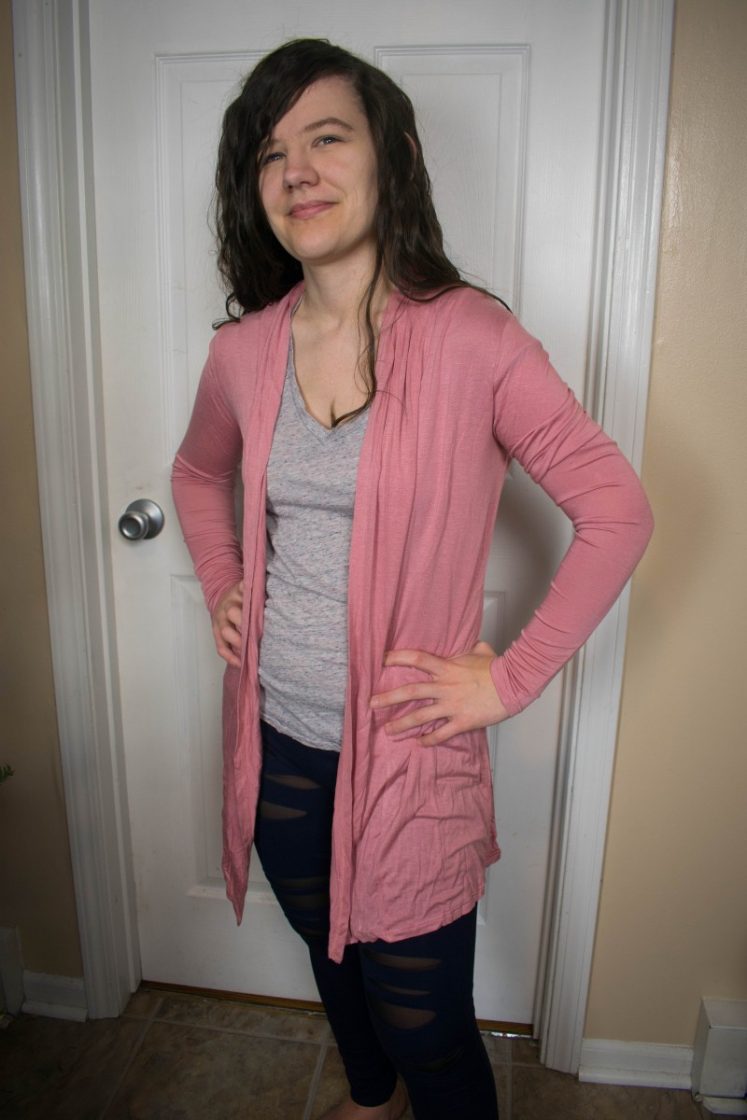 I wouldn't be opposed to earing cardigans every day from fall through spring. This one is light, more like shirt material but stretchy so it fits over another shirt without a problem. I think this pale pink is pretty and I'm all for wearing pretty colors this time of year when it's so dull looking outside. This is $23.49 to keep.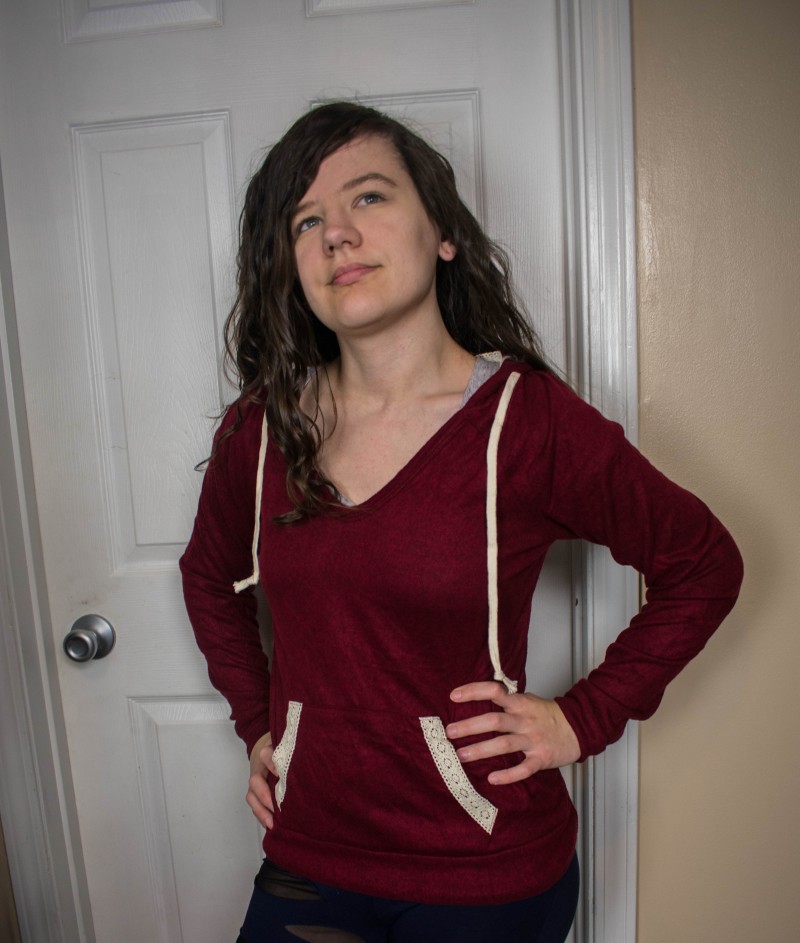 This hoodie is my favorite item this month. I love this deep red color and the lace detail around the pouch and hood. It's a slightly fuzzy feeling material that makes me feel so cozy! It is a thinner material for a hoodie, sort of like a mixture between a top and a hoodie, which I like because it makes it less bulky than your average hoodie which makes it a bit more feminine in my opinion. This was sent to me in a medium, a size bigger than is on my profile. In the past, Nadine West has sent me larger sizes for items or brands that are sized small. This feels like it fits a bit bigger than it realyl needs to, so I think a small would have fit fine but the medium is okay too. It was just my first time feeling like they sized me up when it wasn't truly needed. It has a v-neck so a regular crew-neck top would show through, my v-neck shirt poked through a bit.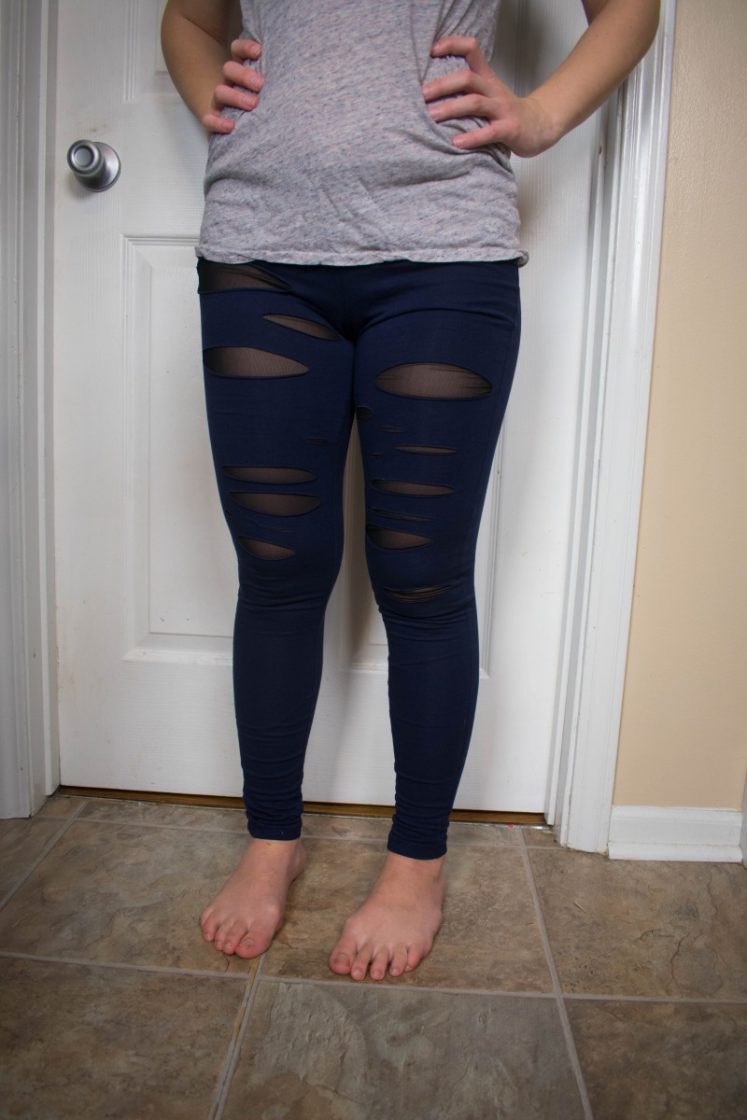 If I'm home, there is a 90% chance I'm wearing leggings. So, I'm always happy to get leggings in my Nadine West shipments! This is my first pair that have a destroyed look like this. These fit well for the most part but the top waist area seems higher than the back which is a bit odd, but I just fold it down when wearing them. The blue layer has holes and there is an inner layer of mesh underneath. As you can see, there is excess material that gathers at my ankles but I am 5'1″ and still have disproportionally short legs. I can never find bottoms that fit length size so that's me, not these leggings. These are a bit thin and I can tell they aren't higher-end, but the quality doesn't seem bad for the price. They are $12.99 to keep.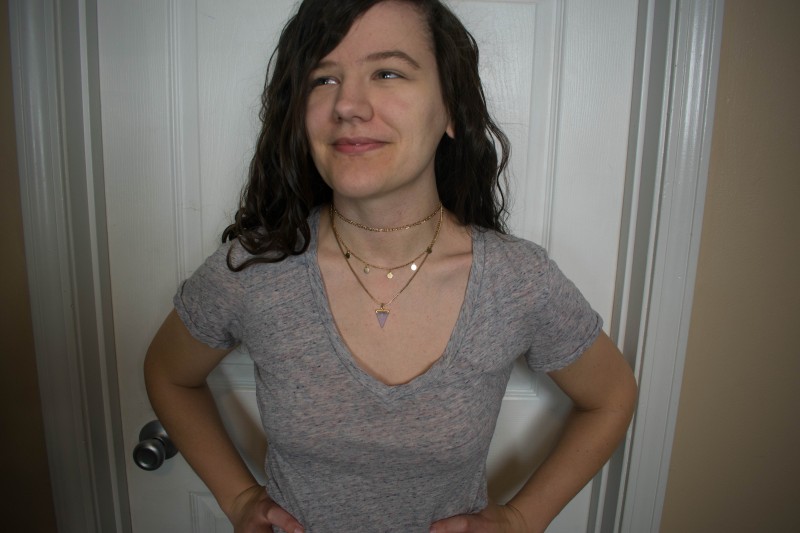 It doesn't go well with this top, but I really like this necklace I was sent this month. It's got that 3-in-1 look going on which I really like the look of. It is $21.99 to keep.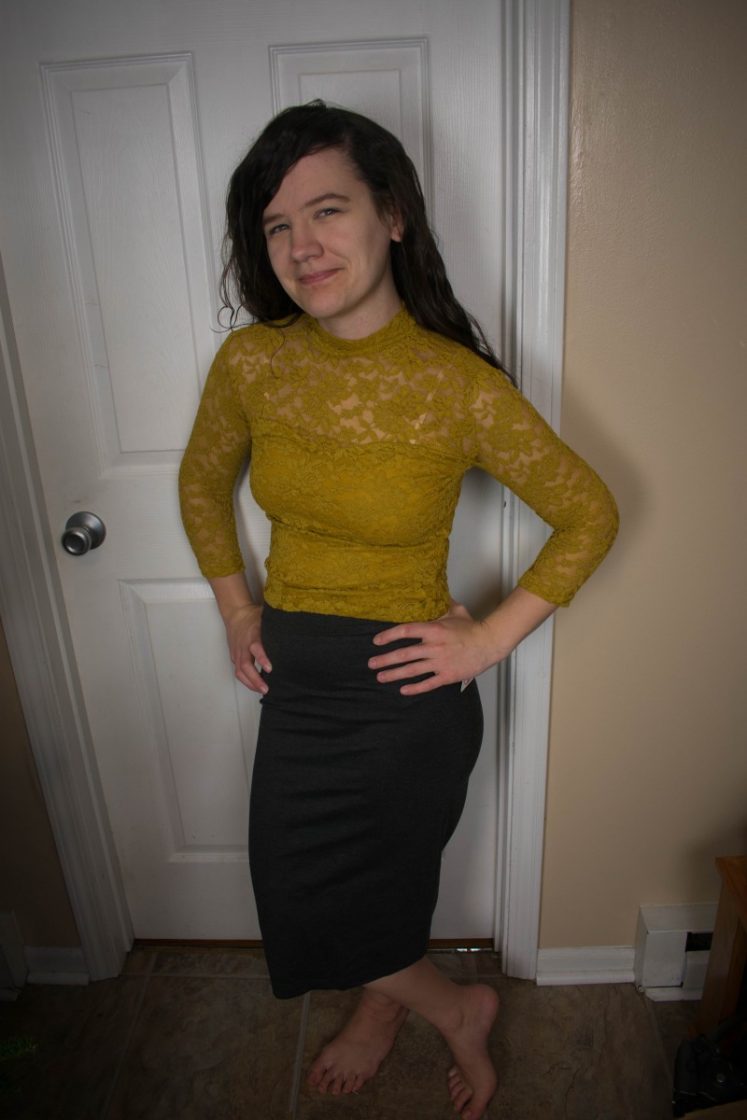 This skirt is a bit long on me, and this is with it hiked up to my natural waist. I work from home so I don't have much use for pencil skirts anyway. It feels well made but it's a pass for me. It is $17.99 to keep.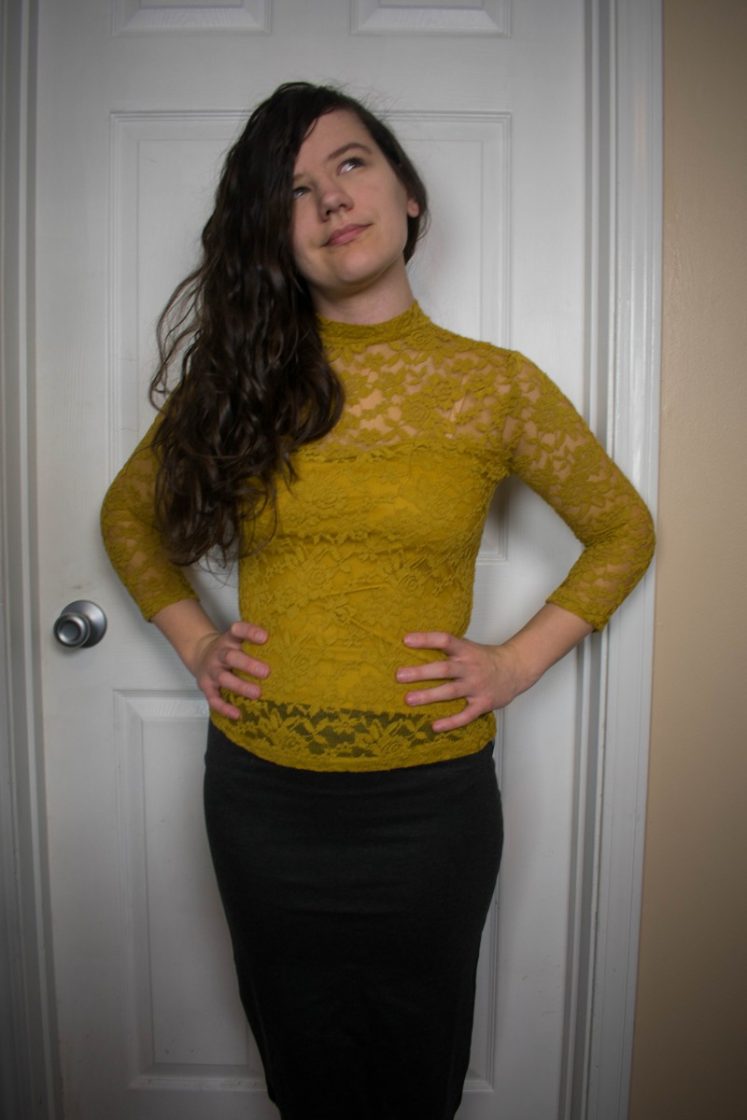 The style of this lacy top is not something I would normally try on in a store. However, I like lace so I thought this peice was a great one to try on to see if I could stretch my comfort zone a bit. Yellow is one of my least-favorite colors but I think I may have liked this if it were a different color. A small downside for me is how the shoulders and arms are lace, so any sort of bra strap would show up under this. The underlayer is a bit short and tends to ride up as well. Ultimately, I won't be keeping this in my wardrobe but it was one I was happy I got to try. It is $24.49.
Out of the 9 items, six were "wins" this month! I think this makes this shipment one of my best from Nadine West yet. I love how each month I get to give my feedback on each item so they can keep learning my style. Or I can always edit my style profile to change what colors, styles and what types of items I'd like to keep.
Head to Nadine West to fill out a style profile and see what they send you!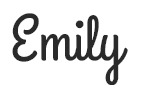 Hi there! I am Emily Evert, the owner of Emily Reviews. I am 25 and live in a small town in Michigan with my boyfriend Ryan and our two pugs. I have a large family and I adore my nieces and nephews. I am a calorie counter who loves soda. I budget to save money so I can spend it on my dogs. I love reading memoirs, and learning about child development and psychology. I love watching The Game of Thrones, Teen Mom, Sister Wives and Veep. I like listening to Jason Isbell, John Prine, Kris Kristofferson and Blue October. I created Emily Reviews as a creative outlet to share my life and the products that I love with others.
This post currently has 6 responses.