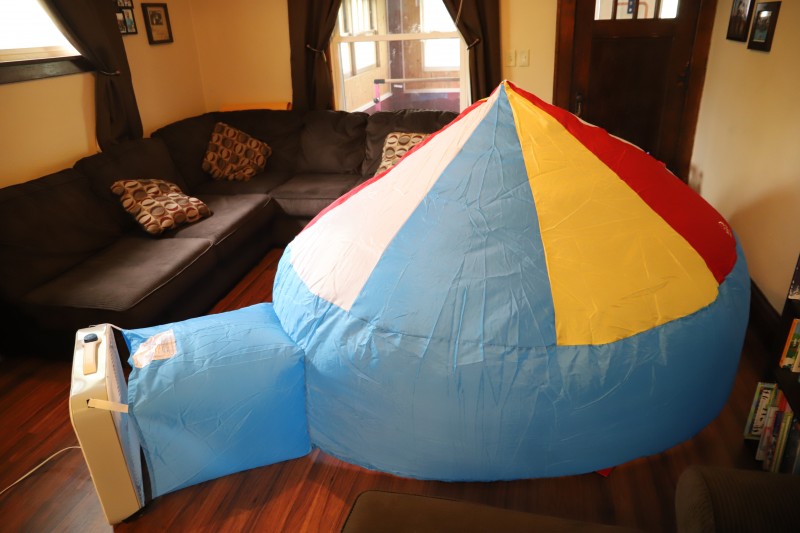 Thanks to AirFort for sending me product. As always, all opinions are my own.
Do your kids love building forts? My kids (ages three and six) can absolutely not get enough. That being said, sometimes I'm the "mean mom" who needs her cushions to be ON the couch and not heaped around the living room covered in blankets. When I heard about AirFort, I knew it would be the perfect fit for our family because it goes up and down in just seconds! That means I can be the "cool mom" and let my kids have their fort time and then take it down before bedtime.
The Original AirFort
With no assembly required, the AirFort makes setting up forts as simple as can be. You just attach a box fan to the front of the fort, and within seconds it's inflated! Kids can climb under any side of the AirFort and play in the very spacious 6.5 foot diameter, 4 foot high enclosure. It's roomy enough for multiple kids (and parents!) to play inside.
The no floor design means you don't have to worry about spills or kids getting frustrated about the floor shifting. There are viewing windows so kids can see out, and a mesh divider that prevents access to the fan. This was a huge relief for me as I wondered how to teach my defiant toddler NOT to stick his fingers into the fan. With the AirFort, he doesn't have access!
The AirFort is great for sleepovers and play dates because it's so large but also private. Anybody else's kids try to hide out with their friends as far away from the adults as possible? That's what my six year old daughter does every time we have friends over! The AirFort gives them a place to play that's away from the adults but still within earshot, which I appreciate. It also gives the kids something to do besides sit in front of a screen, which is also a huge win in my book!
The AirFort is such an innovative new product and I wish it had been around when I was a kid! I remember the frustration of trying to use chip clips to hold up sheets and how disappointing it was when our fort didn't come together like we wanted it to. The AirFort eliminates those issues and also makes set up and clean up so much easier for parents! You'll be thrilled to learn that it folds down in seconds and can be safely tucked into the enclosed bag for storage. All in all, a great gift idea and a fun product for kids of all ages!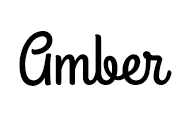 Hi there! I'm Amber, a 30 year old wife and mom of two from central Minnesota. I love to travel and to be outside with my kids anywhere the weather is warm! When I have a spare free moment, I love to read and scrapbook as well as binge-watch Netflix long after the kids are asleep. I drink too much Caribou Coffee and have a real sweet tooth but also try very hard to consume organic foods and use eco-friendly, fair trade products as much as possible. I also love socializing and sharing about my favorite products!
This post currently has 4 responses.