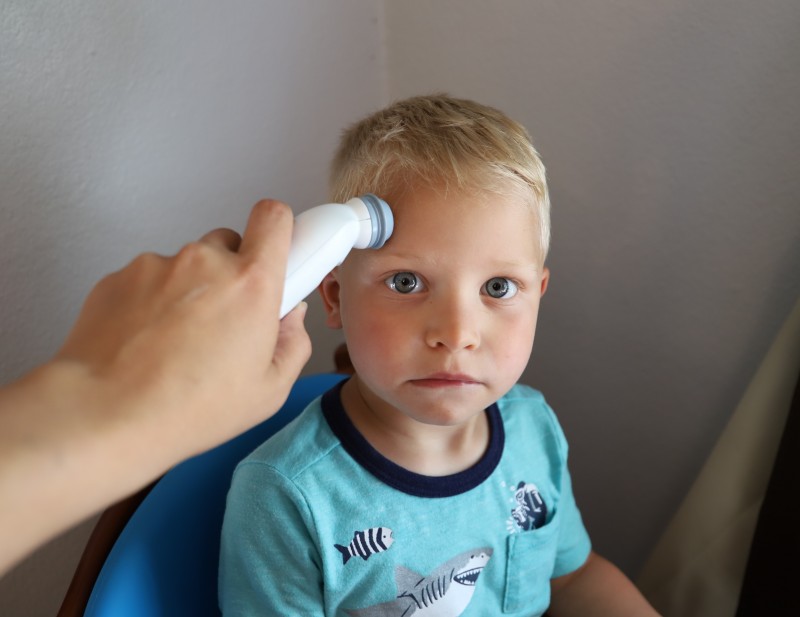 Thanks to Exergen for sending me this temporal scanner. As always, all opinions are my own.
Back to school is right around the corner, which unfortunately means kids will start bringing home germs and illnesses from their classmates. I wish it wasn't the case, but it seems that every year illnesses peak in the fall and winter once kids are back together. And while it's great to build their immune systems, it's definitely no fun to experience your kids being sick! Exergen makes dealing with these illnesses a little easier with their SmartGlow Temporal Scanner. Recently our family got to try this thermometer and I'm sure we'll be utilizing it more as we head into the back to school season!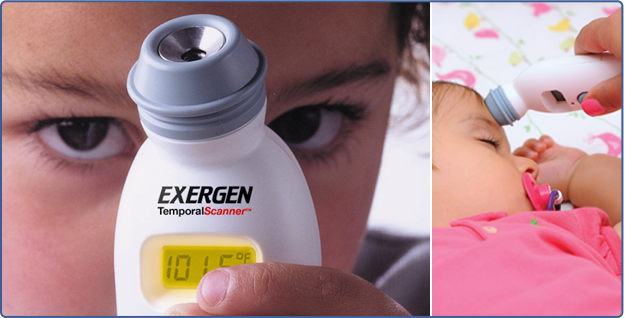 Exergen SmartGlow Temporal Scanner
We only had oral thermometers growing up, and I've used an oral thermometer with our kids in the past, too. However, I'm sure if you're a parent you know how tricky that can be. First of all, when kids are young it's hard for them to keep the thermometer under their tongue, especially for the long three minutes it takes to measure a temperature. We've used the oral thermometer under the arm too, but that usually results in a struggle. And when kids are feeling miserable anyway, it's awful to force them to go through more poking and prodding!
I'm so excited about the Exergen SmartGlow Temporal Scanner, because I know it's going to help us get through those high fevers more seamlessly this year. Check out some of the amazing features that make this thermometer superior:
Soft lighting for easy reading in a dark room without blinding you or your sick kiddo
8 temperature memory so you can keep track of the fever
Silent mode-nothing is worse than waking a sick child! You can choose silent mode to keep from interrupting precious sleep
Fahrenheit or Celsius mode
This temporal scanner is incredibly simple to use, too. All you do is place the grey probe flat onto the forehead, and hold down the button as you scan from left to right, or right to left. This takes about 2-3 seconds and gives an accurate reading. If there is perspiration on the forehead, you can also place the probe behind the earlobe and press and hold the button to get a reading.
I can't believe how quick and easy it is to get a temperature using the Exergen SmartGlow Temporal Scanner. It's definitely going to make those long nights and high fevers easier for our family.
Buy it: Exergen
Win it: One reader will take home an Exergen SmartGlow Temporal Scanner! This is a US giveaway ending 8/11. Enter using the Giveaway Tools form below, and good luck!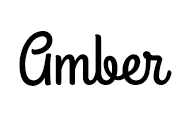 Hi there! I'm Amber, a 30 year old wife and mom of two from central Minnesota. I love to travel and to be outside with my kids anywhere the weather is warm! When I have a spare free moment, I love to read and scrapbook as well as binge-watch Netflix long after the kids are asleep. I drink too much Caribou Coffee and have a real sweet tooth but also try very hard to consume organic foods and use eco-friendly, fair trade products as much as possible. I also love socializing and sharing about my favorite products!
This post currently has 9 responses.